---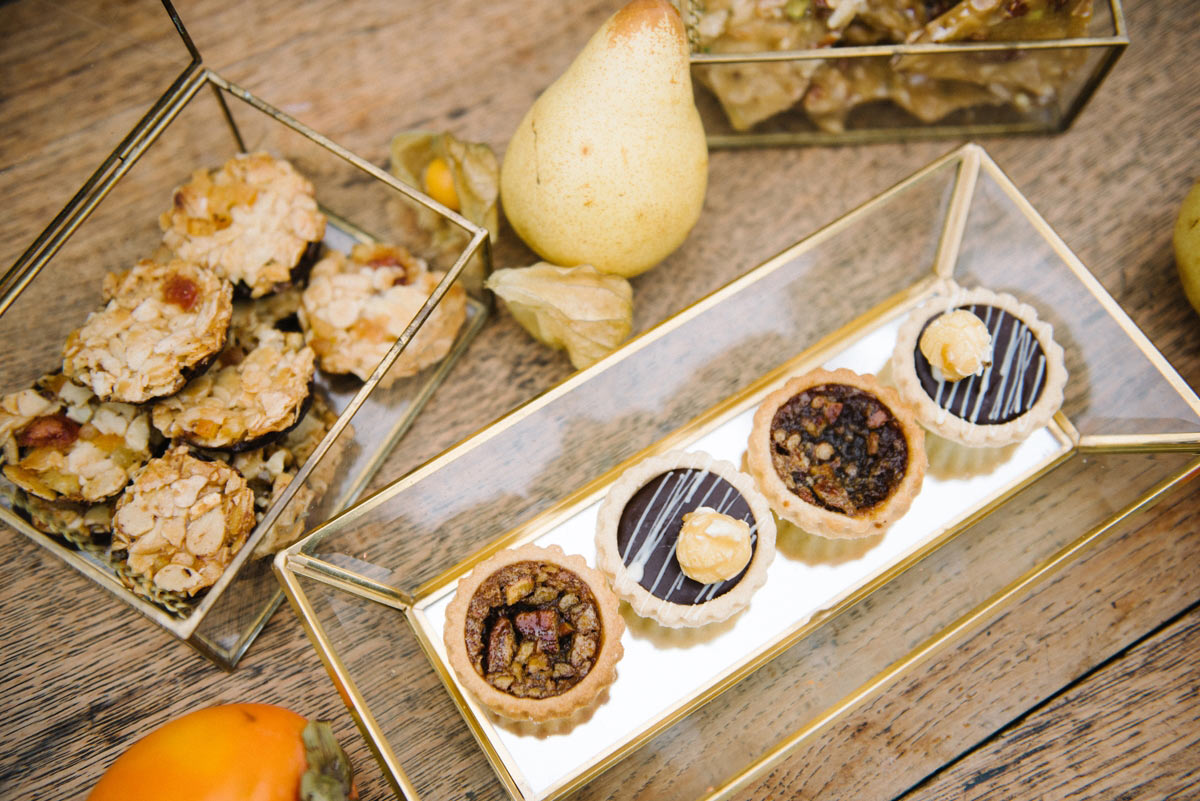 Wedding dessert ideas
Sweet treats for W-day
Be inspired by these oh-so sweet dessert ideas as an alternative - or an addition! - to a wedding cake.
While you can't beat a showstopping cake as a centrepiece for your day, there's a whole host of other sweet treats emerging on the wedding scene set to take your guests' taste buds to sugar-laced heaven. Whether it's a dessert platter served alongside after-dinner cocktails, or a soaring tower of profiteroles, the options are as plentiful as they are palette-pleasing! And the best news? All these amazing options are available right here in the south-west...
Croquembouche
There's something eye-catching and oh-so impressive about a croquembouche - a towering mountain of choux pastry profiteroles covered in caramel. As well as being an elegant centrepiece on a cake table - how good does this one from Trevenna (
trevenna.co.uk
) look on a rustic tree log? - they also add an element of interaction with your guests as they pull a profiterole from the pile. And did we mention they're moreishly delicious?
Laura Buffery Photography
Macarons
Ooh la la! Bring a touch of French fancy to your dessert table with these light-as-air confections. Available in almost every flavour (and colour!) you can mix and match to complement your styling and satisfy everyone's varying palates. We love a macaron cake too, like these by Nicky Grant (
nickygrant.com
) and Choukette (
choukettenqy.co.uk
), so you don't have to do away with tradition if you're hankering after a wedding cake!
Doughnuts
Could there be a sweeter greeting at a wedding than the scrumptious sight of a doughnut stack or wall? We're big fans of doughnuts, and the huge artisan range of flavours from Doughnut Addiction (doughnut-addiction.com) will look magnificent piled high to tempt your guests! Did someone say lemon curd brioche doughnut?
Biscuits
Light and sweet, baked biscuits are a real treat and can easily be iced or decorated to add the personalisation factor. Perhaps you'll have the date stamped on them, like these pretty little cookies by Dollybird Bakes (
dollybirdbakes.co.uk
), or have them hand-painted to suit your theme or decor like these delicate bird biscuits by Emily Hankins (
emilyhankins.co.uk
)
Dollybird Bakes (Olivia Bossert Photography)
Dollybird Bakes (Olivia Bossert Photography)
Emily Hankins

Toffee apples
A step up from the sticky kids' treats from Bonfire Nights past, toffee apples have had a stylish revamp to become one of the tastiest wedding trends du jour. Perfectly suited to autumn weddings, these beauties by Dollybird Bakes would be perfect handed out to guests around a firepit or just before some celebratory fireworks.
Dollybird Bakes (Olivia Bossert Photography)
Dollybird Bakes (Olivia Bossert Photography)
Chocolate
Strictly speaking not a dessert or cake, but who can go past an incredible tower of chocolate? Ferrero Rocher lend themselves to a pyramid of perfection, but this could work with anything from Reese's Miniatures to Lindt Balls (just make sure those tiers are steady!).

Arianna Fenton Photography

Cake pops
An increasingly popular way to serve the sweet stuff, cake pops are a tasty bite-size treat that can be decorated to suit your theme. You could display them on a cake stand like Dollybird Bakes, or even serve them to your guests as a favour, like Emily Hankins' individually wrapped delights.

Olivia Bossert Photography
Cocktails
Why just have cake when you can have a drink to go with it? These after-dinner delights by The Round Kitchen (
theroundkitchen.com
) combine sweet treats with creative cocktails and boozy coffees. We love the idea of an Irish coffee, served with honeycomb crumble biscuits or an espresso martini served with a taster of sticky toffee pudding.
Rachel Kevern Photography

Mini desserts
Choose a selection of mini desserts and you can delight your guests with a variety of flavours to suit the vibe of your wedding. Dollybird Bakes' selection of pecan pies, florentines and chocolate tarts, for example, offer something for every sweet tooth, and you can personalise your selection by choosing your favourite desserts or perhaps those inspired by a cherished memory such as your granny's apple pie.
Olivia Bossert Photography
Meringues
Much less messy than trying to split a gateaux or pavlova between guests, these mini meringues are a super-sweet way to get that sugar hit while still looking traditional and tasty on a dessert table! Perfect for an England garden wedding, simple top with strawberries and serve with Pimm's. Spiffing!
Margo R Photography

SAVOUR THE SAVOURY
It's not just sweet treats that are taking over as an alternative to wedding cakes; savoury selections are a popular wedding choice too. Perfectly suited to barn weddings and rustic celebrations, cakes made of multiple tiers of cheese and pork pies will be perfect for those who don't have a sweet tooth!
Ariana Fenton Photography

words Lucy Higgins
Copyright Wed magazine 2019
Wed

Directory

All you need from the finest wedding suppliers in Cornwall and Devon