---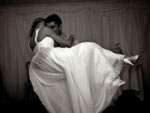 A Guide to Wedding Photography in Cornwall
How to pick your wedding photographer
From choosing your photographer to photo-friendly make-up, follow Wed's photography guide and look forward to a wedding album you'll cherish forever...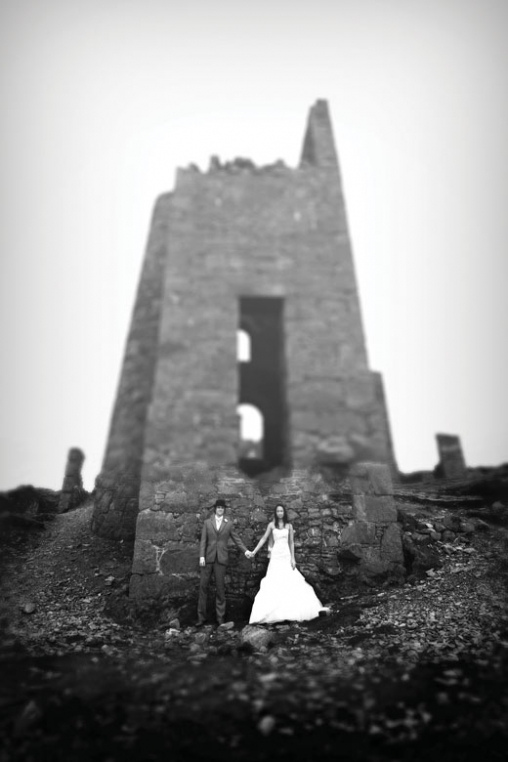 Wedding photography Cornwall photo Debs Ivelja
SNAP DECISIONS
Your choice of photographer should be up there with your dress, venue and, of course, groom when it comes to important wedding decisions. After all, it's your photographer's job to capture every detail - each trembling lip, lingering look of love and joyous moment - of your wedding, preserving your memories for you and future generations of your family to look back on long after the hangovers have gone and the cake has been devoured.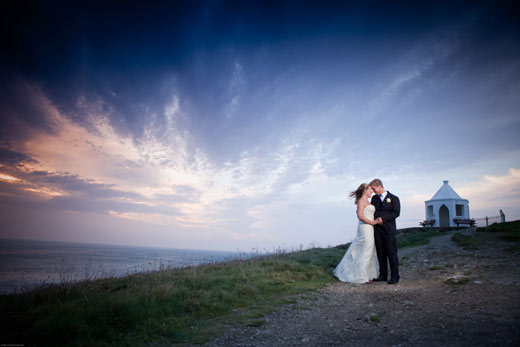 Wedding photography Cornwall photo
Khalile Siddiqui
Booking a wedding photographer is not something to rush into. There is an abundance of high quality, creative photographers in the county, so don't feel pressured into booking your date. Do your research: check out the photographers here in Wed Magazine, go to local wedding fairs, ask friends for recommendations and scour the internet.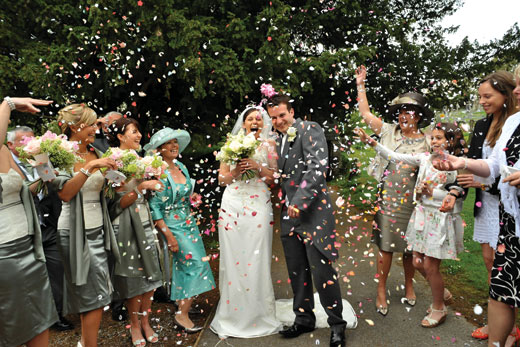 Wedding photography Cornwall photo
Platinum Wedding Photos
You'll find wedding photographers vary in terms of quality, style and price. When it comes to style, many couples are currently opting for reportage - that's photo documentary style where the photographer captures the true story of the day, while some opt for a traditional approach where everything is formally set-up. Most reportage photographers take a set amount of staged group shots as well as portraits of the bride and groom; however, some won't - always ask, especially if group shots are important to you.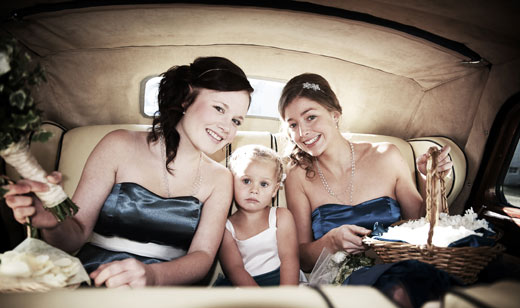 Wedding photography Cornwall photo
Andrew Hawker
Photographers with a beautiful, timeless style are your best bet. Don't be swayed by any image editing effects; quality photographers don't rely on Photoshop - they use it to enhance already great photos. Once you've found a photographer with a style you love, meet them to talk through your requirements and see how you get on. You need to feel comfortable with them - after all, you'll be spending a significant amount of time with them on the day.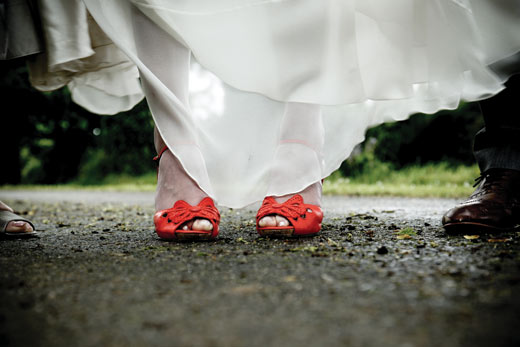 Wedding photography Cornwall photo
Ashley Hampson
QUESTION TIME
Here's a rundown on the essential questions to ask potential wedding photographers.
1) Can I see a full wedding shoot you've done? Get a feel for the overall quality of potential photographers' work, not just the crème that you usually see on websites.
2) What packages do you offer? You need to explore all the different options available to you, including the various albums. Make sure you know the exact price of each and if there are any 'extras' that will bump up the price.
3) Do you work alone or with an assistant? If they work alone, will they travel in between venues to capture both you and the groom getting ready?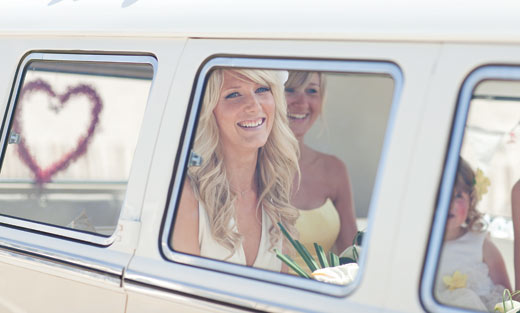 Wedding photography Cornwall photo
Kirstin Prisk
4) Do you do engagement / pre-wedding shoots? If so, is that included in the price? This varies from photographer to photographer. Doing the shoot at your venue or a place that has particular significance for you as a couple is a nice idea.
5) Can I get my photos on a disc? Some photographers are happy to give you the option of a package that includes photos on a DVD so you can print copies, but others insist all prints are ordered through them.
6) Can I see some recommendations? Most photographers put messages from happy couples on their website, along with any magazine cuttings, awards and the like.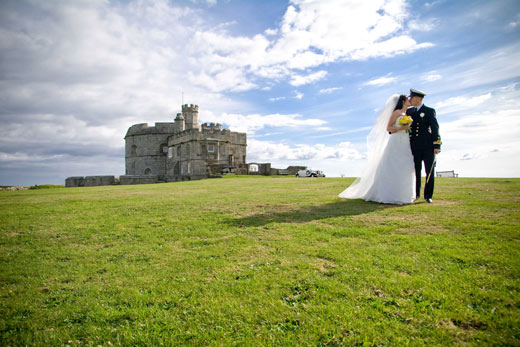 Wedding photography Cornwall photo
Katie Lowe
7) How long will you stay? Do they classify the cutting of the cake as the end of their working day (and will they charge extra for staying on), or will they stay until the last hour? You need to know.
8) What equipment do you use? A pro wedding photographer should be using pro equipment and that means several thousand pounds worth of camera and lenses, not a cheap digital SLR and kit lens.
9) Do you have back-up equipment? A pro wedding photographer should have a second camera, in case the first one fails.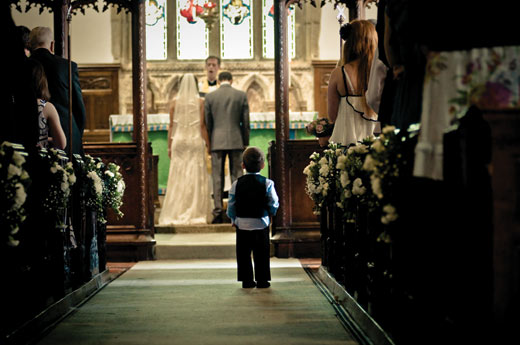 Wedding photography Cornwall photo
Savvie Photography
10) What happens if you're ill? Most photographers either belong to some sort of organisation or have an arrangement with a colleague, so they have a photographer to stand in should there be an emergency.
11) Will I be able to see my images in an online gallery? This allows you to have a good look while you wait for your album and/or prints. Check if this is included in the price.
12) What image editing software do you use? It should be an industry standard software, like Adobe Lightroom and Photoshop.
13) How many photos will you take and how many will you edit? Obviously they will only be able to give you rough figures, but it's worth asking so you're aware.
14) Have you shot at the venue before? If not, make sure they plan to make a visit beforehand and offer to go with them - one of the advantages of hiring a photographer in the same county as you.
When you've had satisfactory answers to all these questions, go ahead and sign the contract - but only after going through it with a fine toothcomb.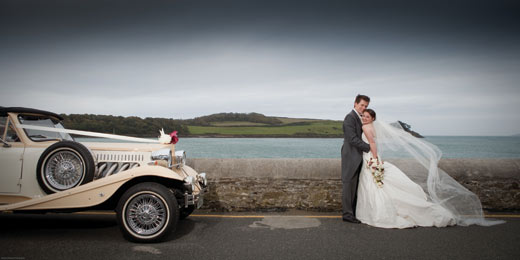 Wedding photography Cornwall photo
Khalile Siddiqui
LOCATION, LOCATION, LOCATION
Remember to consider your wedding photographs when choosing your venue. It is advisable to look for venues which have breathtaking locations for both indoor and outdoor photos - you don't want to pin all your hopes on the great outdoors with our unpredictable weather. Unless you are looking at a gothic or medieval venue, such as a castle (in this case you'll need to make sure your photographer is well versed in low light photography), look for a venue with ample natural light, which is flattering for portraits.
Make a note of any specific features of your venue that you feel would make great photos, and then think about any props you could use and discuss with your photographer. For example, if you have chosen a barn venue and want some pictures in the fields, wear funky wellies for a fun twist. Or how about getting all the men to wear flat caps? If you have opted for a grand venue with high ceilings, consider doing a group shot where each of the guests let off a balloon. Have some fun with props: they're a great way to stamp some extra personality into your pictures.
Lastly, discuss the date of your wedding with potential venues and what else will be going on - for example, will you have exclusive use of the lawns or will non-wedding guests still have the right to roam? Check whether they are having any building works done and that staff cars won't be parked at the front of the building.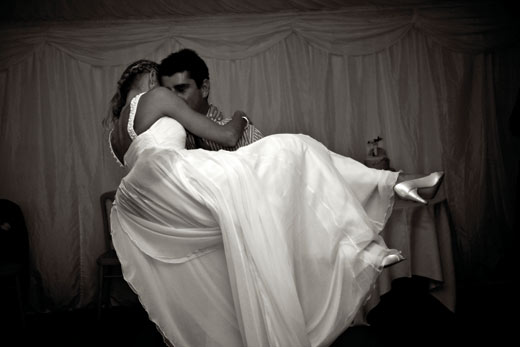 Wedding photography Cornwall photo
Emma Solley
BE PREPARED
Invest some time before your wedding preparing yourself for your photographs. If you want to look natural, you need to get used to being snapped and building your confidence in front of the camera. Get one of your bridesmaids to do a mock photo shoot with you. Study the photos - you'll soon notice if you have a better side or need to stand straighter. The more time you spend in front of the camera the better. Of course your photographer will direct you on the day, but if you can do a pre-wedding shoot with them go for it - you'll feel much more at ease, as it won't all be so new.
If you are booking a make-up artist for your wedding, make sure you have a trial and are happy with the results. If you're doing your own make-up, trial your look a few times in the months and weeks running up to your wedding, giving yourself time to experiment and perfect your application technique. Take pictures each time, to see how your make-up looks in photos.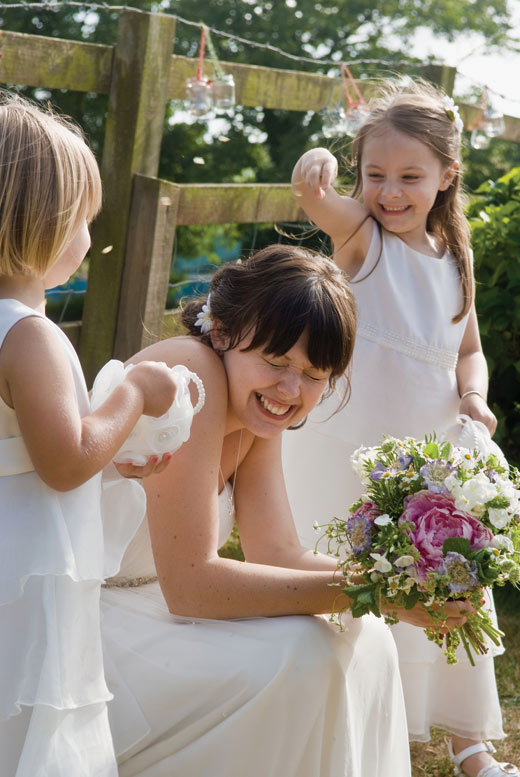 Wedding photography Cornwall photo
Urban Sugar Photography
A common bridal myth is that make-up needs to be heavier and applied thicker to look better in your photos. Not so! The key to successful bridal make-up that will look great in your pictures is definition. You need to define your features, so they aren't lost in the photos and your face doesn't look washed out.
When choosing your products, consider buying a primer to even out your complexion and give your foundation extra staying power. Eyeshadow primer helps your eyeshadow to stay put and stops it creasing. Other wedding must-haves include powder to set your foundation (applied sparingly) and a good waterproof mascara.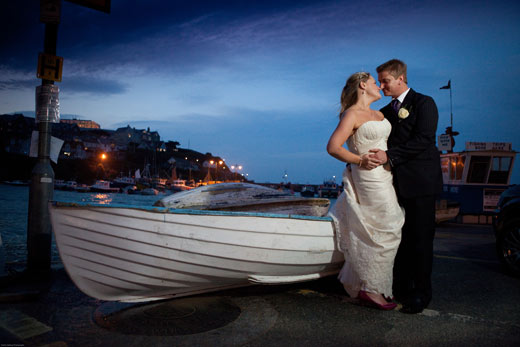 Wedding photography Cornwall photo
Khalile Siddiqui
BEST FACE FORWARD
In our search for perfect photo make-up, Wed picked the brains of professional make-up artist, Becky Hunting, and came up with these essential tips.
Timeless pictures
When you are choosing your look, bear in mind that extreme fashion based make-up will age rapidly. If you want your pictures to be timeless, go for a classic, natural look.
Perfect base
Whether using a moisturiser or moisturiser then a primer, always make sure that they have dried into the skin before adding your foundation to stop it moving around.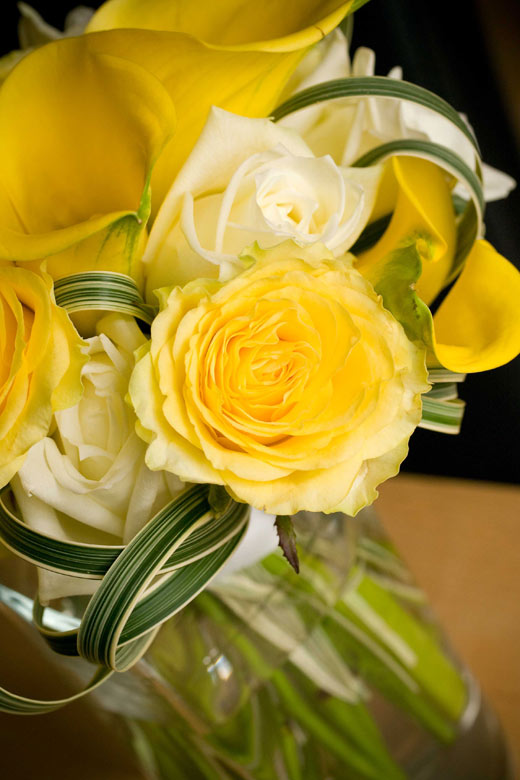 Wedding photography Cornwall photo
Katie Lowe
Brow beautiful
A well-groomed brow will frame the eyes and give definition to your face in photos. It's worth getting them done professionally a few months before the wedding to check you like the look and then a couple of days before the day. Define with a pencil or eyebrow shadow in the same colour as your brows.
First base
Apply your eye make-up before applying your foundation, so you don't have to worry about eyeshadow spillage.
The eyes have it
Use eyelash curlers before applying mascara to instantly open up the eyes. When it comes to shadow, choose a colour palette to suit your skin tone. Apply the natural shade all over the eye, then the highlight colour into the inner corners of the eyes and then over lids, but not higher then the socket line. Apply the darker shade to the socket line from the outer edge to about half way across your eye, on the outer edges of the eyes and along the top and bottom lash line, and blend well. Finally, get a highlighter in a natural skin colour and apply just under your brow bone to add a little lift.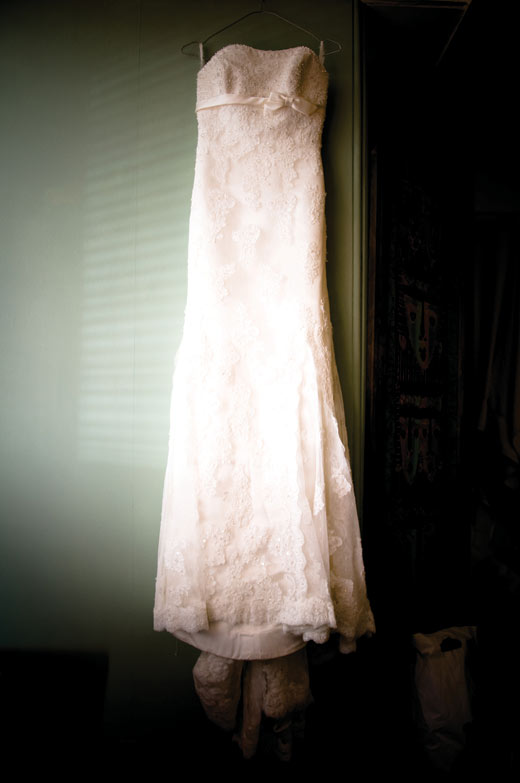 Wedding photography Cornwall photo
Savvie Photography
Colour me perfect
An orange face is not a good look. Make sure you are using the right foundation colour for your skin tone and that it's blended into the skin well - always check the colour in natural daylight.
Hide it
You'll need to hide shadows and imperfections for a flawless, photogenic face. Apply your foundation first, then add concealer where needed. This method will only work if your products are exactly the same shade, so buy the same brand.
Kissable lips
A subtle natural shade of a long-wearing non-transferable lipstick is a flattering look. If you are using lip gloss, avoid applying too much as it will transfer easily and can look sticky.
Touch up
Take some make-up with you on the day for touch ups. At the very least, make sure you have a lipstick or gloss and a compact powder for getting rid of any shine.
THE BIG DAY
When the wedding day finally arrives, you should be confident you've chosen a great photographer, picked the perfect photogenic venue and are looking your best for your photos. However, there are a few more things you can do to make sure everything goes to plan with your pictures: devise a schedule for photos with your photographer in advance which fits in with your plan for the whole day. Also, write a shot list so the photographer knows exactly what group photos you want and nobody important gets left out. Give your chief bridesmaid and the best man a copy of both lists, so they can help your photographer with the organisation - leaving you to relax and enjoy your moment in the spotlight.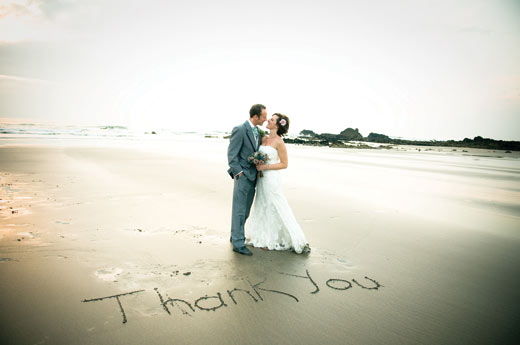 Wedding photography Cornwall photo
Savvie Photography
words
Rachael D'Cruze
Wed

Directory

All you need from the finest wedding suppliers in Cornwall and Devon