---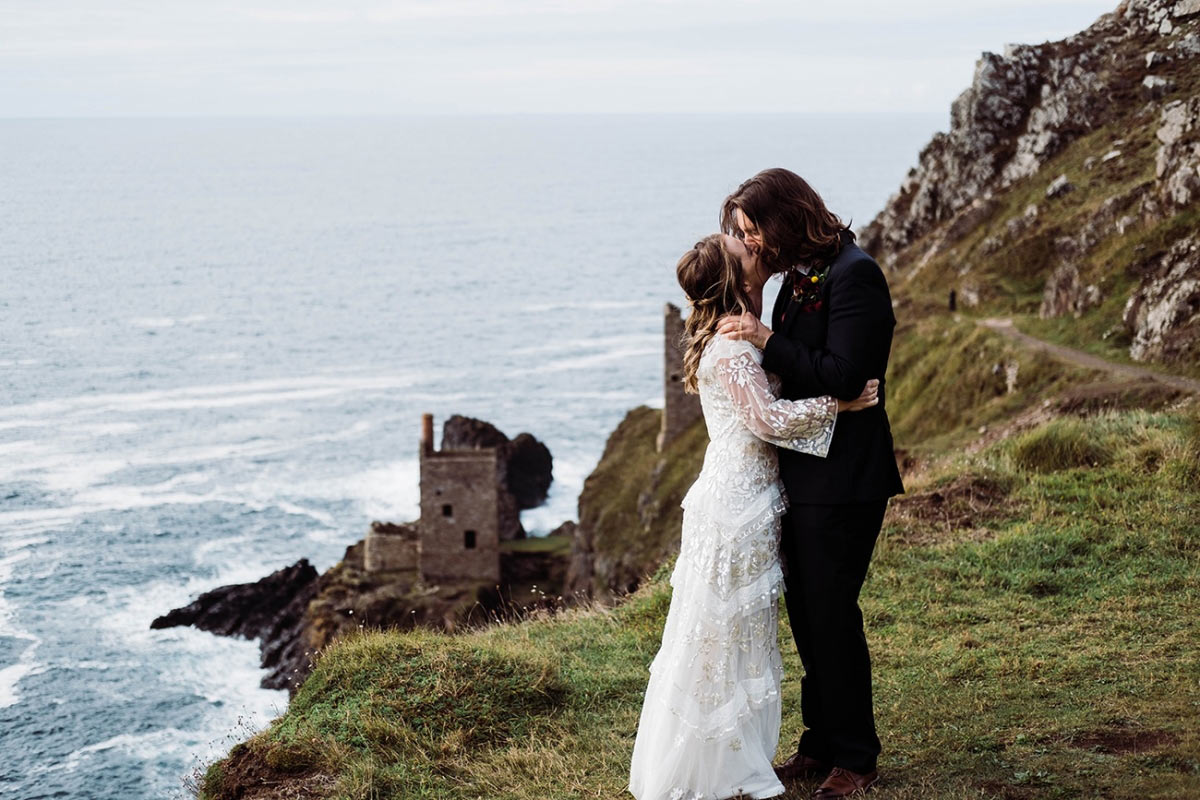 The Smaller Picture
Elopement wedding photography
With the wonder of small weddings coming to the fore, Wed looks at the unique art of photographing them
But fret not, for this is your chance for boundless adventure, to cast off the usual restrictions and celebrate your day, your way – including your photography, which has found new ways of late to capture your wedding with the same unique kind of style and character.
"I love adventures and the more adventurous the couple, the better. Since Covid-19, I have been getting in the water with couples, trekking them up mountains and through deep woods and moors. We have been dancing in the rain and swimming in the sea; it has been brilliantly mad!"
Verity Westcott Photography
"I'd say the real beauty of an elopement or micro wedding is the intimacy of the day," says Hannah. "The reduced guest list means you don't have to worry about pleasing anyone other than yourselves and your choice of celebration can be entirely down to your own personal preferences. High quality wedding photography is essential to ensure you capture the essence of the day powerfully and authentically, not just for yourselves to look back on and share with your children and grandchildren one day, but to share immediately with your loved ones who weren't able to be there with you on the day," she explains.
With the rulebook well and truly shredded, you can design a day that makes the most of your resources and time together with the added benefit of exclusively self-tailoring your choices. If you fancy a hike or hot air balloon ride, go for it, since you won't be abandoning anyone or strong-arming someone (other than your thrill-seeking photographer!) to join you.
"I met a couple in a car park next to the beach in October," says Thomas of a recent event, where he was shooting photos and video. "We had drinks then a swim in the sea – no wetsuits for any of us! Then back to the venue for a hot tub, prep, ceremony and visit by an alpaca. Then a visit to a different beach, cliff climb, afternoon tea, dress change and evening sunset handfasting ceremony… What an epic day!"
Thomas sees this increased flexibility and more options as a really positive step to diversifying the industry, noticing how couples are leading the change and challenging the status quo. "We have some epic landscapes in Cornwall and Devon and with small weddings and elopements you can really make the most of this extra freedom. Do something different, express yourselves as a couple and do what you want!" he says.
"Handfastings are an ancient ritual I expect to be hugely revived as time goes on," predicts Hannah. "The ritual of marriage can be carried out anywhere – in as wild, far-flung and scenically stunning places as you can imagine. Another trend on the rise is live feeds and documentary-style wedding videos – both of which I am investing time and money in to offer to my clients," she says of her new service in response to the times.
"This entails setting up a live feed Zoom-style wedding for those who want to stand on top of a mountain, rugged tor or windswept beach somewhere – alone, but with their loved ones watching in real time. I also step into the video arena to offer handheld-style documentary mixed in with breathtaking cinematic footage to create a film for all of your loved ones to feel like they were there. They can then watch this together with you via virtual film nights or – when restrictions are eased – with a celebratory film viewing."
And if you're worried that this sounds like a long day in front of the lens, remember that "with smaller weddings generally come fewer hours", says Verity of how low-pressure the pragmatics are in reality. Key moments are captured and interspersed with pockets of private escape, just the two of you, allowing you to savour some precious togetherness.
"It's not a shoot or about getting great images, it's about couples exploring these cool environments I take them to," says Thomas of the laid-back approach to shooting a couple's micro wedding. "I aim to get them lost in the experience of exploring and adventure so that they forget about the images," he explains.
"For an elopement I am often out with couples for around two hours or more. I will drive them around Cornwall looking for the best locations. I get them to explore by running, dancing or walking around it. I will guide them to some key locations then get them to focus on each other. These are the images that my couples and I love, and new plans for more adventurous couples include getting out on the water and exploring the south coast with paddle boards and kayaks," he says. "If it's wet and horrid, it's just the same – but better! Less walking, more locations, but maybe a pub with a fire involved!"
words Hannah May
Wed

Directory

All you need from the finest wedding suppliers in Cornwall and Devon