---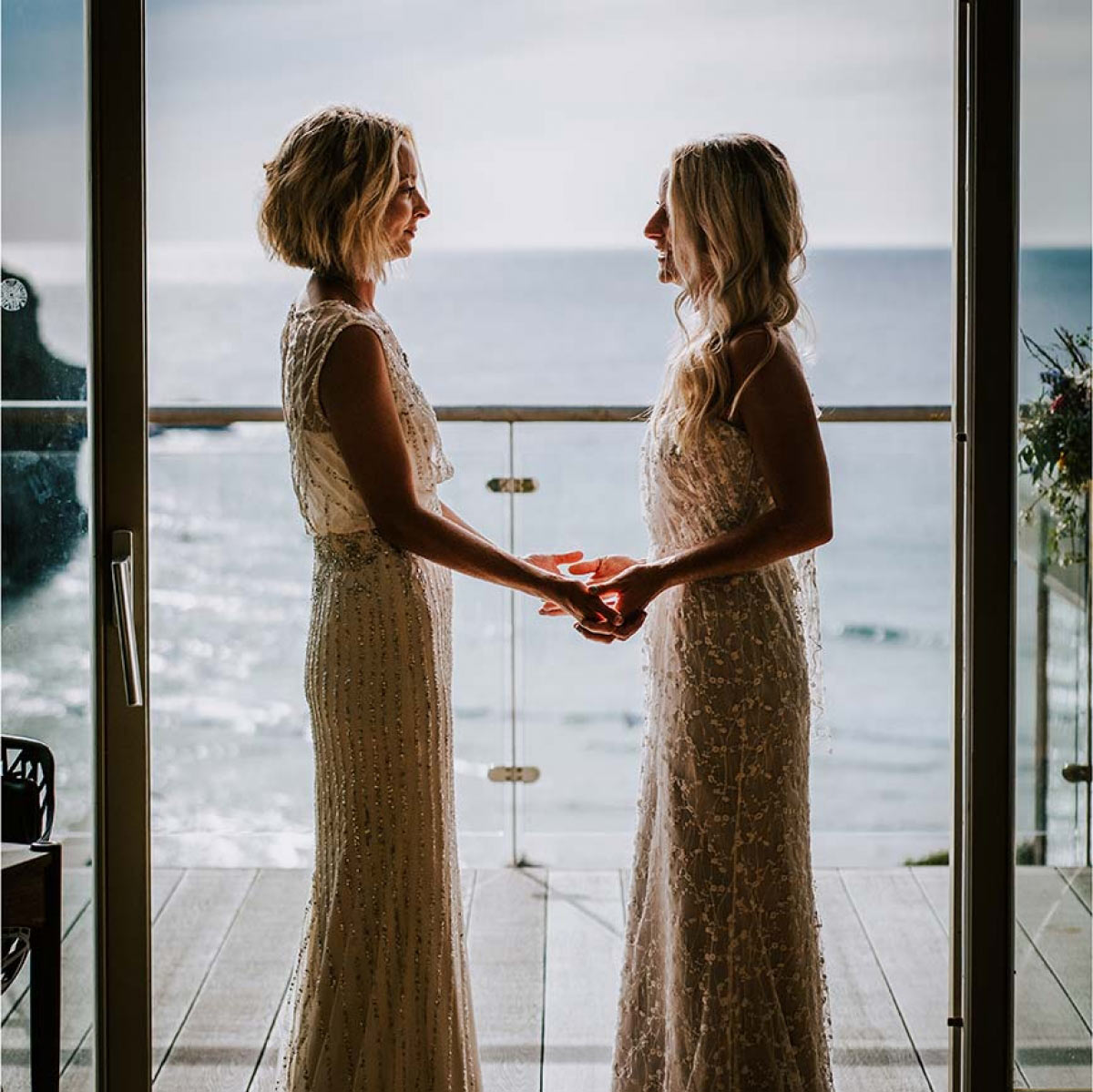 The Modern Ceremony
The Modern Ceremony
How to create a memorable, meaningful and personality-packed ceremony
The ceremony is often seen as the part of the day that many guests can't wait to end in order to get the party started. For couples, it's largely been perceived as the 'business' of marriage – the legal and/or religious rites of passage in order to be officially wed in the eyes of the law and of God.

But the movement with modern weddings seeks to pack a ceremony with moments that are engaging, inventive and unique to you.
Easier said than done? We've asked the experts to share their advice on how to make your ceremony unforgettable and, most importantly, individual – one that'll leave your guests thinking "Wow, that was so them!"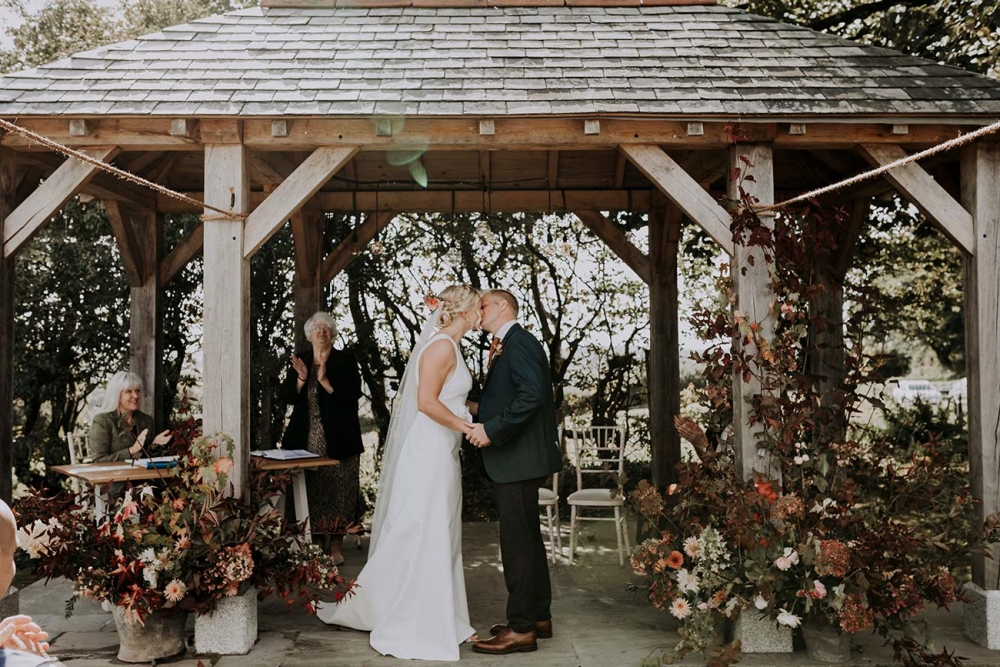 DREAMS COME TRUE
"The most important thing is to talk to each other about your dreams and what you both want for your wedding day," says Nicola Le Couteur Bisson from Cornish Celebrants (
cornishcelebrants.co.uk)
. "Get the significant details sorted first: is the ceremony going to be one that's in a church, register office, or celebrant-led? Then think type of venue: barn, stately home, hotel, marquee, field?"
The details of your day will impact the look, feel and content of your ceremony, whether you're planning an intimate and informal celebration with a picnic, formal wedding with a sit-down meal, or festival-style party with food trucks. "Communication is key. You both may need to compromise, but it's so important to know what your partner is really setting their heart on," reminds Nicola.
Taking yourselves as cue, think about each element and how to weave a sense of individualism into it. From the ceremony type to the readings, music, décor and layout, there's plenty of scope for personalisation.
"Choose a celebrant to work with you to produce a ceremony that truly speaks to your hearts!" suggests Nicola. "As independent celebrants, we would say this, but a celebrant is a professional who will spend time to get to know you and will make suggestions for enhancements to the ceremony, such as the inclusion of rituals and readings. Nothing will be out of bounds and your imagination is the only limitation (within reason!). Whoever you use to conduct the ceremony or wherever you choose to have it, there may be some rules that have to be followed (no religion allowed in civil ceremonies and a set service for most church services, for example), but within the framework there are always ways of making the ceremony your own."
SET IT UP
Venue and ceremony type ticked? Now it's time to consider the wider feel of the space and day's events to fit around a sense of 'you'. "The setting is really key for me as I like to see it from a guest's perspective," says wedding planner Rebecca Green at Rebel + Anchor (
rebelandanchor.co.uk
) of one of her top priorities. "If you're outdoors then make sure you make the most of the view – you chose it for a reason because you both love it, so make sure your guests can see it. That may mean positioning the seating differently, framing the view with deconstructed floral displays, or if you have a cover then choose a tent that's open or with clear sides."
What kind of mood do you want? What will be happening, and when? Walk through the surrounds and the ceremony from your and your guests' eyes to see how you can add a little extra panache. "Mix up your entrance if it works for you," suggests Rebecca. "One of my brides wanted her mum and dad to walk her down the aisle but they were no longer together, and her dad was very shy, so I suggested her mum walk her down the stairs of Scorrier House and hand over to her dad to walk the short but poignant aisle at the foot of the stairs. It's not tradition, but it was personal to them and also looked really beautiful as both parents were beaming with pride."
She shares a moving memory from her own wedding day. "I walked down the aisle with my dad carrying my seven-month-old son, who wore the same waistcoat as the groomsmen," she reminisces. "I love that he was involved – it made it super special and he loves looking at the pictures now!"
As well as your own grand entrance, think about the entire experience of your guests, which can be made more memorable by the minutiae such as orders of service and soundtrack. "Personalise the program," suggests Rebecca. "Make it fun to read as the guests enter. I had a bride and groom create a faux newspaper and it was not only hilarious, but something that guests wanted to keep."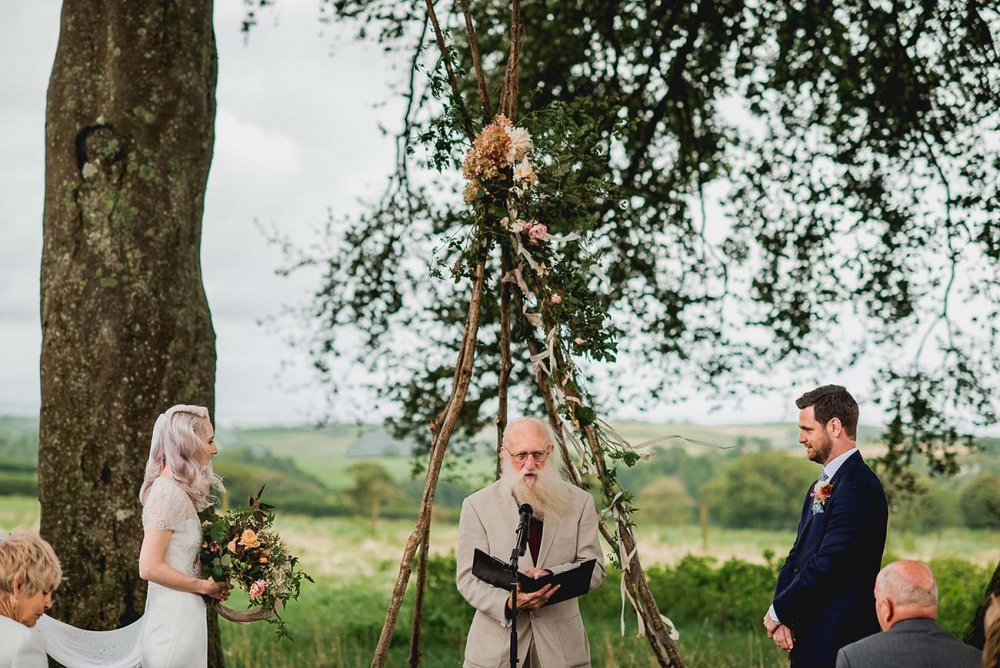 SUPER SOUNDS
The ceremony should be an immersive sensory journey for all present rather than guests merely witnessing the exchanging of vows, and one of the most effective ways to achieve this is through music.
"Choose something you like!" implores Nicola. "It sounds obvious, but so many couples feel the pressure to use the traditional wedding marches when they really wanted to enter the ceremony to the 'Star Wars' theme! There are usually several pieces of music required: music for the gathering of the guests, entrance of the bride (this is a real statement piece of music so choose something with wow factor), the signing of the register – about five minutes of beautiful romantic music works well here and allows all the heightened emotions of the ceremony to gently come back down – and the exit. Something loud and joyful is a great choice here!"
"So how to choose?" she asks. "Listen, listen, listen to your options, and imagine them in the space where your ceremony will take place. Think about using live musicians; often they will be able to make suggestions or compose some special music for you, and will know what music will work well in your ceremony location. Our top tip is to ensure that the lyrics are printed in your order of service and get everyone to practise singing before the day."
Tap into your friends' and families' musical talents or – better yet – your own. "If you can write or play, then write a song for your partner and have it performed or perform it yourself," suggests Rebecca. "Even in church weddings you can have an amazing choir and can request favourite songs as long as they're pre-approved. Mix up where the choir is seated too; perhaps if you're having a more relaxed-style ceremony, scatter them amongst the audience for an element of surprise."
PEOPLE POWER
Next, consider the other people that will be a part of the ceremony and how best to incorporate each of their characters. "Have fun with the ring bearer, if you dare!" suggests Rebecca. "Those couples whose dogs are super important to them could let them take centre-stage and carry the ring around their collar. Perhaps place the ring within a small bag and make it the responsibility of your 'best people' first though!"
Readings are a prime way of incorporating the voices of your loved ones while introducing a greater depth of your relationship's meaning. "Have special guests write their own readings, poems or memories," says Rebecca. "This can be done with a registry ceremony as well as a celebrant-led one. And write your own vows," she enthuses. "Make it a love letter, a memory, or even do it together as a duet! It can be quite funny, but also very moving."
"This is one of our favourite parts of the whole process of writing a ceremony –seeing what couples have written as their personal vows!" reveals Nicola. "But it can also be one of the hardest things to do: how do you say what is deepest in your heart to your soulmate on this most special of days? Seek inspiration from your favourite poems, song lyrics or fiction – or what about films you've watched together?" she proposes.
"Try answering questions about what you love about your partner. Write everything down, no matter how trite or clichéd it may seem, then edit, put it away for a week and re-read afresh. Edit, add in other ideas, and repeat the process until you are happy with it," she suggests. "We usually suggest that three to four sentences are enough, as words can be surprisingly difficult to say on your wedding day. Even saying 'I love you' can bring a huge lump to your throat when you are saying it at this most extraordinary of times in front of your family and friends."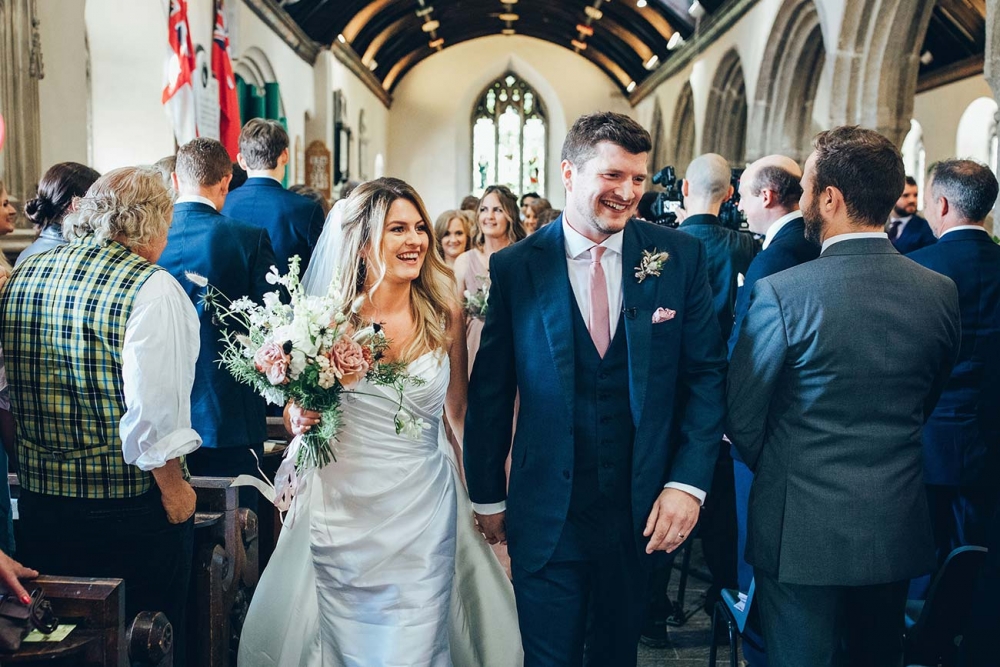 INVOLVING OTHERS
With the main components taken care of, there are still more ways to make your ceremony your own. "We love it when couples include rituals that involve their guests and family," says Nicola. "One of the most popular rituals is a handfasting, and some couples choose to ask family members to bring forward the ribbons that are used to tie their hands as they say their vows. The colours of the ribbons are symbolic, and they offer their own blessings to the couple."
There are so many rituals and ideas for personalising the ceremony that each idea can be subtly altered to suit the individual couple, and another lovely way of involving everyone is to have the rings passed amongst the guests during the ceremony. "Each person has the chance to hold the rings and bestow upon them a wish or a silent prayer for the couple's future happiness," says Nicola.
Rebecca agrees with bringing in personal elements to your ceremony. "Spiritualise or create symbolism with your ceremony your own way," she says. "If you're opting for a more relaxed and non-traditional ceremony but want to add that more personal spiritual element, look at declarations such as handfasting, blessing stones for your guests to pass on, a sand ceremony, or the planting of a tree to symbolise the growth of your joining together," she says.
END ON A HIGH
And after all is said and done? "Exit in style!" announces Rebecca. "Whether that's dancing down the aisle or something even more personal. One of my brides surprised her hockey-mad husband by asking the guests on the aisle seats to create an arch out of hockey sticks for them to recede under."
"The ceremonies that stand out for us are those completely authentic to the couple – where it all comes together as a whole joyous occasion," reiterates Nicola of the importance of staying true to yourselves and your vision. "One couple celebrated on their own on their favourite beach in the rain, and we can honestly say that it was one of the happiest ceremonies we have ever conducted. Their vows had us all in tears as they were so sincere and heartfelt."
"There is no right or wrong way to celebrate," she declares. "Be true to yourselves and it will be a ceremony to remember not only for you, but for everyone present."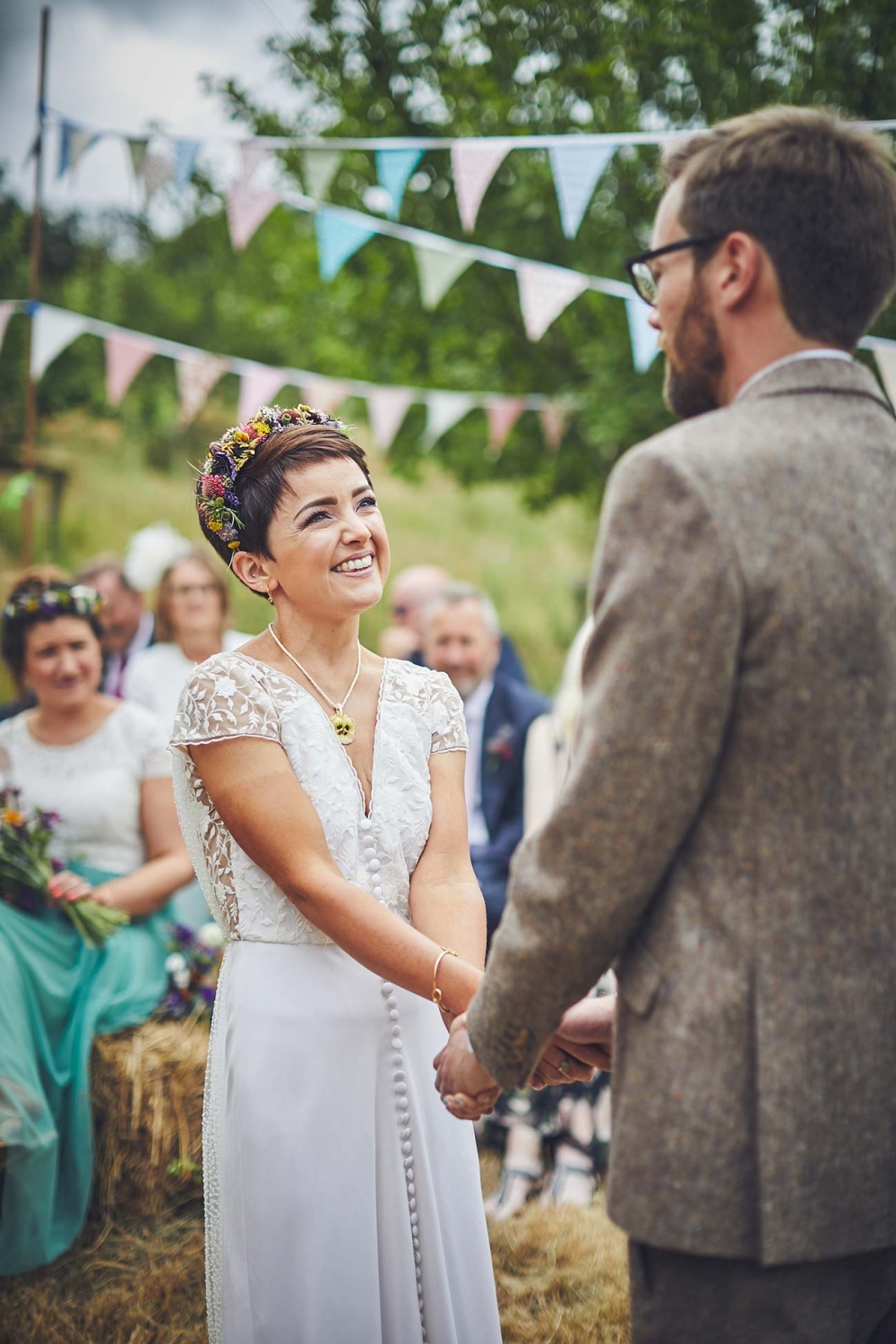 STYLE IT OUT
Looking for some fabulous ways to personalise your ceremony from a stylist's perspective? Nikki Sherriff from Knots and Kisses (
knotsandkisses.co.uk
) shares her ideas
Focal points
Think about whether your venue has a 'natural' focal point for your ceremony, such as an existing structure or doorway, for example. Let that guide you as to how much effort you need to put into creating something extra. A doorway can be simply framed by flowers, but a blank canvas venue might need a structure or backdrop added to create that focal point.
Have a plan
Have a cohesive plan in place for the overall style of your wedding before deciding on décor for your ceremony. There is no point falling in love with a Pinterest image of a backdrop and then it being totally out of sync with everything else you have planned.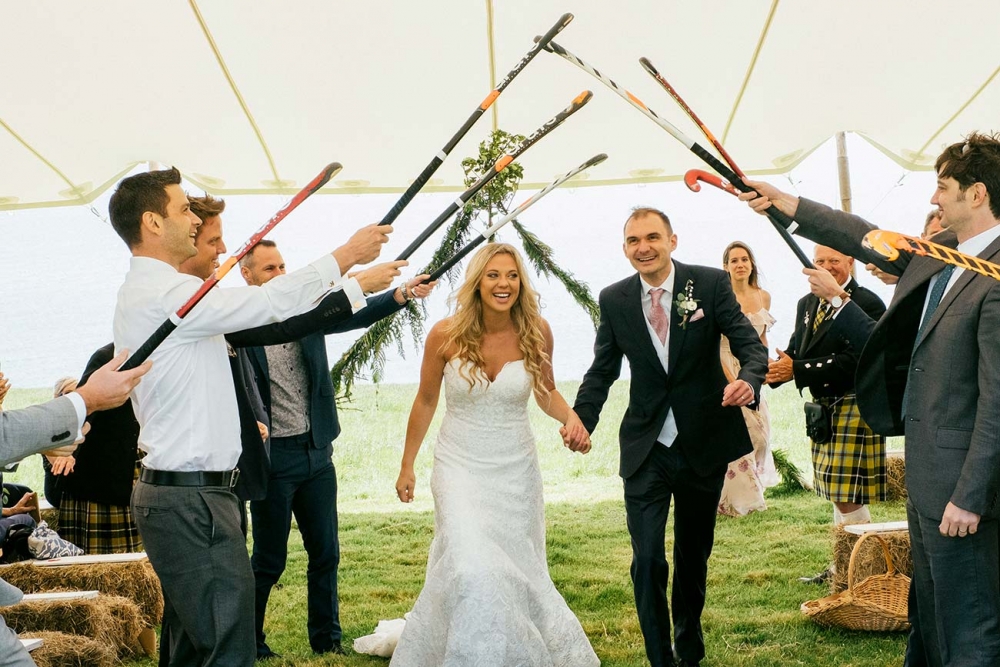 Ben Selway Photography
Frame game
If you're not hiring a stylist or planner to help you then a really simple way of personalising your ceremony is to hire a frame and then style it yourself. You can then think about adding personal touches with fabric, lighting, personalised flags – the possibilities are endless.
Stylish stationery
Think about adding personal touches to any stationery you're providing for guests as part of the ceremony. Order of the Day cards on each seat can include a photo of you as a couple, or perhaps some wording from a poem or book that is special to you.
Have fun!
Pop a funny message on a welcome board as guests arrive or place a Polaroid camera in the entrance area and get guests to take photos and pin them to a board or frame as they're entering the ceremony. Things like this bring a bit of your personality to the day.
Main image: Arianna Fenton Photography
words Hannah May

Wed

Directory

All you need from the finest wedding suppliers in Cornwall and Devon