---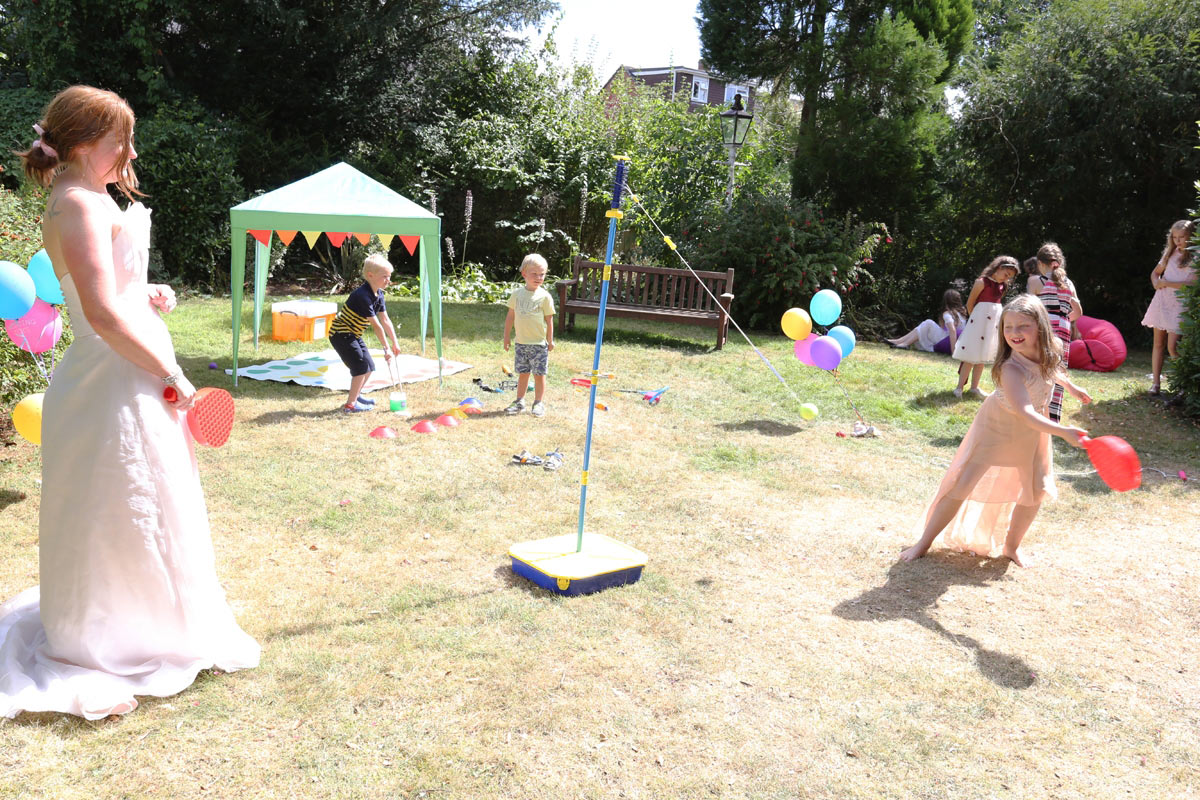 Children at Weddings
How to achieve a child friendly W-day
Ensure your young guests have fun - not meltdowns - at your wedding with these child-pleasing ideas
Inviting children to your wedding doesn't mean your day will play out to a soundtrack of wailing during the vows, toddler tantrums at the drinks reception and groans of boredom throughout the speeches. Take a little time to consider the needs of your child guests and you'll find they'll bring a heady dose of joy and atmosphere to your day. We've enlisted Judith Cook of Kids Wedding Toys - a former nanny with young children of her own - to share her top tips for happy children - which, in turn, means happy adults - on W-day.



Address to impress
Children love to receive post, so send an invitation just to them - not their parents - using your best wedding stationery. You could even ask younger children to bring a favourite teddy as their plus-one.
Bags of fun
Fill named goody bags chock-full of games, bubbles, toys and sweet treats. Hide them around the grounds of your venue, perhaps behind plant pots and tied to the lower branches of trees with pretty ribbons. The children will quickly form friendships as they seek out the bag with their name on and investigate what's inside. Planning the goody bags, making lists of child guests and filling them with treats is a fun activity for you to do with any little ones of your own. And remember to make one or two spares!
Colour code
Provide an assortment of pens, crayons and multicoloured paper on a low table or bench and ask the children to do their best drawings of the wedding, the venue and the guests. Add glue and glitter for some standout pictures! You might consider hiring picnic benches for colouring and, if you decide to seat the children on their own special table, for eating as well.
Confetti crazy
Dedicate a corner of the colouring table to confetti creation. Set out dried flowers, glitter and dyed oats and ask the children to collect tiny leaves from the garden to add to their mixture. Using a template, make a paper cone to fill with confetti and decorate it with drawings, sequins and glitter. Get ready to listen to the laughter as the children run around and shower each other with sparkles!

Fancy dress fun
Children love dressing up. Even if you just have a box of silly hats, oversized glasses, feather boas and scarves, you're providing the children with hours of entertainment! Mix it up with the Polaroid camera (see Snap happy) for extra fun photos. Hit your local charity shops to collect a range of dressing up clothes. And don't forget the box: for a budget option, cover large cardboard boxes with colourful paper or take a look at lightweight storage boxes from somewhere like IKEA.

Snap happy
Disposable cameras are great fun but if you want to take the idea to the next level, get your hands on a couple of mini Polaroid cameras. The Fujifilm Instax Mini 8 Instant Camera is a brightly coloured and easy-to-use option. Most of the children won't even know what a Polaroid camera is, but just wait until they see how much fun they can be! Add a blank photo album, some child-friendly glue, sequins and pens for captions and let them get creative as they compile your amazing 'alternative' wedding album.
Kids' corner
A brightly coloured child-size gazebo is a great idea for a sunny day. Fill it with picnic blankets, cushions, comics and books. Outside the gazebo you could lay out Giant Jenga bricks, ready for building, which is always a crowd-pleaser.
Life's a beach
It's easy to create an instant sandpit that won't damage the lawn. An inflatable paddling pool will set you back less than a tenner. Add several bags of play sand, buckets, spades, a few plastic shapes - and bingo: happy kids for hours!

Bouncy fun
A bouncy castle guarantees to put a smile on young faces - just keep the groomsmen and bridesmaids away if they've been on the fizz! If you're planning a classically elegant wedding, then consider hiring a white or pastel coloured bouncy castle to complement the aesthetics.

Food glorious food
Don't forget the children at feeding time. It might be worth talking to your venue about seating the children together at their own special table. Consider adding crayons and pens atop a tablecloth they can colour in while they wait for their food or for the adults to finish. If your menu is particularly grown-up, then an alternative children's menu would not only be appreciated, but could save you money: after all, why pay for pork loin with a balsamic glaze for little Maisie when she would rather tuck into sausage and mash?
IDEAS DIRECTORY


This colour in tablecloth by Claire Close is personalised, lovingly crafted in Devon - and just the ticket for amusing young guests while you tuck into the wedding breakfast.
notonthehighstreet.com
Let's get fizzy
Children will feel ever so grown up if you include them in the toasts. Serve them alcohol-free fizz or fizzy apple juice in champagne glasses.
Game on
Design and print out an 'I spy' wedding checklist for each child to fill in. Go for a personalised and humorous angle, such as 'I spy Auntie Claire crying!' Check! 'I spy Uncle Mark's nose turning red.' Check! If you're stuck for ideas, you'll find some creative ideas on etsy.com.

Let's dance
While kids may not be interested in smoochy numbers, you can be fairly certain that the adults will be happy to dance along to Justin Timberlake or belt out a song from Frozen! Little ones are usually starting to tire as the evening reception begins; ensure you provide comfy seating around the dance floor so those who don't want to dance can watch the fun while staying close to their parents. Beanbags are a fun, inexpensive and colourful option.
The help
If you have a lot of children on your guest list, consider hiring a professional entertainer. A magician or face-painter will appeal to children of all ages. For riotous fun with a seaside theme, go for some classic Punch and Judy. Schedule the children's entertainment to start as the speeches commence to ensure a good stretch of peace and quiet.
Jobs for the kids
Children love to feel needed, so why not recruit teenage guests to entertain the younger ones? They could supervise Giant Jenga, help with bubble mix or judge the colouring competition. You could also enlist the older children to organise a game of hide-and-seek for the little ones, give out the wedding favours, confetti or the order of service to guests or help guests find their seats. For essential tasks, ensure the children are included in the wedding rehearsal so they know what they need to do.

Baby zone
If you have children under two on the guest list then you might want to consider a pop-up play pen. Furnished with cushions and baby blankets, it offers a safe place where they can retreat from the excitement for a much-needed snooze. Make sure to locate it indoors or in a shady spot if it's hot outside. A separate space can work for older children, too, especially as the evening arrives. Cushions, blankets and a portable DVD player will ensure some much-needed downtime.
The babysitters club
Promote willing teenage guests to 'Official Chief of Fun' or engage a non-guest or two to come along and guide the children around the activities you've prepared. This can be particularly helpful during the speeches, which can be oh-so boring for younger children.
Devon-based company Kids Wedding Toys takes the hassle out of children's entertainment by providing indoor and outdoor toy sets brimming with kiddie magic. We're talking outdoor Twister, indoor hopscotch, Melissa and Doug building trucks, Micro Scooters, cricket and rounders sets, giant bubbles, art sets complete with wedding-themed colouring - and a whole lot more. They even provide child-size gazebos and add-on sets for babies and toddlers, ensuring kiddies big and small are smiling throughout the celebrations.
kidsweddingtoys.com
The Prop Factory
The Prop Factory (For the Love of Photography)
The Prop Factory (Alex Dixon Photography)
The Prop Factory is Devon's go-to emporium of sensational 'stuff', from practical and entertaining through to novelty and decorative - and their dazzling selection of games is guaranteed to thrill guests young and old. With the likes of mini crazy golf, hook a duck, a coconut shy, giant snakes and ladders, splat the rat, giant chess, buzz wire and ball in a bucket amongst their delights, you can look forward to a veritable feast of fairground fun!
propfactory.co.uk
words Judith Cook
photography Little Pumpkins Photography
Copyright Wed magazine 2017
Wed

Directory

All you need from the finest wedding suppliers in Cornwall and Devon