---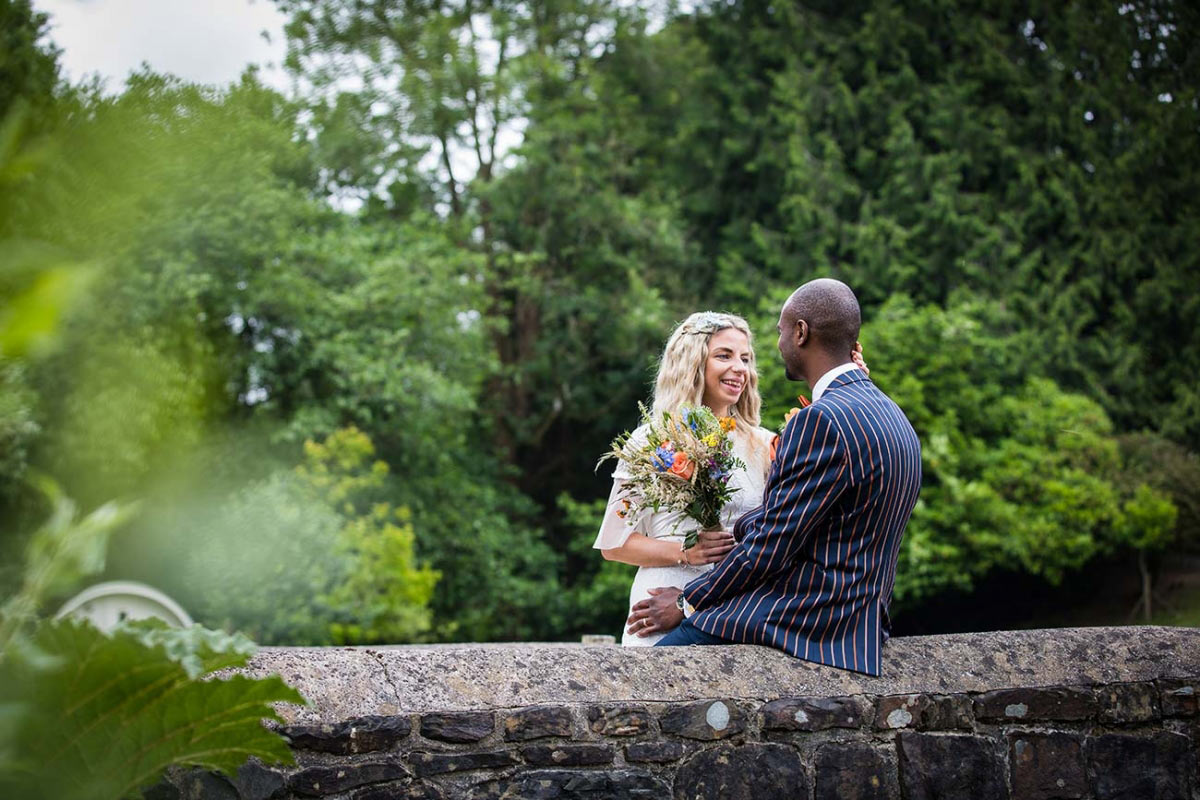 Small weddings of dreams
Small weddings of dreams
Wed meets the couples who said "I do" to a super-intimate wedding in Devon
Jade and Richard created a dream North Devon escape at Millbrook Estate
"If you'd have told me I'd be by the beach eating fish and chips and sipping champagne from a paper cup, I'd never have believed it! But it couldn't have been more us"
"Initially, an intimate wedding wasn't something we'd even considered because we both have large families. We'd gone from a huge Nigerian wedding with hundreds of guests to getting married abroad. Then Covid came along, and as much as it changed our plans, it opened up the possibility of something we had never even thought about: getting married without anything or anyone else to worry about!
We had just put down a deposit on our first home, so we re-evaluated our finances and, as we really didn't want to postpone our wedding, an intimate wedding seemed like the ideal option.
We love Devon and go on camping trips to North Devon each year. After getting engaged on Baggy Point, it felt perfect to return as it was somewhere that now had an even bigger place in our hearts. After searching lots of different venues, we stumbled across Millbrook Estate and, within half an hour, we had booked a week away in Devon.
Millbrook is the most tranquil and welcoming venue, there were just so many little touches that made the day more than we could have imagined. Having an intimate wedding meant we were sipping prosecco in the hot tub the night before with nothing to organise or worry about, and the same for the day itself. On the morning of the wedding, we both woke up in the most beautiful cottage, had breakfast and I headed to the venue. It was so relaxing I didn't even really consider it being a wedding until the flowers turned up. I wanted something seasonal, and the meadow flowers were made up on the day with whatever had bloomed – they were unreal. There were no nerves, no stress and absolutely nothing to do other than be pampered and drink bubbly.
The ceremony was perfect and we had the opportunity to write our own vows, which were really special to share with each other. The photos were such fun and we felt like we were on a walk through an enchanted woodland. We then had a beautiful afternoon tea with cheese platters and champagne.
After the ceremony, we found ourselves saying: 'We can do anything we like now!' We felt so relaxed. If you'd have told me that by 6pm on my wedding day, I'd be by the beach eating fish and chips and sipping champagne from a paper cup, I'd never have believed it! But it couldn't have been more us.
If you're considering an elopement, I would say don't rule anything out – talk through lots of ideas and see which feels right. You have to be prepared that family members might not understand your decision, but be reassured that if you both think sharing your day with just the two of you is right for you, then do it.
Find somewhere special, somewhere you can treasure and visit. For us, getting married in Devon where we can visit year after year makes Millbrook, Croyde and Baggy Point so much more than destinations – they're a part of our story now. We got to really enjoy the day and be present, relax and have fun. Just us and two of our closest friends in our favourite place. It really was such a dream."
Chloe and Dan's wedding at Brickhouse Vineyard was a totally stress-free event
"It was a moment to relax, let the day sink in and enjoy the feast for the senses"
"We loved the thought of a stress-free day that just focused on the two of us being together. Neither of us had ever particularly dreamt of having a huge do and when we host we're generally concerned with making sure all of our friends and family are enjoying themselves, so it was lovely to not be thinking about everyone else and plan a special moment together. This meant we could be more spontaneous with the planning and pick things that were truly just for us.
We love taking trips as a couple, particularly in remote little dwellings amongst nature, so we saw this as getting to have an extra special trip away together whilst committing to one another. Devon is such a beautiful area whilst not being too far away from our home in Bristol, which is what drew us to Brickhouse Vineyard. A roundhouse setting amongst rolling hills with a mix of rustic and modern styles that we adore, a garden in bloom, a vineyard and huge meadow. It felt special without being too formal.
Liaising with Joanna the owner instantly put us at ease as she was friendly and helpful organising our day. We booked our florist Holly after seeing her use of unique and local wildflowers, and my outfit search led me to a voluminous layered tulle skirt that I knew was the one. I loved the thought of a fairytale dress that was the opposite of my day-to-day wear.
On the morning of the wedding, my hair stylist and make-up artist perfectly created the bohemian look I wanted. At the venue we were warmly welcomed by our two witnesses – the talented Megan our photographer and Phoebe our friendly coordinator – who ensured we were topped up with champagne during the day! It felt like a short moment of greetings before we were walking through the roundhouse and declaring our vows.
I remember us both beaming from ear to ear whilst looking into each other's eyes and holding our hands tightly. Then there were cheers and clapping from our registrars and witnesses as we signed a couple of documents and walked out to the gardens. Champagne in hand, we then explored the grounds with Megan for photos together whilst we were still on an adrenaline high!
A moment that sticks out to me was Dan exclaiming he saw a deer whilst we all turned to see nothing but the rolling hills! I thought he was being a tease but he stood by it that there was a mysterious deer leaping through the grounds, so we were then both on the lookout – a moment you wouldn't get back in the city! I've always loved his sense of humour and it was a little event for us to look back at and laugh about from the day!
After the photos, we were left to enjoy some private time together with an afternoon tea in the roundhouse: a glorious platter of tiny cakes, scones and chocolate strawberries, paired with champagne of course! This was a moment to relax, let the day sink in and enjoy the feast for the senses.
We had another walk around the grounds to take in the natural beauty before we were joined again by Megan and Phoebe for our first dance. We chose the song 'Firestone' by Kygo ft. Conrad Sewell, a song that has significance to us whilst being upbeat to dance to!
I would so recommend an intimate wedding – it's such a relaxed, stress-free event where you can really focus on what the wedding is about: the two of you! You can still go all out with styling and decor, and really have fun with it, as there are no rules about how you should celebrate your special day.
Tereza and Jan were the first couple to marry in Hareston Manor's chapel for 300 years
"A wedding of just two of us in a calm place was a perfect opportunity to enjoy each other with no distractions"
"We have always wanted a small wedding. In the end, the decisive factor was that we did not have to be distracted by entertaining others and could focus purely on ourselves. We both have quite busy careers, so quiet days are rare and a wedding for just two of us in a calm place was a perfect opportunity to enjoy each other with no distractions.
Despite being from overseas, the majority of our relationship has been spent in England and we wanted a wedding that looked very English. We also wanted the wedding to be outside. Therefore, when we saw Hareston Manor we immediately knew this was the place and were super happy the venue had a slot available for us.
On the morning of the wedding, we had a classic English breakfast outside in the gazebo watching the fields and sheep. We then got ready in the manor and had our civil ceremony in the chapel. Afterwards, we had photos taken around the manor, cut the cake and settled down for an outdoor afternoon tea. It was very romantic with a beautiful set-up. After the picnic we had some time to relax before sitting down for a five-course dinner in the tipi and finishing the day with watching the stars.
Tereza wore a Flora Bridal dress and a flower crown, while I had a navy blue tuxedo with a bow tie. For the cake we had a very traditional cake Australian Lamington made into a wedding cake which was super tasty. We kept the flowers fairly simple with white and green shades to complement the natural beauty of Hareston Manor.
The owners of Hareston Manor, the Bassetts, made an incredible effort to make us happy throughout, anticipating everything that we could have wanted. They really have thought about every little detail.
I would certainly recommend an elopement wedding – it is great if you want to focus on each other and enjoy a very intimate day together. I assume it is not for everyone but would strongly recommend this for couples who are busy as a very quiet day can only be to their benefit."
Each other and the gorgeous venue of Rockbeare Manor were all Liv and Mike needed for their intimate Christmas wedding
"I mostly remember how happy and beautiful Liv looked staring back at me"
"After two cancellations, being able to actually get married in an intimate wedding appealed to us, but we also liked the idea of surprising everyone at our eventual, bigger wedding. It's rare outside of soap operas that the groom gets to shock everyone by starting his speech with: 'I have to confess I'm already married!' However, the real draw was the opportunity to spend the entire day together from getting ready to our night cap, not worrying about anyone else or if everything was going smoothly.
We had been living in Portsmouth whilst planning our wedding. We looked at dozens of wedding venues in Hampshire that either lacked that right feeling or wanted a lot of money for a basic package. After a few weeks of despair, Liv decided to look at venues near where she grew up in Devon. Rockbeare Manor immediately stood out and, as soon as we arrived, the venue gave us that unmistakable feeling that we were in the right place.
We booked for a festive wedding and, as we were always planning on still having the big day and we made the decision to get married at such short notice, we went without any of the usual details such as cake and flowers.
Upon arrival on our wedding day, we were welcomed with mince pies and champagne by the fire. We took in the Christmas atmosphere and enjoyed having an entire country manor to ourselves. Our photographer Jamie arrived, we were shown into our bridal suite to unpack, then we enjoyed a stunning brunch overlooking the grounds. Once we had eaten way too much for people who were about to get married, it was time to get ready.
Being able to share moments like Liv putting her late father's cufflinks on me and getting that special moment photographed by Jamie was a dream come true. Escorting Liv through the manor and into the ceremony room made it feel like we were getting married together rather than just meeting at the altar.
The ceremony itself was a blur – I mostly remember how happy and beautiful Liv looked staring back at me. When it was time to leave the ceremony room, we started spontaneously dancing to our chosen music as an unplanned first dance. It took everyone including us by surprise and felt like something out of a movie; it was both of our favourite moment. All the Rockbeare staff gave us a heart-warming reception, and then it was time for the photo shoot! Most couples are lucky to get some precious minutes with their photographer but we had hours. Liv's inner model shone through with her hair flick photos worthy of a prize, let alone a front page!
Once Jamie was finished, we got ready for dinner, but as soon as we came back down the Rockbeare staff immediately ordered Liv to put her wedding outfit back on as it was too good to get changed out of – and of course she happily obliged! We enjoyed more fabulous food before retiring to the drawing room to enjoy a nightcap, a log fire and some chess… desperate for the day not to end!
Our advice to other couples considering an elopement or intimate wedding is don't compromise on everything! Keep key parts of what would have been your big day to avoid any 'what if' thoughts – we were lucky enough to still use our venue and photographer. Also remember who the wedding is really for when you have doubts or guilt about not inviting particular people. If they do really care about you, they will understand and be happy for you."
Wed

Directory

All you need from the finest wedding suppliers in Cornwall and Devon