---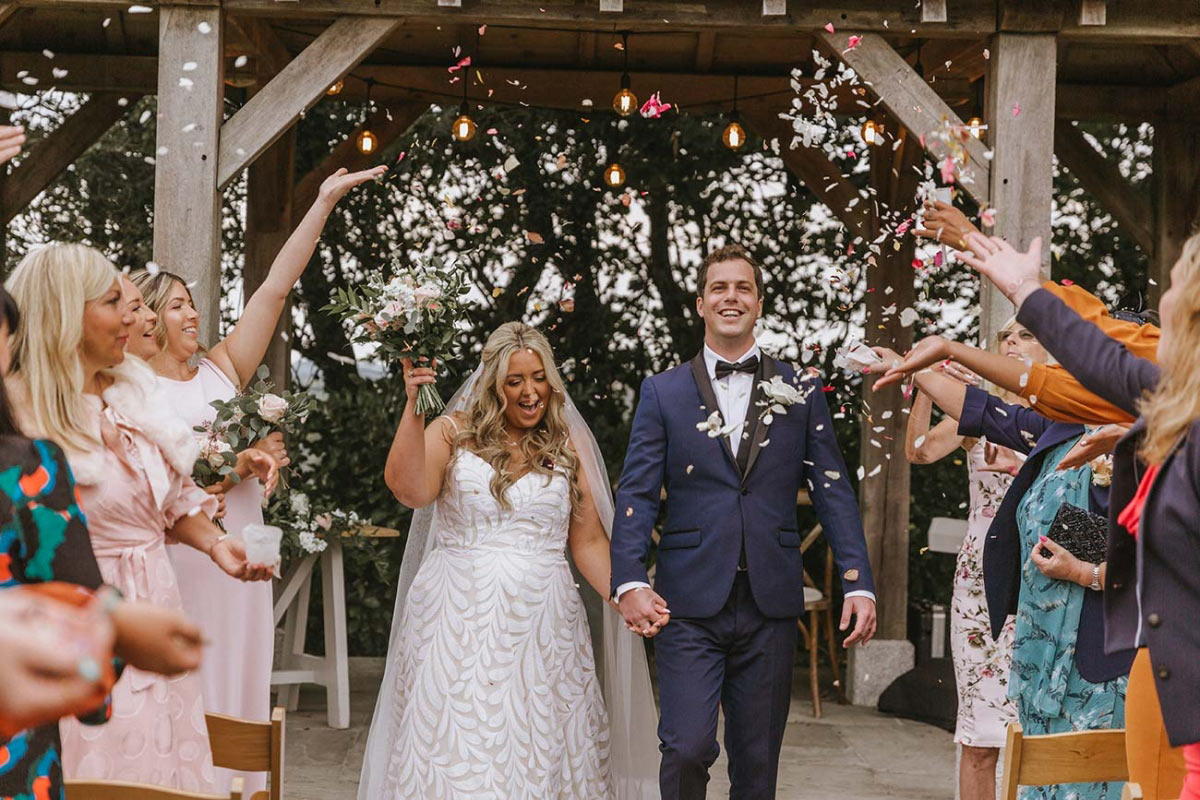 Wedding at Trevenna, Cornwall
Love and Magic
Ali and Chris created an enchanting day full of personal touches at Trevenna
Trevenna provided the perfect setting for their weekend-long wedding. "We wanted a whimsical feel, something that felt truly magic," explains Ali. "We decided to keep the colours classic with whites, pinks and greens, and used accents of gold in our other décor." Having relished the wedding design process, Ali has since set up her own wedding styling business, The Loom Styling Co.
The two-day event saw guests enjoying dinner and playing lawn games the evening before the wedding. "The next day we all gathered in the farmhouse for breakfast before the ceremony," says Ali. "Chris and I aren't traditional, so we stayed together until it was time to get ready!"
Hosting an outdoor ceremony overlooking the rolling landscape, a pianist played Ludovico Einaudi's I Giorni for Ali's entrance, but it was the ceremony's close that really lingers in her mind. "The confetti after we said I do!" she cites as one of her fondest memories. "I have never felt joy like it!"
After the vows, guests mingled on the lawn over Pimm's and gin cocktails, while Lewis Belcher wowed with his magic tricks. Settling at the gorgeously styled tables, a family-style sharing feast saw guests tucking into the likes of chicken breast with Cornish pancetta dauphinoise potatoes, oven-roasted salmon with crushed herb potatoes and lemon posset with raspberry compote. "After dinner we had the speeches - I also spoke, which was very nerve-wracking!" says Ali, who continued the celebrations by partying the night away.
Looking back, she shares another lingering thought from their day. "Unfortunately, we had to postpone our wedding due to Covid," she says of the ill-fated timing of their wedding. "This meant that my dad – who has a terminal illness – was too unwell to attend, so my brother walked me down the aisle and read a speech he had written. We also honoured him by leaving a chair out for him at the ceremony."
From poignant touches such as this to a banner featuring a poem by her mum and the New York skyline embroidery on her veil, Ali and Chris's wedding was packed with personal details. "Sometimes the smallest details have the biggest impact," she says by word of advice to couples hoping to plan a similarly individual celebration. "Everyone loved our personalised M&Ms with our faces on!"
Wed

Directory

All you need from the finest wedding suppliers in Cornwall and Devon