---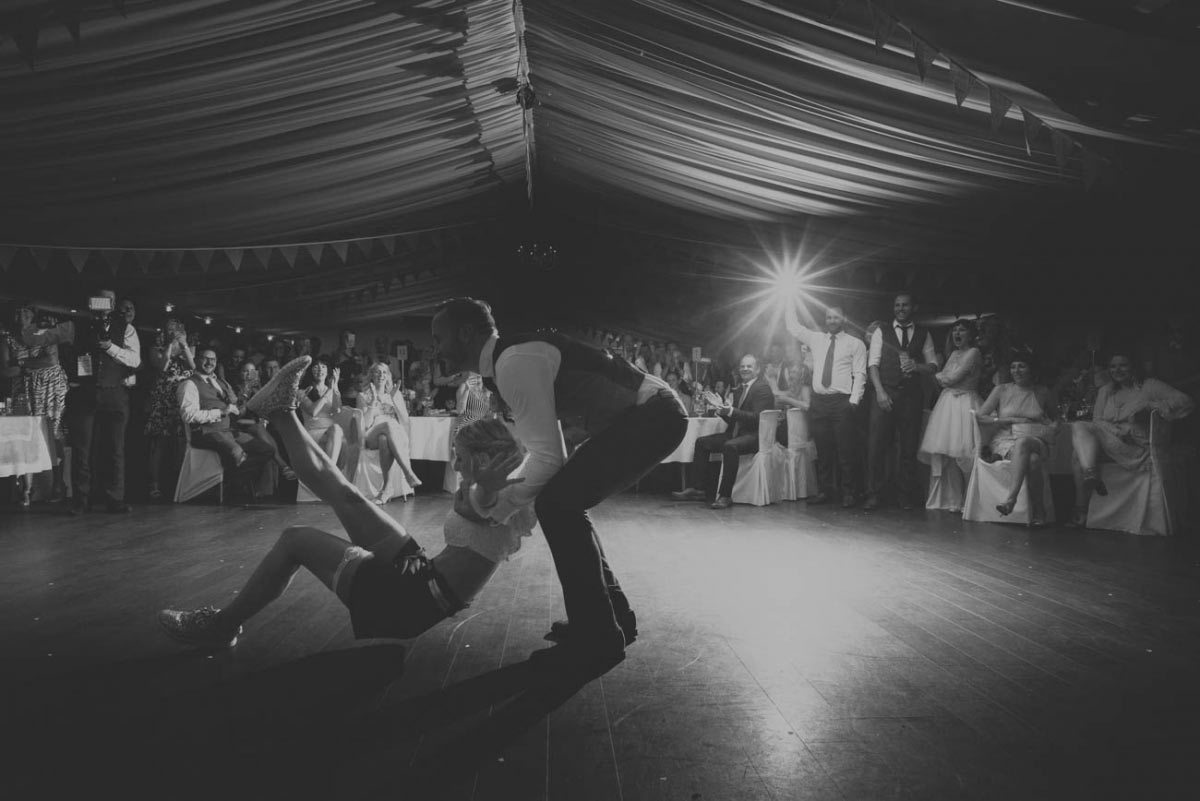 How to choose the song for your first dance
Choosing the song for your first dance
Not sure what to choose for your first dance number? Here's how to turn your song selection from a minefield into Fields of Gold
Words Lucy Higgins, photo (above) Ross Talling Photography
It tends to divide wedded couples right down the middle - those who can't wait for their first dance, and those who are dreading it. It really is an all-eyes-on-you moment - and all cameras too - which can either be your dream or your nightmare, depending on how outgoing or shy (or good at dancing!) you are. But before you even get to that moment, there's the not-so-simple task of choosing the song. If you're not one of those lucky couples who have always known which tune they'll plump for, thanks to it being 'their song', then let us help you...
The history of it
The first dance tradition that we are familiar with today is actually relatively new. In fact, traditionally, newly-weds wouldn't hit the dance floor until all the other guests were already dancing. In her 1922 book on etiquette, Emily Post wrote: "The bridal party join the dancing which by now has begun in the drawing room... The bride and groom dance at first together, and then each with bridesmaids or ushers or other guests." So if you want to stick with tradition but you're anxious about everyone staring at you during your first dance, here's your way around it!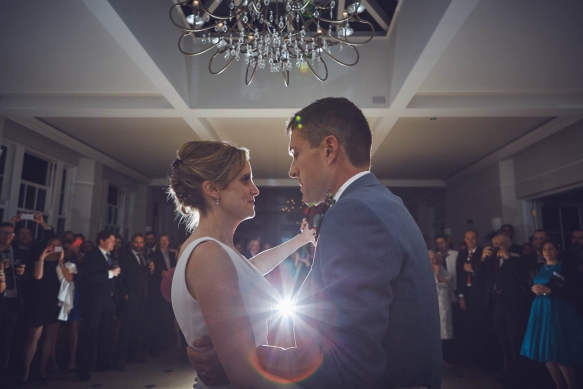 Nova Wedding Photography

A question of timing
However, if you do decide on a first dance, you need to decide on the song. It's a good idea to get it locked in sooner rather than later, especially if you'll be having a live band or musician performing it for you. The longer they have to rehearse it, the better it will sound on the day, particularly if it's something a little more obscure! It's also a good idea to start talking about it with your partner, in case you both have totally different ideas of what you'd like.
"My husband wanted Steel Panther's 'Eyes of a Panther' but after some discussion, we went for Nashville's 'A Life That's Good'," reveals Lily. If you really can't seem to compromise on the music, there's no rule that says you can't have two songs - and you could even keep them as a surprise to be revealed to each other on the day.
Where to begin
If you have absolutely no idea where to begin, start by thinking about songs that mean something to you. It might be one you remember from the night you met, or your first holiday together, or even just a nice memory that the two of you share.
"We had Andy Williams' 'Can't Take My Eyes Off You'," says Mel. "In our 'courting' days, I walked down the stairs with this on the radio and Justin said if we ever get married, this has got to be our first dance. And so it was!"
And it's important to remember that it doesn't need to 'mean' anything to anyone else, as long as it's special to you both. "I had 'Bed of Roses' by Bon Jovi," reveals Charlotte. "The lyrics talk about bottles of vodka and a blonde in his bed, but it had special meaning to my husband and me so we went with it!"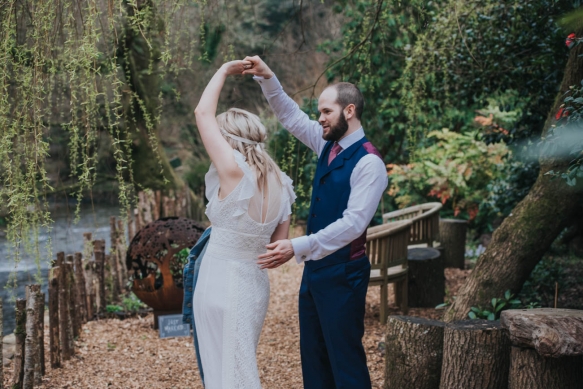 Clare Kinchin Photography
Narrowing it down
It's also not all about the words - it's totally OK to choose your song based on how much you like dancing to it! "We had 'White Christmas' by Michael Buble, which was a great one for real dancing!" says Carly.
Start by considering the songs that always get you or your partner on the dance floor. It's also worth thinking about the kind of dancing you'll want to do. A gentle ballad is perfect if you want to slow dance and soak up the emotion, or go for something contemporary or upbeat if you really want to throw some shapes. Once you've decided on the genre, it'll be much easier to search online for inspiration.
Of course, if you're going for a choreographed number, then go wild with your choice - your guests will find it wonderful to watch and you'll undoubtedly have fun.
If you have a few ideas but can't quite decide, try listening to one several times in a day, leave it a week, then listen to it again. If you're already sick of it, it's a good sign it's not The One. If it still makes you smile and tap your feet (or headbang!), go for it.
The meaning of it all
And what about the meaning of the song? How much attention should you pay to the lyrics? Whitney Houston's 'I Will Always Love You' was recently voted the most popular first dance song - and it's actually about a break-up! So if you absolutely have your heart set on a particular song, don't let the meaning stop you. "My mum and dad had 'Yesterday' by The Beatles, which has the lyrics: 'Yesterday, all my troubles seemed so far away... now it looks as though they're here to stay!'" says Lucy. "They've now been married 42 years, so it clearly didn't bring them bad luck."
If you both love a particular song but don't think it's 'weddingy' enough, there are ways to make it more appropriate for W-day. If it has swear words in, for example, a live band can easily change the phrase slightly, or if it's a rock or metal song, you could consider having an acoustic singer perform it. Every song will sound different and more unique if it's performed live, and will bring a real element of performance to your wedding day. "We had a friend sing 'Rule the World' by Take That," says Kelly. "Beautiful lyrics sung equally as beautifully by my friend with his smooth voice."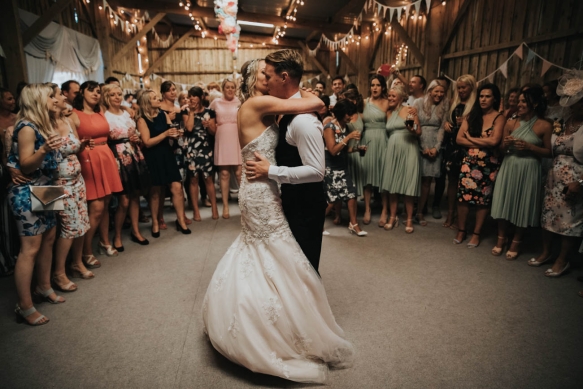 Chris Symonds Photography

Dance floor dilemma
One of the biggest conundrums for nearly-weds is thinking about dancing in front of all their friends and family. If you don't want all eyes on you for too long, take a look at the length of the song. A couple of minutes is usually enough for you both to have a dance together before being joined by your other guests, so don't choose an epic 10-minute-long ballad if you just want to get down and boogie with everyone else!
Alternatively, you can get everyone to join you midsong, but remember to let someone in your bridal party know, so you're not both standing in the middle of the dance floor awkwardly beckoning to your friends.
"We had 'Everlong' by Foo Fighters, but we had the version where it starts off slow and then kicks in halfway through so we weren't dancing on our own for too long!" says Nikki.
If you don't want to be too restricted with your dancing, you can always get a little creative with your dance floor, as one bride, Carly, did. "We had 'I Believe in a Thing Called Love' by The Darkness - 'danced' on a bouncy castle!" she says. "It was perfect for us, though hard work bouncing in a big corseted dress with a train!"
Wed

Directory

All you need from the finest wedding suppliers in Cornwall and Devon