---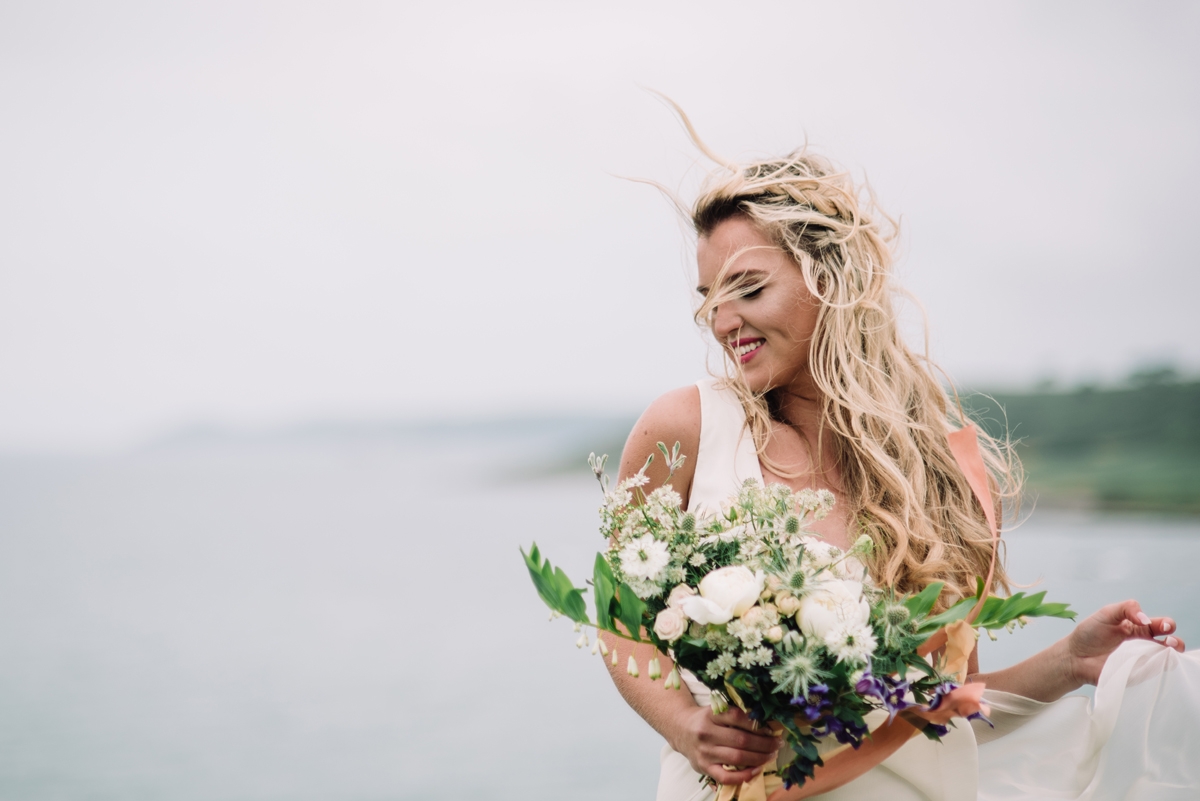 Elopement Weddings Cornwall
Elopement weddings in Devon
The windswept clifftops and untamed beauty of Devonís coastline inspire a wildly romantic elopement
A beautifully unkempt aesthetic rules the romance in this windswept and wonderfully atmospheric styled shoot. Bohemian-style braids allow loose strands of hair to be whipped free by the wind, the breeze catching the soft layers of the brideís skirt as she gazes out across the cliffscape. The flowers are natural and wild, plucked from the landscape and tamed by long silk ribbons, while the sandcast rings echo the mood of the coastal surrounds.
The rough edges of the barnís stone walls are softened with the delicate styling of the handmade silk table linen, the torn edges of the stationery adorned with luxe calligraphy and the simple, textured cake finished with lavender.
Shot high on the Devonshire coastline, the raw nature of the cliffscape is seen again and again: in the walls of New Barton Barns, in the roughly hewn flora, in the barefoot bride dressed in seawater-blue, a hint of the free spirit in her eyes.

words Lucy Higgins
Organisation & video Audacious Lives audaciousl.com Liberty Pearl Photo & Film Collective
libertypearlphotography.com
Photography Liberty Pearl Photography
libertypearlphotography.com
Venue New Barton Barns
newbartonbarns.co.uk
Styling The Wedding Hub
thewedhub.com
Stationery Faithful Designs
instagram.com/faithfuldesigns
Dresses Ghost London at The Wedding Company
the-wedding-company.co.uk
Cakes Edible Essence
edibleessencecakeart.com
Flowers Inky & Grace inkyandgrace.net The Moorland Flower Co
themoorlandflowercompany.co.uk
Models Sarah Ashely Whitby instagram.com/miss_s.a Katrina instagram.com/katrina.whitcher Martin
Suit & menís shoes The Vintage Suit Hire Co at The Wedding Hub
thewedhub.com
Jewellery Victoria Sewart
victoriasewart.com
Hair Gem Ryder
gemryder.com
Make-up Chloe Jane
chloejanemua.co.uk
Celebrant Cornish Celebrants
cornishcelebrants.co.uk
Table linen Kate Cullen
katecullen.co.uk
Ribbons Lancaster & Cornish
lancasterandcornish.com
Copyright Wed magazine 2018