---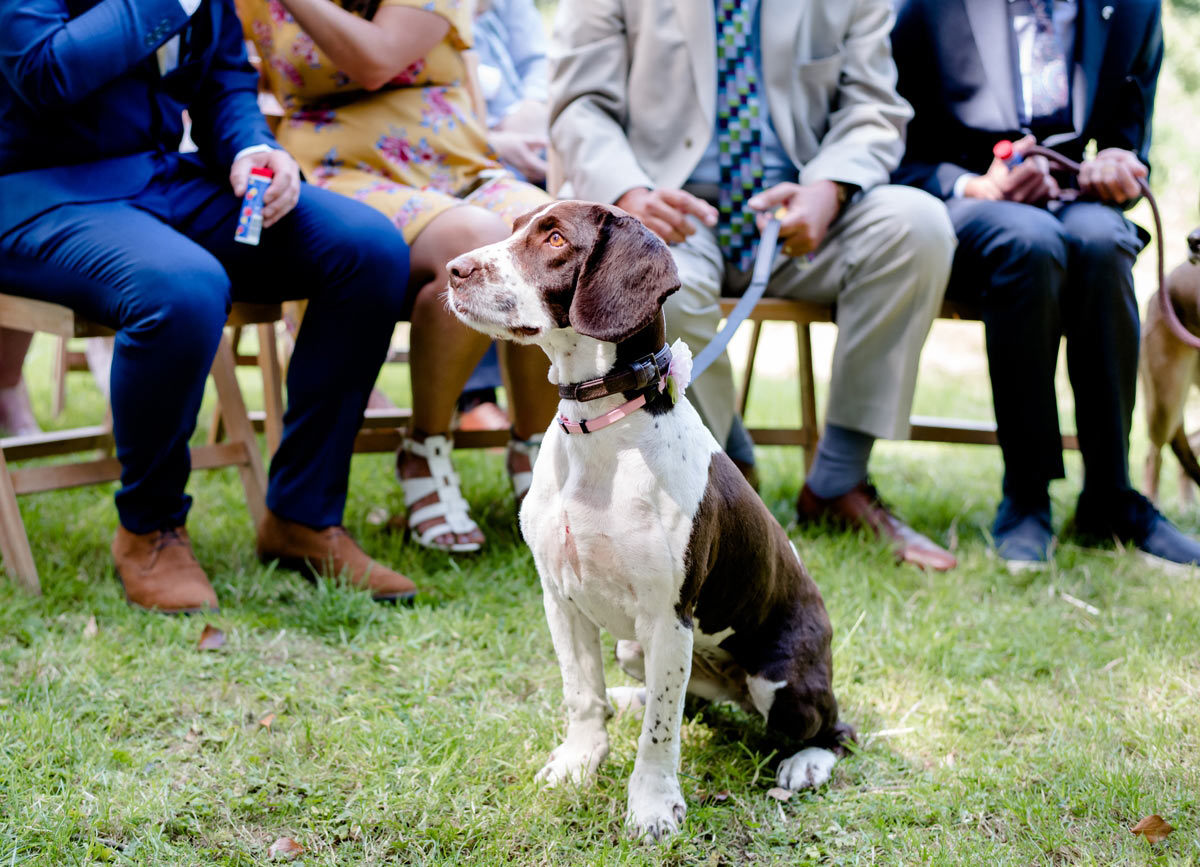 Dogs at Weddings
How to make your day dog-friendly
As more and more couples are choosing to include their family pet in their wedding day, here's how to make it pooch-perfect
They've been by your side through thick and thin. You adventure together during the day, and cuddle together at night. Their love for you is strong and unwavering, and they will be next to you on the biggest day of your life. No, we're not talking about your fiance... but your dog.
It's been a growing trend in recent years, and having your dog present on your wedding day is set to become even more popular. They are a part of your family, after all, so why shouldn't they be there to join in with the celebrations and be immortalised in your wedding photographs forever?
A VENUE'S BEST FRIEND?
When deciding whether you want to include your fur baby, the first thing to do is check with your venue. There's a wide range of dog-friendly wedding venues, and the number seems to be growing.
"If your venue won't allow dogs at the ceremony, ask if they're OK with a quick drop-in visit to a pre-arranged outside area for photographs," says Kate from Kate Fierek Photography + Film (
katefierekphotography.co.uk
), a dog-lover who has captured over 30 weddings with canine guests. "A smile, some assurances, and a big 'pretty please' often work wonders." Do try to visit the venue with your dog in advance, too, so that they can get used to the layout and smells, and will be calmer on the day.
And what about if there's a strict 'no dogs' policy? "There are still lots of elements of a big day that can be made personal, such as including photographs of your furry friend on table names," says Kate. "Or if you're keen to get your dog in on the photo action, then consider a pre-wedding engagement shoot in the run up to the big day."
ROLES FOR ROVER
The next thing to consider is your dog's personality! If they're good on a lead, and they're not too vocal in exciting situations, then consider having your dog attend your wedding ceremony as a guest. No doubt you'll have plenty of volunteers to hold the lead and make sure that they're well looked after.
However, if they're wild at heart, think a bit more carefully. "If your dog is well-known for jumping up then invest in some dog classes and training before the wedding," says Kate. "Your guests will be in their best clothes, so won't appreciate muddy claws tearing away at their glad rags."
If you don't think they're likely to sit still at the ceremony, consider asking a friend or family member to aid with a visit during the photographs, rather than them being present for the whole ceremony. The last thing you want is them barking, jumping up at your dress, and running around during the vows.
"Consider letting well-behaved, calm-natured dogs play a larger part in the wedding day," says Kate. "Walking down the aisle with the flower girl or bridesmaids can work well, or tying the rings securely to the collar and having them act as ring bearer could add a very sweet moment to the ceremony (not to mention a cracking photo opportunity!)."
WHAT TO WEAR
Wedding attire for dogs can look super-cute, but don't put them in it for the first time on the day of the wedding. Make sure that they're used to it well in advance of the big day, and that it doesn't annoy or bother them.
"It may be best to dress them up just before the photographs," says Kate. "I've never seen dog wedding attire that's stayed looking fresh for more than an hour! Simple items such as dog bow ties usually work best." If they're really bothered then it's best to forgo the idea. A happy dog is always best, and will make for a more enjoyable day for you as well as them.
A HELPING HAND
If you're worried about your friends or family members missing out whilst they tend to your dog, then there are some fantastic wedding dog services that can help. "They will look after your dog for the day, give them a wash and groom, bring them to the wedding at a time of your choice, then take them back to their kennels for the night. Knowing that your pooch is safe and being looked after can take a real weight of your mind. This is quite often the only option for a lot of people, as all of your usual go-to 'dog sitters' will probably be stood beside you sipping champagne," says Kate.
"If you entrust the care of your pooch to someone during your big day, make sure that they are comfortable with commanding a dog. Choose the guest according to how well your dog knows them and, very importantly, how well the guest can control your dog."
A wedding day can be incredibly exciting for a dog (so many people and so many smells!), so brief the carer to look out for signs they've had enough, and make sure that there's a comfy space they can retire to for some peace and quiet.
It's wonderful if your canine friends can play a part in your wedding, but have a think about whether it's going to be worth it - and remember, you will need to keep a sense of humour about the situation as it may not all go to plan! "If it's going to be stressful at all then maybe leave them at home, and give them an extra big cuddle when you return again as newly-weds," says Kate. "The good thing is that they won't have a clue what's going on, so if their invitation gets 'lost in the post', there will be zero offence taken."
DOGGY DOS & DON'TS...DO
*Warn your guests. Some people may be dog-phobic or have allergies, so it's always safer to pop a note in with your invitation information.
*Give your dog a good walk on the morning of the wedding (or ask someone else to).
*Ensure that there are no poisonous flowers or plants being used in your decorations that could be harmful to your dog.
*Come armed with a little bag of treats - these may be useful for the designated dog carer, and will almost certainly come in handy during the photographs.
DON'T
*Give your dog any food they haven't tried before or wash them in a new shampoo on the day, in case they have a bad reaction.
*Neglect to give them a water bowl, and keep it topped it up. You probably won't have time to keep an eye on this so task someone with this job in advance.
*Keep them out in the sunshine for too long if it's a hot day; instead move them to a shaded area and ensure that they're kept well hydrated.
*Forget the poo bags!
photography Kate Fierek Photography & Film

Copyright Wed magazine
Wed

Directory

All you need from the finest wedding suppliers in Cornwall and Devon