---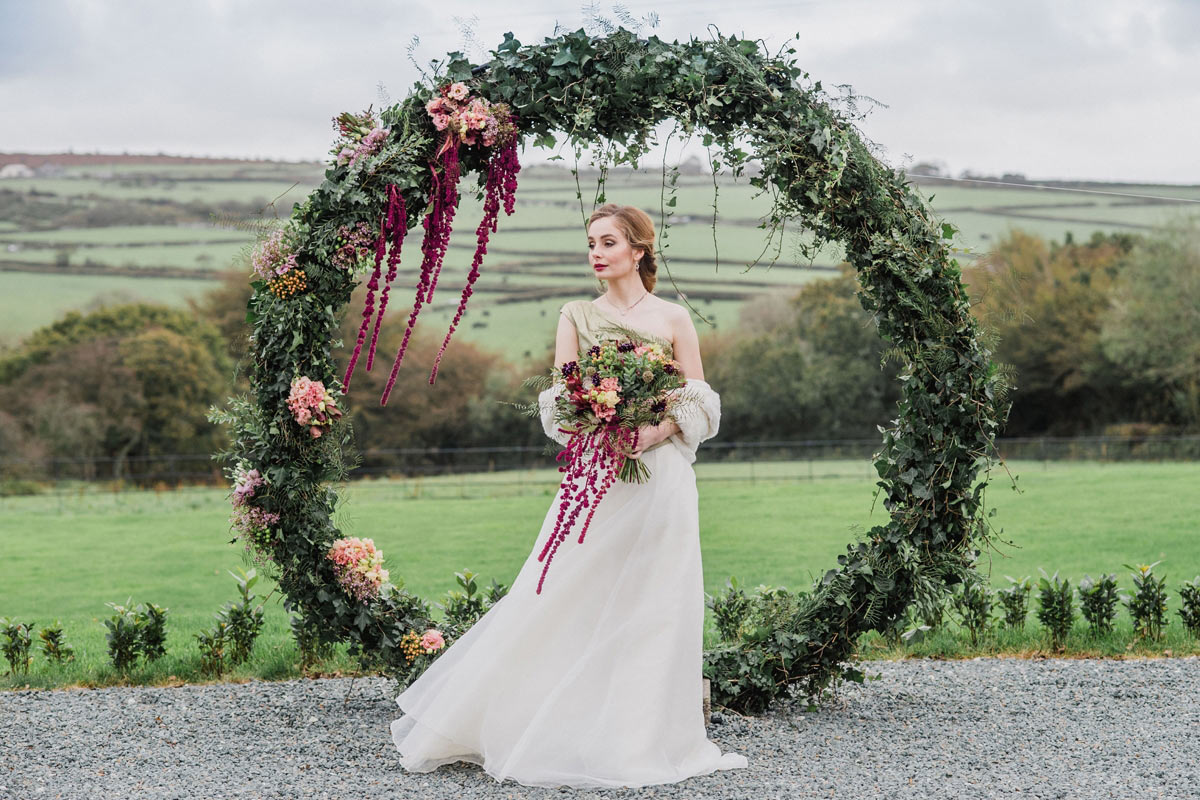 Autumn Wedding Style
Wedding styling: autumnal rustic romance
Romantic ideas for an autumnal wedding, captured at Trevenna
"Eternal love is one of the most powerful and strongest things known to anyone or anything. It can never wither or die and continues to renew with the passing of the seasons," says Marina Law, floral designer at Artem Florum.

Nestled amidst 142 acres of wildly beautiful Cornish countryside, Trevenna is the canvas for this sumptuous celebration of love, underpinned by the colours and textures of autumn.
"There is something quite beautiful and magical about autumn – the colours, the sounds, the smells – a delight for all the senses," says Marina. Rich in dazzling colour, scent and texture, the wild and local flowers of Trevenna take centre stage.
The theme of eternal love is symbolised most dramatically in the floral moongate, woven with amaranths, a striking tassel-like flower grown at Trevenna. Lush foliage of foraged ivy, rosemary and coral fern add texture, while blooms of eustoma, wax flowers and peach hypericum berries complete the stunning focal point.
"The choice of flowers had links to devotion and long lasting bonds such as the eustoma. The word amaranth comes from the Greek language and translates as 'unfading'," explains Marina. "These therefore make the perfect combination of flowers for this truly 'everlasting' theme." The hanging hoop of foliage and cascading amaranths above the top table is a further nod to this symbolism.
The shades and flavours of autumn pervade throughout, from the blackberry scabious scoop adorning the semi-naked cake through to the plantable stationery made with air-dried seed paper and embedded with a meadow mix of native grass and wild flower seeds.
Then there's the hearty dishes from Trevenna's farm kitchen, the menu brimming with seasonal fare such as a trio board of garden beetroot hummus, butternut squash and pumpkin soup; slow-roasted Cornish pork loin, and an autumn roulade of rolled meringue, blackberries and fresh Cornish cream. The attention to detail extends to Trevenna's handmade chocolates finished with an autumn shimmer. The cocktails are also bursting with seasonal and locally sourced flavours: think Cornish Autumn Apple Martini, a hedgerow cider-based Kiss of Autumn, and a Cornish Cooler.
The dress takes the seasonal look further, with a bodice of sage green taffeta paired with a layered organza full skirt, while the delicate bespoke jewellery, cast from the Cornish surroundings, echoes the 'eternal love' theme with a circular motif and dainty ruby beads.
The bride's updo is the perfect finishing touch. "The beautiful flower display and the green of the dress reminded me of an autumn modern fairytale wedding," says hairstylist Emma Carlyle, who, inspired by this aesthetic, created a fishtail braid to add detail along the side and an up but down style at the back. "I finished it off with some flowers to combine the whole look of the shoot together."
With the romance heightened by the crisp autumnal air and the warming crackle of the fire, it is a soul-stirring scene for a celebration of true love.
Venue, food, cake & bar Trevenna
trevenna.co.uk
Photography Laura Buffery Photography
laurabufferyphotography.co.uk
Flowers Artem Florum
artemflorum.com
Dress Christine Trewinnard
christinetrewinnard.co.uk
Hair Hair by Emma C
hairbyemmac.net
Make-up Tamsyn Siddiqui
cornwallweddingmake-up.co.uk
Stationery Laura Likes
lauralikes.co.uk
Jewellery Beth Fitzearle
fitzearlejewellery.com
Copyright Wed magazine 2019
Wed

Directory

All you need from the finest wedding suppliers in Cornwall and Devon