---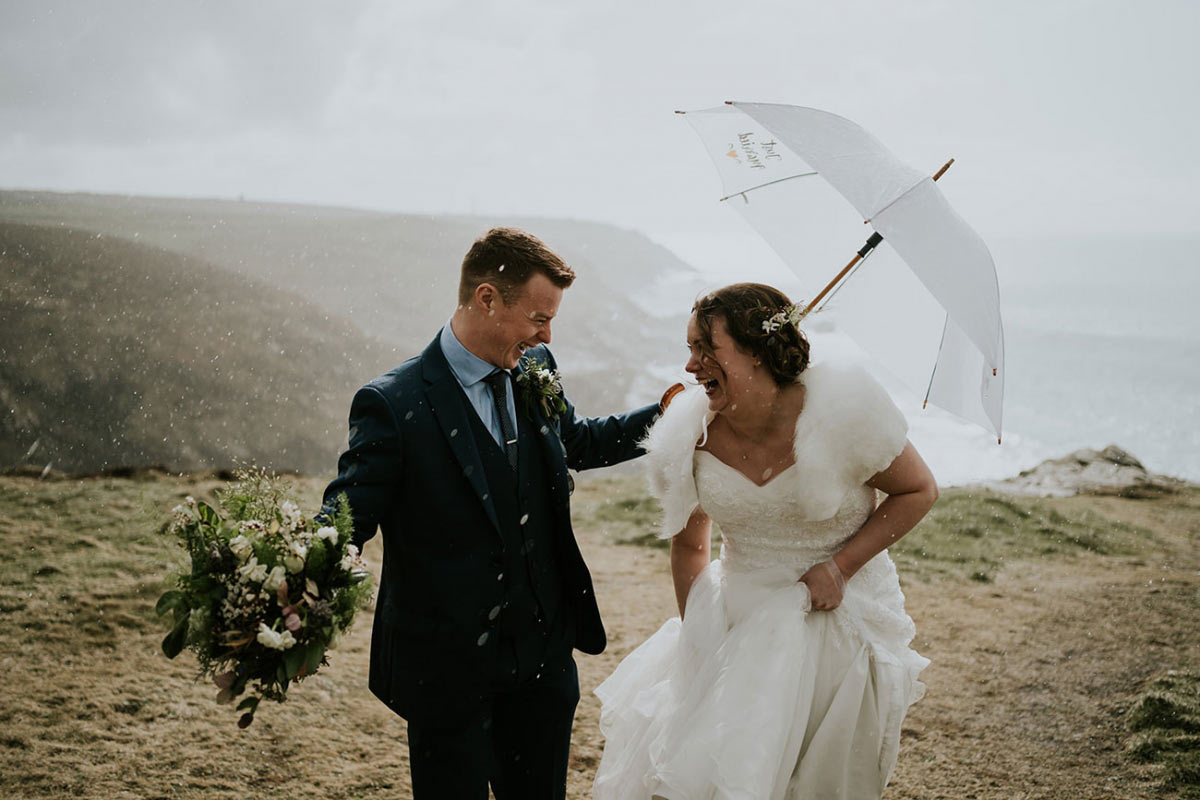 What will weddings look like post-pandemic?
A New Dawn
Covid-19 has had a dramatic effect on the wedding industry – so what will weddings look like post-pandemic?
The UK wedding industry has experienced some incredible highs in recent years, from the legalisation of same-sex marriage to a wave of historic Royal weddings. The industry has been hit particularly hard by the Covid-19 pandemic, however, and at no other time has there been such a climate of confusion and uncertainty.
With forced postponements and cancellations, couples are currently planning for their dream day in the dark, and even as lockdown restrictions have been eased, the looming quandary of group gatherings and how long social distancing will remain in place casts an unwelcome shadow over today's wedding planning climate.
Whether you're recently engaged, are rescheduling your event or altering your plans due to Covid-19, we've considered what weddings might look like in the post-pandemic age to help you navigate your way through these choppy waters.
Without brooding on the potential pragmatics of social bubbles or sanitisation stations, we've instead focused on the emerging trends to help you envision your day as we collectively emerge from 'coronageddon' with a sense of renewed creativity and revived conscience for a wedding awash with meaning and, most importantly, love.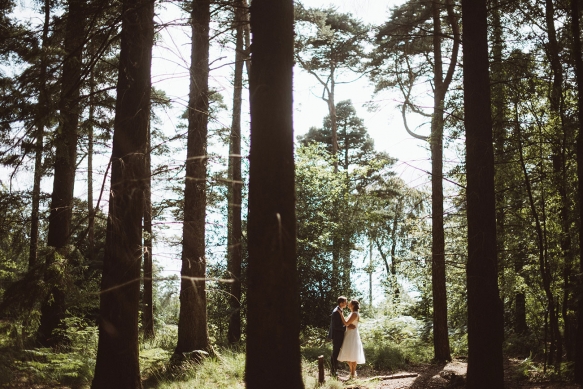 Harrera Images
MICRO WEDDINGS
In reaction to Covid-19, there's a movement toward the micro wedding, where either as a result of restrictions, budget restraints or an altered perspective, the desire for more intimate events with fewer guests has shifted the focus onto a more meaningful, less-is-more ethos.
"If you're just starting your planning, then do consider either the elopement, micro or smaller wedding," says wedding planner Rebecca Green from Rebel & Anchor (
rebelandanchor.co.uk
). "For one, they will be easier to ensure certain health and hygiene standards that may be imposed and, secondly, after all everyone has been through, the main thing is to treasure what's important to you. That will probably be close family and friends, and this way you can spend more quality time with them."
Jessica Kearney from Ardour & Bow Weddings & Events (
ardourandbow.co.uk
) agrees. "Life after Covid-19 is going to be tough for many people and for those who have smaller budgets or want to spend their money elsewhere. I think we will see a greater number of smaller, intimate weddings, or even elopements, and celebrating your special day with your nearest friends and family," she says. "The opportunity is still available to have a big party in the future, but this option enables you to hold a celebration sooner rather than later and on a money-friendly basis – unless you want to have a luxurious no-expense-spared elopement!"
If you simply want to tie the knot, then it's possible to plan a personal ceremony and await developments as they play out in order to organise the celebratory side of things, especially since there will be an overlap of pre-planned and postponed dates for next year. "For those who have just got engaged or those who will become engaged over the next couple of months, there might be very limited dates available at venues," warns Jessica. "You might therefore consider holding a blessing with a celebrant. I've always been a big fan of this option, but it's not often considered by couples. You would need to visit a registrar in advance to cover the legal arrangements, but choosing a celebrant allows for a bespoke, personal ceremony."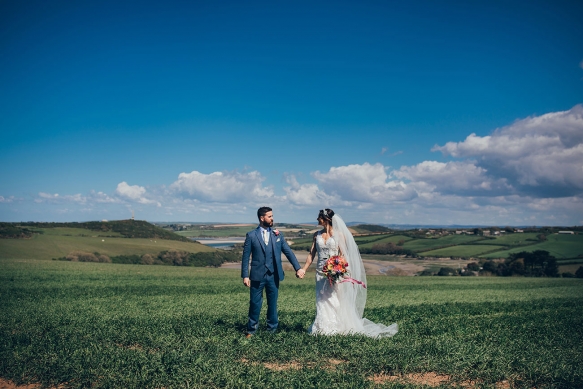 Toby Lowe
BIGGER IS BETTER?
On the flipside, there are also indications that maxi weddings will be all the rage as couples' take their socially restricted time in lockdown to plan the biggest of big days.
"There is going to be the tendency for some weddings to go with a bang in 2021 and 2022," says Jessica. "When couples finally get to their wedding day – that day might be 12-18 months further on from their original date – they are going to want to party in style! So, I think we might see extravagant parties with 'bigger is better' being the motto."
"If you do want those larger numbers then consider the great outdoors," suggests Rebecca of how to achieve a maxi wedding while adhering to any social distancing protocols. "A ceremony, reception drinks, and even a relaxed form of dining can be outside or in open-sided stretch tents."
Selecting an outside venue provides greater flexibility and provides a sensible contingency option, especially if lockdowns are reinstated or the regulations change, as Jessica explains. "Couples might be keen to choose a venue with outside space to ensure that if we experienced a similar situation in the future, the option for an outdoor ceremony may enable the celebration to still go ahead."
MORE MEANING
With individual mindsets being altered by our experiences in lockdown and in response to the landscape of a global pandemic, so too are weddings being re-evaluated with regard to both the look, feel and impact of the day.
"All the extra time that couples are experiencing – whether they have rescheduled a date or are newly engaged – will mean that they will be establishing what their priorities really are for their day," says Jessica. "This might mean that certain wedding traditions are brushed aside to make way for unique, personalised celebrations."
The rulebook will be well and truly torn up in favour of a complete overhaul for many, with plenty of surprises thrown in for good measure. From imaginative responses to old traditions to the creation of new ones, expect a multi-level post-lockdown redesign of weddings where every human, environmental and financial element has been carefully considered.
Weddings have already seen a spike in benevolent gestures, including charitable acts such as donating food to homeless organisations and flowers to care homes and hospices, and even hen parties and honeymoons that incorporate volunteering. And the philanthropic mood is set to continue and expand in a similar vein. Think personal gestures at every turn, from guest experiences and customised gifts designed to express individual gratitude to thoughtful décor, dining and entertainment, and altruistic-style events such as tree-planting ceremonies, mini fundraisers and favours being replaced with charitable donations.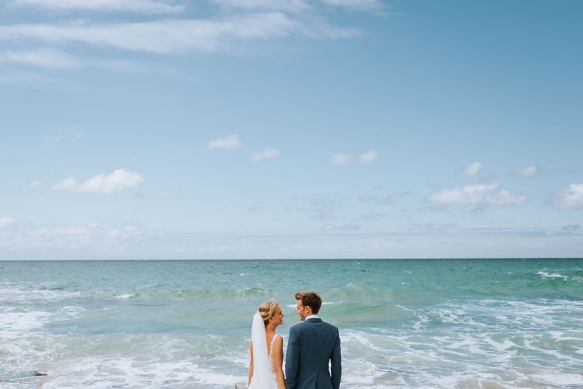 Grant Lampard
WEEKDAY WEDDINGS
With a potential scrambling for dates to be expected as a result of postponements being planned alongside pre-existing wedding bookings, alternative days will be requested and weekday weddings will become a popular, no-brainer option.
"When looking for venues during 2021 and 2022, there are going to be many venues where their key summer dates are already fully booked with rescheduled bookings. Therefore, couples need to be open to holding their wedding on a weekday, and also during different seasons," explains Jessica.
"Winter is one of my favourite times to hold a celebration so don't just naturally think that your wedding needs to be in summer. Weddings can be beautiful no matter the season and there are so many styling options to reflect seasonality."
Altering your season and day may appear daunting, but consider the freedom (and money-saving bonus) that a midweek or midwinter wedding might offer.
SUSTAINABILITY AND SHOPPING LOCALLY
With so many businesses being adversely affected by Covid-19, the already-growing trend toward supporting local enterprise and minimising environmental impact will continue to influence couples' planning decisions with even greater gusto.
"Life after lockdown will make some people really think about what's important and ensure quality over quantity," says Jessica. "We were beginning to see this before Covid-19, but I think people will give greater consideration to sustainability and a trend towards sourcing local suppliers."
The green wedding movement has gathered huge pace in recent years and is fast becoming one of the most-desired types of W-day, whether in the form of zero waste, being more sustainable, or locally sourced micro events.
"I also think that greater consideration will be given to the mental and physical wellbeing of celebrations with the rise of 'wellness weddings'," predicts Jessica, which is another emerging trend that looks set to gain momentum. "Along with foam-free florals and checking what sustainable measures your suppliers are adopting to sourcing ethical fabrics or even holding a yoga class for your guests, I think weddings could become a bit more zen."
It seems a simple antidote to the surreal stresses of recent times that we all yearn for: a wedding packed with personality, loved ones, and a grateful, giving-back sense of calm.
POST-COVID PREDICTIONS
Jessica Kearney of Ardour & Bow Weddings & Events shares the new W-day elements to expect
Planned to perfection – More people are going to consider hiring a wedding planner to help them plan their day, and to be there when things don't go to plan. During the pandemic, planners have been instrumental in rescheduling their clients' events, liaising with multiple suppliers and coming up with a Plan B. I think having a professional event manager as part of your planning might be an attractive idea to many couples in future.
Tech-savvy celebrations – I've always been a fan of tech and, of late, no matter what profession, we have all seen how our lives have been involved in the latest developments. Zoom might be quite new to most people, but this is something I'm used to using as my clients often live further afield or abroad and our planning chats are often conducted online. I think tech will continue to feature in our lives, with couples taking advantage of virtual venue viewings post-Covid, 3D tours, or holding their initial enquiries with suppliers via video.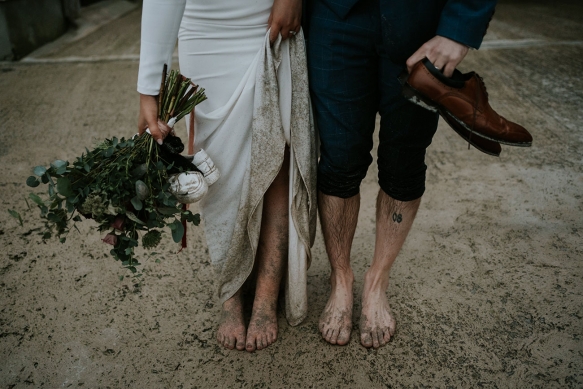 Enchanted Brides
BE PREPARED
Rebecca Green of Rebel & Anchor shares her top tips for planning a post-Covid wedding
Food & drink
If you're set on a buffet or dessert station then make sure they're served. That way, only the serving staff needs to wear gloves and use utensils to serve the chosen items.
Relaxed street food can be done easily. With outside catering vehicles, guests can be safely served pizzas, hot dogs, burritos etc. Guests can then dispose of their waste and recycling with bins provided.
Whilst it's a lovely idea for guests to have a self-serve bar or even their own glass, this wouldn't be advisable. It would be better to have lots of smaller bar set-ups rather than one large one, thus allowing a smaller number of people to congregate. Use glassware rather than plastics and have separate glass collectors and washing staff, who need to wash glasses straight away once collected, wearing appropriate protection and gloves.
Seating & dancing
Nobody knows to what extent we're going to be social distancing so perhaps rather than table places, have a more relaxed affair with lots of different tables and seating areas so guests can find a place to sit where they feel comfortable. Everyone will be affected differently during these times and letting people do what makes them feel comfortable is a winner.
Hopefully there will be a time when dance floors can be packed again. However, for those less sure about being in a crowd, but still want to feel involved, consider surrounding the floor with some poseur tables that guests can reside at or dance beside without feeling too exposed.
Cleaning
If you are having a DIY, dry hire wedding then check all your suppliers have practices in place regarding cleaning, food and bar service that adhere to any government guidelines. Also consider hiring cleaners to be present throughout the day, which will ensure areas and restrooms can be constantly cleaned for extra peace of mind.
Main image Enchanted Brides
Words Hannah May
Wed

Directory

All you need from the finest wedding suppliers in Cornwall and Devon