---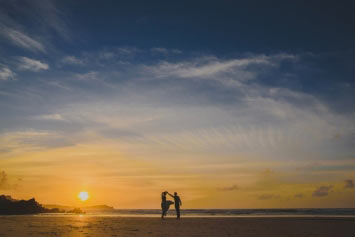 Wedding Photography Cornwall
How to get photo ready for W-day
They're the images you'll treasure forever, so here's how to make sure you look good - really, really good - in your wedding photos
They're the images you'll treasure forever, so here's how to make sure you look good - really, really good - in your wedding photos

Standing in front of a camera can be a little bit awkward at the best of times. Let alone when the excitement of your wedding day is unfolding around you, you're surrounded by everyone you know and then there's the pressure that your grandchildren might one day be looking at the photos! With that in mind, we spoke to three talented wedding photographers for the inside knowledge on how to look your very best on your big day.
Get to know your photographer
Before you book the photographer of your dreams, it's a good idea to meet them first. This will help you decide if you'll work well together and whether they share your vision. Abi Riley (
abiriley.co.uk
) likes to get to know potential clients beforehand. "We have a chat on Skype or a meeting with each couple prior to the big day, which lets us find out about their plans and expectations," she says. "It also forms that initial bond which allows us to become friends for the day. When you feel that a friend is taking your photo, you instantly feel more relaxed."
Clare Kinchin Photography

Consider an engagement shoot
Another way to build your relationship with your photographer - as well as get in some practice - is to book an engagement shoot. "This is a great way to get to know your photographer," says Clare Kinchin (
clarekinchinphotography.co.uk
). "My style of shooting is relaxed and informal. I very rarely ask people to look into camera and this really helps with the awkward rabbit in the headlights look. We do lots of walking and talking and getting to know each other, so on the wedding day I'm not a stranger and you know what to expect. Most people don't enjoy having their picture taken, including me (hence being behind the camera!), so I feel your nerves. I also shoot with two cameras - one with a long lens so that a lot of the time you don't even know you're being photographed. Absolutely no cheesy smiles into the camera, I promise!"
Amber from Liberty Pearl Photography (
libertypearlphotography.com
) is a fan of engagement shoots too. "It's a great opportunity for us to get to know each other so that there are no surprises on your big day. I can see you together as a couple in a 'normal' situation, working out what's best for you - and you can get to know my shooting style whilst practising and experimenting in front of the camera (instead of your guests!)."
Abi Riley Photography
Choose a photographer you love
If you're on a budget you'll be looking for areas to cut costs, but photography isn't always the best option for saving money. "Try not to book a photographer based on budget alone; there is no point having a fabulous album included in your package if you're unhappy with the photography," says Clare. After all, as Abi says: "The photographs are one thing that will truly last a lifetime and increases in value over time as our memories fade."

Don't copy
You'll find plenty of inspiration for wedding photography in everything from this magazine to the huge number of blogs out there, but Abi's advice is to stay true to yourselves. "Every couple and every wedding is unique, and the photos should not be a copy of someone else's day." And while it's good to consider the kind of photography style you like, Amber has a word of warning for those prone to too much research. "Looking at Pinterest is a great place to look for inspiration and ideas but don't copy these in the moment, just be yourself."

Abi Riley Photography
Love yourself
Learning to love yourselves exactly as you are is an idea worth embracing ahead of the big day! "There is so much pressure on us, especially with social media, to look perfect. Remember you are marrying the person of your dreams and you are the most beautiful being in the world to them right now. Don't worry about the gym classes you didn't do, just take a breath and remember why you're getting married and your photographs will show this," says Clare.
Light it up
As any photographer knows, good lighting is everything. It's worth paying attention to the lighting at your venue and if you're unsure, ask your photographer to scope it out beforehand.
"Good light, such as having your make-up done in a bright room, elevates the photos from very good photos to brilliant photos. These are things that may not be obvious to the untrained eye, but a good photographer will find a way to work around a room unnoticed and make the best use of available light. A good make-up artist would place the bride near a window, instead of a dark corner with incandescent lights," says Abi.

Abi Riley Photography
Take your time
Everyone tells you "the day goes so fast" and they're right. But if you can, try and make some time for special shots of the two of you. "It's important that you allow enough time with your friends and family, and to allow at least 15-20 minutes to have some photos of just yourselves, which is probably the only time you will have away from your guests taking it all in," says Abi.
Clare suggests slightly overestimating your timings to be on the safe side. "Leave enough time and then add half an hour, especially in the morning, as it goes so quickly. If you want photographs before your ceremony, make sure you have enough time for this."
"If you are shy, try to find a spot with no guests around, as sometimes an 'audience' can be very off-putting," says Amber.
Think about the time of day too. "Magic hour is the last hour of sunshine during the day, this is incredible light to work in, so think about scheduling another little couple shoot in around this time," advises Clare.
Clare Kinchin Photography

Limit group shots
Too many formal shots will eat up your time, so just pick a few key group shots you'd like. "The rest of the time, the photographer is there to capture your family and friends candidly; the photos that will make you laugh and cry with happy tears when looking back at your album in years to come. Enjoy the scenery of the location you've chosen and the company of your nearest and dearest, and the photos will reflect how you felt on the day," says Abi.
Be yourself
And last but not least? "You've done your homework and you know you have a kick-ass wedding photographer, so trust them. Laugh, love, cry... whatever comes naturally to you both," says Clare. "There are no right or wrongs - just be you."
words Abby Driver
Copyright Wed magazine 2018
Wed

Directory

All you need from the finest wedding suppliers in Cornwall and Devon