---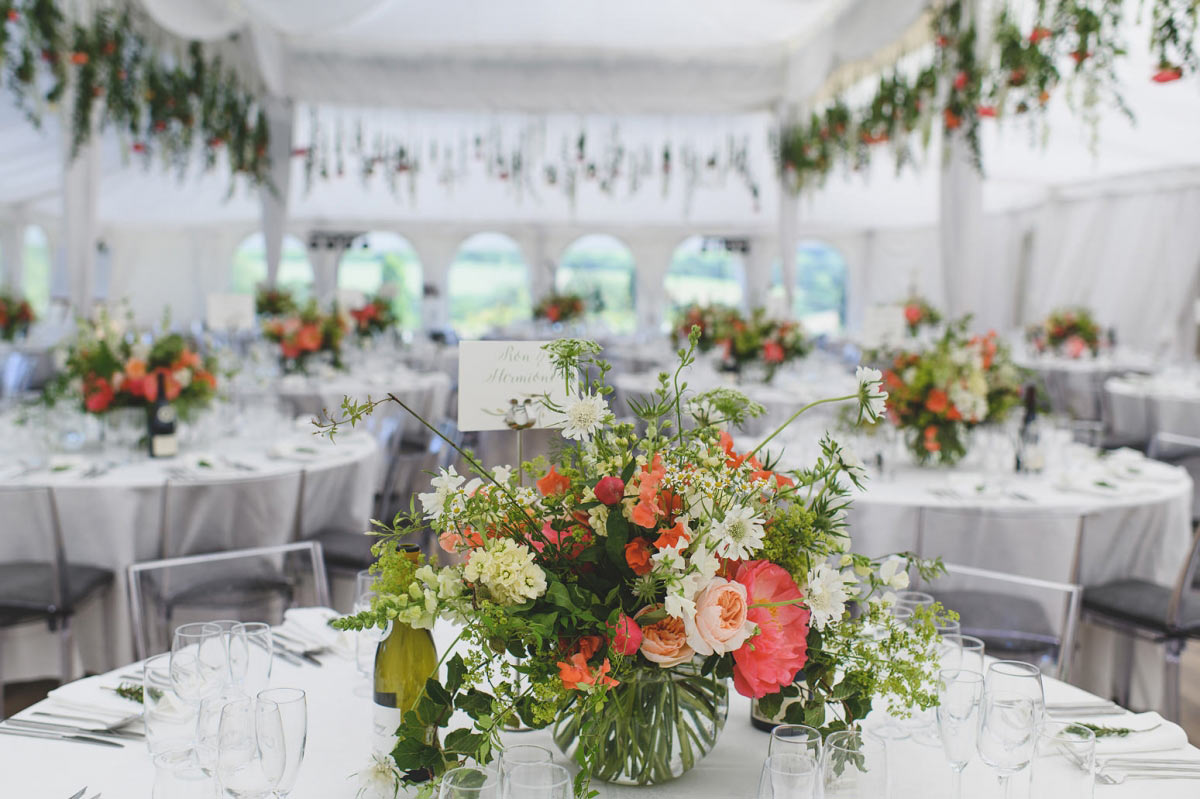 Wedding flower trends 2020
The latest trends in wedding flowers with advice from the floral experts
Wedding world is in the throes of a floral crush. From bridal fashions to décor, flowers are stealing the spotlight as couples use them in a myriad of ways to infuse personality into their day: think wow-worthy installations, colourful accessories and tabletops adorned with the latest eye-catching looks.
With so much inspiration, it can be hard to know here to begin with planning your wedding flowers. We've asked the professionals to forecast the trends and reveal their favourite looks to help you style your wedding with bloom-filled brilliance…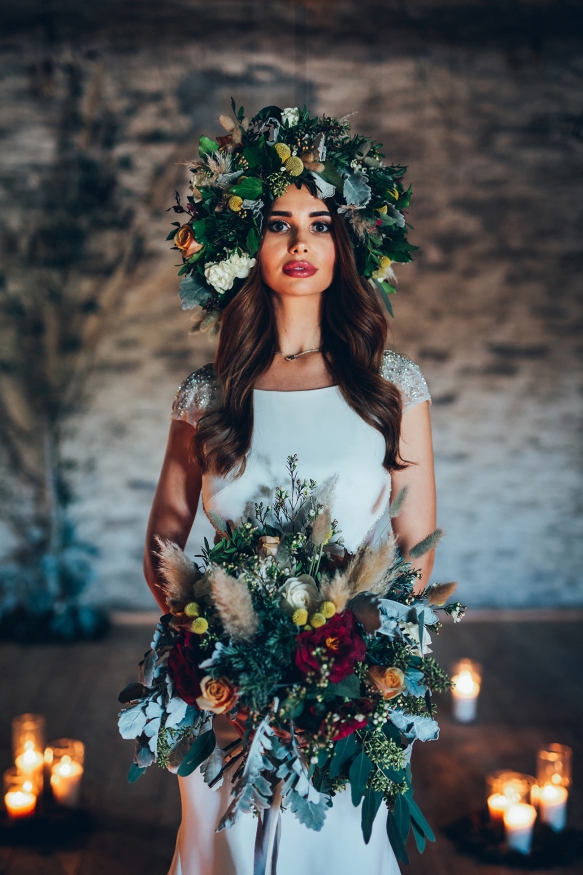 The Velvet Daisy (Toby Lowe)
Seasonal blooms
"Throughout my career I've always advocated the use of seasonal flowers, so to me it's a given, not a trend," says Simon Nickell (simonnickelldesign.com) of a perennial floral look, which is a key consideration for modern couples. "Using seasonal flowers will always be more cost-effective, and it's the perfect way to reflect the time of year of your wedding."
"So what is in season, and when? "Tulips, narcissi and blossom in spring; roses, peonies and hydrangeas in summer; chrysanthemums, gladioli and lush berries in autumn; anemones, hellebores and amaryllis in winter… Every season has its own beauty, so go with the flow!" he suggests of the wonders of sourcing your blooms seasonally to give a beautiful and eco-friendly nod to your wedding date.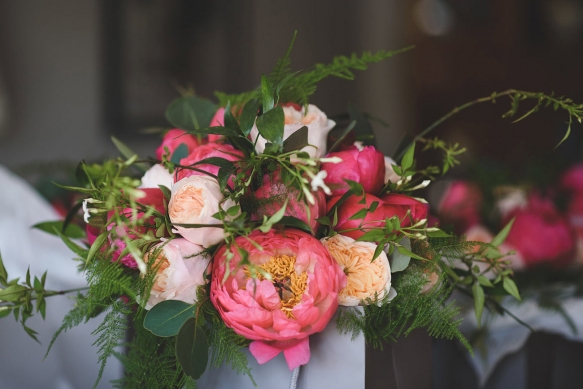 The Velvet Daisy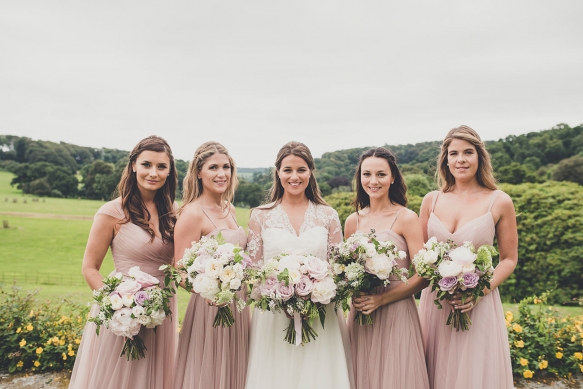 Simon Nickell Design
Fancy foliage
Bringing the outside in is one of the most-wanted looks when it comes to current wedding style trends, seamlessly blending spaces as you create a sense-spoiling scene, whatever the venue and time of year.
"I recently did a wedding that was foliage-only suspended designs, which I absolutely loved," reveals Emma Hewlett (emmahewlett.co.uk). "In a marquee set within a private garden, it was great to blend the marquee décor with the external surroundings. Foliage is just so bright and fresh in a cream marquee."
Lisa Grigsby from Down by the River Florals (downbytheriverflorals.co.uk) agrees. "I am a huge fan of foliage-only installations, which I've found work really well if you use one type of foliage as a core influence throughout the wedding, and add other elements of foliage in lighter or darker tones to highlight certain arrangements."
She suggests ruscus garlands for sweeping staircases, with cinerea and gunni eucalyptus in bluish hues to bring together larger installations. "I love the way that foliage on its own can create such a lovely feeling of bringing the outside in for a very natural and relaxing atmosphere," she says.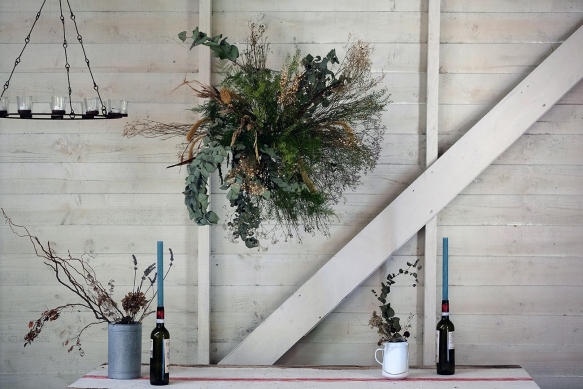 Down by the River Florals (Lisa Marie Grigsby)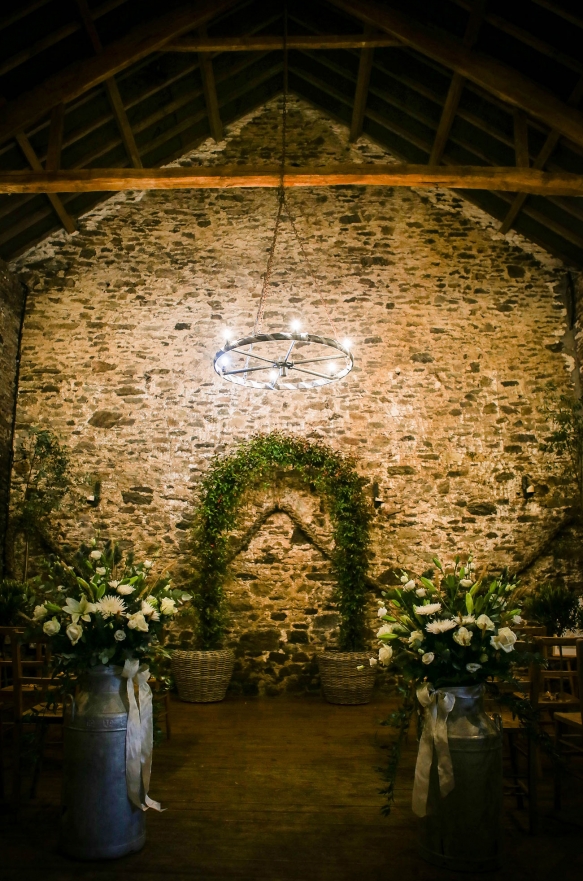 Fuss Pots
Gorgeous grasses
"With all the present and forthcoming trends in wedding flowers, I love the use of dried flowers and grasses – beautiful, textural, organic-shaped and British," enthuses Helen from The Velvet Daisy (thevelvetdaisy.co.uk). "Pampas grass, interesting branches and colour produce a wonderful frame for the delights of smaller grasses and dried flowers. I love that, whilst drying, the textures, colours and shape can change so much. It's as though a completely new flower is being produced," she observes.
"I slowly dry my English hydrangea and globe artichokes each year in time for Christmas wreaths. I get so excited watching the developing colours as weeks go by, knowing that each dried flower will create something quite unique," she says of the process, which creates a bespoke palette for each wedding scene.
"When it comes to decorative accents for your floral arrangements, bold plumes of pampas grass are very on-trend," says Simon. "Pinterest and Instagram are great sources of inspiration for these grasses, loved for their softness, scale and their ability to make a statement. Paired with similarly popular ornamental grasses, they are the current must-have look. And as for ferns, I think they're hard to beat!" he adds. "I've always loved their delicate fronds, their different textures and many varieties. I'm delighted they're becoming more popular, both for bouquets and arrangements."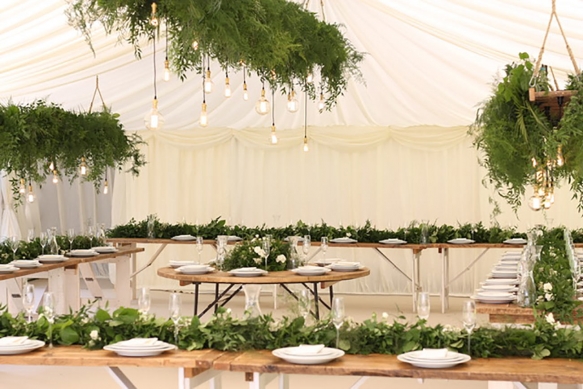 Emma Hewlett Floral Design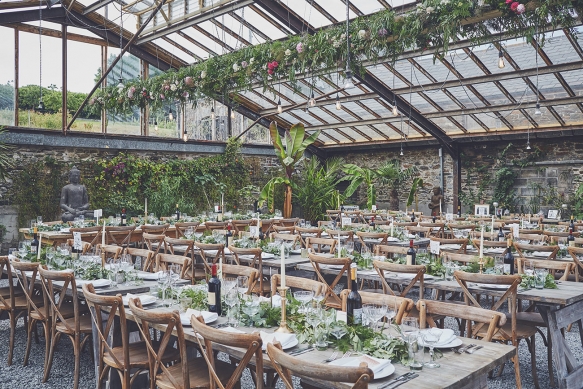 Emma Hewlett Floral Design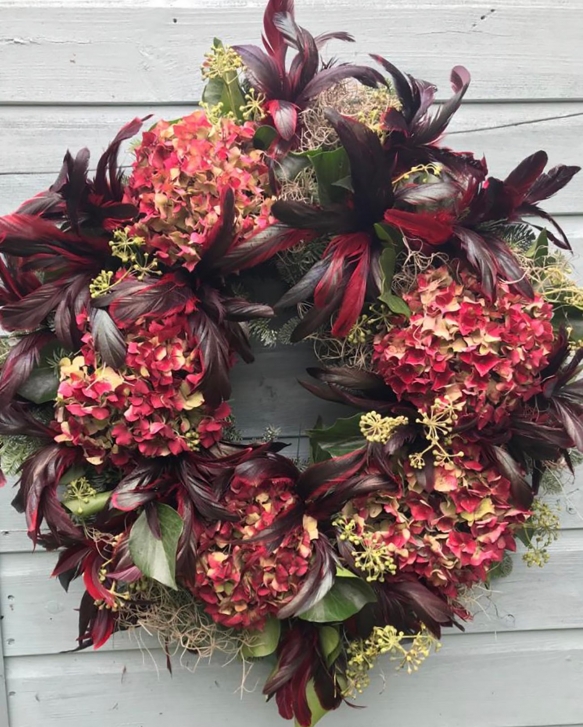 The Velvet daisy
Think sustainable
As more couples opt for greener weddings in more ways than one, so the floristry naturally follows. "Sustainability is now a major trend in wedding floristry, and long may it continue," champions Simon of the global eco movement. "As we become more concerned about waste production and disposal, couples are thinking more consciously about their wedding flowers. Hashtags on social media such as #grownnotflown and #nofloralfoam are influencing the way we think about where flowers are coming from and how florists work with them."
When it comes to logistics and the benefits of an environmentally conscious approach to your floristry, Simon is "a great fan of reusing", he says. "After all, couples pay a lot of money for their wedding flowers. For me it makes sense to move things around and reposition arrangements, so that they can be seen more often throughout the wedding day. It's now rare for me not to repurpose flowers from ceremony to reception. It may make the logistics slightly more difficult, but I think the extra effort is worth it."
"As a florist making big changes to make my business as ecologically sound as possible, I love designs that can be done without the use of floral foam (which is so bad for the environment) and using materials such as dried," says Emma. "Dried materials are great for cloud installations due to them being so lightweight, allowing us to 'go big'!"
Pared-back bouquets
"Too big or not too big? It's all a question of size!" comments Simon of current bouquet crazes, which have become more minimal over recent seasons.
"There was a time when almost every bouquet I made was a neat dome of roses or peonies: it was a look that reigned supreme. Then things changed, and a wildly garden-gathered style took hold, leading to some brides saying 'I don't want to be drowned by my bouquet.' Neat domes continue to be popular, but expect to see more pared-down versions of the larger garden-style bouquets."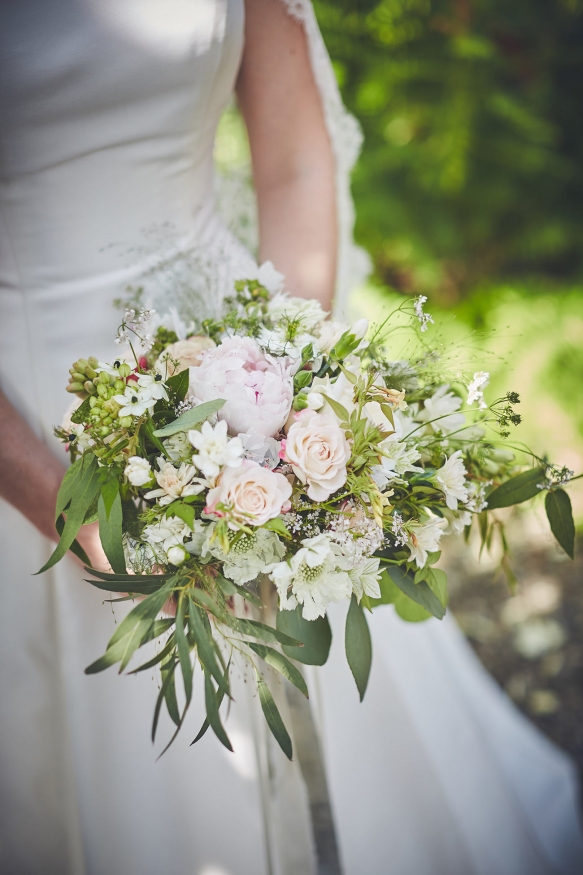 Emma Hewlett Floral Design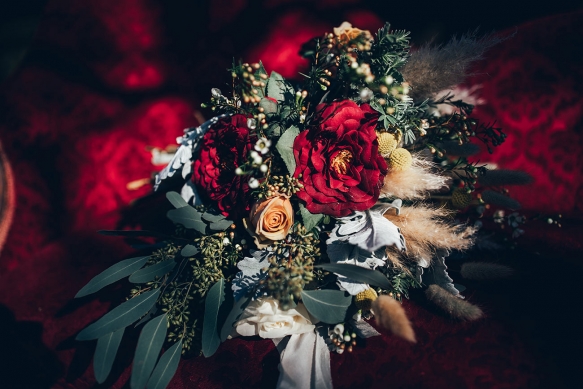 The Velvet Daisy (Toby Lowe)
Bold is beautiful
"Not everyone wants a white wedding," reports Simon. "They don't work for everyone, so I'm seeing some couples make far bolder colour choices with their flowers. Coral is one of those colours and makes a fabulous statement for a wedding. Peonies have always been one of the most popular flowers, and the variety 'Coral Charm' is now one of the most requested. It partners perfectly with the similarly bold shapes of dahlias, roses and poppies."
And if coral is too strong a choice, how about apricot or peach? "These shades are perfect for late summer and autumn weddings, they tone beautifully with burnt orange, reds and russets," he says.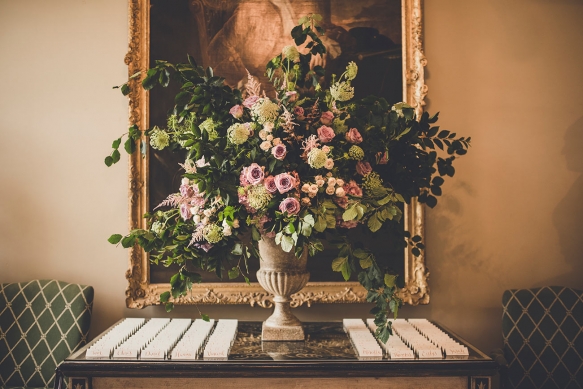 Simon Nickell Design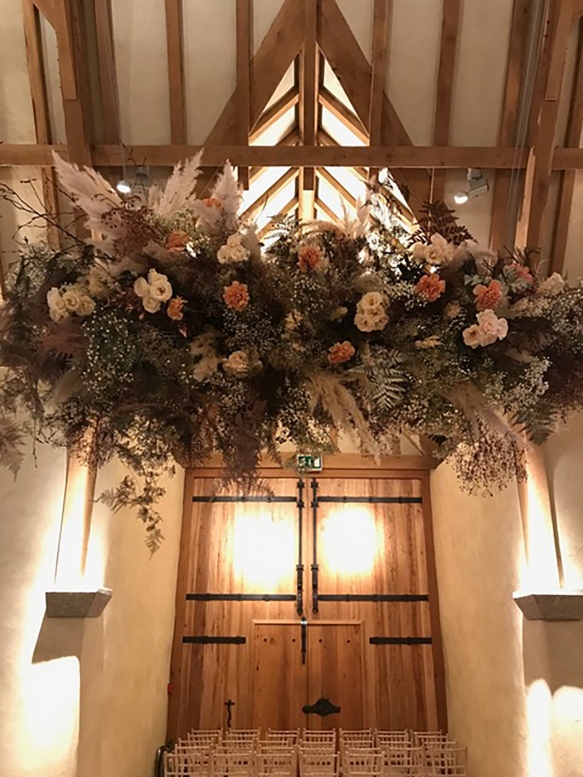 Emma Hewlett Flowers
Head in the clouds
'Statement' is another feature on the hot list, with more couples opting for artistic and sculptural pieces to showcase their floristry.
Emma is a personal fan of the head-turning trend. "I love an installation, whether it be a cloud, free-standing arches, hanging chandeliers… and I love including lighting in my hanging installations at the moment," she says.
"My background is in photography and art, so being able to express yourself as a florist with installations is such a wonderful thing to be able to do," reveals Lisa. "Most importantly, collaborating with couples and bringing their ideas to life is one of the most rewarding things for anyone in the wedding industry!" she says of the creative partnering involved in designing each couple's individual floral arrangements.
"The use of flower clouds is also emerging as a trend and they are just beautiful and work really well alongside dried flower themes too," she predicts. "Gypsophila has a reputation sometimes as being more traditional for weddings, but used alone can create stunning clouds, especially if there are several clouds suspended in a beautiful barn or country home. I love the dream-like feel of creating something beautiful suspended above a top table, and exploring ideas where artistry and floral design meet."
"Floral installations are some of the most stylish ways to personalise your wedding," announces Simon. "I'm seeing a trend for ceremony aisles to be far more impactful than before, and lush arrangements filled with pampas grass and delphiniums are excellent for recreating this look. They can also be moved and doubled up as arrangements for the wedding reception."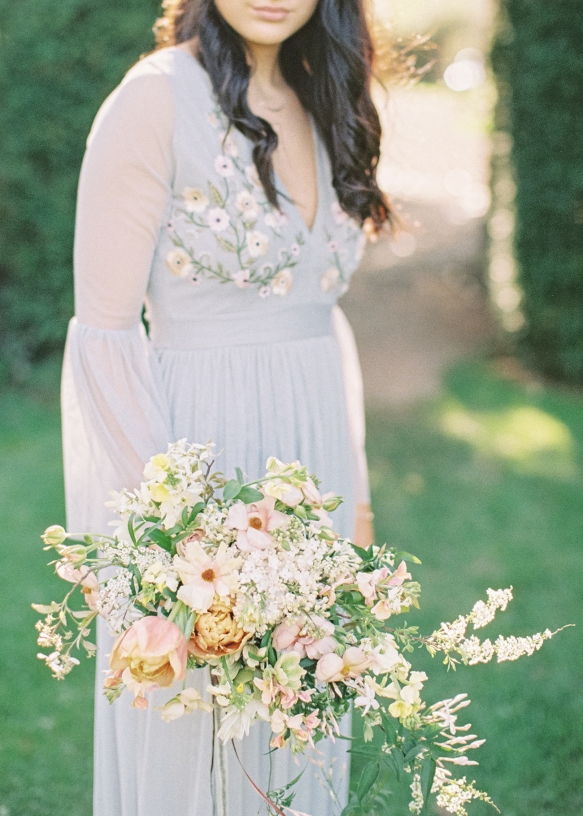 Emma Hewlett Flowers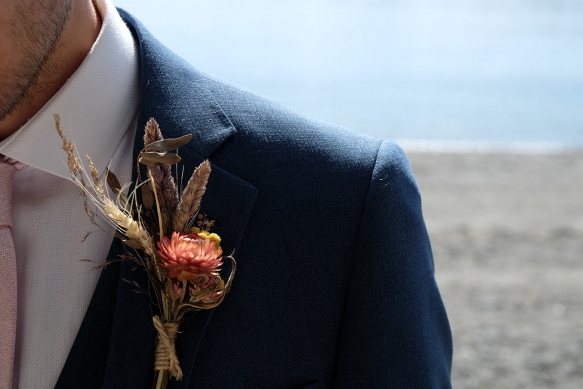 Down by the River Florals (Lisa Marie Grigsby)
BOX-OUT:
PERSONALISED PETALS
We love these ideas for adding a bespoke touch to your wedding blooms
Go bold. Think outside the box and be brave. Work with your surroundings and the venue and use things that are special to you as a couple. Emma
Be imaginative. I've personalised bouquets with a small locket from a grandmother, a particularly evocative flower, bright flowers incorporating pom-poms and ribbons to match the veil, and even mini basketballs! Helen
Dried and pressed. A new service I offer is creating keepsakes of pressed flowers in beautiful copper frames in order to remember the florals used for the big day. Dried flower bouquets are also a beautiful way of being able to preserve the nuptial blooms for all time. Lisa
Use your memories. It's lovely to sit down with the couple and think about any specific flowers they associate with memories, and combining this meaning as a theme for flower choices. Flowers speak a language that is universal but also have nuanced meanings, something that transcends time and place and brings everyone together. Lisa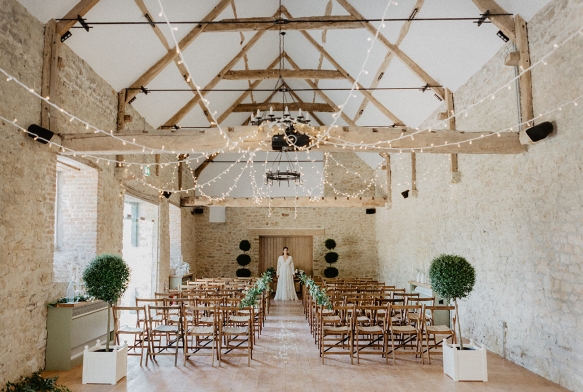 Fuss Pots (Katherine Newman)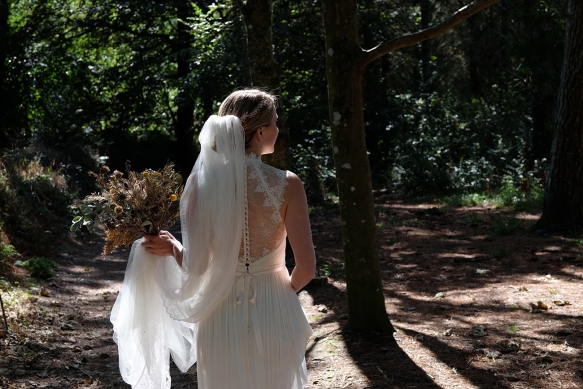 Down by the River Florals (Lisa Marie Grigsby)
Wed

Directory

All you need from the finest wedding suppliers in Cornwall and Devon