---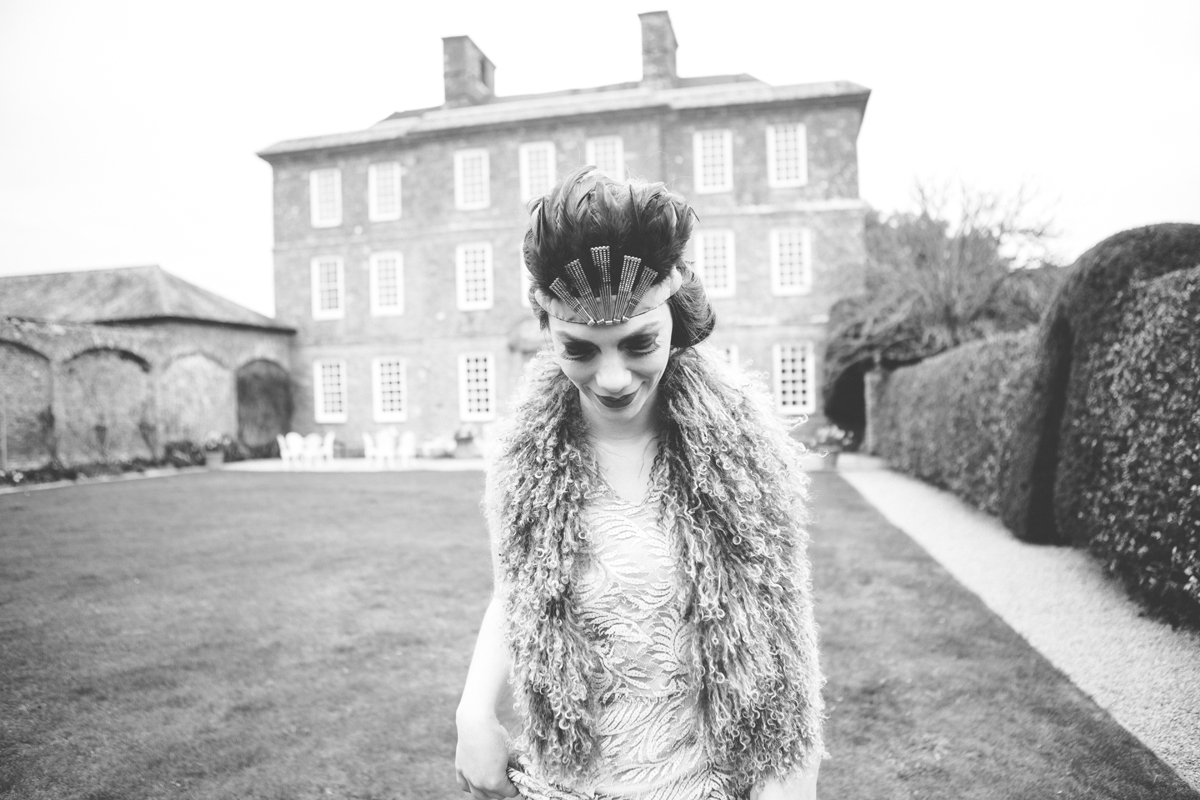 Wedding Dresses Devon
Vintage wedding shoot
For a stirring sense of vintagromance fuse 1920s' fashion with an edge of drama and a beguiling backdrop...
"This bridal shoot is a 1920s styled shoot set on location at Buckfastleigh steam train yard and The Kingston Estate, a Georgian manor house in Devon. I wanted to create an authentic vintage feel based on the last days of steam and drawing on the local landscape in South Devon," explains photographer Emma Stoner.
"The dresses are all vintage and from the era. Our dress supplier, Days of Grace Vintage in Budleigh, Devon has a fantastic selection of gowns - one was a 1920s' beaded flapper dress, one was Edwardian and another was a slightly later 1930s' full-length gown. Blue Geranium created beautiful floral displays with feathers and beading reminiscent of the era. We also had a fabulous 1920s' art deco cake supplied by Cut Me Off a Slice."
"The props were supplied by The Prop Factory. We had a gorgeous chaise lounge, peacock chair and a gramophone to really give an authentic feel to the shoot. As the shoot was based on the local landscape and suppliers, I also invited owls from The Rare Breeds Farm in Totnes. The farm is a stop-off point on the steam train route through South Devon so the owls have a special relationship to the railway."
"The 1920s' was a very social time and all about fun so I really wanted this to come across in the shoot. I chose two models who are friends to act as flapper girls of the era. Their make-up was quite dramatic to fit with the style of the time."
"It was really fantastic to shoot at Buckfastleigh train station as there are so many great backdrops. Kingston Estate with its elegant, rustic charm was the perfect venue for this vintage shoot."

Credits:
Venues -
kingston-estate.co. uk
southdevonrailway. co.uk
Photographer -
emmastonerweddings.com
Florist -
blue-geranium.co.uk
Cake -
cutmeoffaslice.com
Dresses -
daysofgracevintage.co.uk
Vintage prop hire -
propfactory.co.uk
Hair & Make-up -
billieedge.com
Owls -
totnesrarebreeds.co.uk
Models - Rosie & Willow
Copyright Wed magazine 2017
Wed

Directory

All you need from the finest wedding suppliers in Cornwall and Devon