---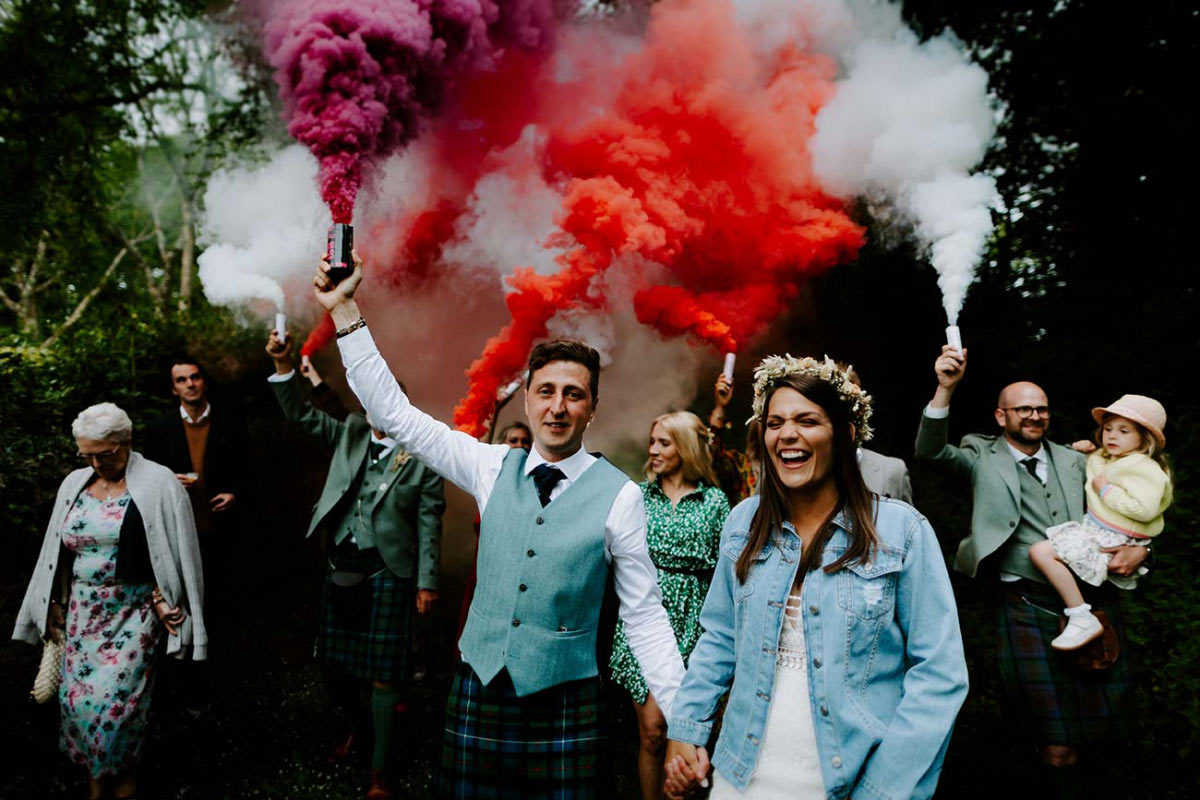 Wedding at Tregoose, Cornwall
Mountain High
Emma & Jamie's colourful, festival-chic wedding at Tregoose
Manchester's greyhound racecourse was where Emma first laid eyes on Jamie, though it wasn't him that her friends had initially hoped she'd fall for. "They were trying to set me up with another guy but Jamie caught my eye and helped me learn how to place bets on the races!" smiles Emma.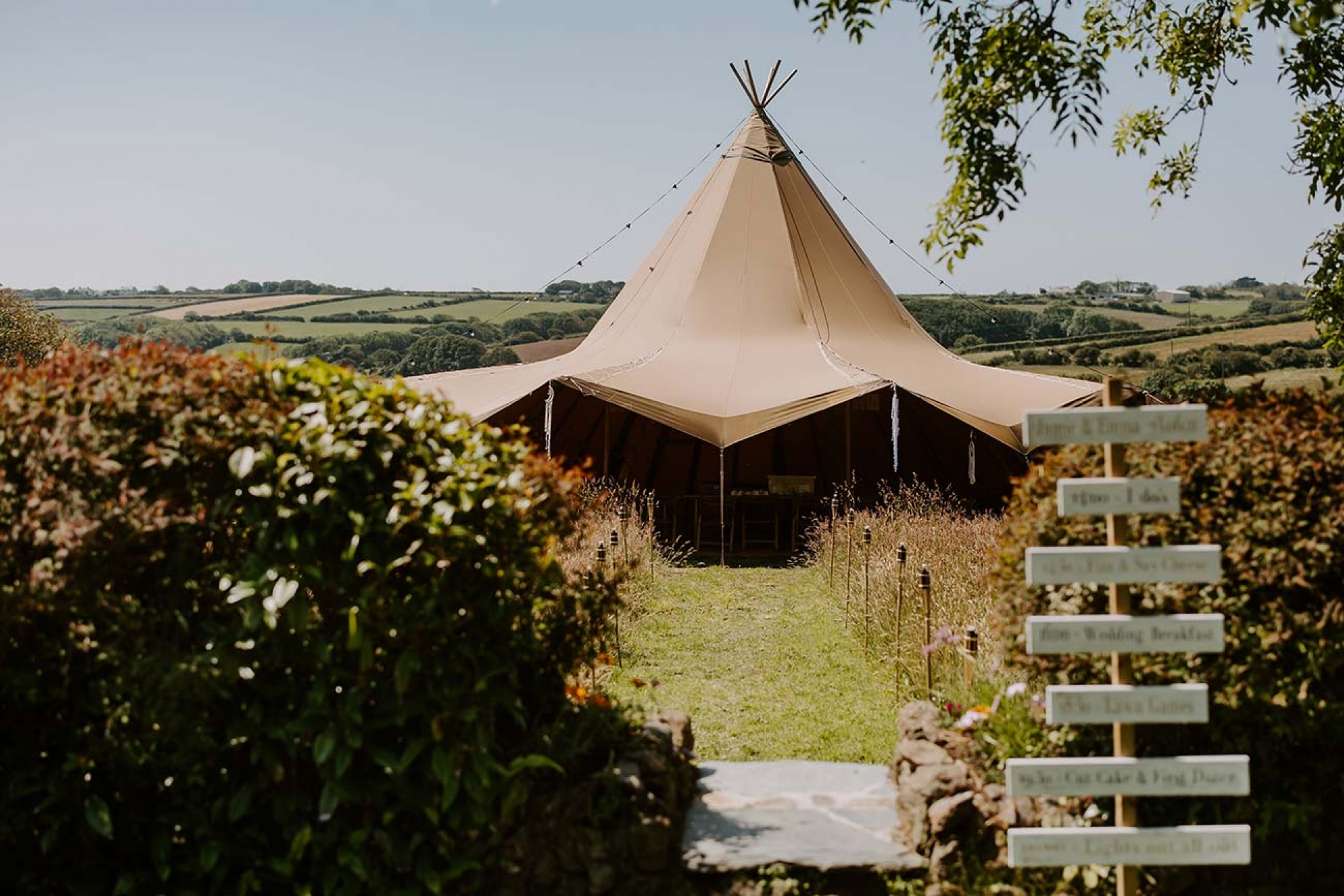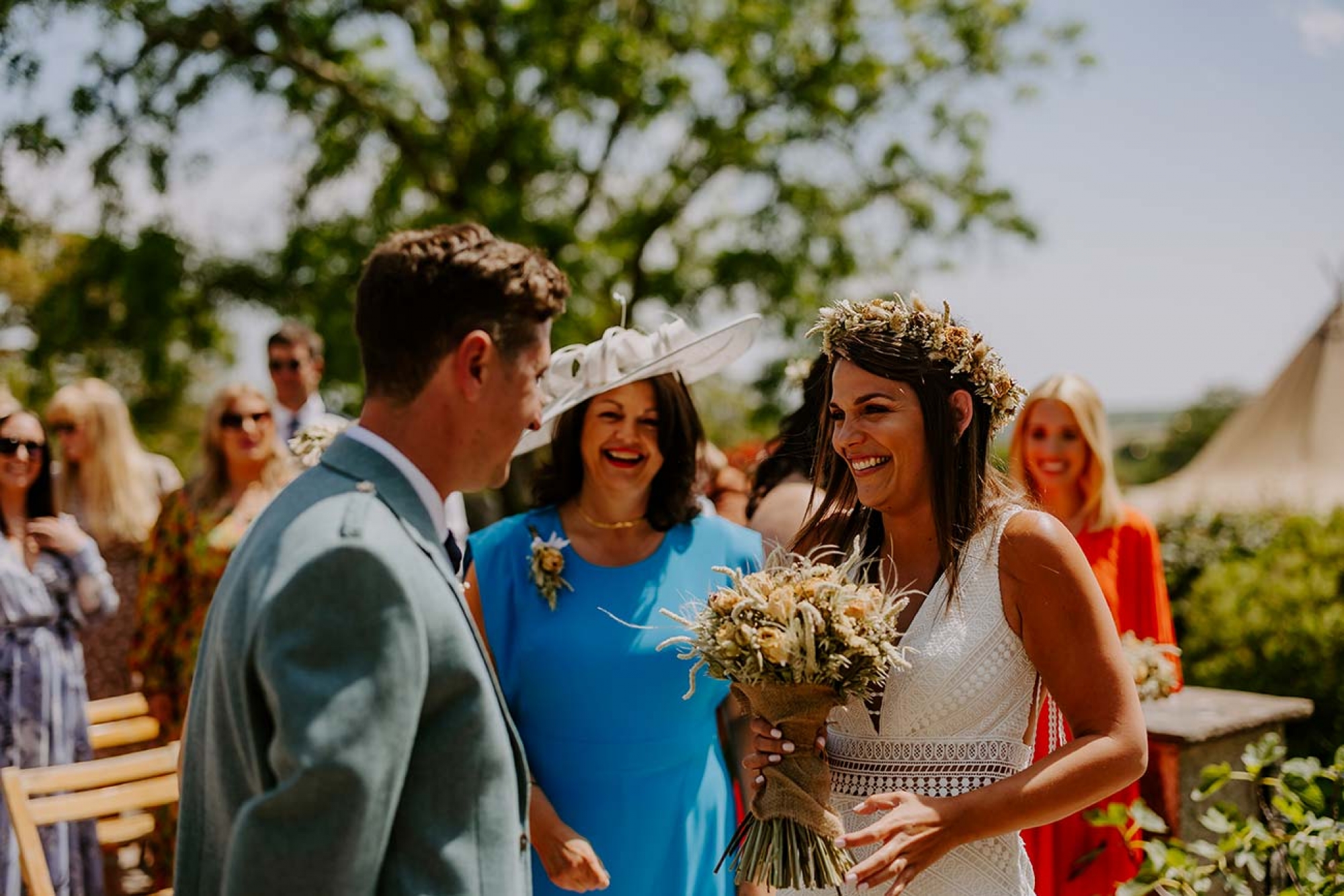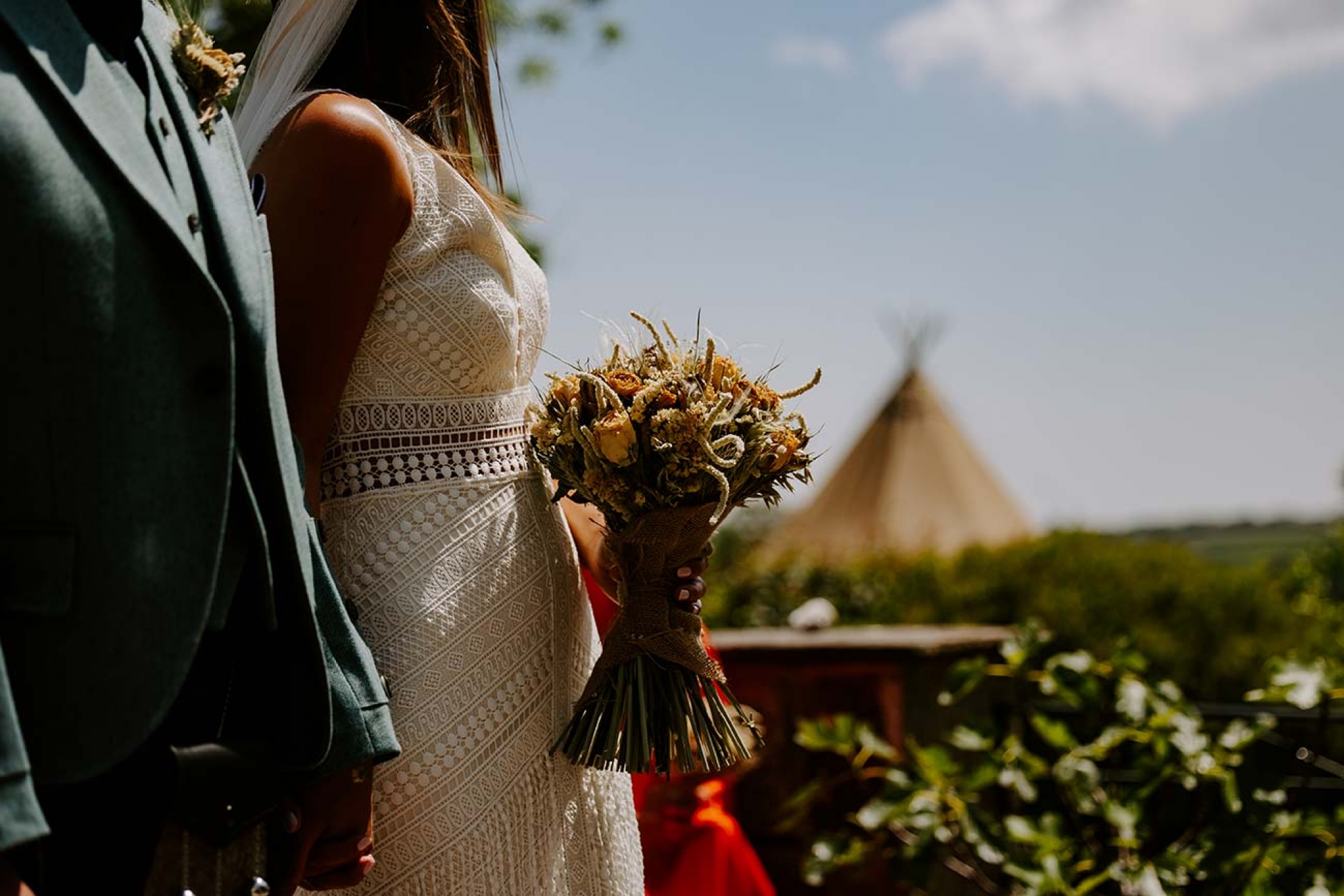 The couple got engaged on Mount Batur while they were on their second trip to Bali together during an early 30th birthday celebration for Emma. "We took a trek up the mountain, which is actually an active volcano, starting at 2am to get to the top for sunrise," recalls Emma. "Our guide found us a nice quiet bench where they gave us tea and some breakfast, then Jamie nudged me, opened up the ring box and said 'What do you think? Want to marry me then?' And also apologised for it taking so long (eight years!). It was worth the wait!"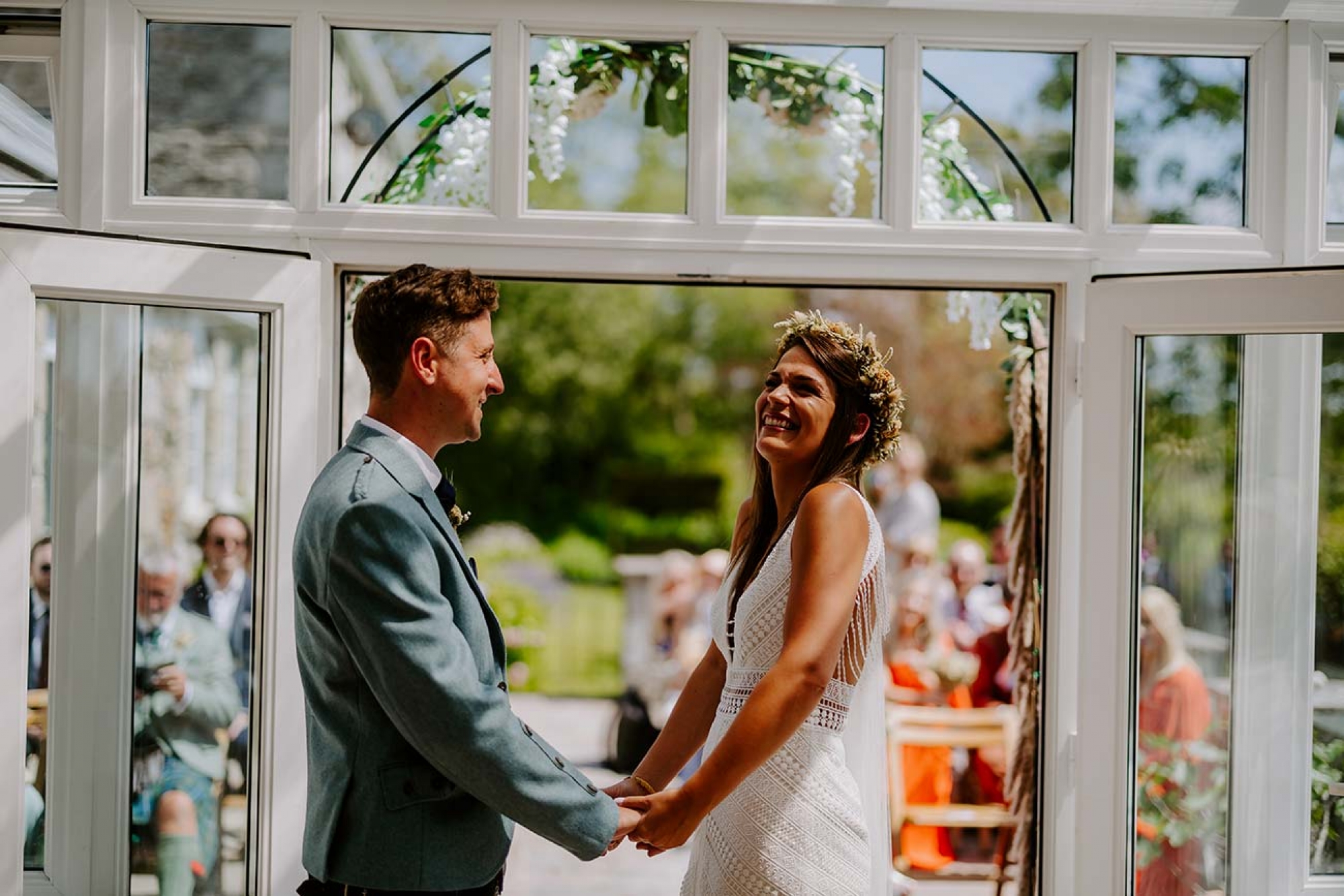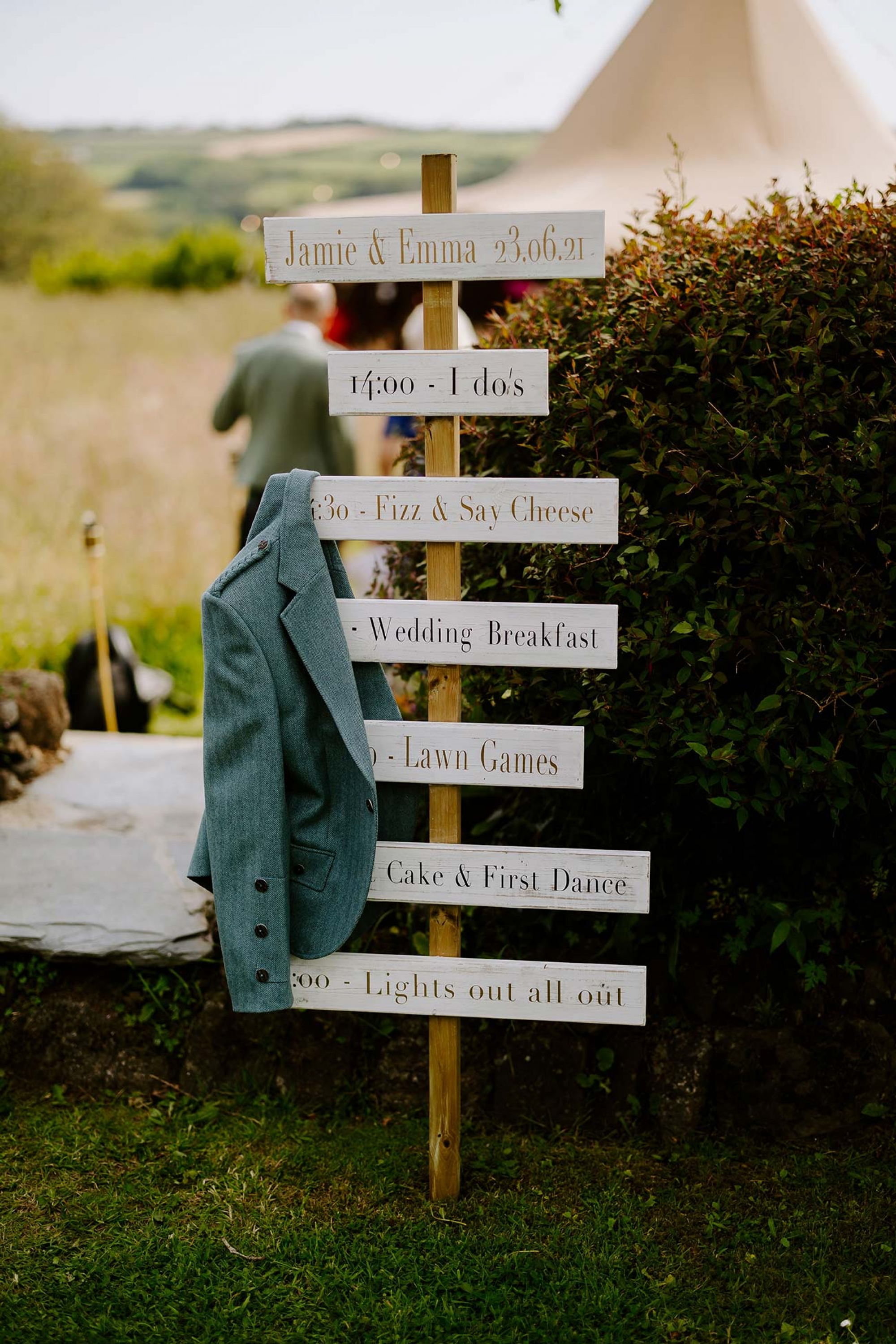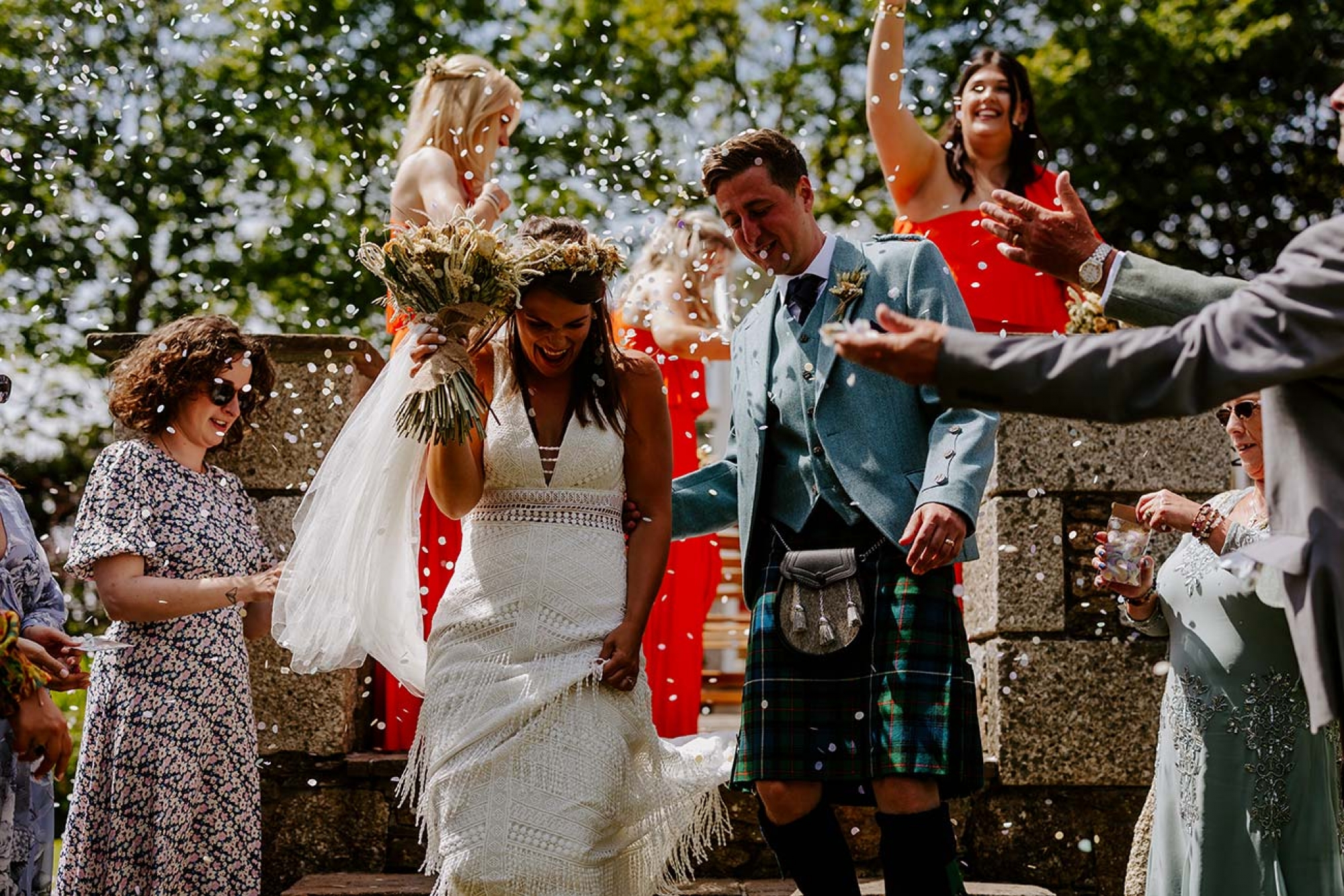 It was Emma's mum who discovered Tregoose Farmhouse and Barns for their venue, which ticked all their wedding day prerequisites. "We wanted a small wedding in that area of Cornwall, as this is where my mum's family is originally from and we holiday there every year," explains Emma. "We could find all our own suppliers and decorate it however we wished, and we also got to spend five days there including the big day, which made a lovely break away with family and friends."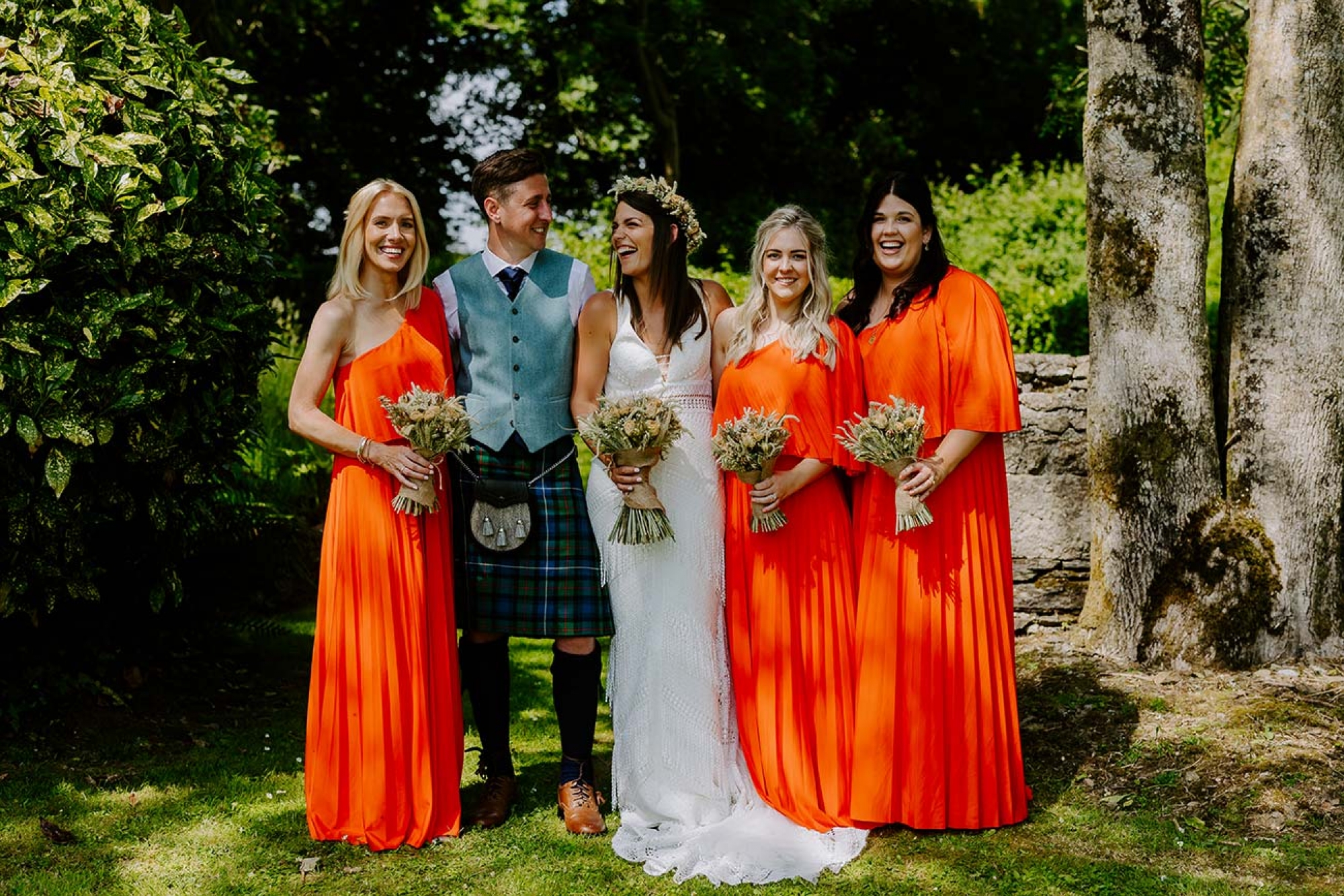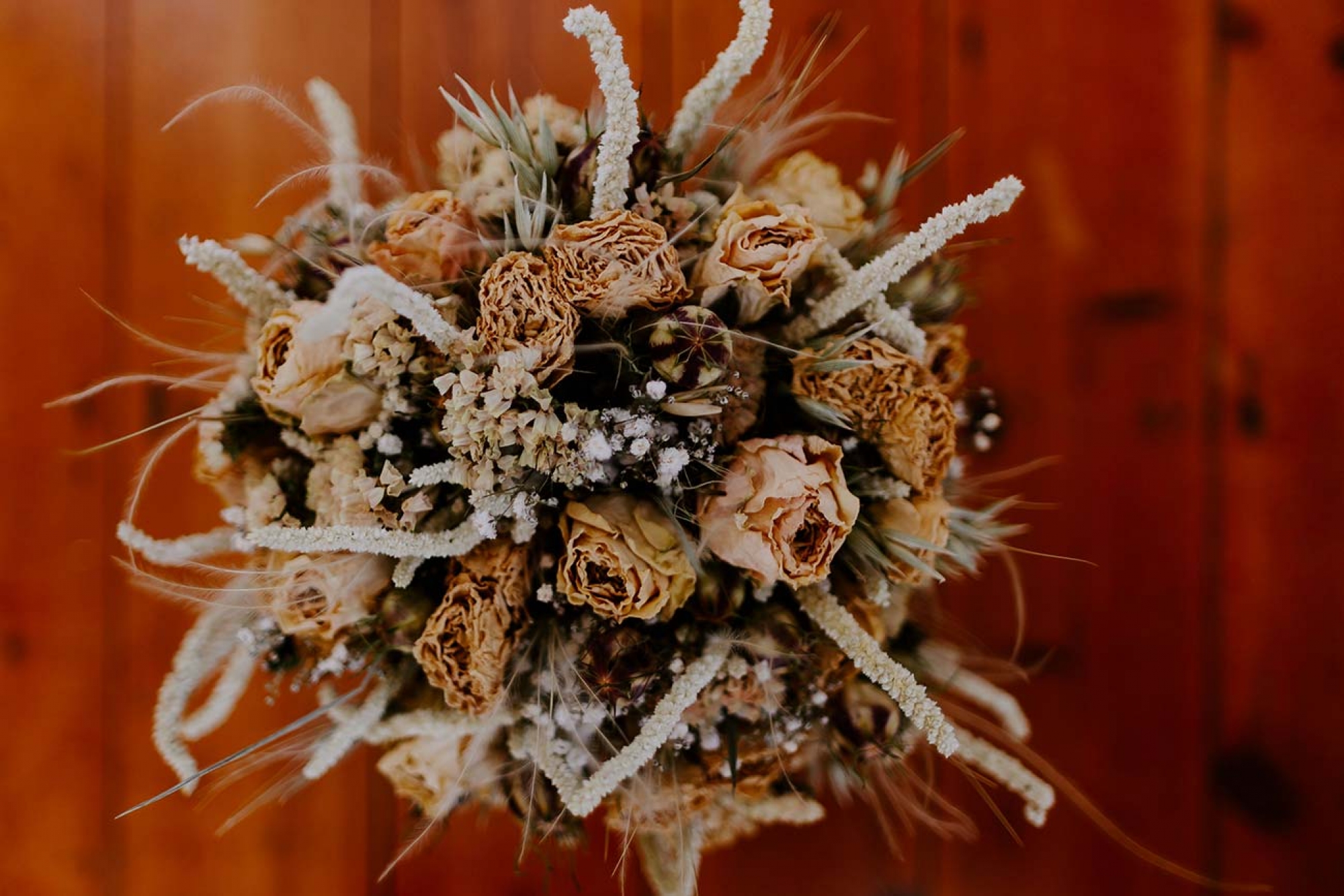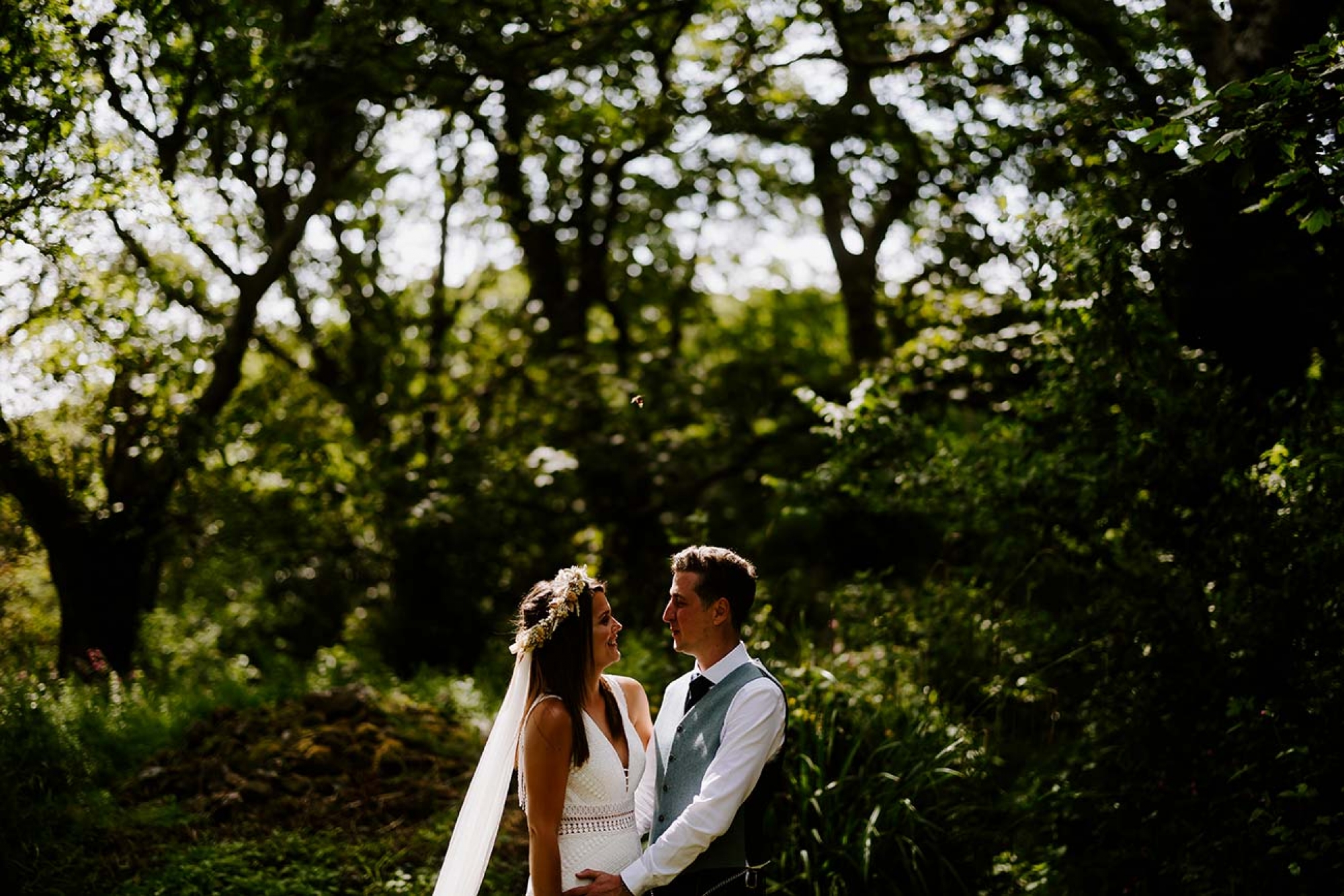 Armed with a 'boho-rustic' vision, Emma and Jamie designed the event from an eclectic mix of influences. "I loved the idea of dreamcatchers, dried flowers and relaxed vibes with a festival feel!" says Emma. The scene was made all the more personal with the help of family and friends, which included Emma's sister making the cake and Jamie's illustrator sister handmaking the pretty place names and menu cards.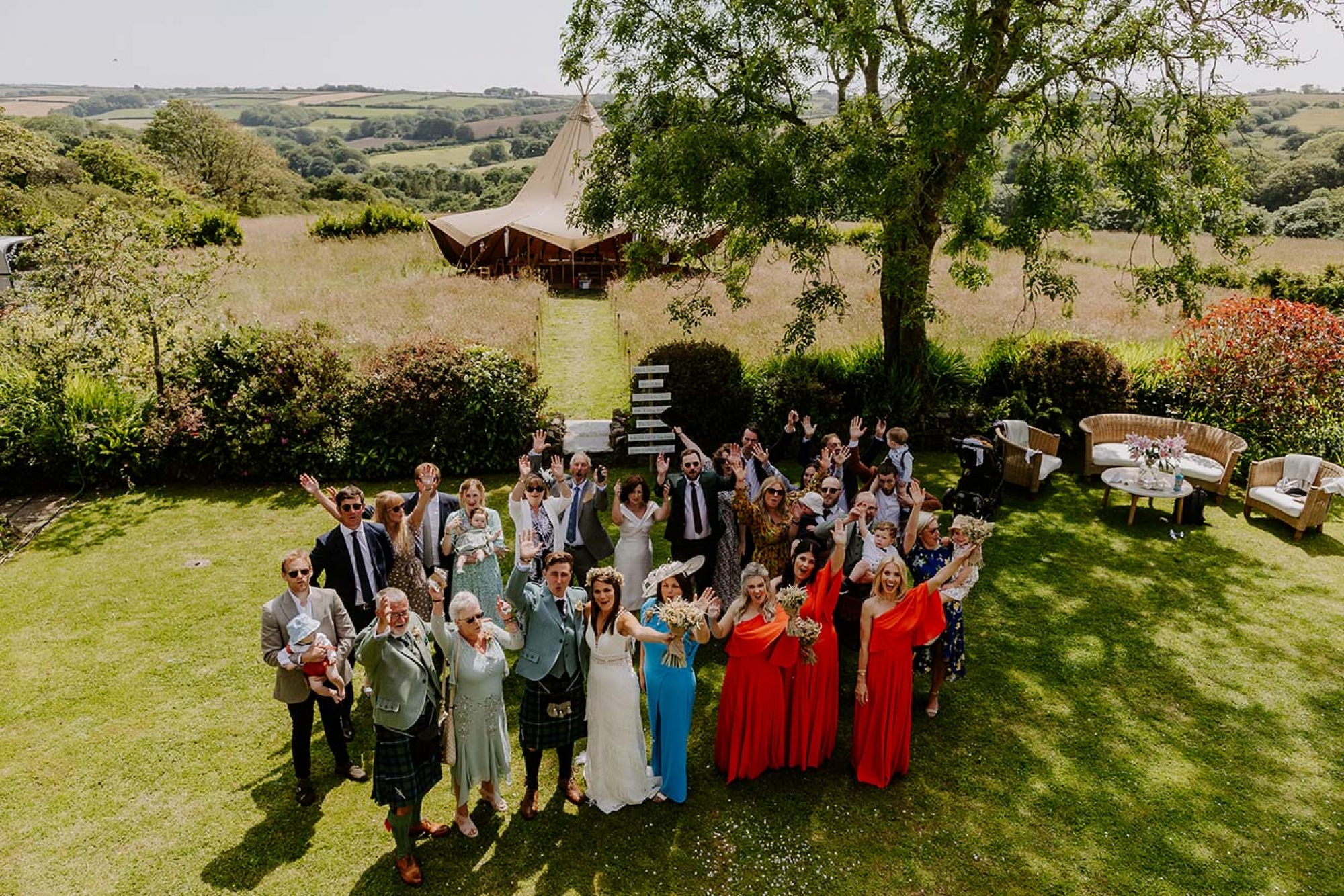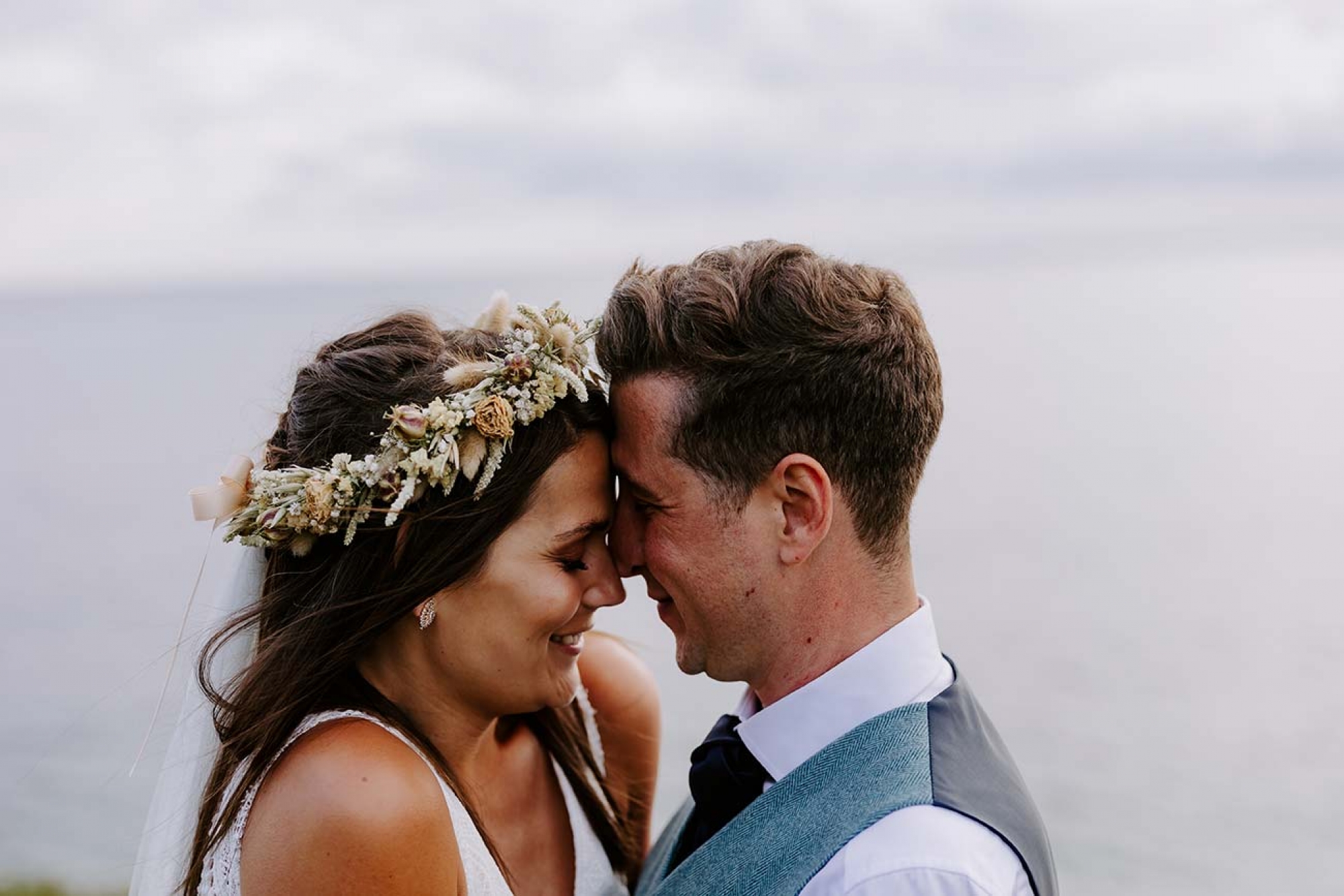 After the al fresco ceremony, guests enjoyed bubbly in the sunshine before settling in the tipi for the wedding breakfast. The decadent feast included pan-fried scallops, spiced confit duck, lamb rump and seasonal white fish rounded off with passion fruit and white chocolate cheesecake, chocolate brownie, mini pavlova and lemon posset.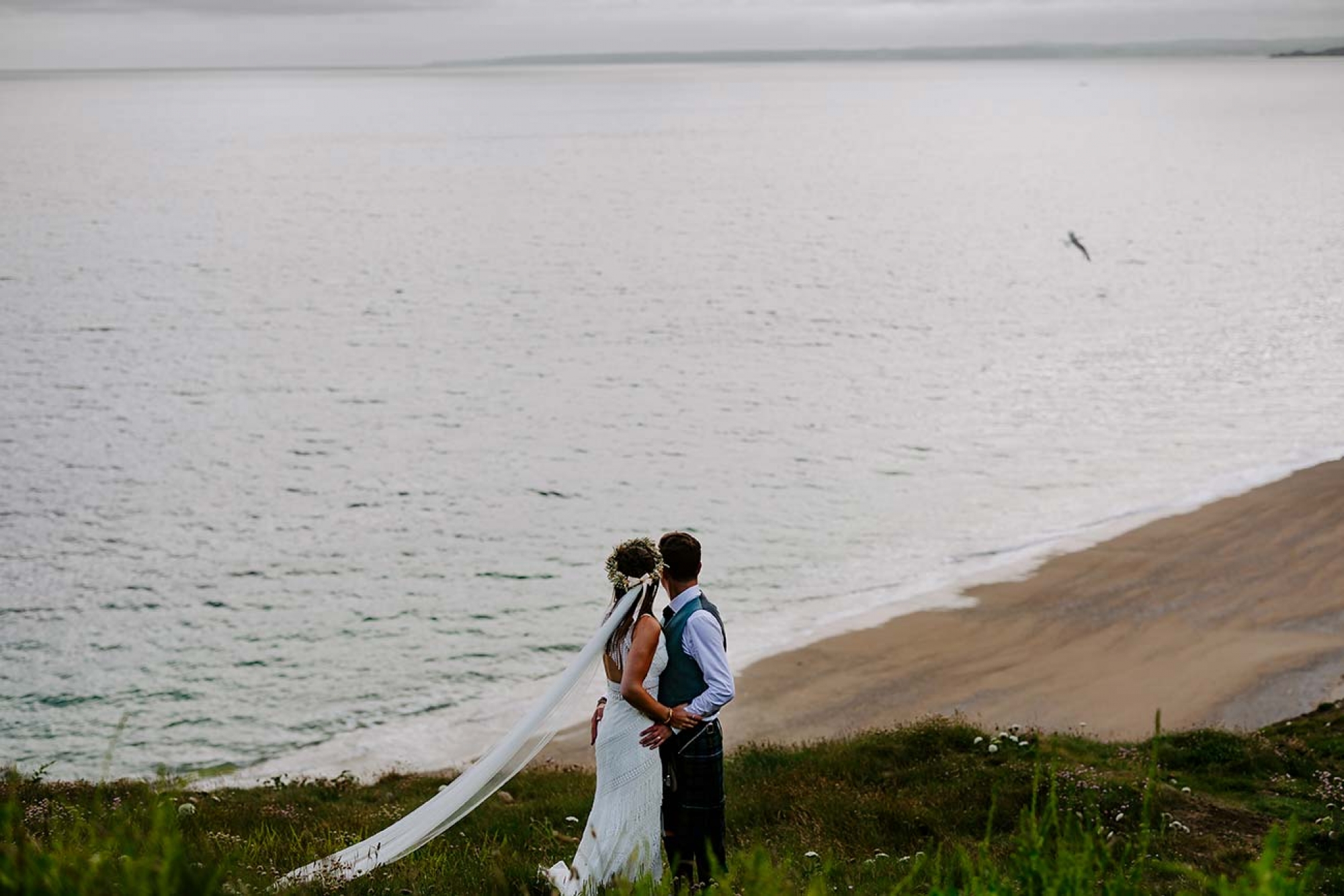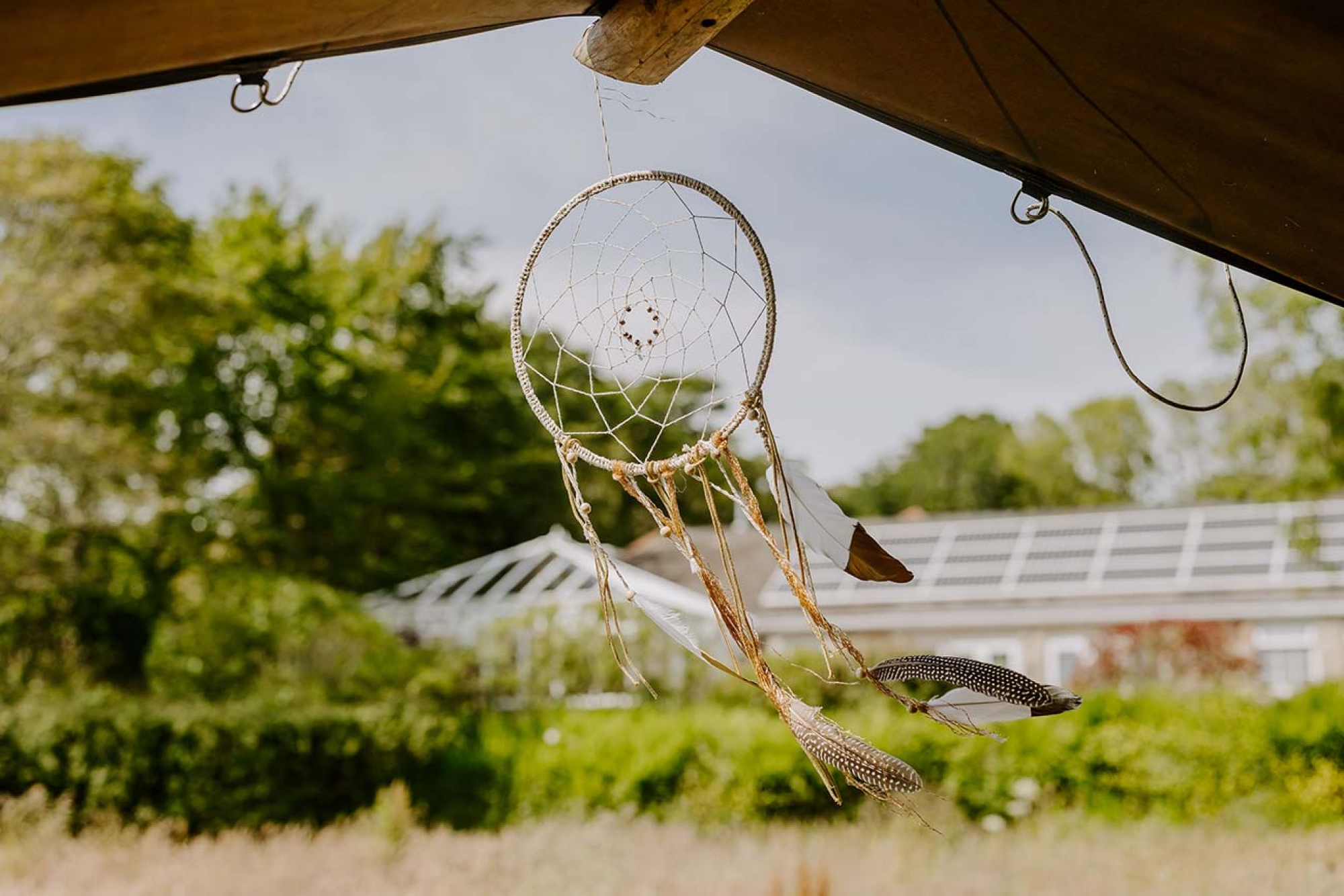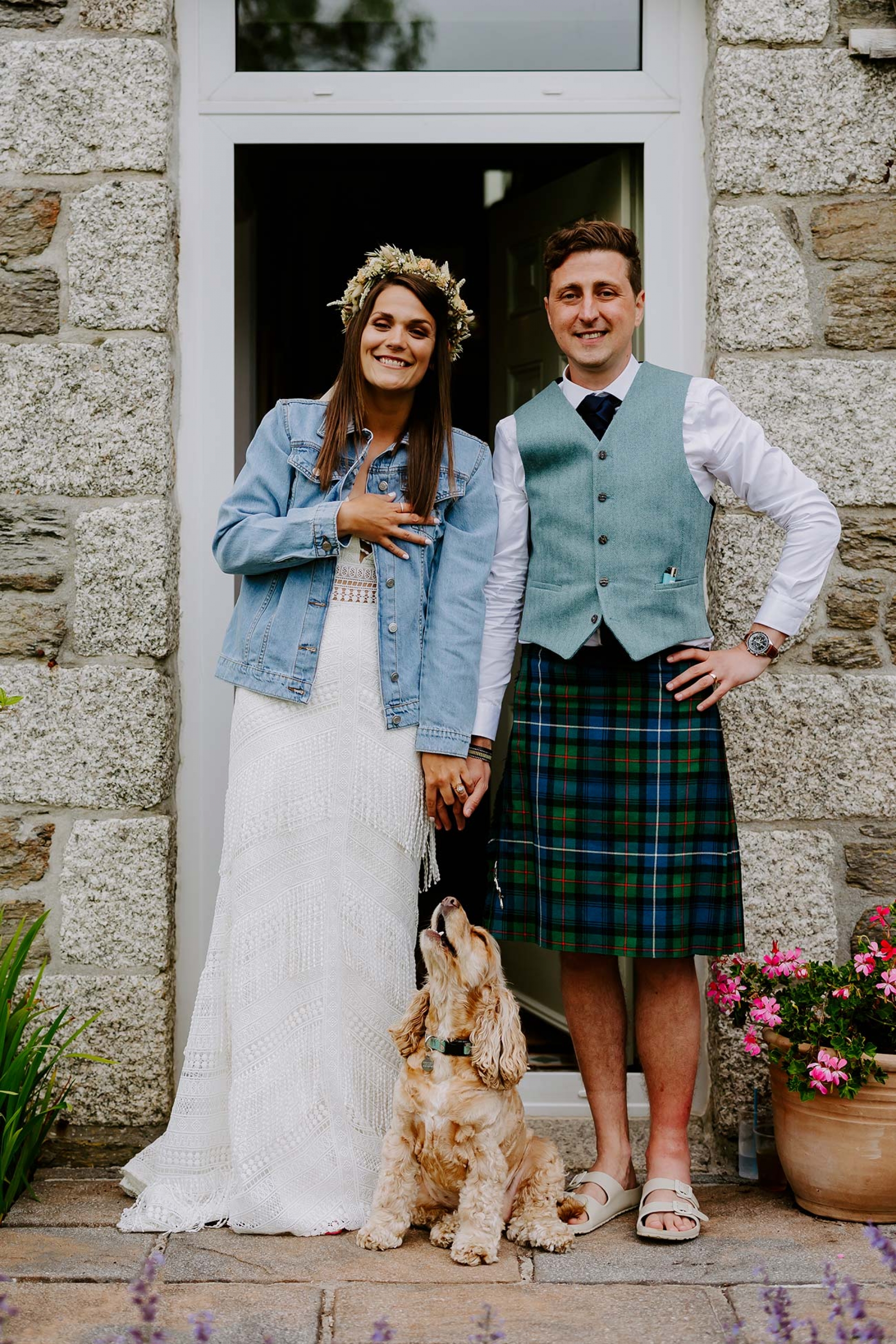 With appetites supremely sated, the rest of the day's entertainment treated guests to lawn games, the cutting of the cake, the first dance and an uptempo party performance by live band, Ocean Rain, whose earlier acoustic set had established the perfect swoon-worthy soundtrack.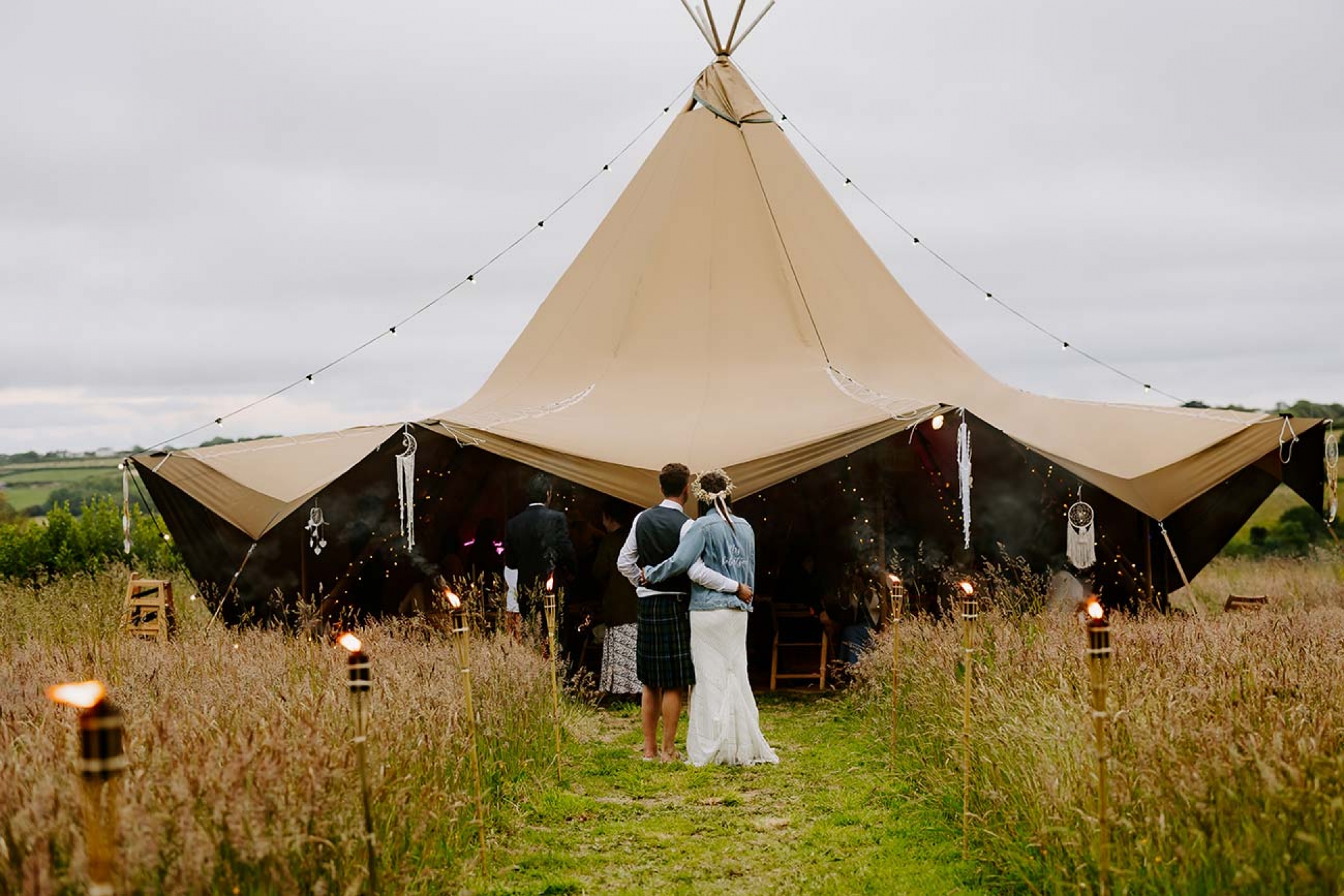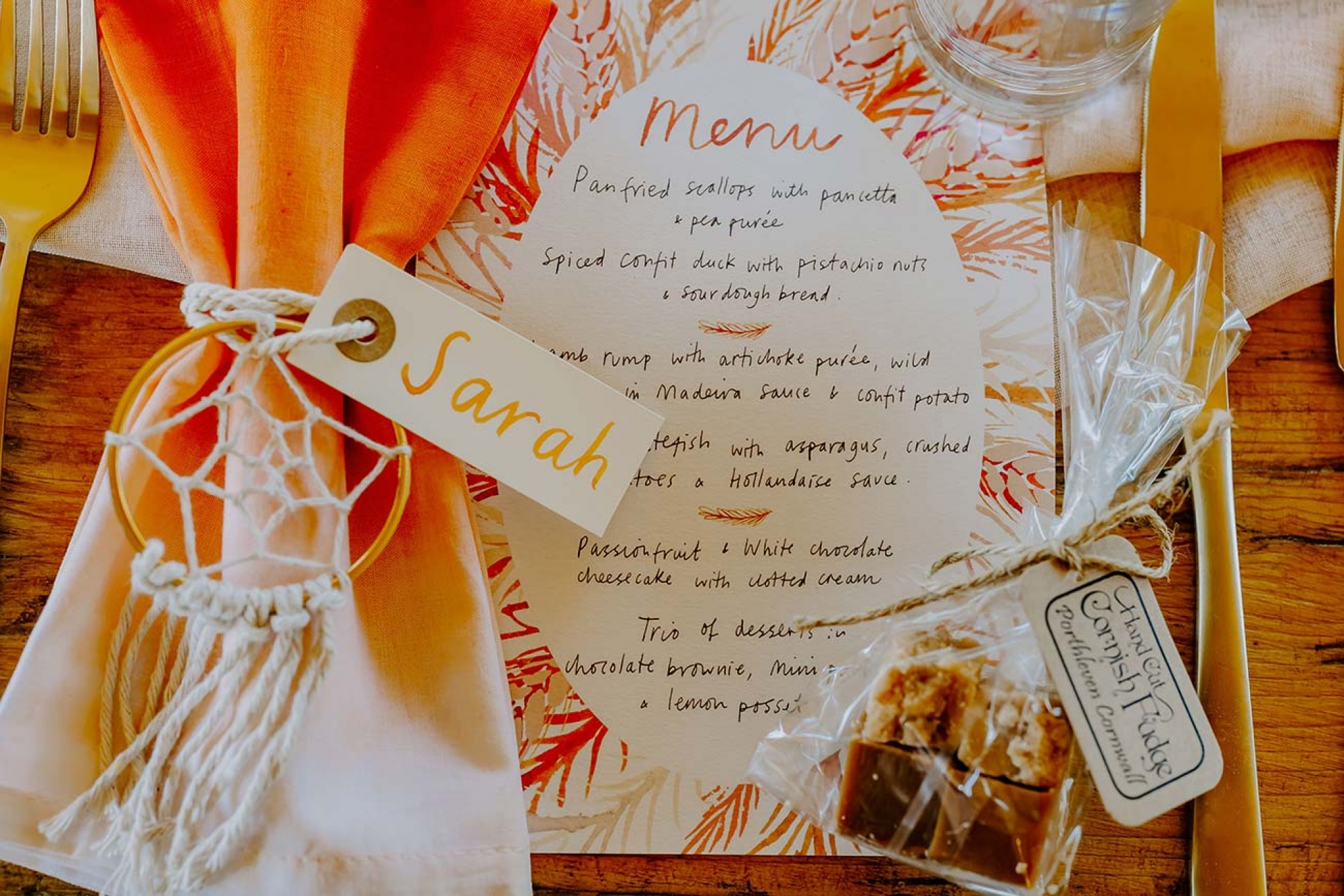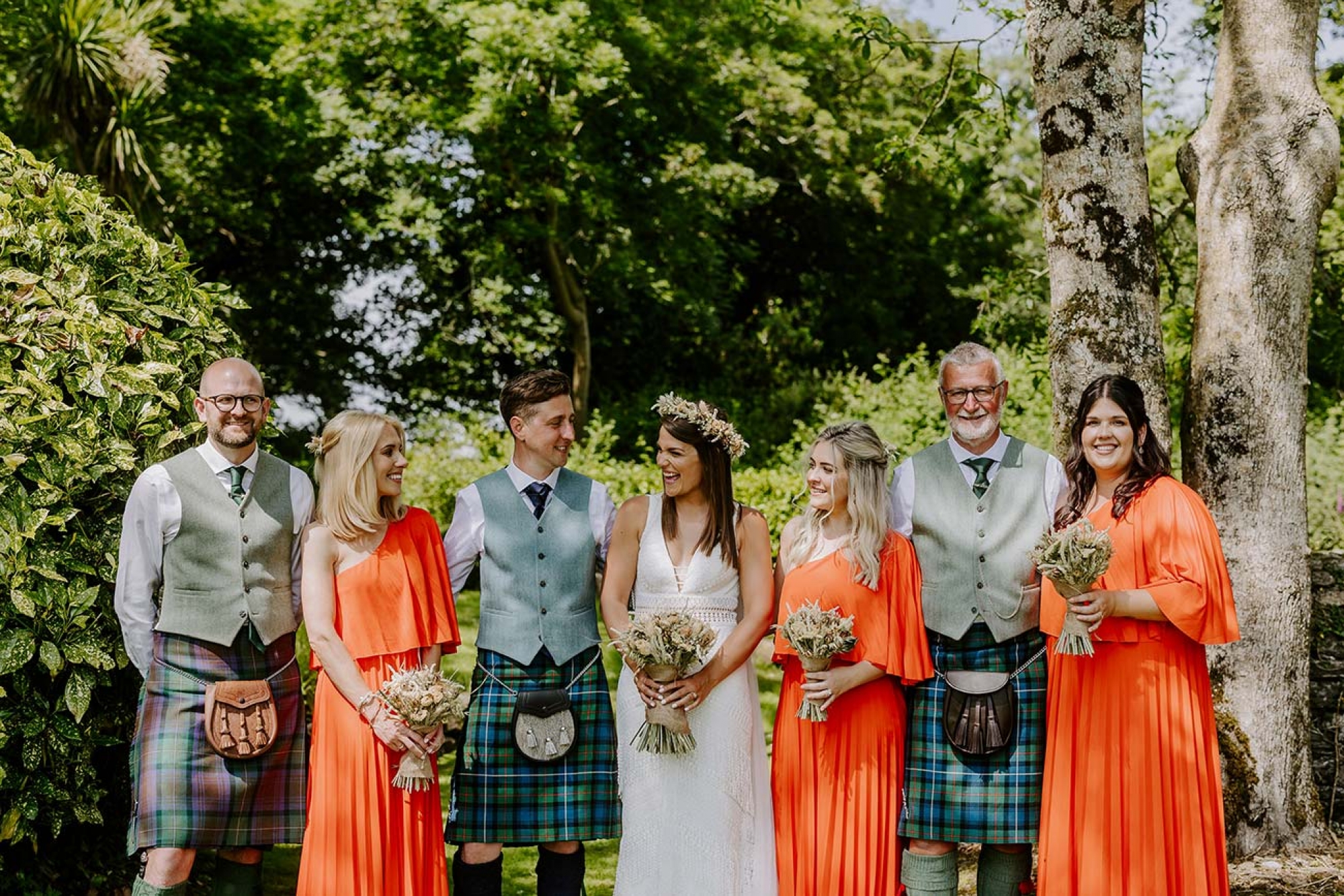 "Jamie is prone to getting bitten by bugs and reacts very badly," says Emma regarding an unforgettable moment of the day. "In the weeks running up to the wedding he was trying not to get bitten, but the day before, when we were decorating the tipi, he got bitten on his leg. Throughout the wedding day, Jamie's leg began to swell and get bigger, which meant he had to change into sliders as his foot could no longer fit in his brogues! Then the morning after he ended up in minor injuries as he couldn't walk on it!" she regales.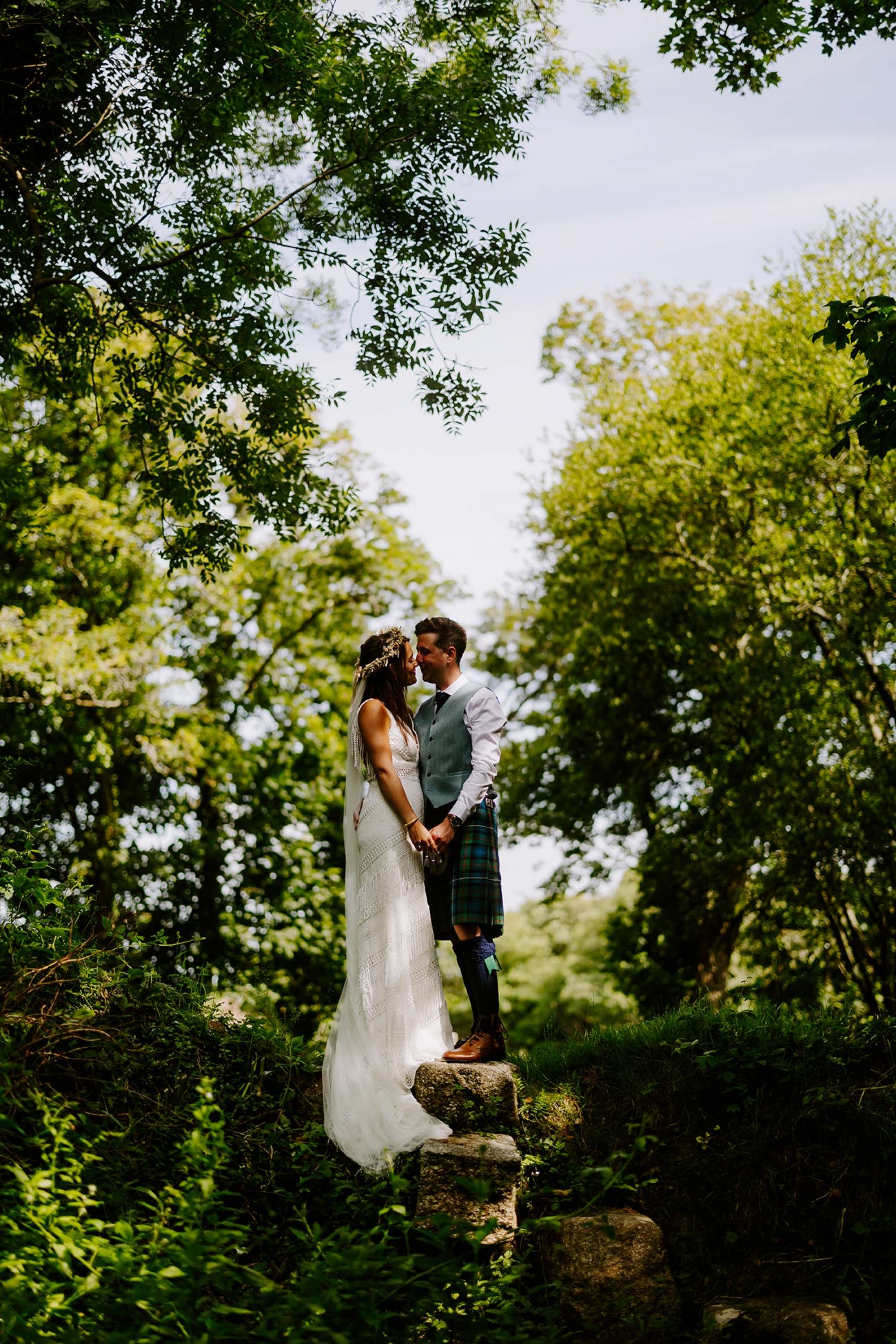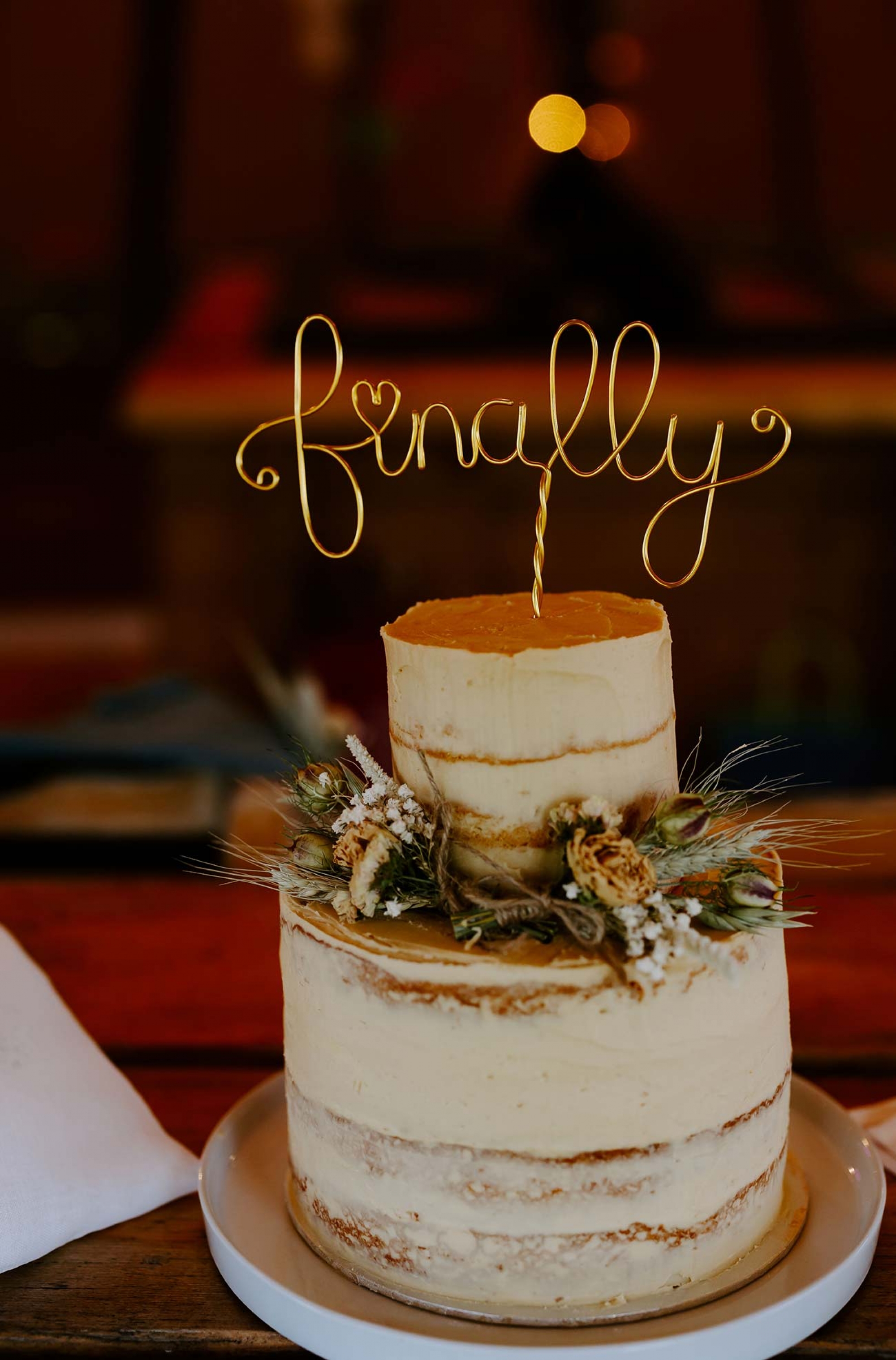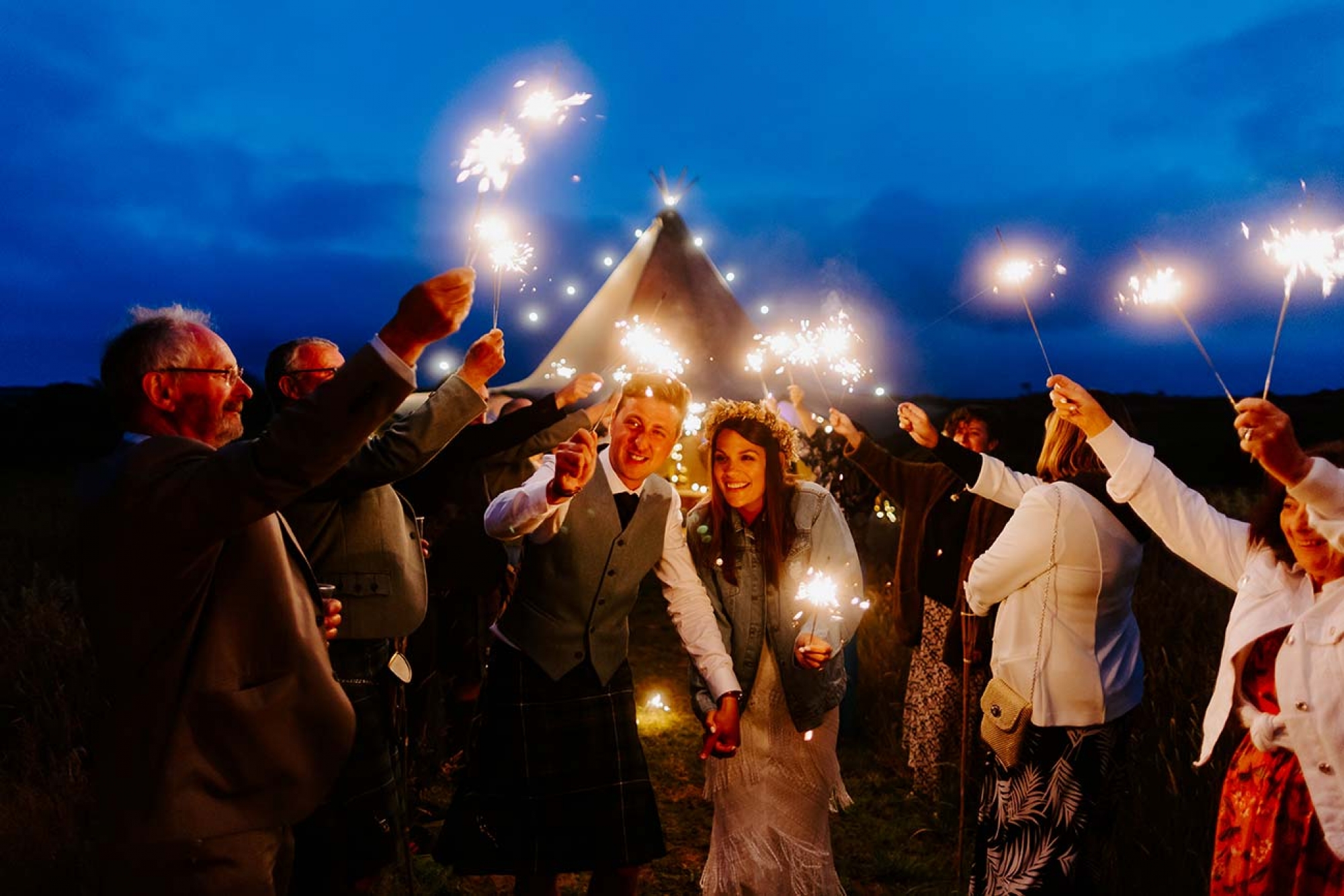 "Make a list!" says Emma as her first piece of planning advice. "I love a list! From the very beginning, it really helped me keep a track of everything we had to do, so we didn't forget anything – even though you'll tick things off then add about five more things! Also just do a bit at a time – especially if you're crafting for your wedding decorations otherwise it can get a bit overwhelming," she says. "But other than that, just enjoy the chaos!"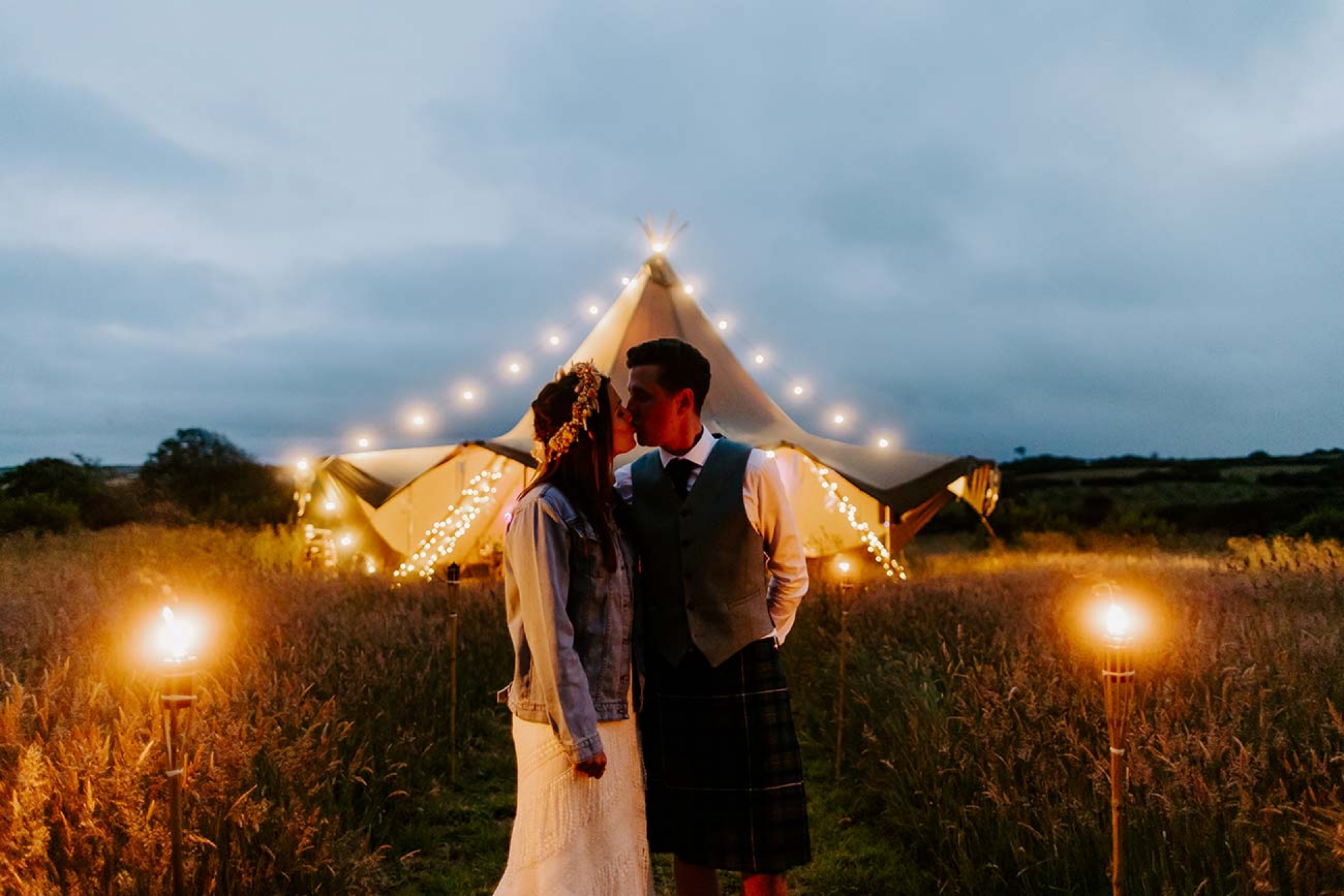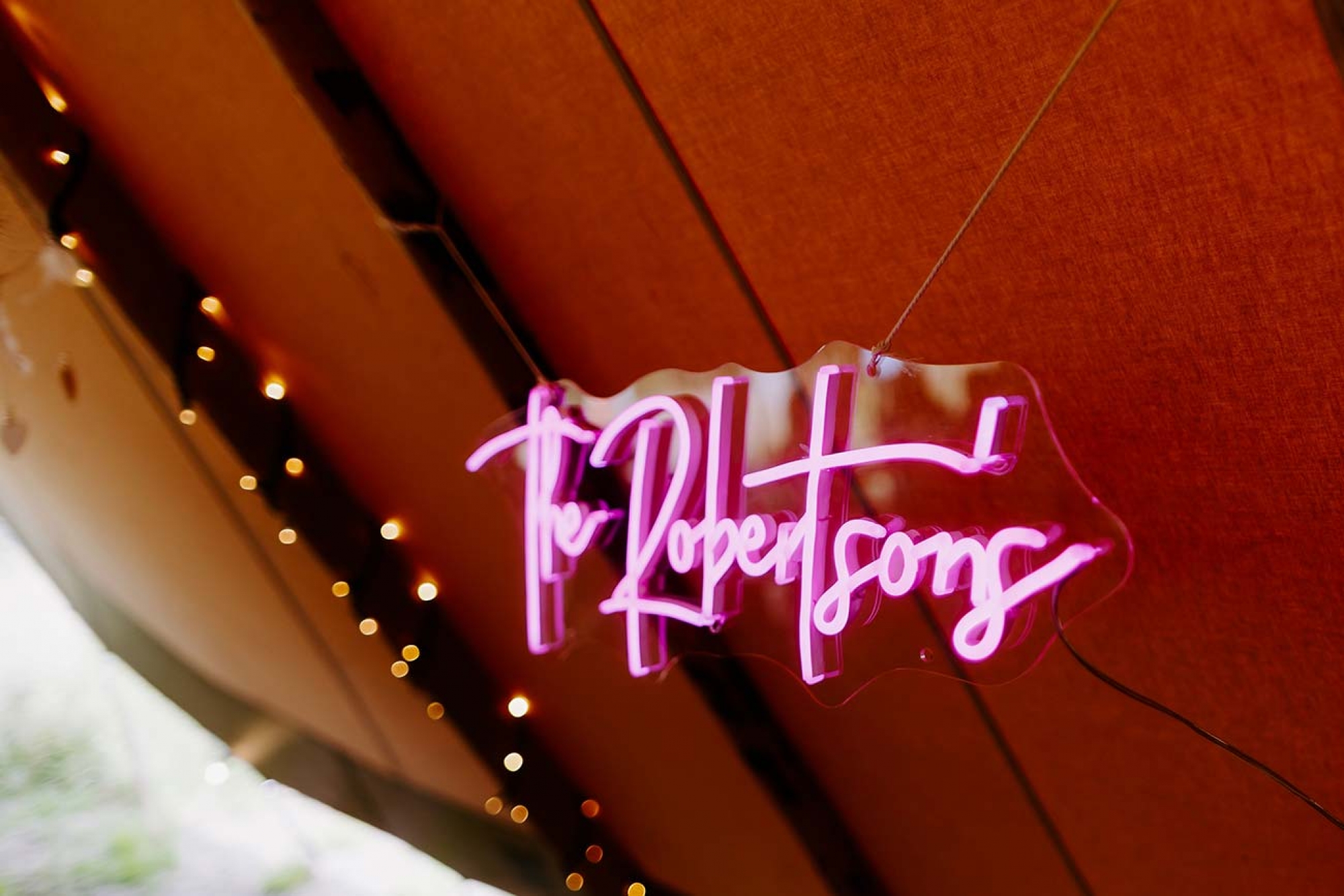 Wed

Directory

All you need from the finest wedding suppliers in Cornwall and Devon