---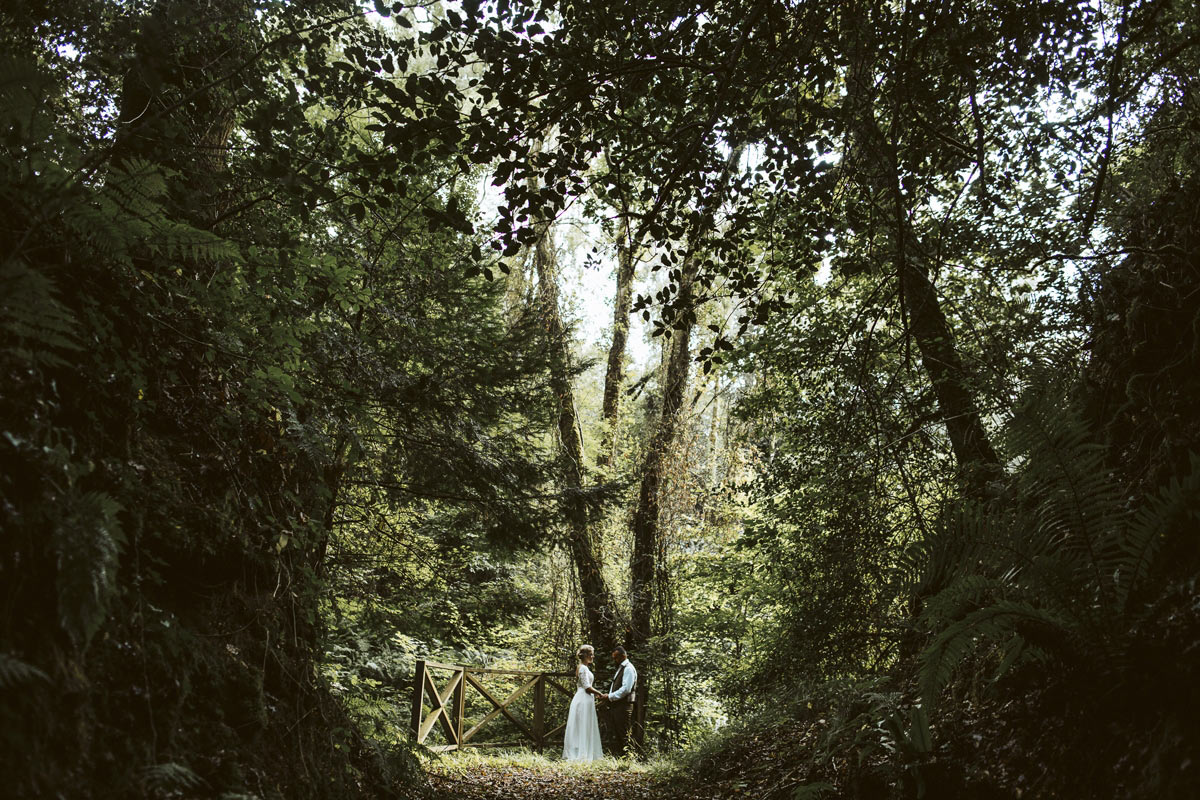 Wedding at Yurtcamp, Devon
Wooded Bliss
Stephanie and Paris' rustic woodland wedding at Yurtcamp
"Paris proposed to me in Club Tropicana in Cuba," says Stephanie. "We were sat watching a show, drinking rum and coke, and the waiter brought over bowls of nibbles: one moon shaped and the other star shaped. Paris asked me whether I'd like the moon or the stars. Thinking I was being clever, I replied "both" and, as I turned to him, he was smiling and holding the ring. After crying tears of joy, I said: "you do realise this is for the rest of your life?!" He then asked me to marry him."
Paris soon came across Yurtcamp; set amidst acres of wildly beautiful woodland, it provided the perfect setting for the couple's laidback weekend of festivities, where live music and an outdoor ceremony contributed to the festival feel.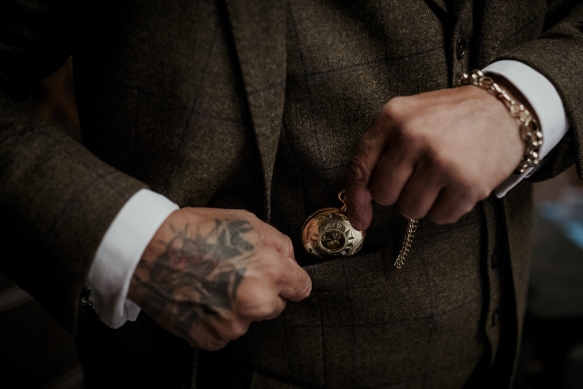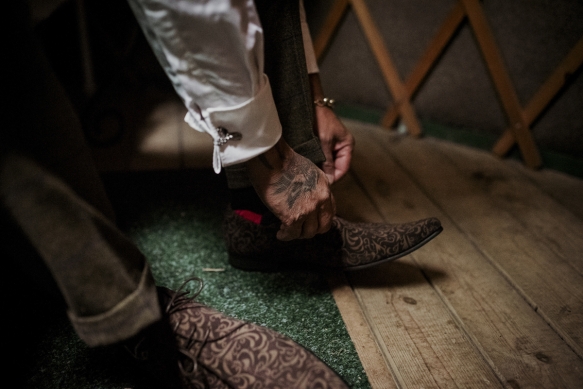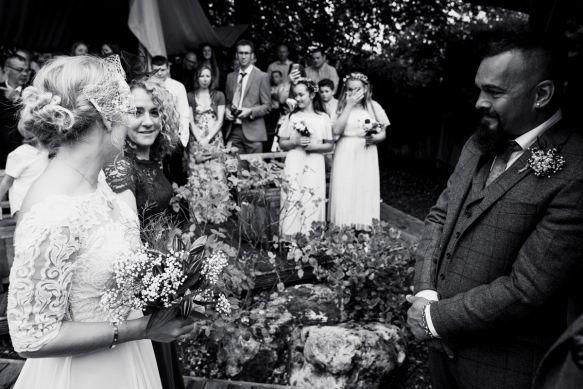 Stephanie and Paris took care of most of the finer details themselves, from handcrafting the decorations to creating the floral arrangements, bouquet and buttonholes. The pared-back decor complemented the venue's natural setting, with hessian table runners and wild flowers in jam jars flanked by a statement foam LOVE sign that was sprayed with green and purple glitter.
A barbecue feast and live band Busta Groove kick-started the celebrations on the Friday evening. "It was a lovely and chilled first evening at the venue," says Stephanie. The next day, the midday ceremony was followed by more live music, along with plenty of mingling over drinks and a hog roast.
"My mum gave me away," says Stephanie. "She's the strongest woman I have ever known and I'm so proud and grateful she was there by my side."
Stephanie's cousin's wife created the cake: a beautiful three-tier woodland-inspired creation, while an Indian-themed buffet and DJ completed the crowd-pleasing evening entertainment. "Paris is half-Indian and it was important to include as many Indian touches as we could," explains Stephanie. "For example, our rings were designed and made in India."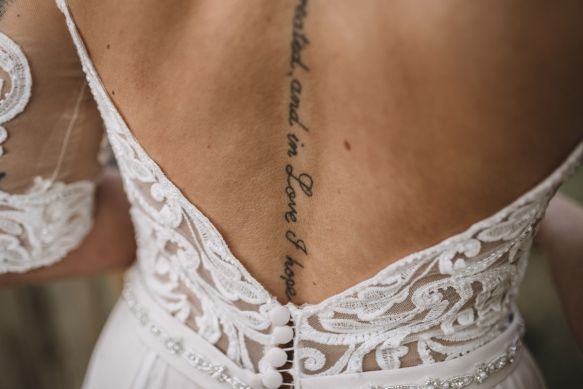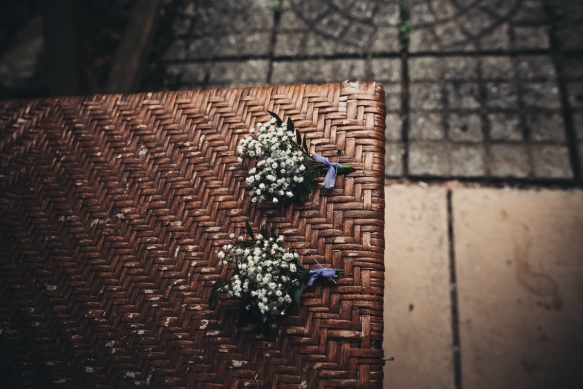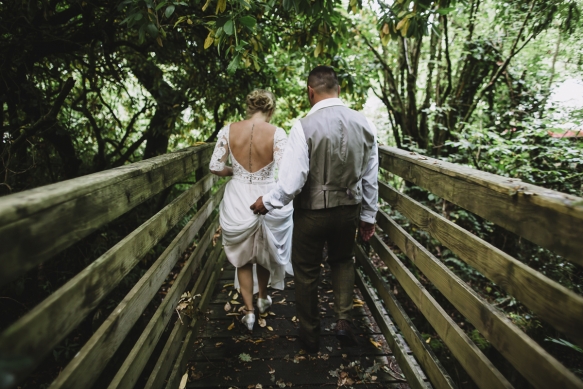 "It was such a perfect day," reflects Stephanie. "Everyone enjoyed it and danced the night away!"
Having shared the wedmin from day one, Stephanie and Paris' collaborative, creative and chilled-out approach to organising their wedding ensured it stayed wonderfully stress-free and true to their original ideas.
"Paris and I planned it together, and luckily we're both chilled," she says. "We felt that not having a seating plan was the best thing as there was no stress concerning who sits next to who. Also, don't feel pressure to invite people you don't want or see."
"It's your day," she reminds couples who might be feeling the pre-wedding pressure. "You won't have time to spend time with everyone, but everyone understands and enjoys the day anyway. Thinking back to it now, I'm smiling at how lucky I am and how special my day truly was."
Paris agrees. "I loved seeing everyone coming together for us and the joining of our families," he reflects.
Photography Rockrose Photography
rockrosephotography.co.uk
Second photographer The Stag and the Doe thestagandthedoe.com
Venue Yurtcamp
yurtcamp.co.uk
Dress Brides at Waterfields bridesatwaterfields.co.uk
Groom's outfit Zebel Bespoke zebel.co.uk
Entertainment New Daze facebook.com/newdazeuk/
Matt Sellors facebook.com/mattsellorsmusic/
Busta Groove bustagroov3.co.uk
Copyright Wed magazine 2019
Wed

Directory

All you need from the finest wedding suppliers in Cornwall and Devon