---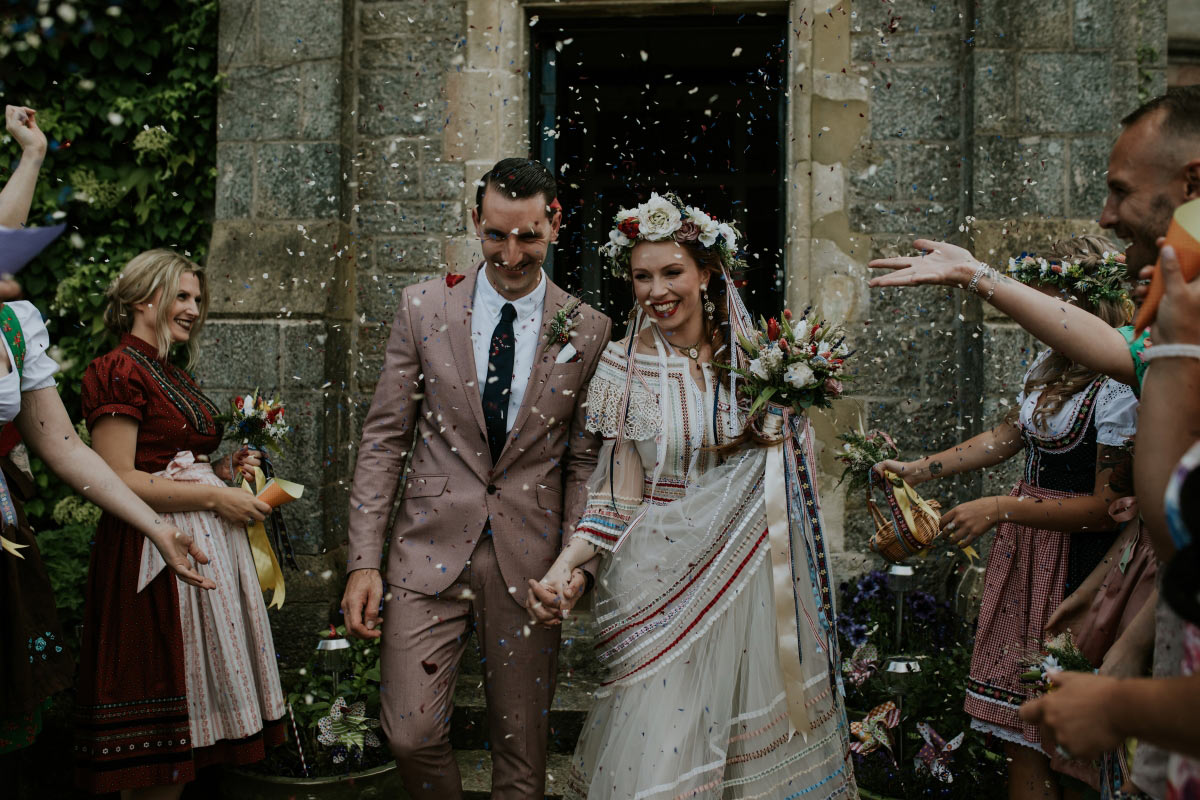 Wedding at Yarner House, Devon
A Fairy Tale on Dartmoor
Alex and Sam's carnival of colour, fun and individuality at Yarner House
Although many couples meet online, Alex and Sam have a one-of-a-kind internet story when it comes to how they fell in love.
"We met through the website Etsy. I had a small business knitting gloves and hats with swear words on them with my nan, and Sam commissioned a jumper," explains Alex. "He is a firefighter in Devon and was scheduled to work on Christmas Day so his watch decided to have an offensive jumper competition and it was up to me to help him win it!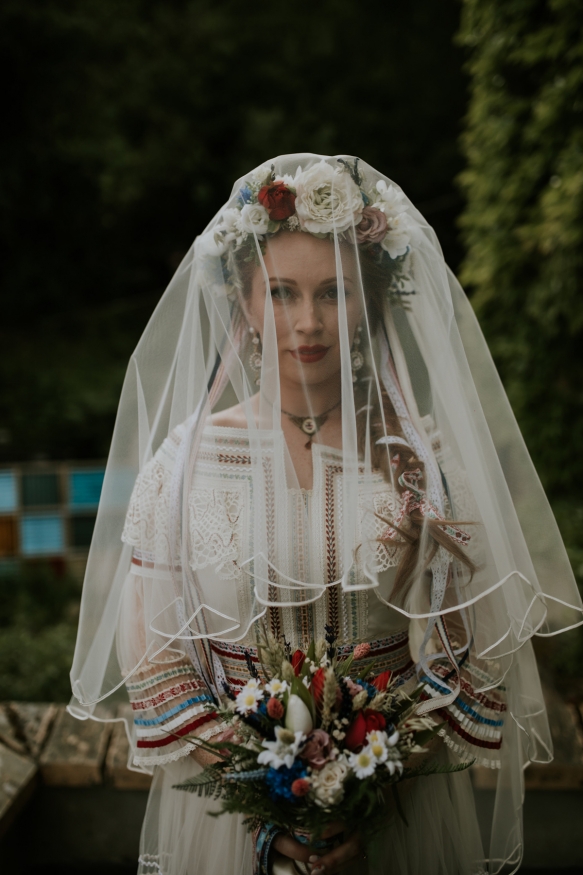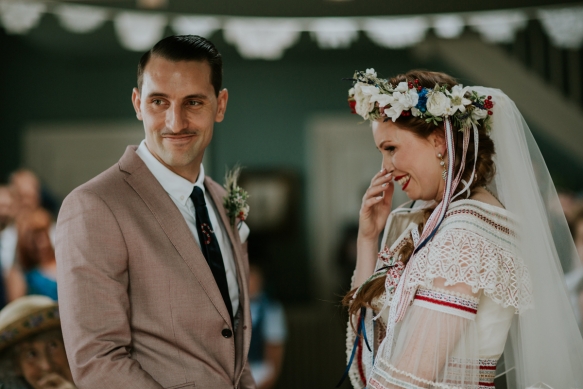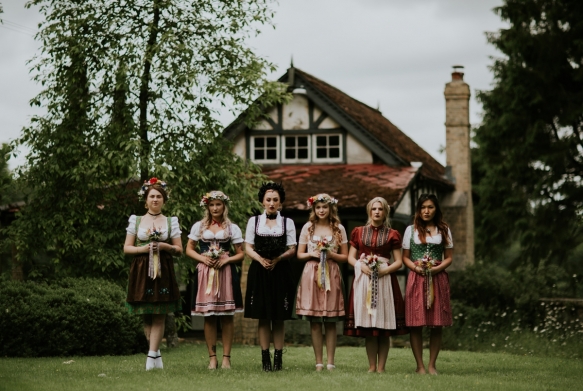 Having never knitted a jumper before, Alex rose to the challenge. "By the time I finished it three months later, we were dating – and a month after that I was pregnant!"
With a beginning as brilliant as theirs, there was no doubt that Alex and Sam's wedding was going to be just as unique.
The theme – which Alex loosely describes as "really colourful with a mix of different influences" – led to a fantastically vibrant and eclectic day that had notes of European culture alongside bright touches including crochet rugs, bridesmaids in dirndls and an accordion player. "The wedding was a real mix of everything, heavy on Balkan and Bavarian with little bits of Mexico. I was inspired by canal boat holidays and Grimm's fairy tales."
To set the scene for a day jam-packed with quirky touches and barrels of laughter, the afternoon ceremony saw guests arrive at Yarner House to be greeted by drinks, fairground games and alpacas adorned with pom-poms.

"It is no exaggeration to say that I planned the whole day around my dress," says Alex. "Even though it was custom-made in Austria, it was actually inspired by Polish and Hungarian folk dresses." She and her bridesmaids donned medleys of dried and silk tulips, edelweiss, wheat, lavender, cornflowers, rose and heather, while fresh flower arrangements spilled from beautiful hand-painted canal ware.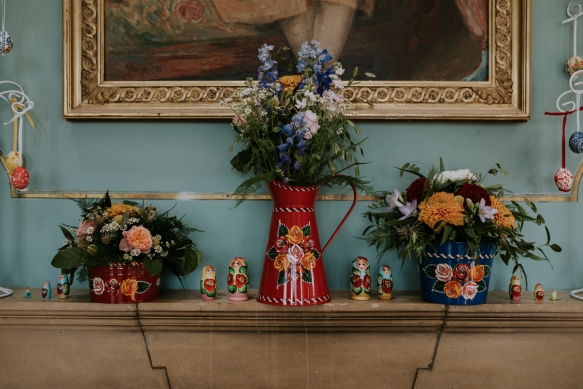 The couple's ceremony was punctuated by laughter and a whole lot of love, followed by group photos inspired by "old Victorian family photographs where everyone looks really serious".
It was then time for a change of scenery, with a short journey across Dartmoor to The Café on the Green for sandwiches and a Devonshire cream tea. And when it came to the cake, Alex was adamant about what she was after. "I wanted something really old-fashioned and traditional like my old childminder used to make. Something really Kylie and Jason!" she laughs. "We had a three-tiered royal iced horseshoe cake with red roses."
Then, without further ado, it was time for the "evening spectacular"! Moving the celebrations to The Lucky 7 Club in Paignton, Alex and Sam could really let their hair down with their loved ones, with Alex citing her favourite moment as "getting my face painted in death metal make-up at the evening party. It was such a relief not to have to be all perfect anymore!" she laughs.
After a 'first dance' that comprised a circle pit to the German version of '99 Red Balloons', the newly-weds and their guests were entertained by cabaret and burlesque performers. "It was so not the usual kind of wedding entertainment at all, but everyone loved it," says Alex. The 'doom disco' saw the dance floor packed from start to finish, until the party wound down after midnight. "We were in bed with a Pot Noodle by 1am!"
Looking back on their fun-filled, party-fuelled day, Alex has some sage advice for other newly-weds. "If you are on a tight budget, sit with your partner early on and decide where to splurge and where to save," she advises. "And try to book vendors who are excited to work with you and really get what you want to do."
Photography Enchanted Brides
enchantedbrides.photography
Venue Yarner House
yarner.com
The Lucky 7 Club thelucky7club.com
Catering The Cafe on The Green thecafeonthegreen.co.uk
Dress Lena Hoschek lenahoschek.com
Veil Bridal Emporium bridalemporium.co.uk
Shoes Irregular Choice irregularchoice.com
Jewellery Zara zara.com Etsy etsy.com
Underwear Honey Birdette uk.honeybirdette.com
Groom's outfit Zara zara.com Farah farah.co.uk
Groom's accessories Gucci gucci.com
Flower girl's outfit Lena Hoschek lenahoschek.com Gucci gucci.com
Flowers The Sleeping Flower Company sleepingflowers.co.uk Flowers by Judy flowersbyjudy.co.uk
Canalware Trina's Canalware Art boat-foray.co.uk
Cake St Mary's Bakery st-marys-bakery.co.uk
Entertainment Martina Schwartz martinaschwarz.net
Alpacas Bearhouse Alpacas bearhousealpacas.co.uk
Mister Joe Black misterjoeblack.com Arran Shurvinton facebook.com/arranshurvintonsnosferatu Betty Machete facebook.com/bettymachetelondon
Copyright Wed magazine 2018