---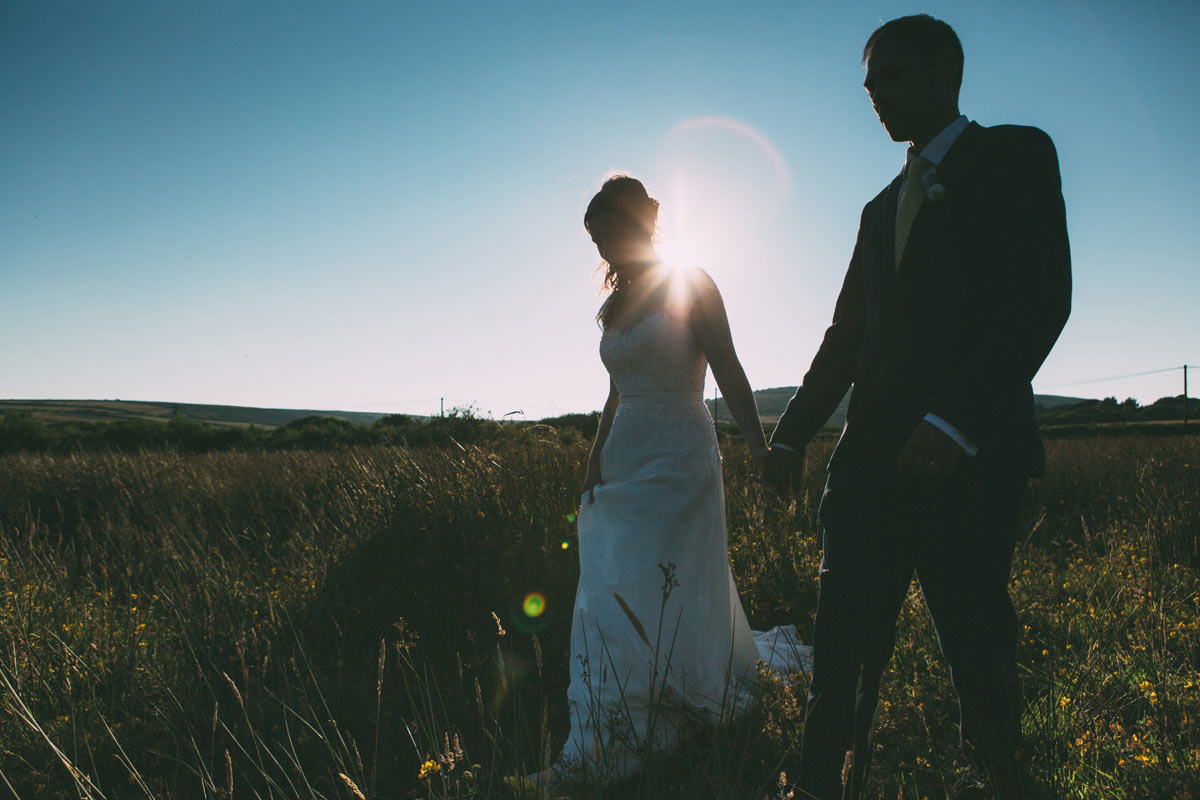 Wedding at Towednack Church, Cornwall
Bright and Beautiful
Kat and Rob's colourful festival-inspired wedding day in Towednack Church and a field marquee
Climbing to the top of a hill on the Isle of Skye, it wasn't just the view that took Kat's breath away, but also a proposal from Rob! The couple – who met through a good friend – then took a few years to decide where and when to marry, landing upon Kat's home village of Towednack, near St Ives.
"Our theme was 'everything bright and colourful'," says Kat, and it's easy to see how the styling of their big day was inspired by a total love of prints and colour. As a textile designer, Kat's creative touch was evident in everything from the hand-painted signage to her bright yellow shoes (which came in handy for football as well as dancing!).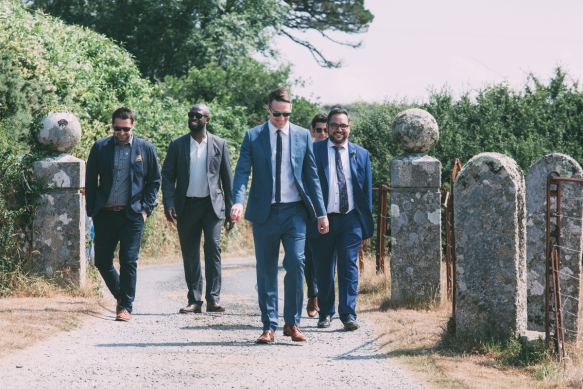 Beginning the wedding with a ceremony at nearby Towednack Church, just a stone's throw from Kat's family home, the super-relaxed bride and groom couldn't wipe the smiles off their faces at the service – especially when their little flower girl started an impromptu game of hide-and-seek during the vows!
After the wedding, the newly-weds, with a glass of champagne in hand, jumped aboard a Land Rover Discovery to get across the fields to the reception. Their guests walked through the winding country lanes, arriving at the tipi to be rewarded with cocktails and pizza, as the gloriously sunny day brought a festival vibe to the proceedings.
Keen to ensure their day was laid-back, fun and family-friendly, Kat and Rob kept guests entertained with everything from a bouncy castle – which led to groom Rob kneeing himself in the face while attempting a backflip, resulting in a mid-wedding black eye! – to pony rides for the children, and even an ice cream stand set up by the couple's mums.

"Some of my favourite moments were watching all the kids (and some grown-ups!) having a water pistol fight, then seeing all the children on the bouncy castle at once!" remembers Kat.
Taking some time for a quiet walk through the grassy fields and photographs during 'golden hour', the couple returned to their guests for a feast of Sri Lankan curries, in a nod to Rob's family's heritage. Rounding off the meal, guests tucked into the "mother-of-the-bride's famous chocolate cake" served with sweet local strawberries as the speeches told tales of the couple's travels all over the world. Pasties kept the guests dancing long into the night, as well as a never-ending supply of bespoke drinks from The Buffalo airstream bar. "The Buffalo team were fantastic," says Kat. "They even sourced a Sri Lankan spirit with one week to go and made a secret cocktail especially for us."
And what would the couple say to others planning their own weddings? "Don't sweat the small stuff," is of course super-chilled Kat's advice. "Enjoy the days leading up to your wedding, and it will all magically fall into place."
Photography South Weds Wedding Photography
southwedsweddingphotography.com
Venue Towednack Church towednackchurch.org.uk
Marquee & bell tent LPM Bohemia lpmbohemia.com
Catering Kernow Forno
kernowforno.co.uk
Ceylon Curry House ceyloncurry.co.uk
Philps philpspasties.co.uk
Bar The Buffalo
thebuffalo.co.uk
Dress Fabricated Bridal fabricatedbridal.com eBay ebay.co.uk
Hair & make-up Amanda from Orchard Makeup orchardmakeup.com
Entertainment Claire's Castles clairescastles.co.uk
Penhalwyn Trekking Centre, School & Livery penhalwynstables.co.uk
Alex Bean's Mobile Disco
Transport Central Car Hire weddingcars-cornwall.co.uk
Copyright Wed magazine 2019