---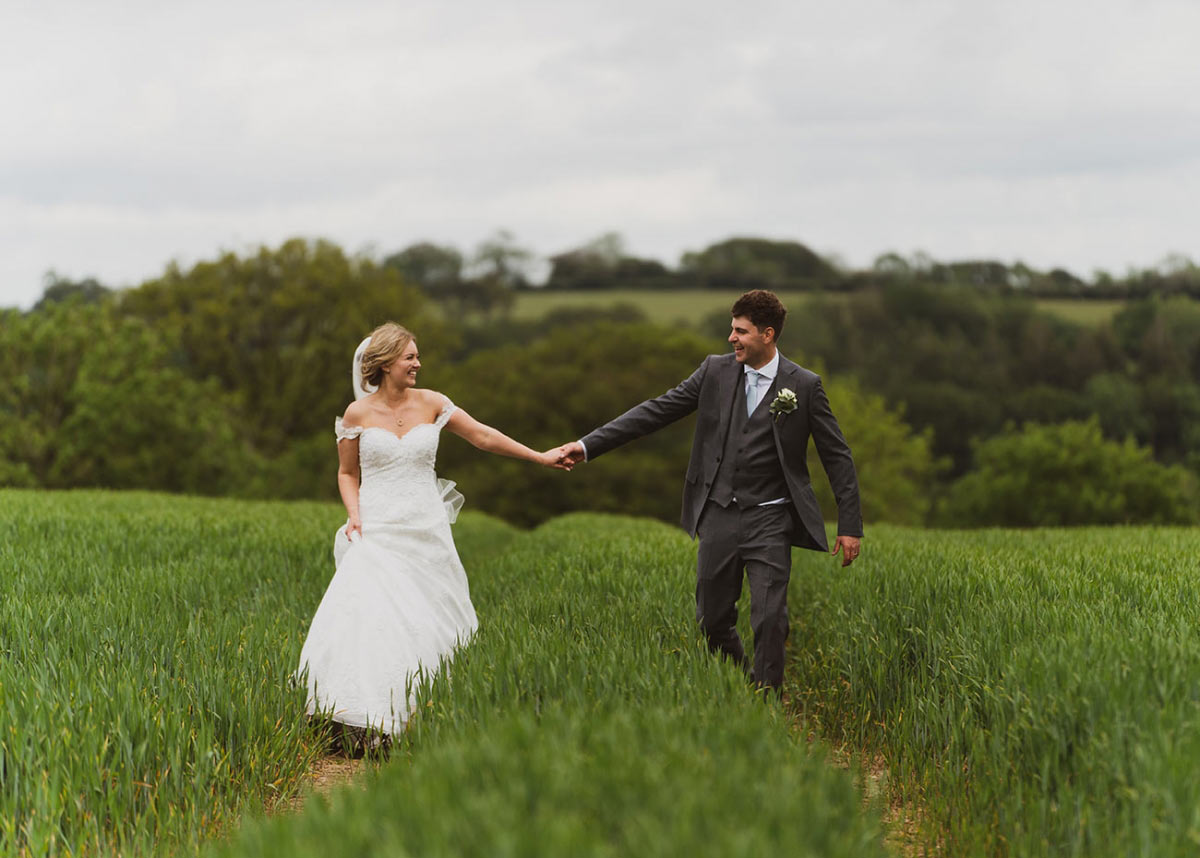 Wedding at The Oak Barn, Devon
Flying High
Charlotte and Cameron's intimate wedding at The Oak Barn
Charlotte and Cameron were school sweethearts who went their separate ways before leaving for university. "Then 10 years after school we reconnected on a dating app and the rest is history!" reveals Charlotte of their rekindled romance.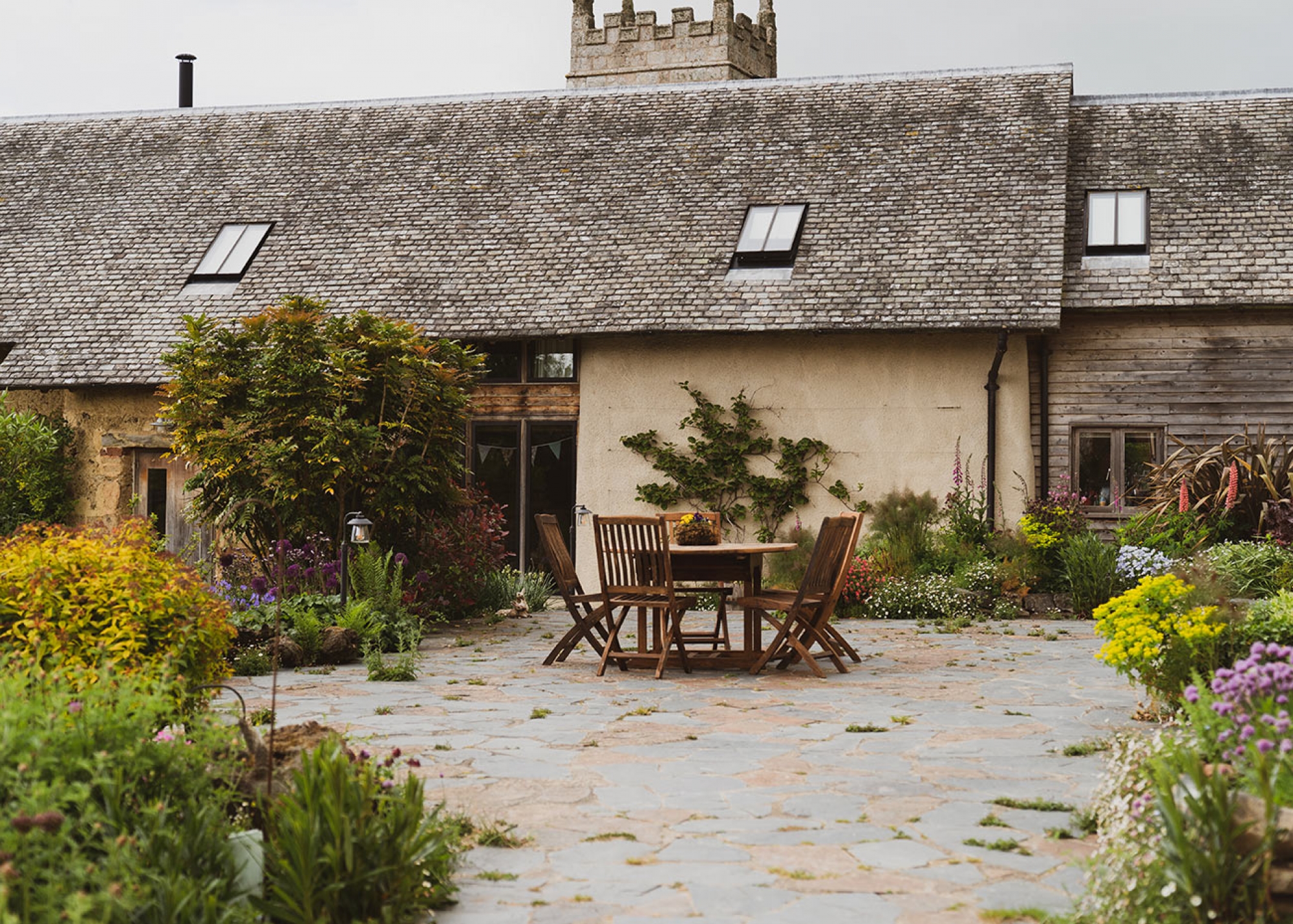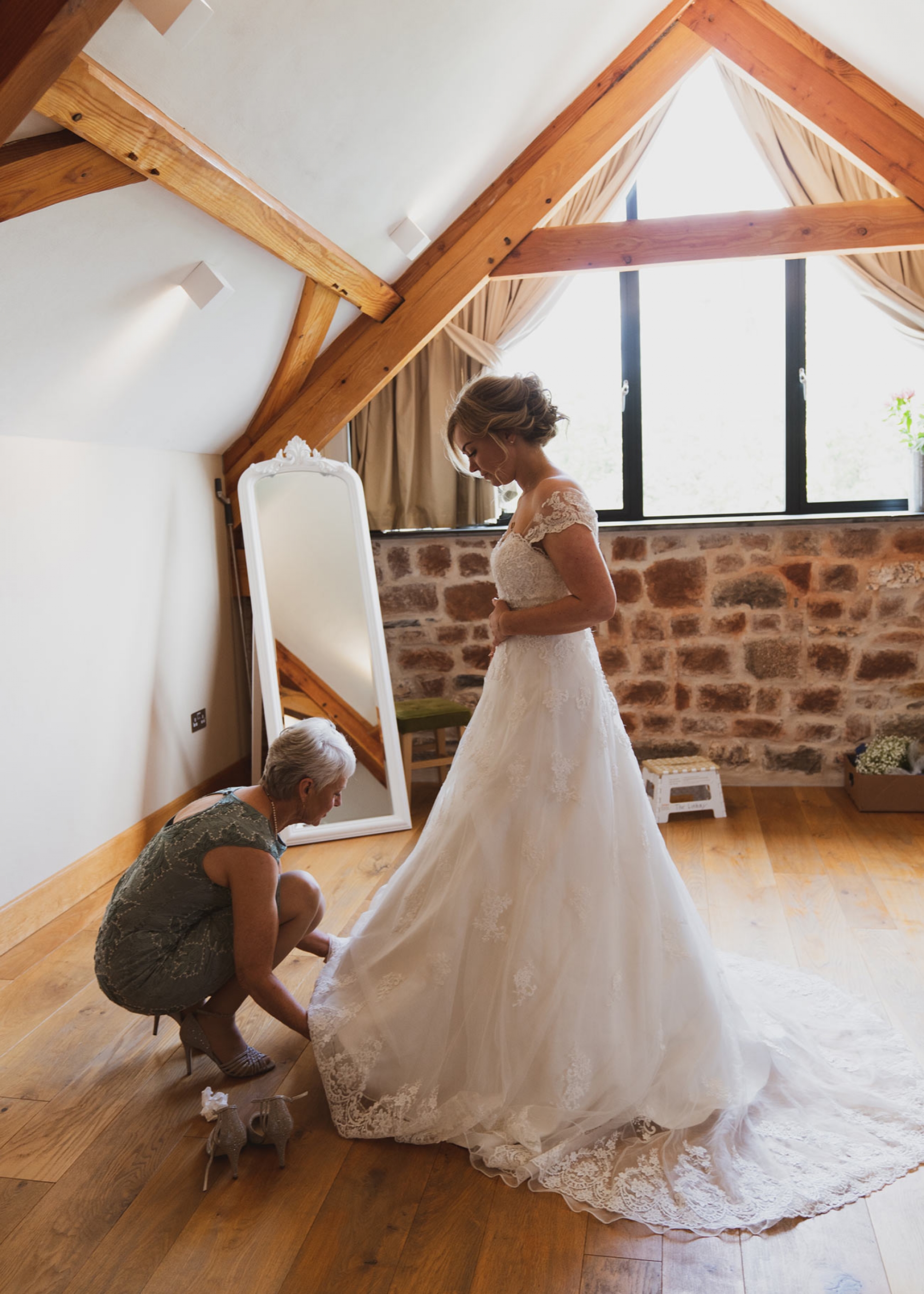 "We were on a city break in Lisbon," she says, reminiscing about Cameron's unforgettable proposal. "We had walked up to St Jorge's Castle and were wandering around the grounds when a bench built into the castle wall became available. We sat down and when I looked back at Cam, he was down on one knee. It was perfect and very romantic."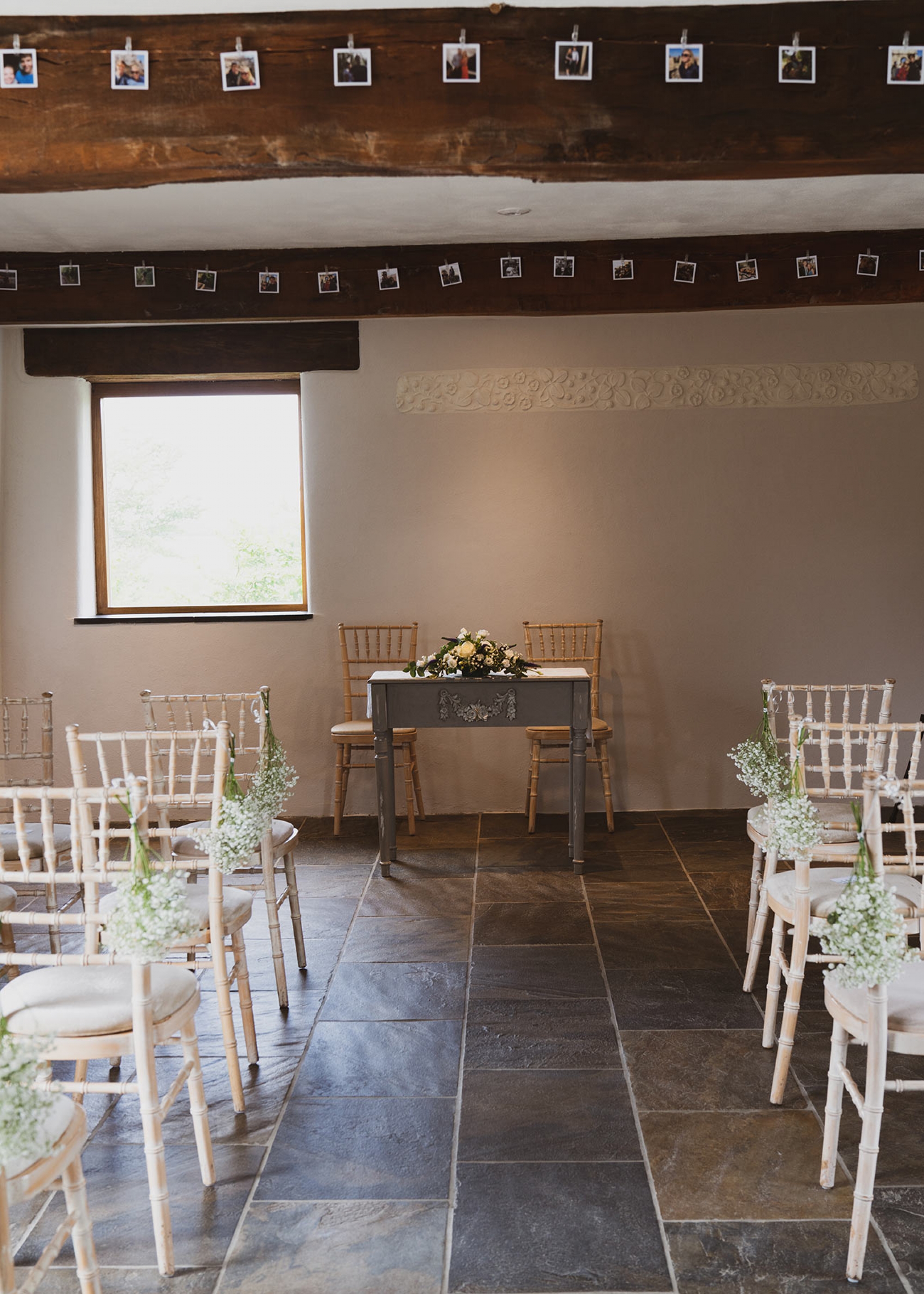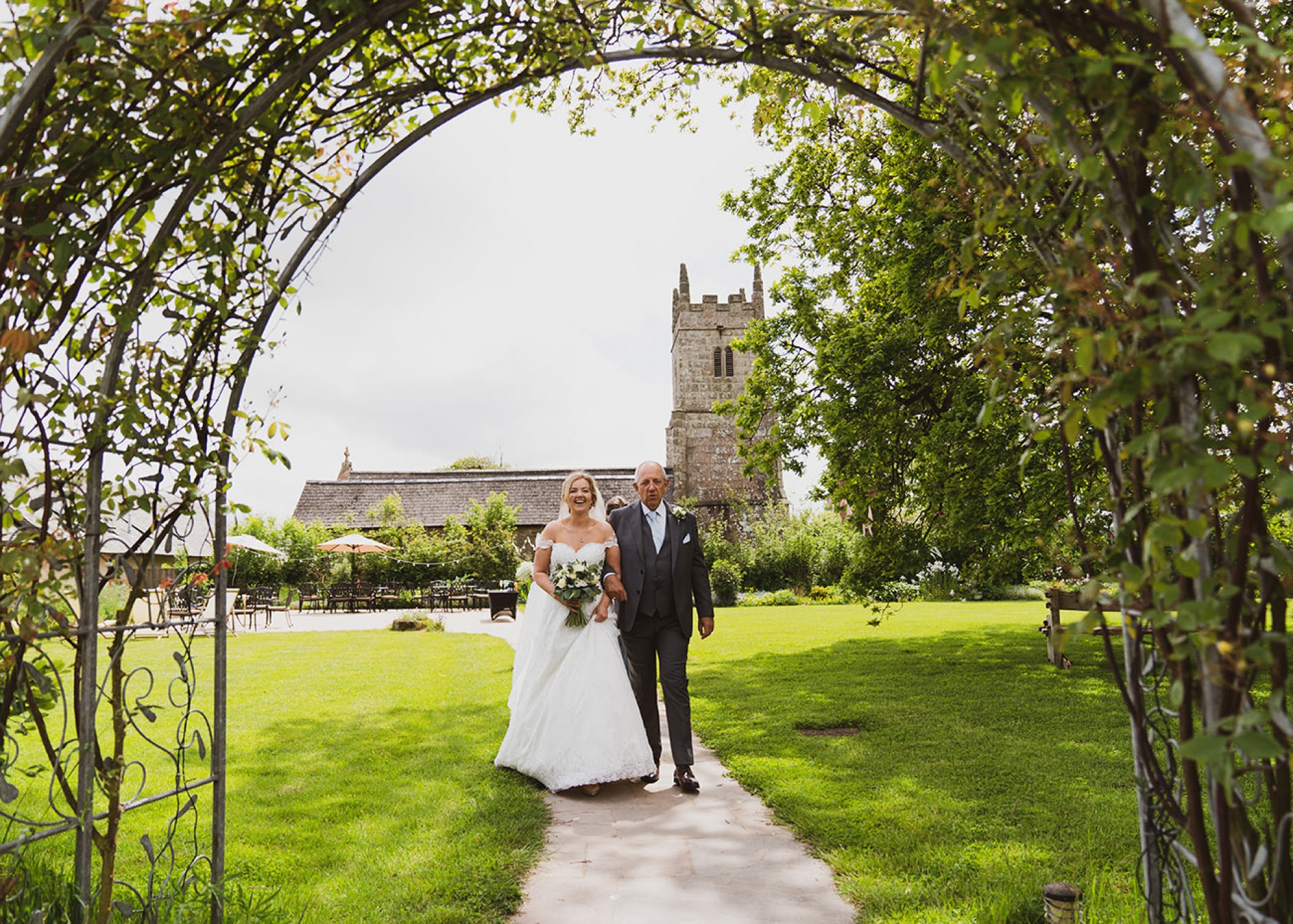 The Oak Barn was their romantic rural venue of choice, dressed in their chosen palette of steel blue, gold and white. "We prefer a rustic look, but didn't really have a specific theme as such," Charlotte explains.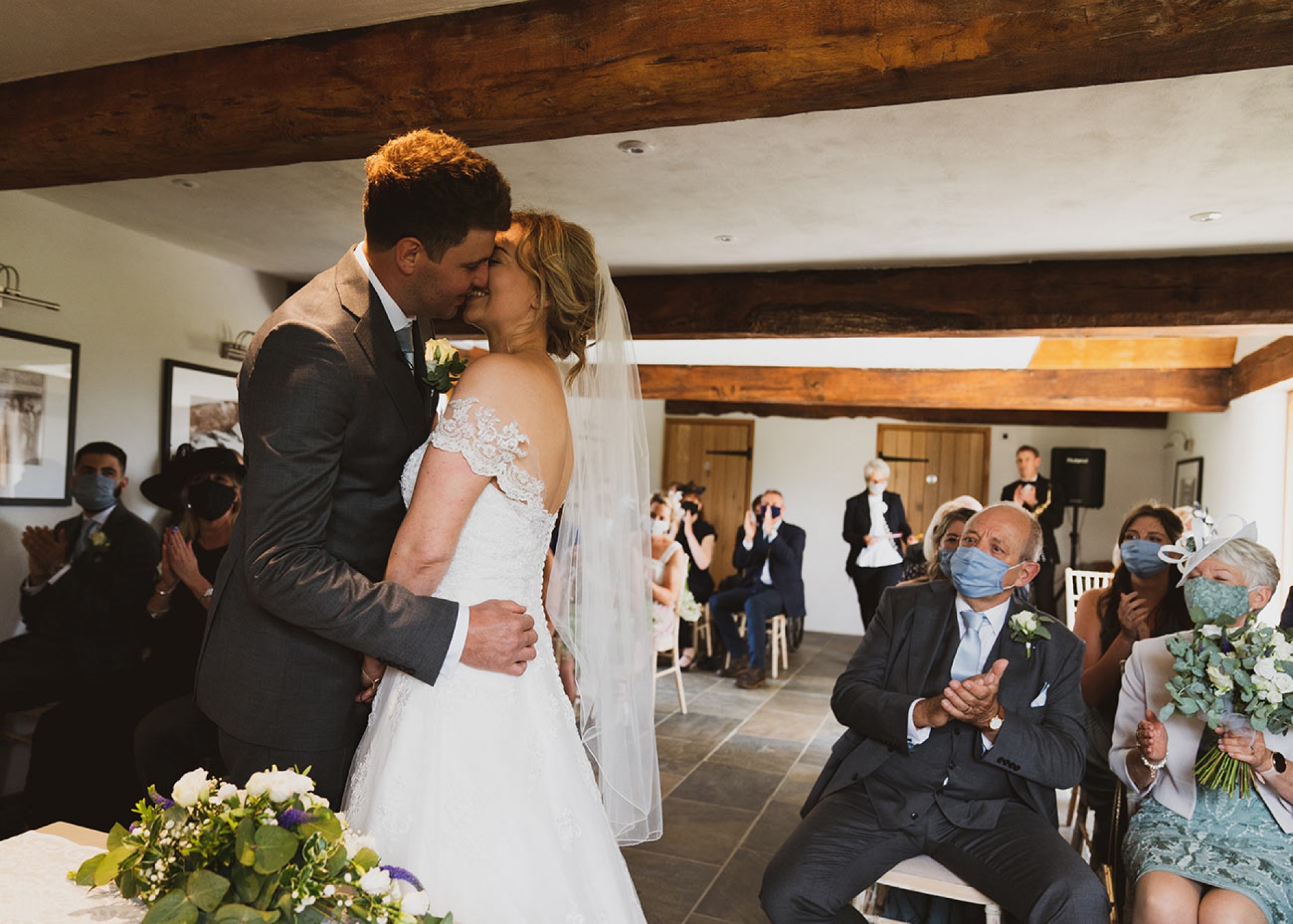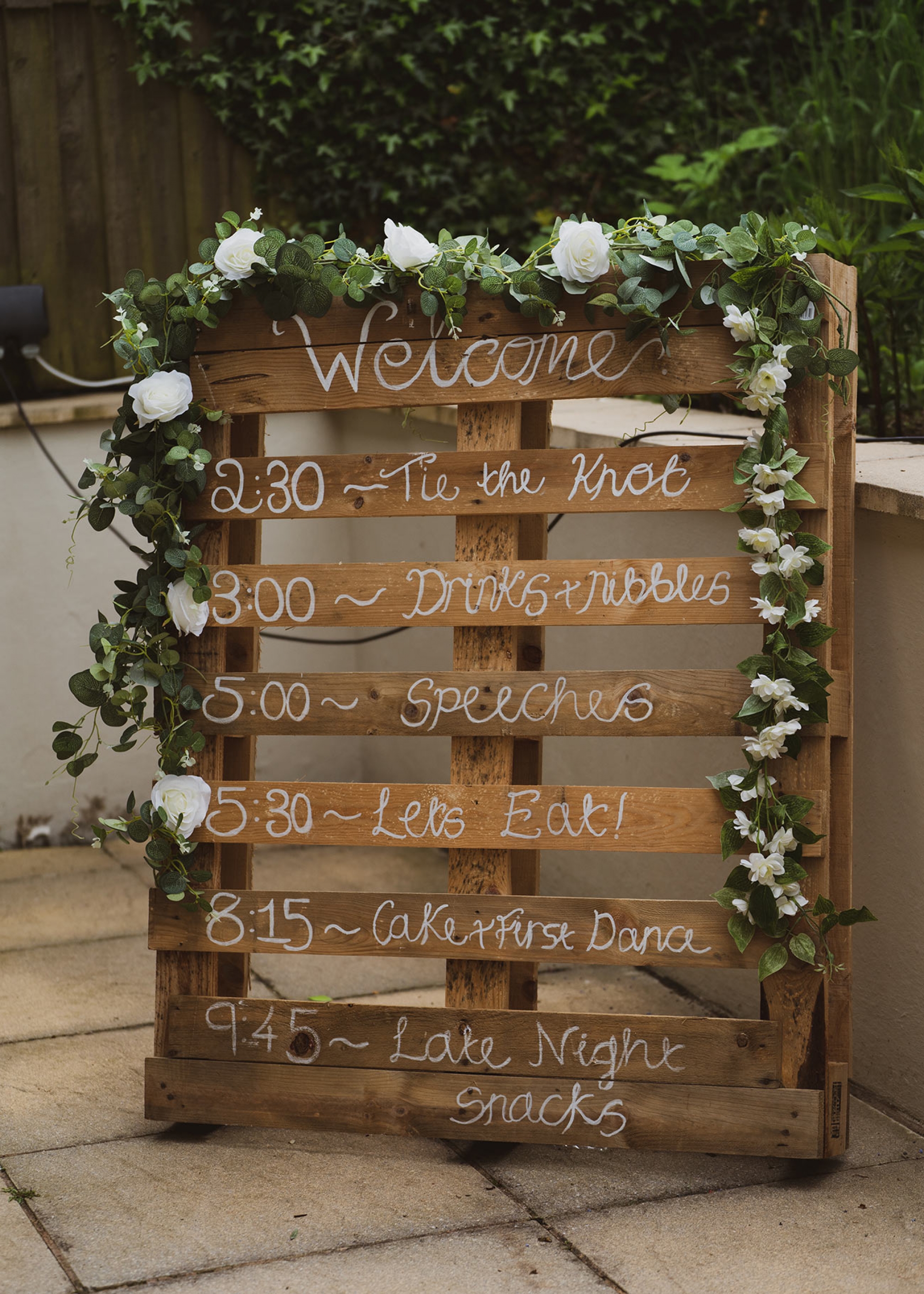 Planning a smaller wedding meant that most of the guests were able to stay at the venue the night before, commencing celebrations early with dinner at a local pub. "It was lovely to be able to spread the wedding over the whole weekend, especially as we weren't able to see much of each other beforehand (thanks Covid!)," she comments.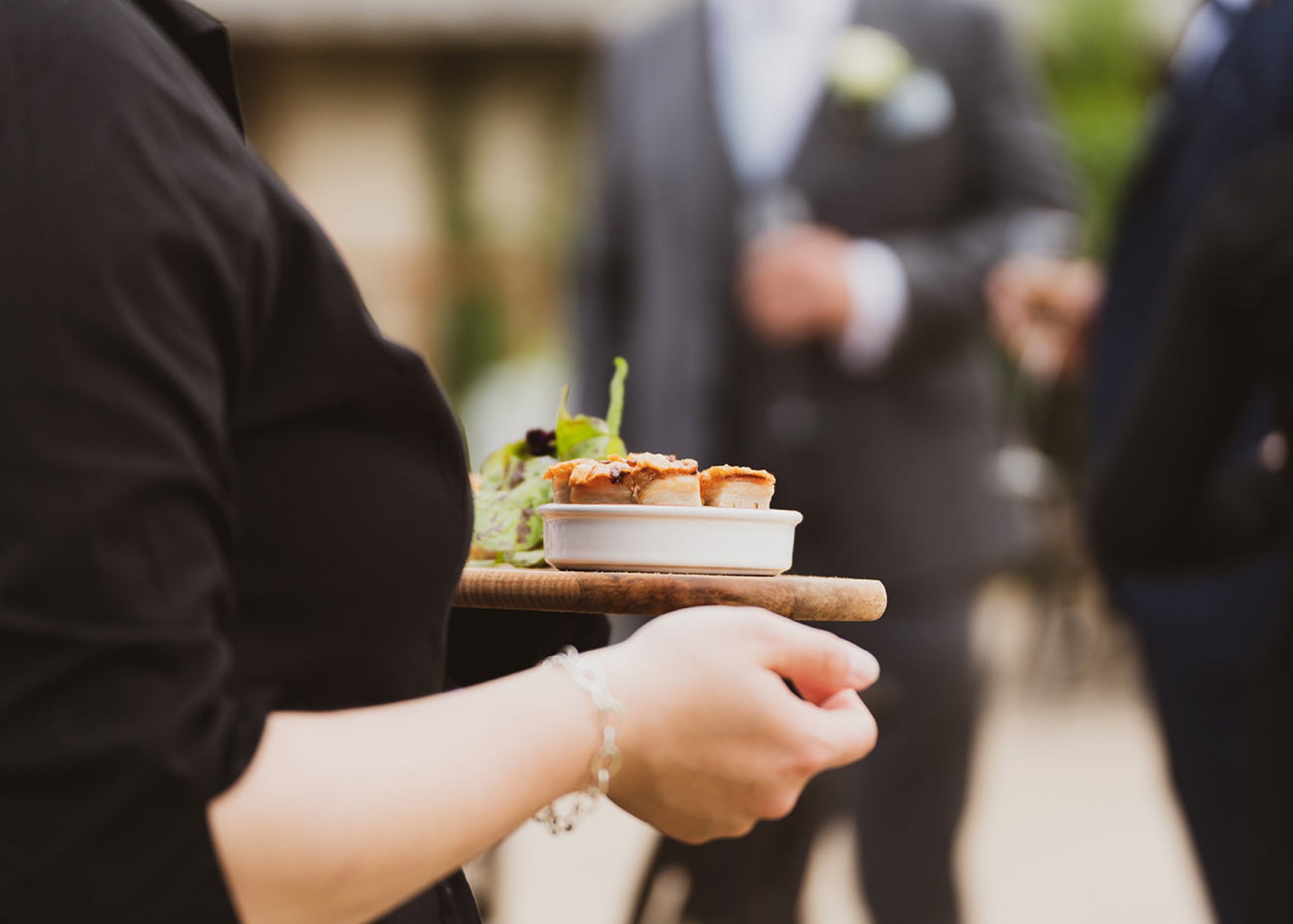 Breakfast, bubbly and being surrounded by her bridesmaids and the female members of her family was a particular highlight for Charlotte as she readied herself for the day ahead. "My nan had brought the albums from her wedding as well as my mum's and aunts' weddings, so it was lovely to look through those. The morning was very relaxed with lots of laughter and happy tears!" she fondly recalls.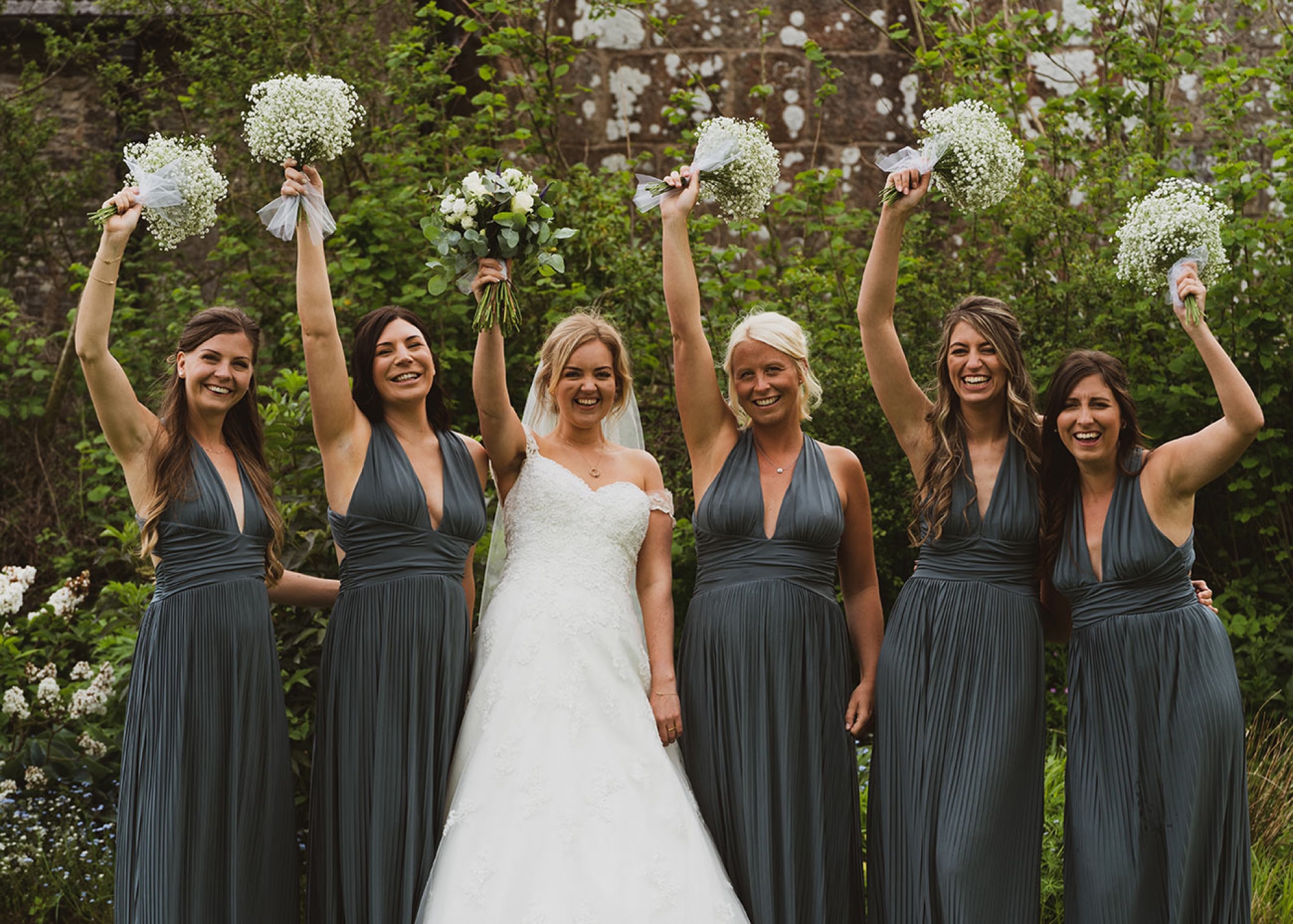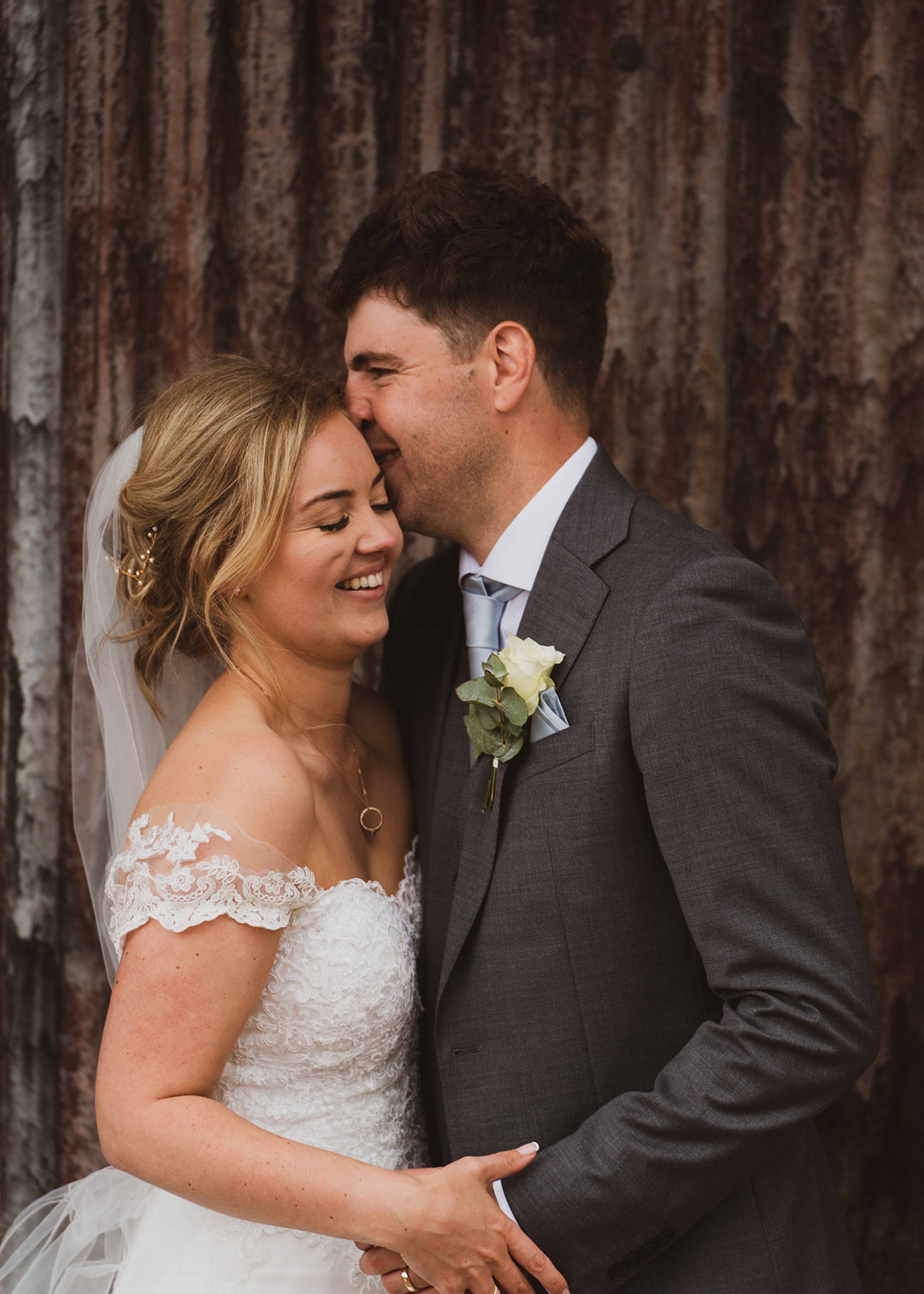 Charlotte's dad then came to greet her in the bridal suite for a "special moment" just before she and Cameron were wed in the Acorn Barn. "The registrar was wonderful and said some lovely things," says Charlotte, who joined her husband alongside family and friends for canapés and bubbly in the sun-filled gardens as a saxophonist set the relaxed tone.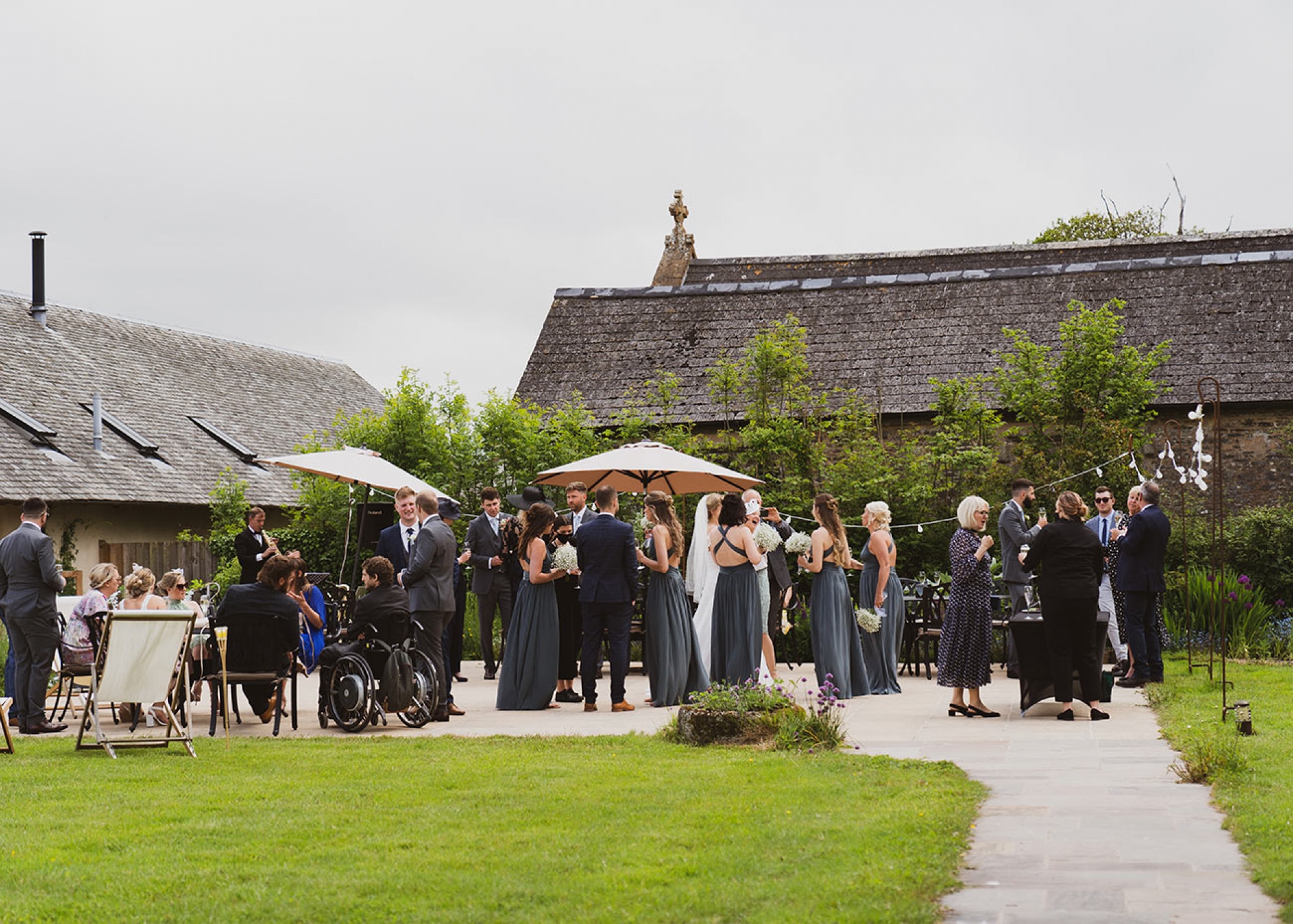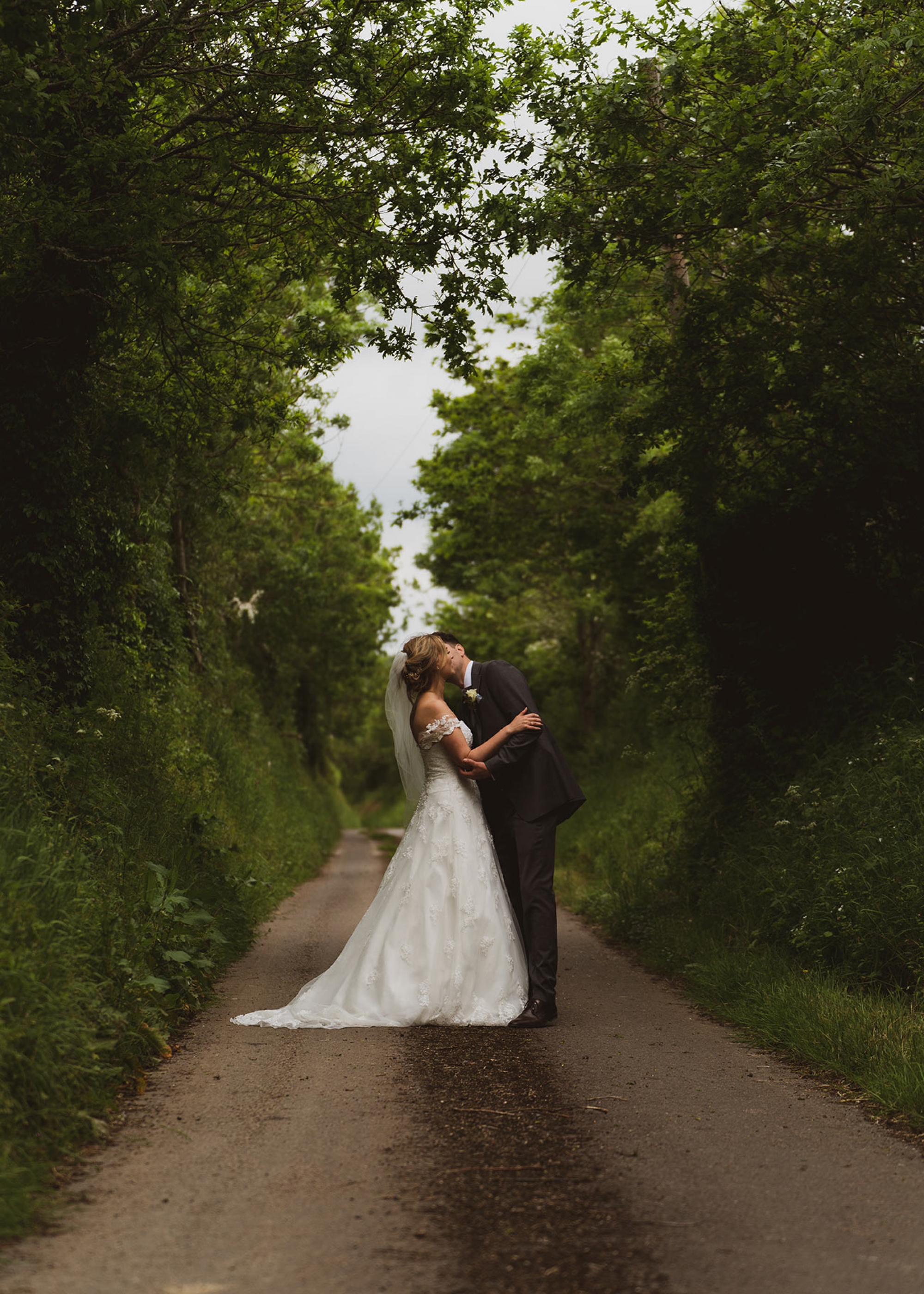 A three-course wedding breakfast was then served in the Oak Barn, consisting of tomato soup, pâté, beef, mushroom gnocchi and a delicious trio of desserts. "My mum had made sloe gin and various other flavours of gin and vodka, which we used for our favours, and everyone enjoyed tucking into those," adds Charlotte.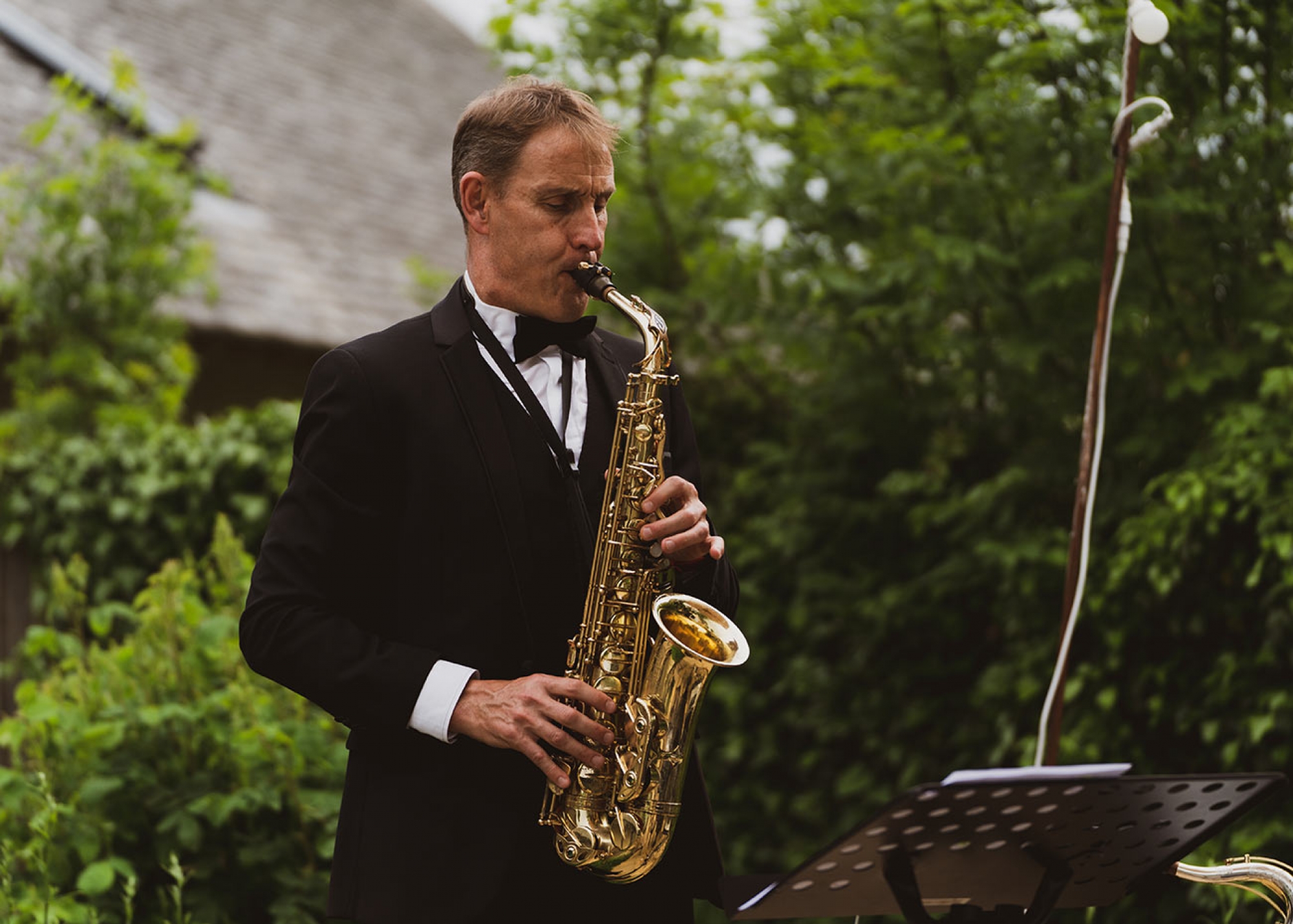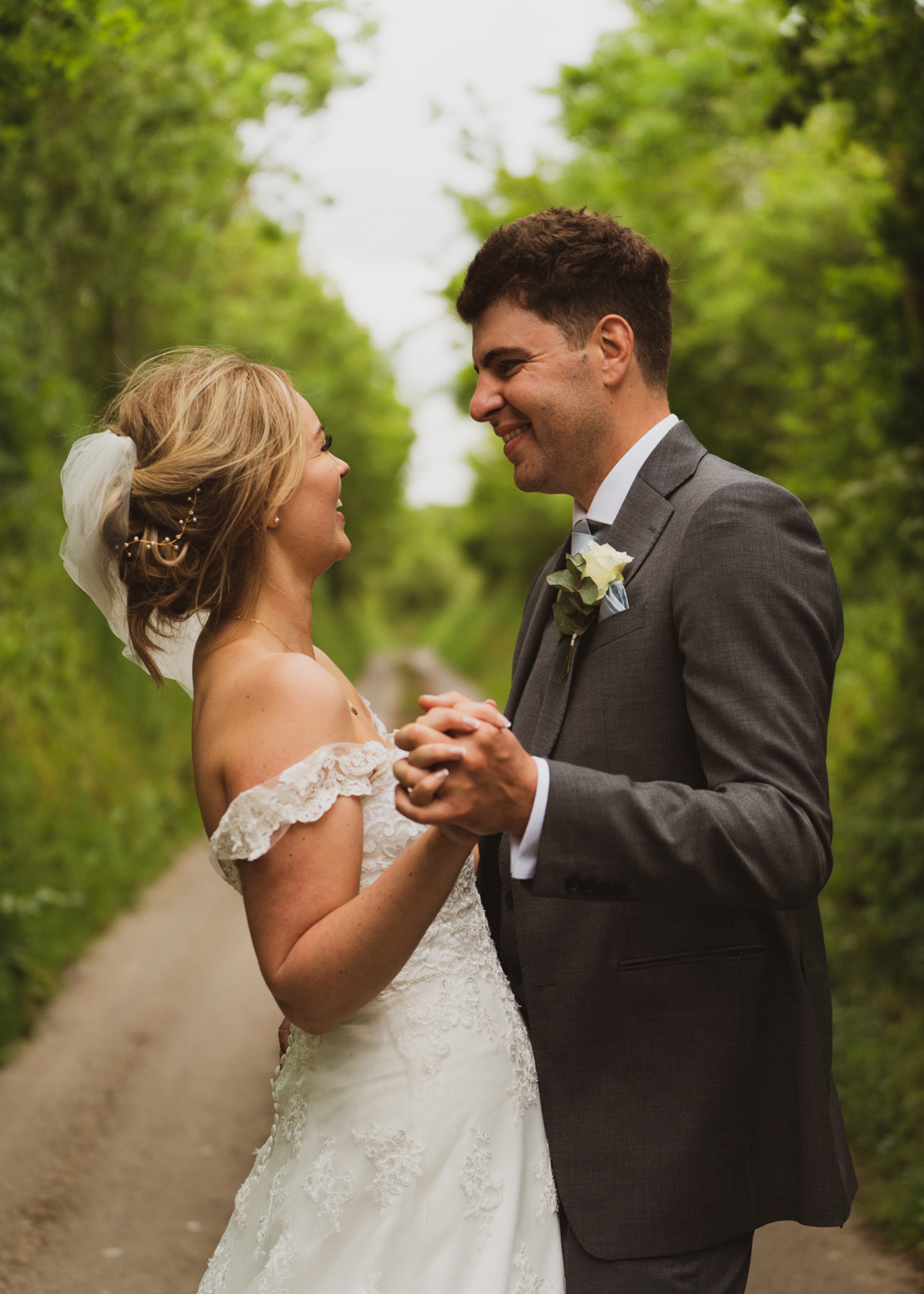 Al fresco drinks were enjoyed as the band set up, kick-starting the reception with a performance of 'High' by Lighthouse Family for Charlotte and Cameron's first dance. "After we danced alone for a few minutes everyone joined us and formed a circle around us singing along, which was a wonderful moment," she says.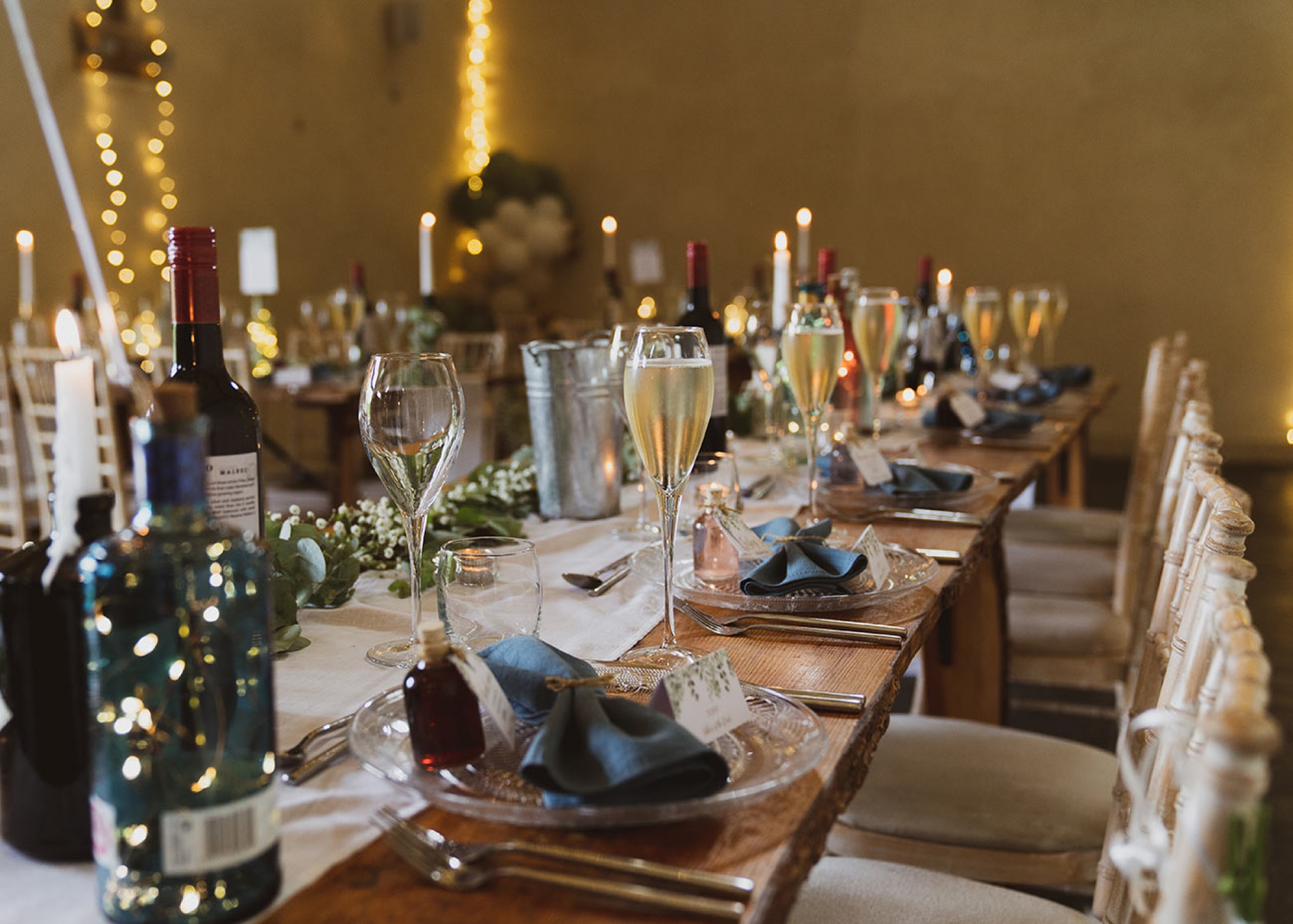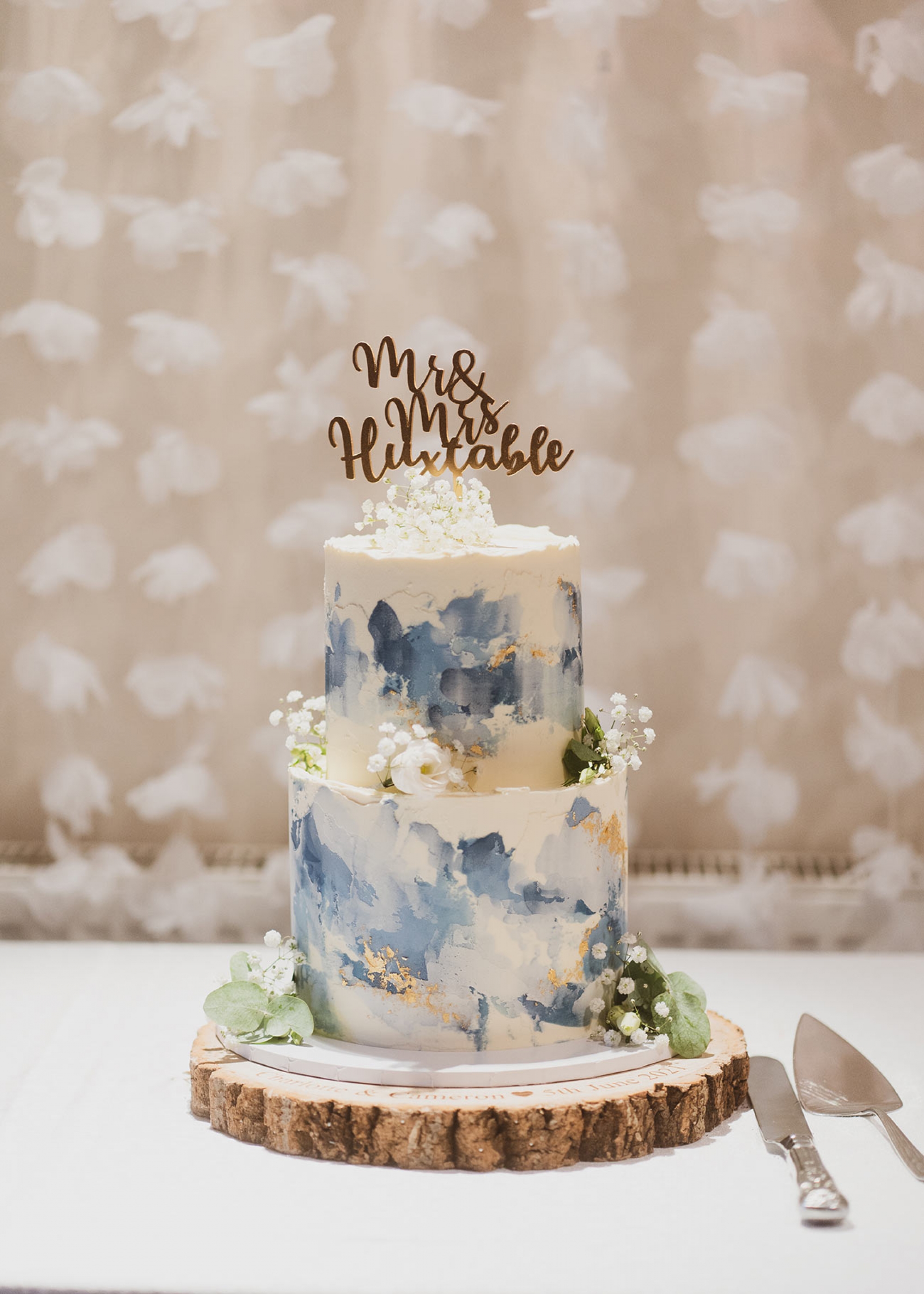 As the sun dipped below the horizon, it was time for sparklers under the oak tree. "It was a wonderful day, and despite it being much smaller than we originally planned, it was absolutely perfect," says Charlotte. "We would highly recommend an intimate wedding!"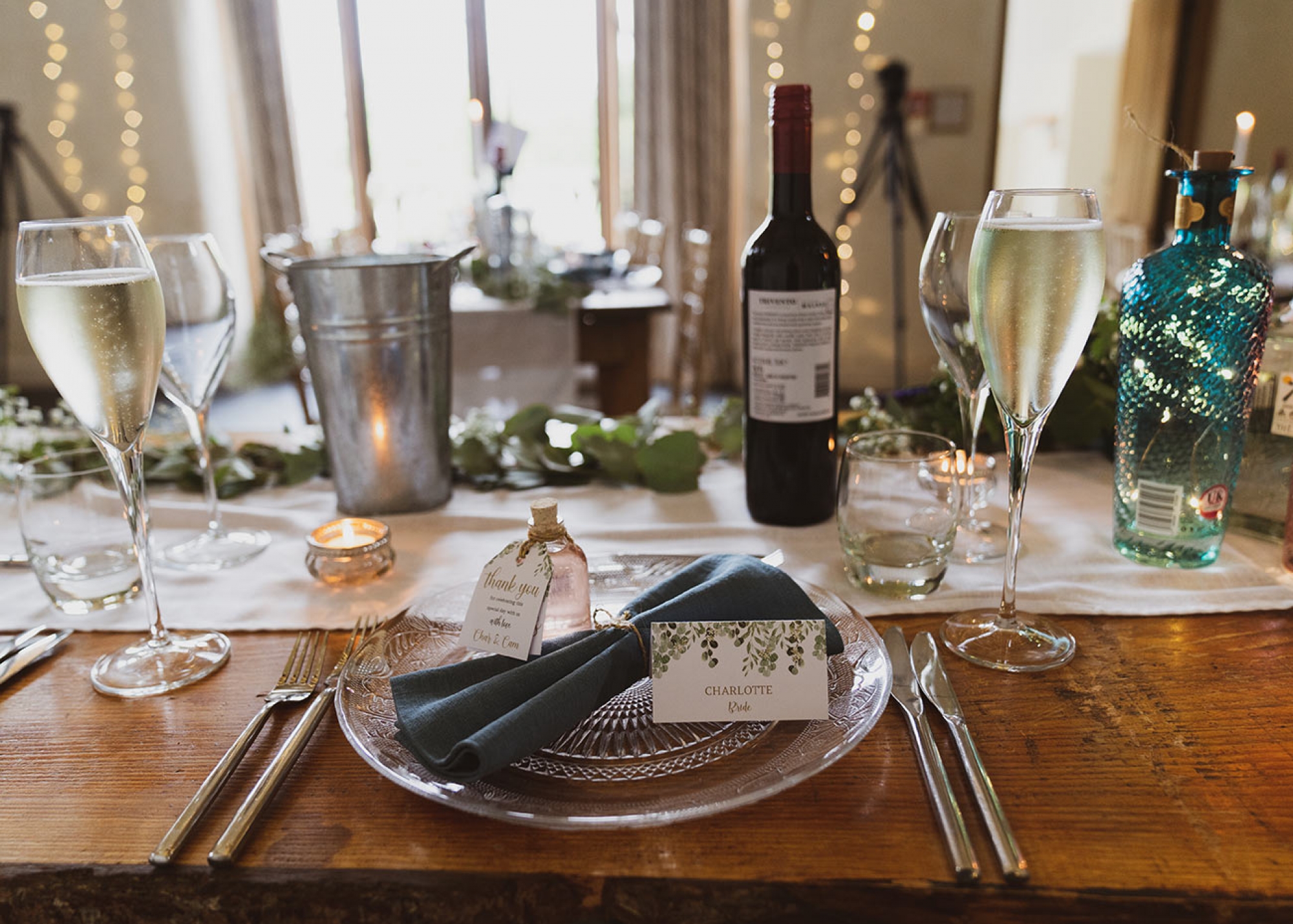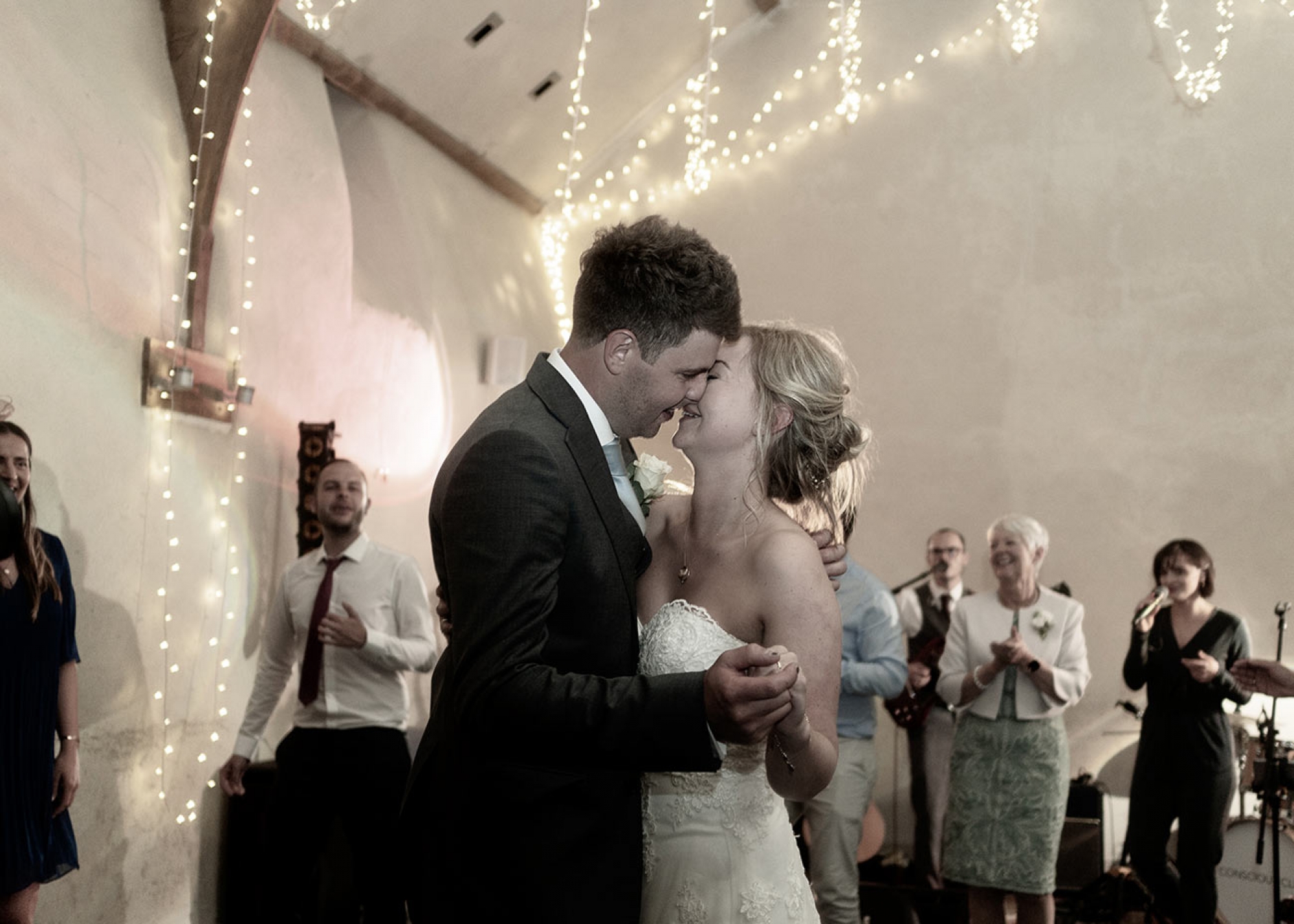 And when it comes to planning advice, Charlotte's words of wisdom urge other couples to take their time. "I was extremely organised; however, there were some things that I changed my mind over as time went on and I wished I hadn't rushed into the decision. As much as things need to be booked ahead of time, try not to rush," she implores.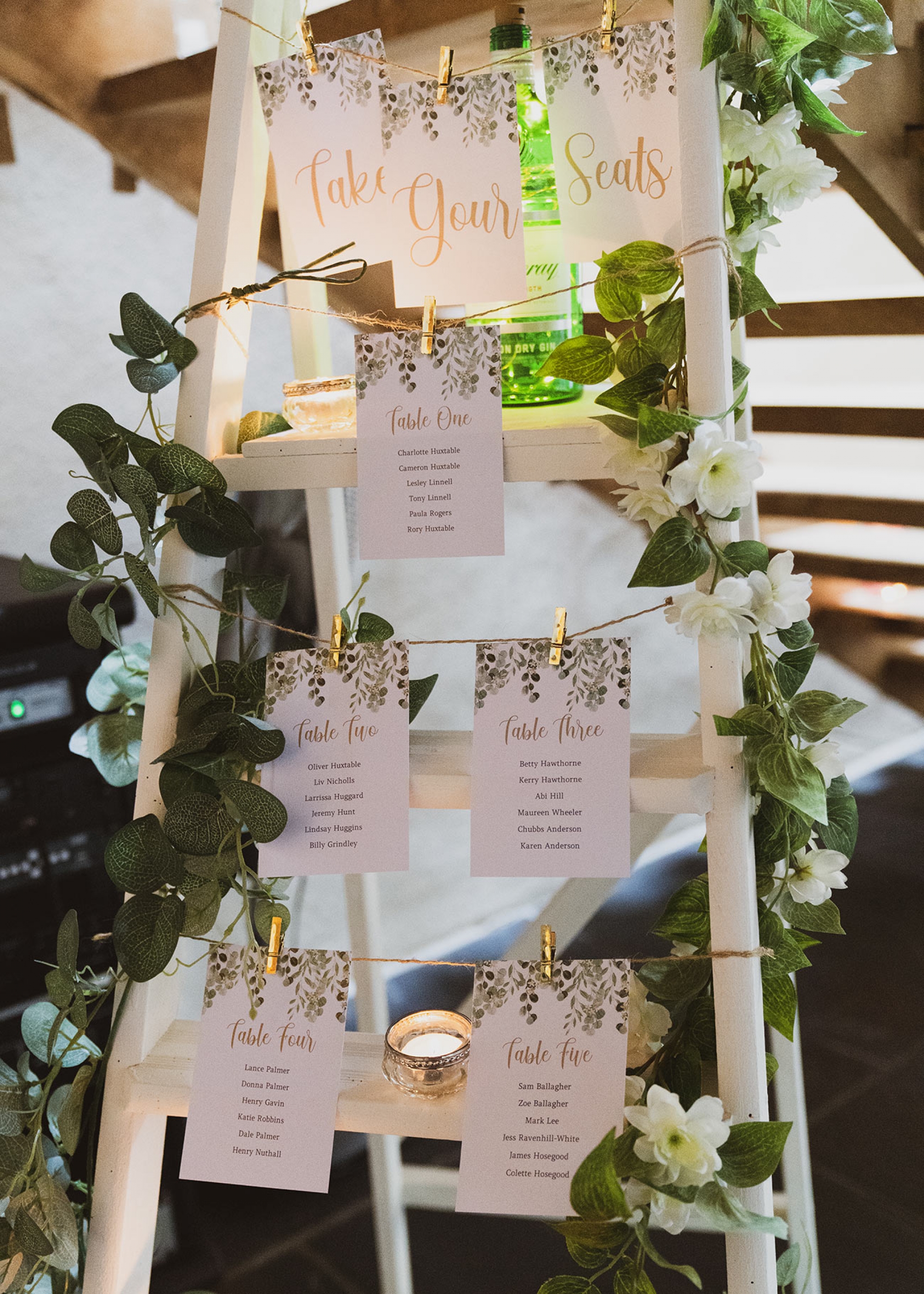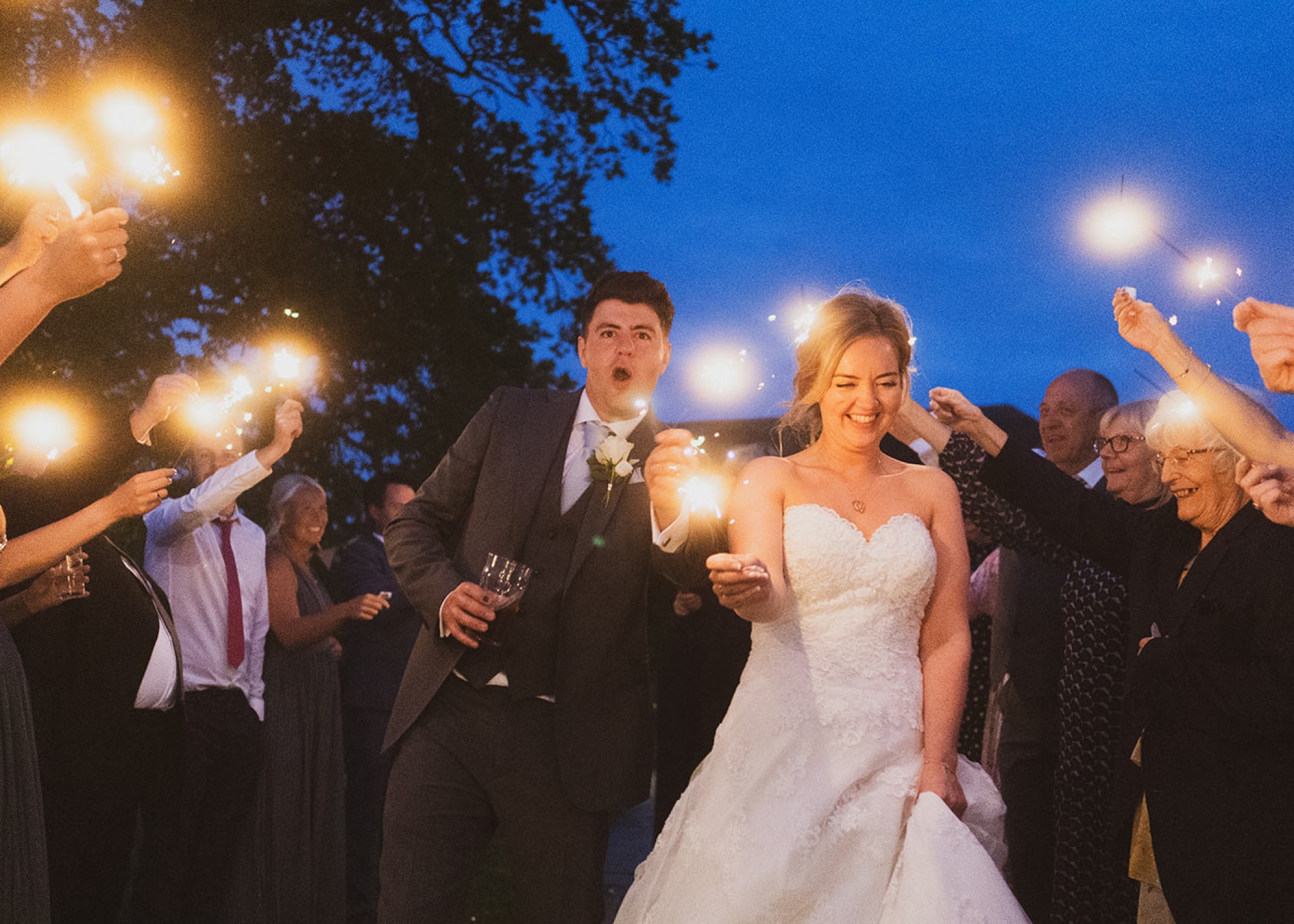 "It's easy to get carried away with the spending, so make sure you think about what is most important to you," she adds. "And don't stress on the day about the small things – no one else knows what you have planned apart from you."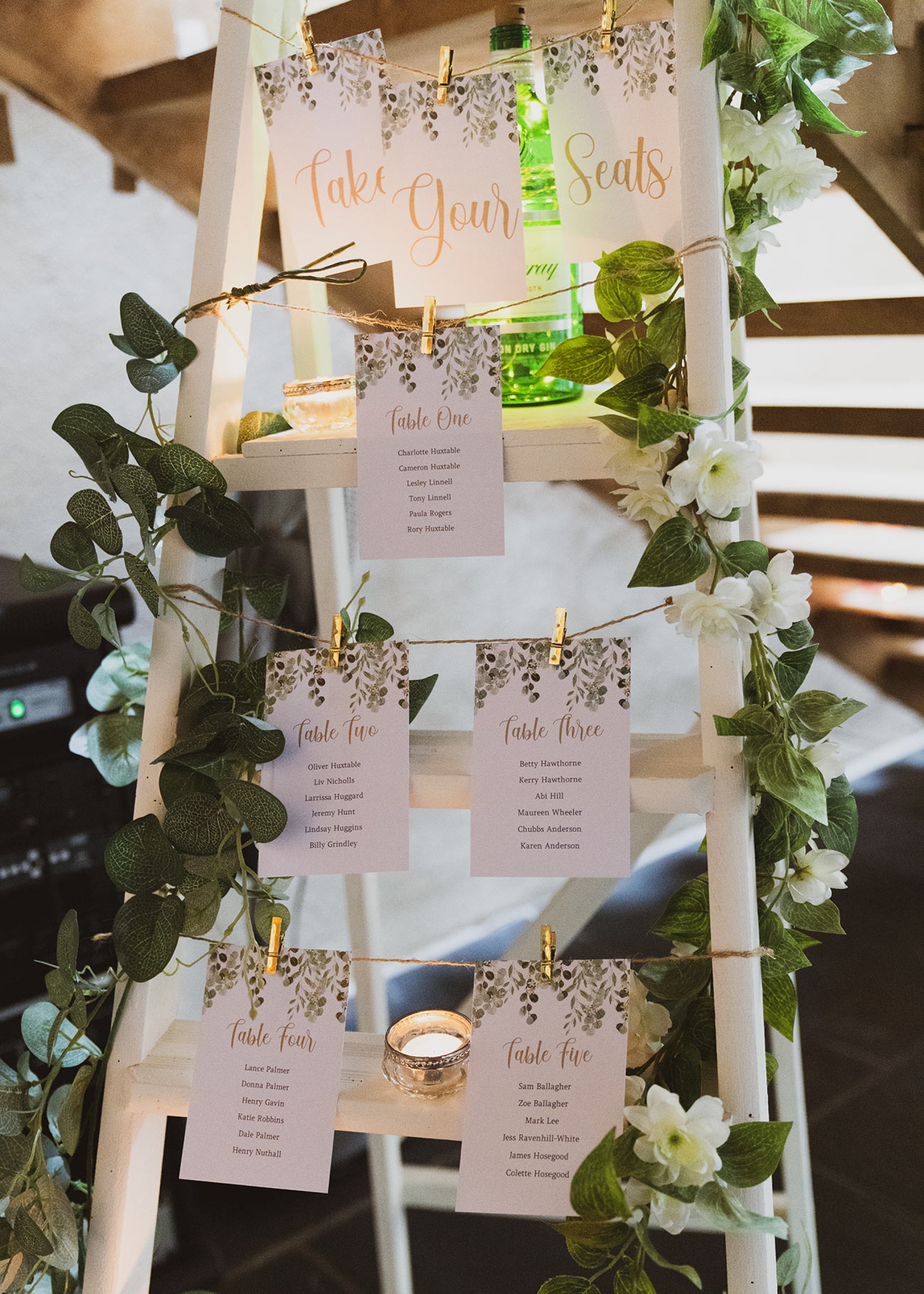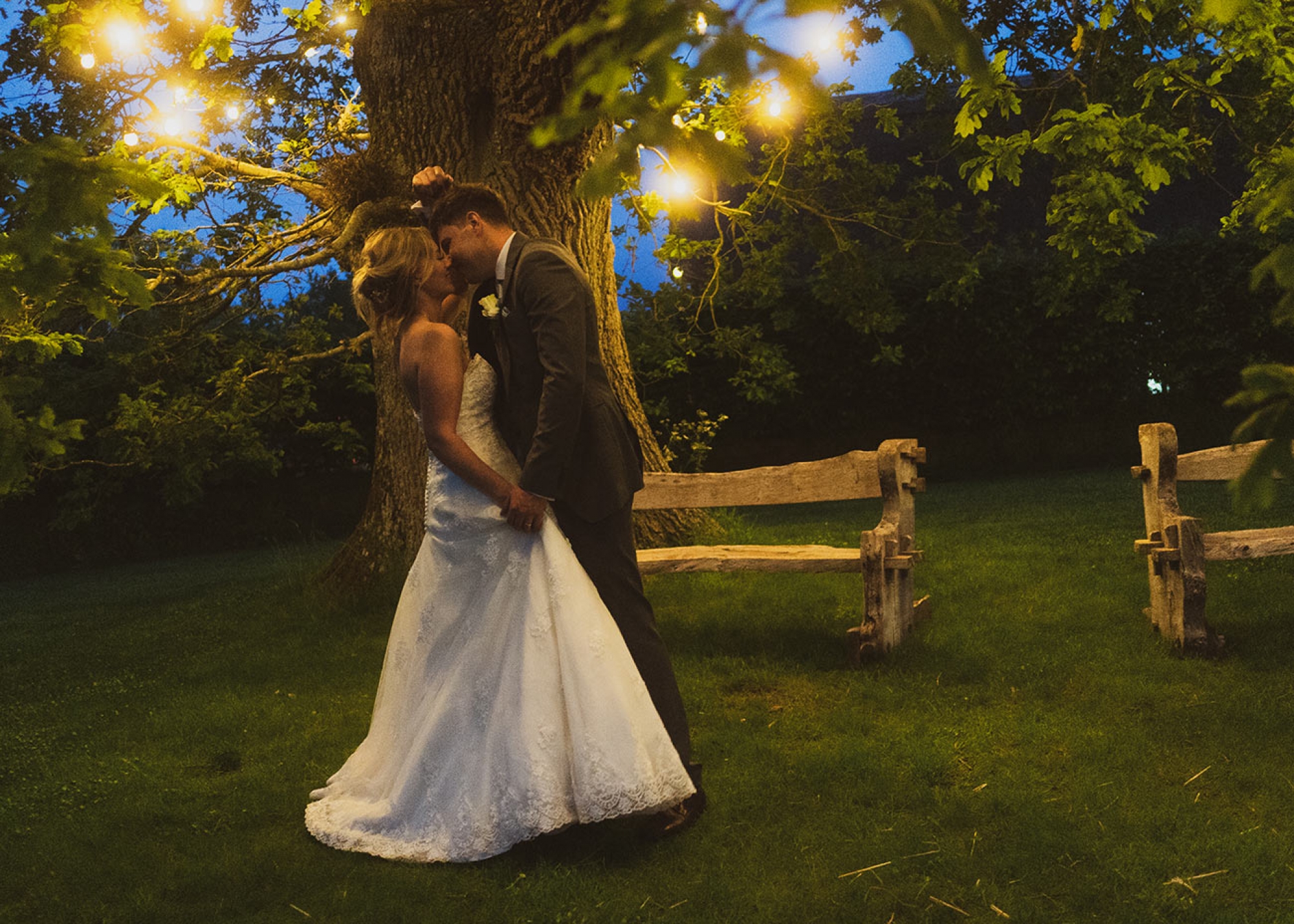 Bridesmaids' dresses H&M
hm.com
Wed

Directory

All you need from the finest wedding suppliers in Cornwall and Devon