---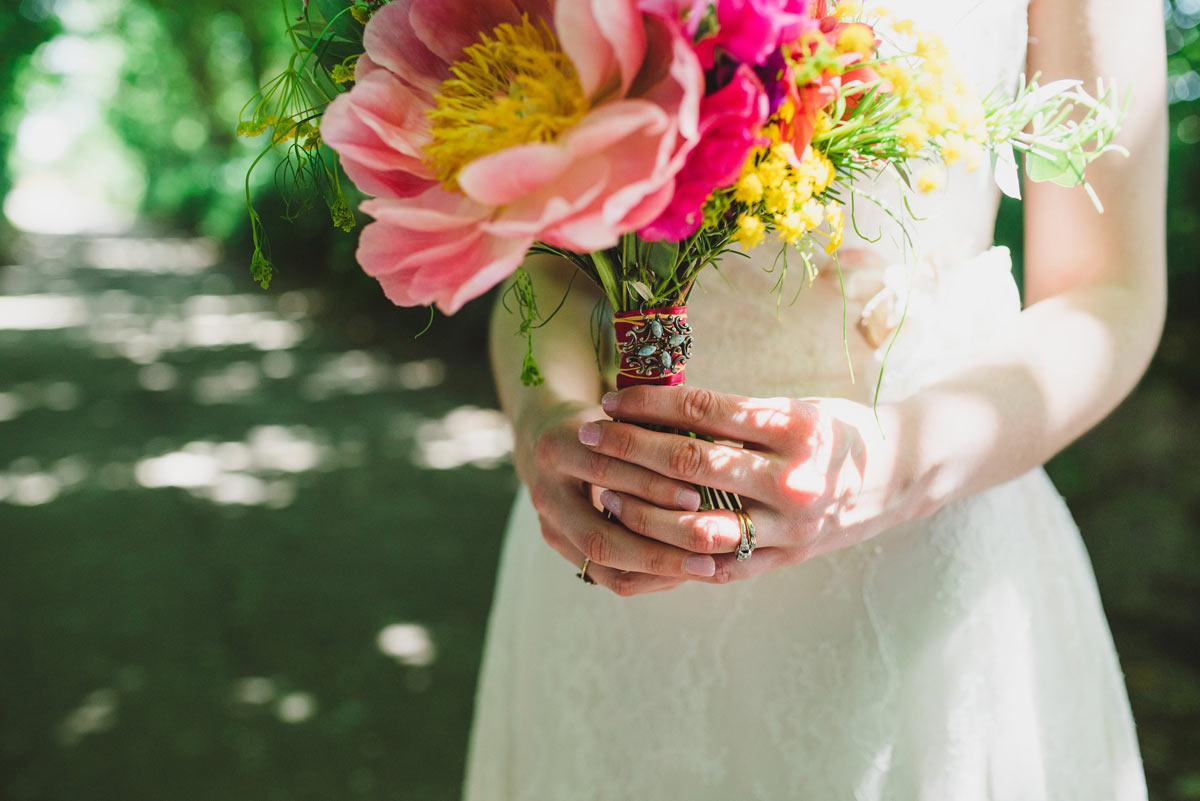 Remembering Loved Ones in Weddings
Remembering loved ones during your wedding day
Seeking a heartfelt way to honour the memory of a loved one on W-day?
From subtle touches to public tributes, here are 15 ideas for celebrating the spirit of someone special

Most couples want their nearest and dearest present to help them celebrate their wedding day, but, as life is a fragile thing, sadly, this is not always possible. While your wedding will, of course, be jam-packed with joy and celebration, the loss of a family member or close friend can mean feelings of sadness will also play a part in the day. But there's no reason you can't highlight the part they've played in shaping the person you've become. So how best can you respectfully honour your loved ones and sensitively call out their part in your story?


Firstly, consider the following:
How recent is the loss?
For some, the loss of a loved one can happen very close to the wedding day. With emotions understandably still very raw, it may be helpful to acknowledge your loved one's influence in a structured way, one that supports you in keeping the focus of the day on your marriage. Your celebrant can help in steering proceedings in a gracious, sensitive and well-focused manner, enabling you and your guests to remember, but not to be overwhelmed with sadness.
How much attention do you want to bring to the loss?
The fact that a loved one is not with you at your wedding may affect you, or some of your family members, deeply. However, there is the delicate balance of remembering the purpose of the day, and enabling your guests and family to celebrate the joy of your marriage; it is after all a wedding, not a wake.
What is appropriate for the relationship you are honouring?
If grandma was a quiet lady who didn't like the limelight, a bold memorial may be unsuitable. It is absolutely appropriate for your fiancé and family to agree on what fits best for the person you are honouring. For close relationships, a more public acknowledgement may seem right, but it is your decision as to the tone and whether you let anyone else know of your acts of remembrance.
Ross Talling
How you do it is entirely up to you. Here are 15 ideas to get you started…

1. Choose the venue with them in mind
The setting for your wedding can itself be a powerful reminder of someone you love. Rather than the room set-up, décor or cost being the deciding factor, perhaps being near to their favourite beach, or in the town where you went on holiday together as children may be all you need to have a sense of anchoring your shared history.
2. Wear something that reminds you of them
Some brides may wish to wear their mother's wedding dress, or be lead by their auntie's love of colourful shoes. Your grandfather's cufflinks might help give you a sense of his presence or even wrapping a section of his favourite ties around the stems of the bouquets. Jewellery woven into hems, on chains and tied around bouquets – perhaps a locket or charm with a photo of your loved one – are a lovely way to privately keep them close. You might incorporate their favourite flowers into your colour scheme, or even have old rings or earrings melted to form your new wedding bands.
3. Give them a big welcome
Your loss will affect others: your friends or family will have lost someone they love, too. It may be the first wedding your mother has attended without her husband, or your cousin without his wife. Your thoughtfulness in escorting a recently bereaved guest to their seat will be remembered for a long time.
Wedding Flowers in Cornwall, Khalile Siddiqui
4. Incorporate flower arrangements
A meaningful flower arrangement can be a physical presence of those not present at your wedding. Some couples choose one bloom for every person who they wish were there to share their day. It can be as public or as private an arrangement as you wish.
5. Mention them in the order of service
If you have an order of service, attaching a tag with a dedication, or simply printing a mention of those who you miss, is a very simple way of acknowledging important people in your life. Alternatively, if there is a motif or image that is synonymous with them, this can be subtly included in the stationery without any additional explanation.
6. Dedicate a chair in their memory
A rather more public display of remembrance may be to reserve a chair in your ceremony or reception, perhaps with a flower placed on it, or a prized object or photo of your loved one.
7. Take a moment of reflection
Another public marker could be a moment of reflection to remember the loved one and all they brought to your family or friends: again, the timing and tone of this can be dictated by your celebrant. Many choose to have this moment at the start of the marriage ceremony. Some choose a more discrete version of remembrance by incorporating a butterfly release, or the lighting of a candle to include their loved one symbolically in the heart of the marriage ceremony.
8. Include them in the ceremony
A simple reading or poem from a favourite book, or a song or piece of music that they cherished is another meaningful way to mark your loved one's presence. For some who lived knowing they would not see a relative's wedding day, letters or prayers have been written or even recordings made of good wishes, wisdom and laughter. Having their 'voice' as part of the formal part of the marriage ceremony may be perfect for you.

9. Create a photo wall
Family trees and family histories displayed in pictures are becoming popular ways of introducing one family to another. It's also the perfect opportunity to incorporate any important people in your journey. Be creative when it comes to displaying your pictures: from simple tables to stepladders and even gallery-style set-ups, there are many wonderful ways of sharing your story.

10. Light a lantern table
Another popular way of celebrating those who are not with you is to create a lantern or candle table. Usually this is set with a photo, a message of remembrance and a lit lantern or candle to symbolise their presence and sometimes a corsage or buttonhole. Guests can then engage with it as they feel comfortable.
Ben Photography
11. Enjoy favourite foods
Poignant foods, drinks, snacks and recipes can be shared. Did grandma always offer milk and cookies? Then serve them as midnight snacks before you head off on honeymoon. Did Dad always sneak the last After Eight? Have boxes presented to every table after dinner.

12. Give to charity in their honour
In lieu of favours, you can let your guests know you have made a contribution to a charity of your choice, synonymous with your loved one. You can let them know in the speeches, or simply leave a little card for them at their place setting.
13. Make mention in the speeches
Take a moment to mention how much a lost loved one meant to you during the speeches. Toast their memory, or if you have someone technologically minded who can stitch together old home movies and photos, you could even highlight their character and your history together in a short, heart-warming film.
14. Release balloons
Some find that dedicating a dance (silly or tender), or having a lantern or balloon release helps to draw attention to the joy your loved one brought in a beautiful, group-focused way.
15. Choose favourite favours
Though understated, utilising favours to incorporate the quirks and likes of your loved one is a sweet way to remember them well. How about a packet of seeds with their name printed on, or a box of cigars handed around with the invitation to 'enjoy one from grandad'?
ALWAYS ON MY MIND
We asked our Facebook followers how they marked the memory of a loved one on their wedding day
"In memory of my grandmother, we lit a pillar candle on the morning of the wedding and kept it burning all day in a prominent place for her light to shine – while I was getting ready, during the ceremony, the reception and evening party. We also had a heart-shaped wreath as part of the ceremony centrepiece flowers, which we took to her grave the next day. And we most absolutely raised a glass of fizz for her during the speeches." Vicky
"I made a donation to Cancer Research UK as my Dad passed away from cancer in 2000. We had little cards with Cancer Research pin badges on them as wedding favours, informing our guests that we had made a donation on their behalf. It meant a lot to see everyone proudly wearing the badges on the day." Maria
"I had my grandma's charm bracelet wrapped around my bouquet ('something old') and my great grandma's brooch (borrowed from my mum) attached to it as well. It felt like they walked down the aisle with me in spirit." Nichola
"I had a memory tree with a memory poem and memory candle. Photos of our loved ones hung from the memory tree. We actually got married on my nan and grandad's wedding anniversary so I tried to include them in the day as much as I could." Sammy
"I had my dress made in my nan's favourite colour." Emily
words Christine Jensen
Copyright Wed magazine 2016