---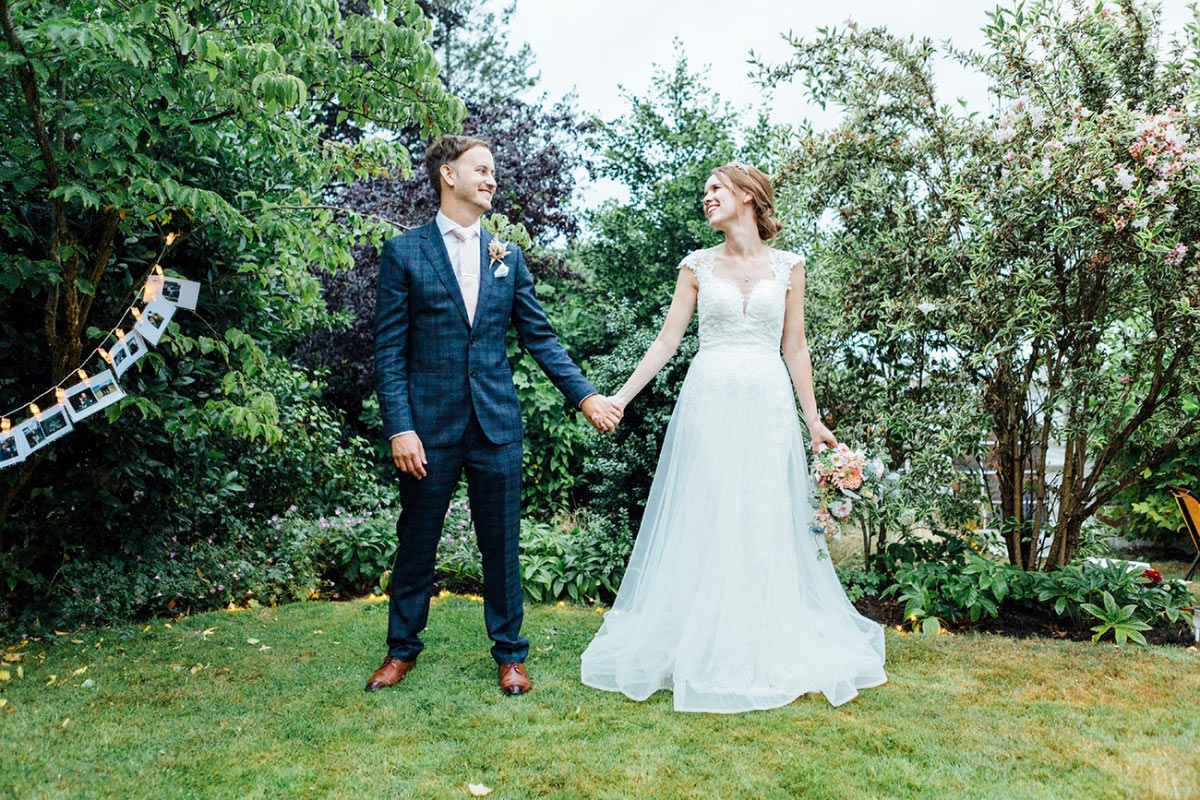 How to bring that special vibe to your big day when you're already married
A Sense of Occasion
Postponing your big day celebrations? Here's how to bring that special vibe to W-day when you're already married
Covid-19 has had a far-reaching impact on the wedding industry. Postponements, cancellations, rearranging and resetting our expectations has become the norm. While some couples have chosen an entirely new date in 2021 or beyond, others have opted to go ahead with the legal ceremony with just a few guests, postponing the larger celebrations until restrictions have lifted.
Although this might require more work and thought, it can lead to two totally different but utterly memorable days. We're here to show you how it's possible, and how to bring the magic to your celebrations – whether it's just the two of you, or you're trying to embrace the wedding day vibe at your celebrations months later.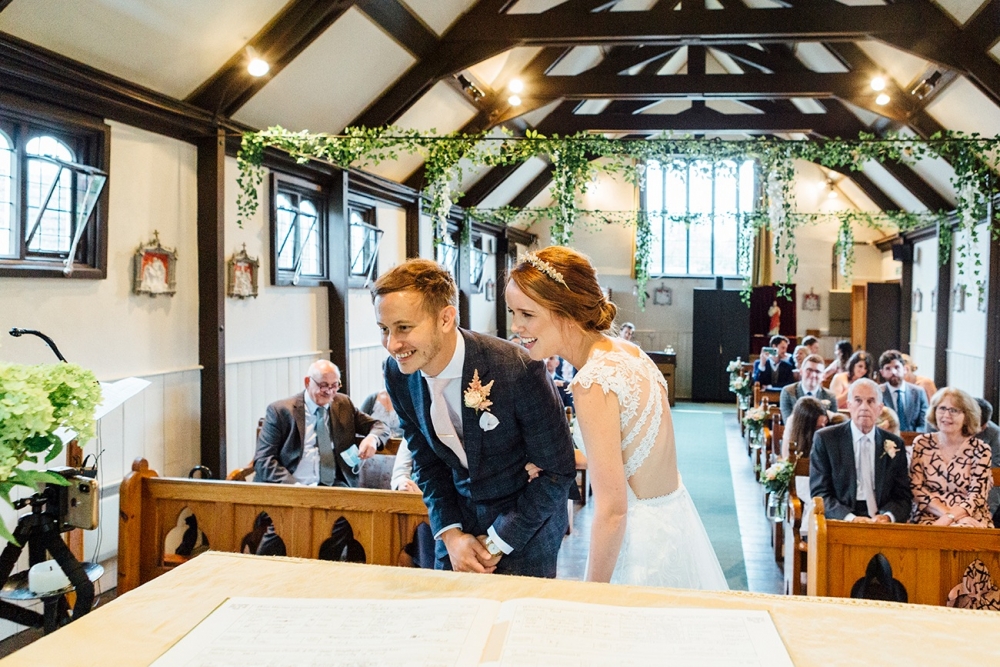 Change of plan
Cat, who was due to marry Tom in an orchard venue with 120 guests in August 2020, had her plans changed time and time again. Lots of back-and-forths and "100 compromises later!", they decided to go ahead with their original date, downsizing to comply with the (then) restrictions of 30 people.
"We decided to have our legal wedding in a church. It was actually a lovely turn of events in some ways, as the church I grew up going to is very small, so we couldn't have had our original ceremony there," says Cat. "When the restrictions changed, we realised we could go ahead with our wedding there, and had about 20 guests. We had by then made the call that even if we could only have six or 10 people there, we'd still go ahead. We were worried that if we delayed too much, we might go into another lockdown and miss our chance."
Numbers game
So, first things first when it comes to a smaller wedding, is how to choose your guests with restricted numbers. This is entirely your choice, but – whether you choose immediate family, your bridal party, or even the people who live closest – rest assured that those who aren't invited to the day will understand. Think about who you really want there, and explain to the others that you can't wait to celebrate with them at a later date.
"We decided on parents, siblings, and bridal party and their partners," says Cat. "It's really tough to draw the line, as there are people such as close friends that I couldn't ask to be bridesmaids, and close extended family that it was really sad to uninvite. But everyone was so lovely and understanding, and so excited for the live feed and future events, that it wasn't as difficult as I expected."
You may find that not everyone you invite will be able to make it, either through being in a high-risk category, financial concern or feeling uncomfortable with a social situation – plus, with travel from different countries likely to be affected for some time, many guests may still have trouble attending. "To ensure not a memory is missed, live streams and video messages will be the new normal and this could be a really great way to get your wedding on a universal scale," says Maisie Cook, a wedding planner from Jenny Wren Weddings & Events (jennywrenweddingsandevents.co.uk). "This could also be a blessing in disguise, allowing guests who may not have previously been able to attend for alternative reasons the opportunity to celebrate from afar."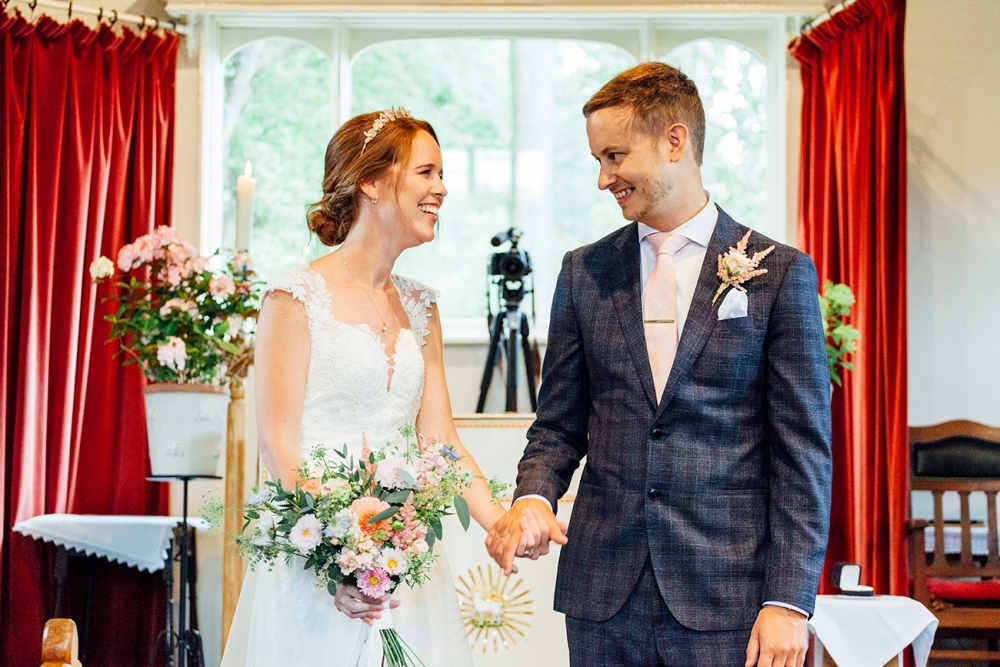 Video star
A live streaming feed can be a beautiful way to incorporate the guests who can't be there, and there are lots of streaming platforms you can now use. Cat and Tom set up a Zoom call about 30 minutes before the ceremony, with the partner of one of their bridesmaids allocated the task of ensuring it was working! If you're doing this, remember to check the internet signal strength the day before, and consider upgrading to a paid Zoom account to allow for more numbers to join the call (and to avoid time restrictions).
"I had visions of 80 people dialling in to a frozen screen of the church floor," says Cat. "But it all went smoothly, and it was lovely to be able to actually see everyone. I was so touched that lots of them had dressed up or were wearing hats or fascinators. After our 'I do' moment, we turned to the Zoom call and had a quick celebratory chat with everyone!"
Celebrate good times
Cat and Tom are now planning a larger celebration on their first wedding anniversary. "We'll start later in the day, have a short ceremony, food and speeches, and then get everyone on the dance floor and dancing to a band," says Cat.
So, what are the options for your later celebration? Well, the beauty of already being married is that you have more freedom to plan the day as you wish, without being bound by any legal elements. Meanwhile, some couples are choosing not to reveal that they're already married, and will have a more formal or traditional ceremony as part of their celebration.
"What I think we can all take from these difficult circumstances is the chance to reflect and appreciate the special people in our lives and the good times we've had with them. A post-lockdown wedding celebration can embrace this attitude, by having a second 'ceremony' to highlight these moments to everyone attending," says Maisie.
Choosing a celebrant-led ceremony is a great way to do this: you can work closely with a celebrant to create a welcoming, beautiful ceremony, which is personally tailored to you, while expressing your gratitude and appreciation to everyone for being a part of your lives. "Words like this, especially after such difficult times, will be remembered for many years to come," she says, which is something Cat agrees with. "We are planning a short humanist-style ceremony, with my brother officiating (modelled on Joey from 'Friends' but hopefully in a better outfit!)," she says.
There are some beautiful options for how to bring that sense of occasion to a ceremony, too. As well as a vow renewal or blessing, you could also incorporate a handfasting or a reading to each other on what you've learnt from your first months of marriage.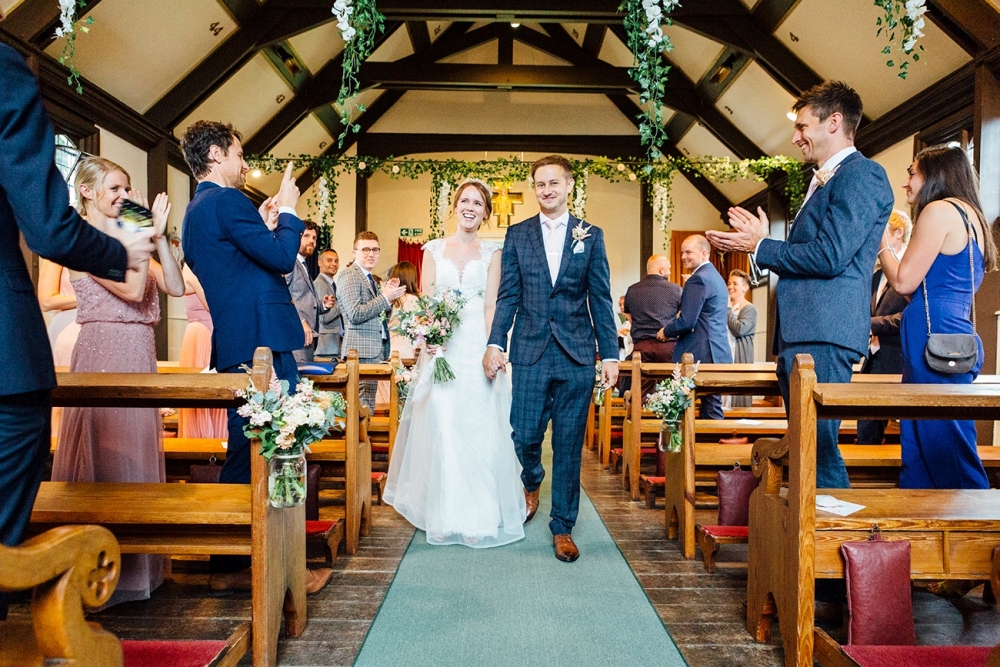 Wedding vibes
As well as the ceremonial element, there are multiple ways to bring the real excitement of a wedding to your later date. "It would be a lovely touch to add some traditional elements into the post celebration to create that sense of an official wedding," says Maisie. Including the key aspects – such as cutting the cake, the first dance, and speeches from the wedding party – will help you to get into the spirit of the big day and bring together all your guests for a conventional yet unique wedding celebration.
"We want it to feel like a wedding party, so we want to do a bit of everything but probably on a smaller, cuter scale," says Cat. "So a few short speeches, a little ceremony, cheeky first dance… but FULL wedding attire, no excuses there!"
Dress to impress
Which brings us onto the question of what to wear! Whether you use the opportunity to have two entirely different bridal ensembles, or grab the chance to re-wear 'the dress', it's one of the bonuses of a double celebration. "I was planning to wear a strapless white jumpsuit to our ceremony, so as not to ruin the surprise of my lace Morilee dress for the later big party, and because I thought it was a bit much for a small wedding," says Cat. "But then I just thought: 'What the hell!' A small advantage of this situation is that I will be one of the few who gets to wear her dress on multiple occasions, so I have to take it!"
Don't despair
For Cat and Tom, there were many perks even if it wasn't the way they originally chose to celebrate their wedding. "Everyone says their wedding day goes by in a flash and you hardly get any time with some people. So it was really special to properly enjoy the day and evening together and make memories as a small group," she says. "Also – as I had always wanted to get married in this particular church and have the party in my parents' garden, but both places are too small to host the big traditional wedding we had planned – it was quite exciting to reimagine the day in a different way." Of course, we're not saying it's easy, or that you have to approach it with unending positivity. "The uncertainty made it hard to feel excited and properly look forward, and I sometimes felt like I was really missing out on that anticipation and build-up," says Cat.
But one of the many lovely bonuses of a 'later-date' get-together is that it's likely your guests will be up for one hell of a party to celebrate your new life together. "Expect lots of dancing, lots of reminiscing and, of course, lots of drinks to toast your love," says Maisie. "This will be the wedding of a lifetime and we have Covid-19 to thank for the new-found appreciation and ability to enjoy the most special occasions in our lives."
words Lucy Higgins
photos South Weds Wedding Photography
Wed

Directory

All you need from the finest wedding suppliers in Cornwall and Devon