---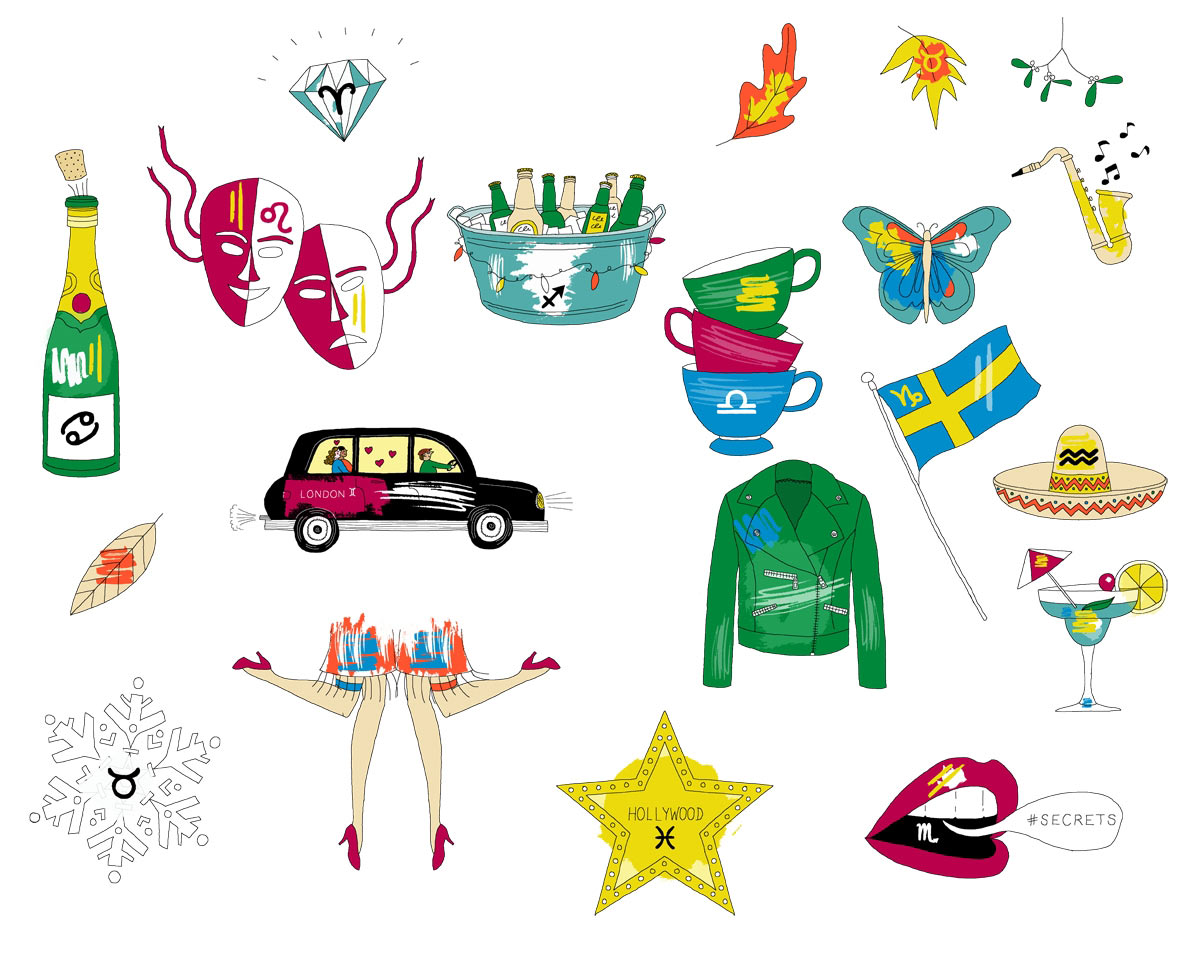 Planning your wedding according to your star sign
Star sign weddings
How to plan your wedding according to your star sign
Struggling to make decisions about your venue, dress, theme – or anything to do with your wedding? Let your star sign help you! Whether you use it as a strict how-to guide or just as some inspiration for personalising your big day, read on for your perfect wedding based on your star sign…
Aries (March 21–April 19)
A fire sign that's often considered a breath of fresh air, if you're an Aries you're said to be fiercely independent, courageous and confident.
Venue
Loving anywhere off the beaten track, look at locations that talk to your sense of freedom, such as a beachside venue or secluded cove.

Time of year
Forget the year, Aries should think more about when in the month to get married. If possible, pick the night of a full moon, and Tuesdays are extra lucky too if you're considering a mid-week wedding.
Dress
Though playful and fun, the Aries woman is also known for her elegance. Choose something chic and simple that exudes femininity — and comfort is key for you too. A stylish sheath gown in a light and flowing fabric will suit you well.
Theme
The Roaring Twenties – the very era of elegance and indulgence – speaks to your love of class, style and everything over-the-top. Don't hold back on the glitz and glamour; this is your time to shine!
Honeymoon
Choose somewhere hot, feisty and happening – northern Spain is a great European option, while for destinations further afield consider Cuba or Argentina.
Little extra
Your birthstone is diamond… need we say more?
Taurus (April 20–May 20)
A powerful force that quietly exudes confidence, the Taurus woman is devoted and kind with an appreciation for the beautiful things in life.

Venue
A lover of nature and the finer things in life, a contemporary vineyard will see you strolling past the vines hand in hand with your lover, with your guests soaking up the sun-dappled scenery.

Time of year
A true lover of balance, choose a date around September's autumnal equinox, when the days and nights are the same length.
Dress
Known for not only your devotion to romance but also your shunning of throwaway culture, opt for something sophisticated and timeless, perhaps with a mermaid silhouette.
Theme
Gorgeous, elegant and crisp, your wedding will have all of the splendour and none of the tat. Neutral colours and classy décor will bring you peace and pride on your big day – with a lot of live music thrown in, from acoustic singers to big bands bringing the atmosphere.
Honeymoon
With a birthstone of emerald, head to the Emerald Isle (Ireland), where a land full of folklore will enthral you.
Little extra
Opt for violets or poppies to make your wedding pop.
Gemini (May 21–June 20)
Known to be affectionate, loving and always showing their true feelings, Geminis can also have a shy side so might want to opt for a smaller, more intimate ceremony.
Venue
Playful and fun-loving, you love everywhere pretty and creative, so consider an old art studio or industrial space that you can luxe up to create a very cool venue.
Time of year
Bounding from one minute to the next, a summer wedding will give you plentiful hours to fill with games, entertainment, dancing and meaningful moments.
Dress
Want to show off both sides of your personality? Opt for a dress that has a removable skirt or train so you get to make a big entrance but can also let your hair down in something more comfortable when it's time to dance. Alternatively – go for two outfits!

Theme
You might find it hard to narrow down your ideas to one theme, so forget convention and go for a little bit of everything you love. A youthful sign of the zodiac, embrace your inner child and have all the foods you love, a playlist of your favourite genre-spanning songs, and lots and lots of flowers.
Honeymoon
Known for always being on the go, visit a quintessential city that never sleeps, be it London, New York or Sydney.
Little extra
Geminis often feel an affinity with butterflies, which are also a sign of endurance and hope (nice for a wedding!).
Cancer (June 21–July 22)
Fiercely loyal and led by their feelings, a Cancerian's wedding will be highly sentimental and full of personal little touches.
Venue
With a desire to be surrounded only by your very nearest and dearest, an intimate venue will speak to your 'blushing bride' feels. Somewhere small and cosy will allow you to be yourself and focus on the sentiment.

Time of year
As the most romantic of all the signs, pick a time that means something personal to you. The anniversary of when you met, Valentine's Day or New Year's Eve will all make for special wedding dates for you.
Dress
With an appreciation for old school romance, a vintage or ethereal dress with handcrafted details will be ultra-meaningful to you on your wedding day. Go with your heart and pick the dress that brings out the emotion in you.
Theme
Embrace your romantic side and go all out with the loveliest of details. Blush roses, gold accents and lashings of champagne will bring the romantic-luxe vibe and keep you serenely smiling all day long.
Honeymoon
As a water sign, choose somewhere on the coast or with beautiful lakes and rivers. Canada and Austria have an abundance of both.
Little extra
Silver is a lucky shade for you, so embrace the silverware.

Leo (July 23–August 22)
Fiery and passionate, you're warm-hearted and happy to indulge on the more extravagant side of life. You love the spotlight, so embrace everything big and bold for your wedding day.

Venue
Why not opt for a theatre or old cinema venue that really puts your wedding centre-stage? Alternatively, a castle will add to the princess wedding day vibe and ensure your day is grand and gorgeous.
Time of year
Sunday is a lucky day for Leos, so choosing a bank holiday weekend can really extend your party!
Dress
You'll be happy to have all eyes on you, so choose a dress that demands it! Whether you go bold with the colour, cut or shape, move away from the traditional and choose something that will prompt gasps of delight from your guests.
Theme
Continuing with your spotlight moment, don't be afraid to go loud and proud with your theme. You're not one for minimalism or subtlety so embrace the glitter, sparkle and sequins and have a fantastic party-fuelled day of fun!
Honeymoon
Italy's Amalfi coast speaks to your love of sophistication, luxury – and a whole lot of fun. Pack your most Instagrammable outfits and enjoy a glamorous getaway.
Little extra
Ruby, your birthstone, is also synonymous with grandeur, so incorporate the gemstone or the colour into your day.

Virgo (August 23–September 22)
Highly organised and seemingly unflappable, your calm demeanour hides the sometimes-frenetic activity beneath the surface, and your wedding will be a showcase of well-structured gorgeousness that seems spontaneous to everyone else!
Venue
You love being outside, so choosing somewhere beautifully wild in its nature will bring you unbridled joy, whether it's acres of lush gardens or a clifftop spot perfect for saying your vows to the backdrop of crashing waves.
Time of year
A winter wedding will bring cosy vibes, and December's full cold moon will ensure your day stays laid-back and relaxed after all your planning.
Dress
With a love of clean lines and chic minimalism, opt for a classic, sleek and beautifully simple gown. Complement a column or strapless dress with an elegant chignon.
Theme
Keeping your wedding true to your nature-loving roots, opt for rustic-luxe décor and long wooden trestle tables piled high with impressive sharing platters of colourful, locally sourced fare.
Honeymoon
Anywhere luxurious! You've done the hard work, pulled off an effortlessly gorgeous wedding (OK, with a quite a lot of effort!); now you want to unwind in style. Treat yourself to Mauritius, the Seychelles or Paris.
Little extra
Include mistletoe in your festive wedding – romantic, pretty and on-theme!
Libra (September 23–October 22)
A social butterfly with a penchant for tradition, you're a romantic soul who's always up for playful adventure and thrives on joy.
Venue
As a traditionalist who loves the outdoors, choose an elegant hall that also has grounds to explore. Manicured lawns are perfect for a tea party.
Time of year
Friday is a lucky day for Librans but, as one of the zodiac's most romantic signs, you'll love your wedding at any time of year.
Dress
Balancing your love for vintage romance with the desire to indulge your social butterfly ways, a tea-length dress will be fun and cute with a vintage twist.
Theme
Embrace your die-hard romantic side and go all out with a deluxe tea party theme, with vintage crockery, remarkable tiers of cakes, and lashings of confetti or bubbles for that picture-perfect moment.
Honeymoon
With a need for variety on holiday, choose somewhere where you can balance adventure with downtime – Portugal or Mexico are both great options.
Little extra
Romantic with a vintage feel, you can't go wrong with hydrangeas in your bridal bouquet.
Scorpio (October 23–November 21)
Known for their outgoing personalities – and for having a sting in the tail – Scorpios aren't afraid to take risks and embrace their passionate side.
Venue
Fun and extravagance is the name of the game for Scorpios, so opt for a grand ballroom you can fill with colour.
Time of year
Indulging in your spiritual side, the beginning of the summer or winter solstice is a time that will hold a lot of meaning for you. Alternatively, as a nocturnal creature, a winter wedding when the sun's down by 4pm is right up your dark alley.
Dress
Go avant-garde and choose a jumpsuit, or a dress that's fashion-forward rather than traditional. If you want to go pretty, combine separates with a leather jacket for a modern edge.
Theme
You're attracted to the idea of something underground or seemingly forbidden, so style your reception like a prohibition bar. A 'pimp your own' cocktail bar, secret passwords to unlock hidden zones or treats, and a cabaret band will help you dance the night away behind closed doors.
Honeymoon
Go big or go home is your mantra, so get yourselves to the over-the-top party capital that is Las Vegas.
Little extra
Crimson and burgundy are lucky colours for Scorpios.
Sagittarius (November 22–December 21)
A sign that revels in feeling free, you don't like to be tied down by convention and will want to keep your wedding relaxed and devoid of fuss.
Venue
Somewhere low-key and lovely, you're well suited to a garden party wedding with a DIY element.
Time of year
Opt for spring, when nature is in bloom and signs of life are everywhere, flooding your wedding with wild flowers and pretty petals.
Dress
Something flowing and bohemian will speak to your free-spirited nature, as you won't want to feel too restricted. Choose a light-as-air tulle, lace or silk gown and softly float around your wedding day.
Theme
Think rustic and nature-led with homemade décor. Serve beer bottles from a vintage tin bath or drinks from mason jars, use reclaimed wood for furniture, and immerse it all in the magical glow of candlelight and metres of twinkling fairy lights.
Honeymoon
New Zealand is a nature-lover's playground, with so much space to explore and wind down from wedding fever.
Little extra
Turquoise is your sign's stone, so add a touch of it to your bridal ensemble (that can also count as your 'something blue'!).
Capricorn (December 22–January 19)
Unwaveringly traditional and effortlessly classy, your wedding will follow suit. Don't be afraid to stick with tradition, and you'll pull off an elegant affair to remember.
Venue
You want a venue that's as beautiful as your wedding day deserves, so choose somewhere modern with lots of natural light and impressive architectural features.
Time of year
You're in luck – Saturday is a lucky day for Capricorns, so go wild with your weekend wedding planning, any time of year!
Dress
A beautifully finished gown with an elegant and timeless silhouette will make you feel every inch the classic bride.
Theme
Bringing a touch of class to everything you do, your wedding is no exception. For a black tie affair with all the trimmings, elegance, pomp and tradition are your key players, be it with formal dining, an elaborate wedding cake or a first dance to blow your guests' socks off.
Honeymoon
Chic and cool cities such as Stockholm or Copenhagen will appeal to your love of design, and give you the chance to try new foods and find cosy nooks to while away afternoons with your new spouse.
Little extra
If you're struggling to decide on a colour scheme, take note of your lucky colours, which are all dark shades: black, midnight blue and dark green.
Aquarius (January 20–February 18)
Known for originality, you don't want your wedding to replicate anything you've seen before. Start from scratch and when it comes to making decisions, go with what you want, not what tradition dictates.
Venue
Go for a refurbished warehouse, where the industrial backdrop will act as a très cool blank canvas for your own styling ideas.
Time of year
Sociable and outgoing, you're happiest when surrounded by your ever-expanding group of friends and loved ones, so choose a summer weekend that will bring your entire crew together.
Dress
Choose a contemporary design with layers or embellishments to bring your fun personality to the fore. Don't be afraid of a jumpsuit or two-piece; you can pull off a quirky look perfectly!
Theme
Choose a theme that can pervade throughout your entire day. You won't want to take a half-baked approach, so whether you choose a Mexican fiesta-inspired festival wedding or a monochrome magic day of splendour, go big and stick to your theme for every single detail.
Honeymoon
Costa Rica! The colours, landscape and flavours of such an exotically beautiful country will speak to your love of adventure.
Little extra
Electric blue is a powerful colour for you, so use it to make a colour-pop statement that will bring you energy on your big day.
Pisces (February 19–March 20)
Your romantic nature is perfectly suited for weddings. You truly subscribe to eternal love, and your day will be an endlessly sweet embodiment of that.
Venue
Choose a beach or waterside venue – you're happiest when by the sea or a lake, thanks to being a water sign, and your wedding day wouldn't be complete without you getting your feet wet.
Time of year
Fridays are lucky for you. Choose a date in late summer, when you can take a walk down by the water as the sun is setting.
Dress
As a hopeless romantic, you want something classically stunning that's long and lacy, while your water sign means you'll be attracted to mermaid-style dresses.

Theme
Your romanticism is due in part to your old soul nature, so embrace both elements and have a vintage-inspired theme. Think old Hollywood glamour with décor that's dripping in jewels, antique furnishings and a jazz band playing long into the evening.
Honeymoon
Island-hopping in Thailand will bring a hint of reflection alongside beach time.
Little extra
Your birthstone, aquamarine, will be a guiding force on your by-the-water big day.

words Lucy Higgins
Copyright Wed magazine 2019
Wed

Directory

All you need from the finest wedding suppliers in Cornwall and Devon