---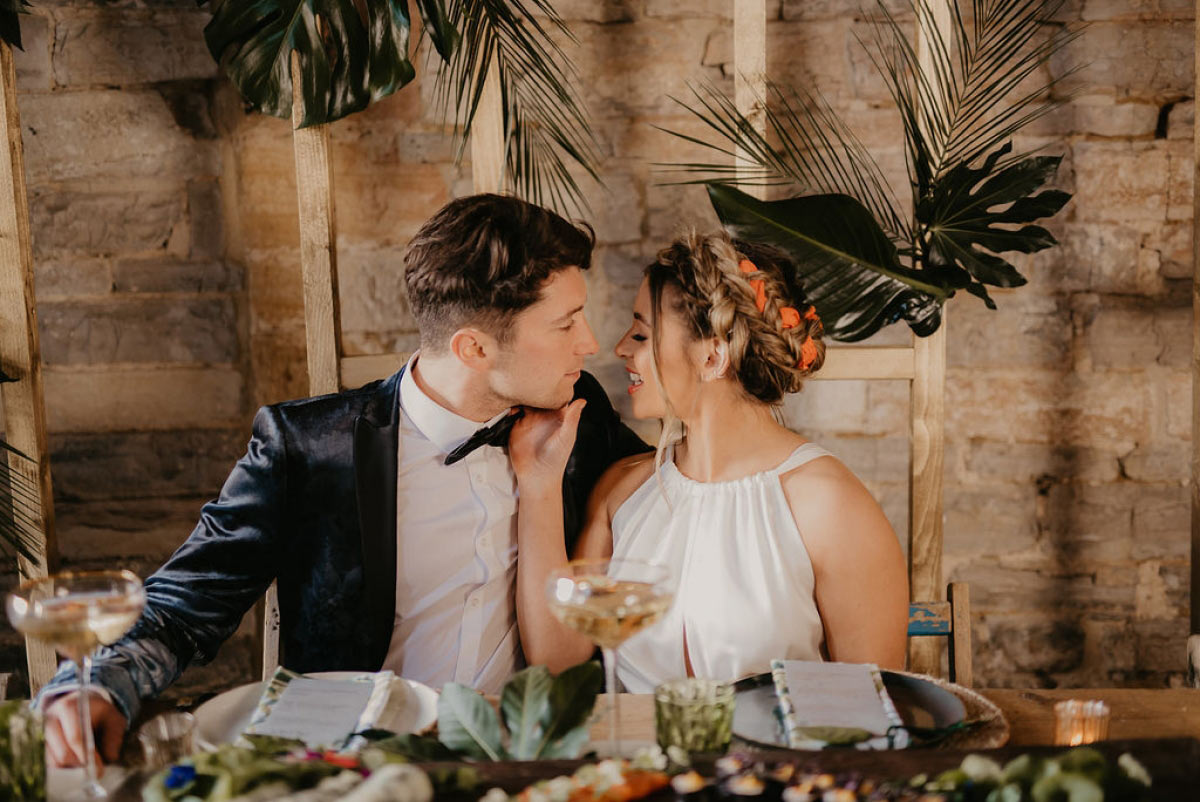 Fun-filled tropical weddings
Wedding styling: modern tropical
Throw a fun-filled tropical wedding on British shores, bursting with lush greens and vibrant blooms
The allure of a tropical wedding, of marrying amidst waxy palms and feasting on zesty flavours, is a captivating one. Deciding to marry in Britain, however, doesn't mean you have to sacrifice your visions of a paradisiacal party.
"The inspiration was to combine and infuse a modern tropical style in a more traditional, more likely setting," explains wedding planner Rebecca Marie of Rebecca Marie Weddings & Events who coordinated and styled the shoot. "We wanted to show couples that it is OK to have a little bit of fun with your styling and details, and that inspiration can be taken from anything and anywhere in the world."
Rich emerald and sapphire accents feature throughout, and the striking, oversized bouquet is a blend of tropical foliage alongside the varying textures of locally grown flowers. "It was important for us to feature lots of details that complemented the bigger, bolder statements," explains Rebecca. "Our wish list included lush greenery, vibrant blooms, zesty punches of colour and direct references to that tropical paradise."
Unique and memorable food packed with flavour is a priority for most couples – and an essential ingredient of a tropical wedding. "A menu of exquisite Asian-inspired food was beautifully executed and visually appealing, as was the showstopping cake with details to impress and an exotic flavour profile of mango and coconut!" says Rebecca.
Such a distinctive wedding aesthetic demands equally striking bridal wear. The bride exudes a playful modern style in a luxe silk wrap dress with a deep-V neckline and thigh slit paired with statement earrings. A tie-neck jumpsuit, an up and coming trend for modern brides, enhances the party-ready vibe, and looks stunning teamed with a bold hair scarf and lip colour. "Any fashion-forward bride is in need of a well-tailored groom, and the groom's look, featuring a black and blue velvet statement tuxedo, does not disappoint," adds Rebecca.
Wed

Directory

All you need from the finest wedding suppliers in Cornwall and Devon