---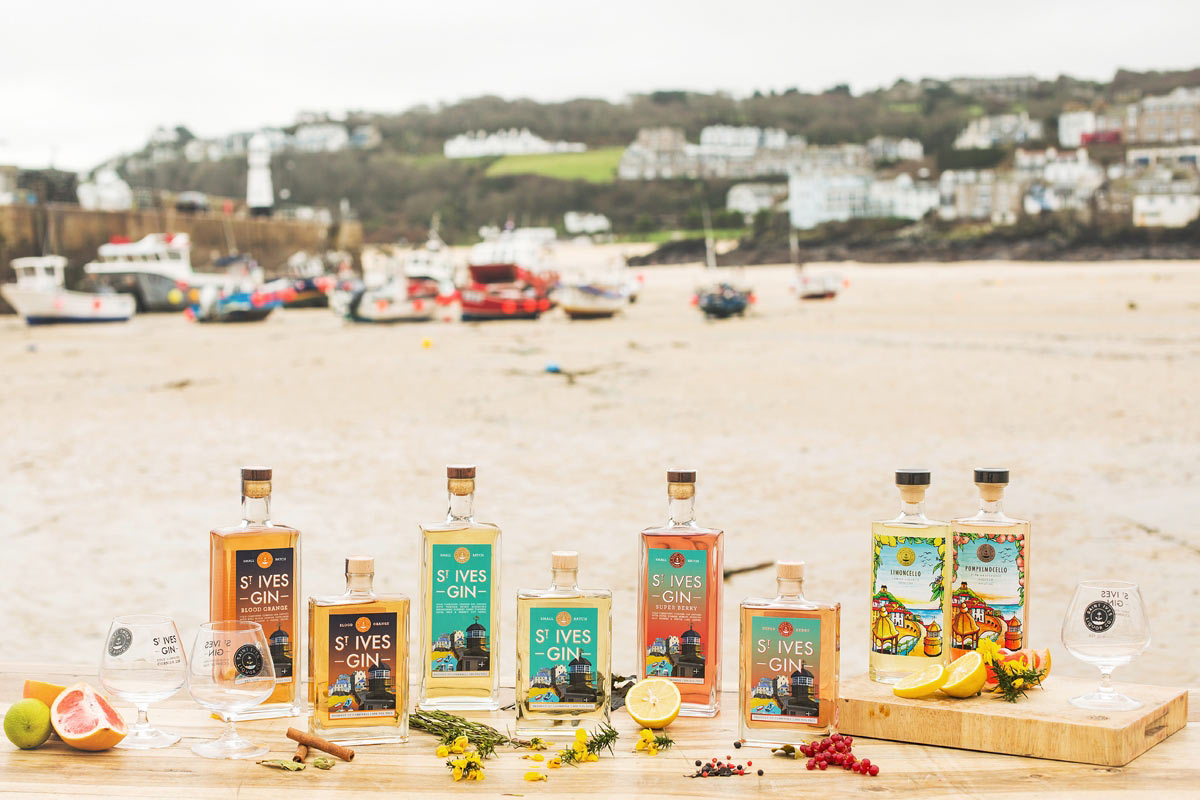 Cornish wedding food and drinks
Wedding food and drink with a Cornish flavour
Fill your wedding with these fabulous food and drinks from across the Duchy
...perfect for adding a local flavour to your wedding
One of the best elements of our county that we like to shout about from the rooftops is its wealth of tasty and tantalising foodstuffs. From traditional ice cream and cream teas (jam first!) to the more exotic offerings of limoncello and sparkling wine, your wedding is the perfect place to showcase them. Taking inspiration from the fanciest clifftop picnic, we've picked our top-tasting items from the county, so you can wow your guests with a Cornish feast. And don't worry, we've got the all-important drinks covered, too...

THE SCONES
Baker Tom
What could be more quintessentially Cornish than an authentic cream tea, with wholesome springy scones and their fresh-out-of-the-oven aroma filling the air? Serve them with generous slathers of juicy jam and big dollops of Cornish clotted cream as a mid-afternoon treat, or even a late night feast for the dancing divas at your big day.
Freshly baked each night in Redruth, Tom's business - which started out with him making two loaves of bread in his mum's kitchen - is now booming and producing the county's tastiest baked goods. Also known for its saffron buns and organic bread loaves, Baker Tom's selection of bakery deliciousness gets a big homemade tick at any wedding; add hunks of crusty bread to your cheeseboard to bring that freshly baked flavour.
THE ICE CREAM
Moomaid of Zennor
Based on the cliffs of Zennor at Tremedda Farm, which has been in the same family since 1905, it's hard to find a more Cornish business than Moomaid. Its ice cream is as legendary as 'The Mermaid of Zennor,' the tale of a young Cornishman lured into the sea by the beauty of a mermaid, for which the little Cornish village is famed. Today you're more likely to be seduced by Daisy, Primrose and Sid Vicious - just three of the cows that help make the ice cream, also known as the Moomaids of Zennor.
When it comes to flavours, you can choose everything from pistachio to banana, with our particular pick being 'Shipwreck', a combination of sea salt caramel and honeycomb. Choose a selection of mini tubs to serve at your wedding - ideal for a post-ceremony cool-down in the garden - or order the big tubs and set up your own ice cream stand.
THE CHEESE
Cornish Blue
Ah, the humble cheeseboard. It's been delighting us at picnics and drinks receptions since forever, and we are so glad to see them as a staple of many a wedding feast. And what cheeseboard would be complete without some Cornish Blue? A full-flavoured sweet and creamy cheese of distinctive character, it's made from cow's milk on a Bodmin Moor farm, and since its inception in 2001 has quickly become a mainstay of Cornish gastronomy.
Don't just take our word for it: Cornish Blue has won multiple awards, including a Super Gold at last year's World Cheese Awards in Norway, putting it in the top 78 cheeses in the world! Grab a wheel and delight your guests (it'll go well with crackers or a chunk of Baker Tom's bread) or add it as a tier to an alternative cheese cake.
THE CHOCOLATE
Kernow Chocolate
For those with a sweet tooth, chocolate is the ultimate treat. You might decide to give out individual chocolates as favours, serve them alongside coffee later in the evening, or delight your guests with a smorgasbord of your favourite sweet treats. We love the range of flavours at Kernow Chocolate, from Caramel Sea Salt and Chilli & Lime to dessert-inspired tastes including Apple Crumble and Toasted Tea Cake - ideal for a round-the-firepit s'mores session as part of your evening celebrations. And, thanks to its uber-cool packaging featuring top spots from around the county, it'll adorn your tabletops with style too. A family business based in St Eval, the chocolate is just perfect for your out-of-town guests to take away as a sweet reminder of the coolness of Cornwall.
THE GIN
The Wrecking Coast Clotted Cream Gin
Gin is a sure-fire favourite at weddings, and we're delighted at the number of Cornish gins we've been able to add to our list of top tipples. One that's got the Cornwall factor in spades is The Wrecking Coast's gin, which is distilled with clotted cream by the Tintagel-based team to give a distinctively delicious flavour.
Using 12 botanicals, the liquor is rested before the hero ingredient - the handcrafted clotted cream spirit - is added, together with Cornish natural spring water. Sumptuously smooth on the palette, it blends of velvety rich flavour with traditional notes of juniper makes for a luxurious drink that tastes like an authentic Cornish summer. What more could you want?
THE TONIC
Sea Buck Tonic
Of course, what's a gin without a tonic to go with it? Made in St Ives, Sea Buck Tonic is the newest mixer on the drinks shelf. Inspired by the sea buckthorn growing on the sea-sprayed dunes of Gwithian on Cornwall's north coast, its signature taste comes from the sea buckthorn berries which are vividly orange and rich in powerful nutrients and distinctive citrusy flavour. Mixed with spring water collected straight from its source on the Cornish moors and quinine-producing cinchona bark, the result is as refreshing as it is deliciously Cornish. Perfectly positioned as a soft drink in its own right, it's also the ideal pairing to a celebratory gin or three.
THE DIGESTIF
St Ives Liquor Co
The brainchild of three local brothers, St Ives Liquor Co. started life as a gin brand, with ingredients foraged from the windswept moors and clifftops between Zennor and St Ives. Roll on a couple of years, and there are multiple liquors and liqueurs now lining their (and our!) shelves, with the newest being a riviera-inspired range of 'cellos.
Limoncello is a bright, zesty liqueur bursting with a tongue-tingling citrus flavour, while Pompelmocello sings with the bittersweet taste of pink grapefruit, made using the whole fruit rather than just the rind. Enjoy it as a digestif after the wedding feast, as a syrupy ice-cold alternative to champagne for your wedding toast, or incorporate it into the speeches for some Cornish-Italian flavour.
THE CIDER
Polgoon Elderflower Cider
Somerset may be the spiritual home of cider, but Polgoon, a vineyard and orchard in Penzance, is working hard to put Cornwall on the cider map.
Our favourite cider for a summer's evening is Polgoon's Elderflower Cider, a lightly sparkling drink that's so refreshing and drinkable. Alongside the clean, dry apple flavour, there's a lighter and more floral undertone that comes from the infusion of elderflower. The result? A crisp and revitalising cider singing with flavours from the Cornish hedgerows. Pear, berry and apple flavours are also available, so you could mix it up and give your guests a choice.

THE JUICE
Cornish Orchards Apple Juice
Rather than overlooking your soft drinks and leaving the non-drinkers with the tantalising choice of warm squash or water, indulge them with a thoroughly Cornish offering of locally made apple juice.
The flavour combination of sharp and sweet comes across beautifully in this hand-pressed juice, which is created from Cox, Bramley and Old Cornish apples and bottled on-site in Duloe, near Cornwall's south coast. With ripe apples creating the perfect balance of flavour, sweetness and fruitiness, it's made using only natural sugars, and no artificial colours, flavours or sweeteners. It's tangy without being tart, and a truly delicious non-boozy alternative to cider at your wedding.
THE FIZZ
Camel Valley 'Cornwall' Brut
A wedding without bubbly is like a dance floor without dad dancing - yes, it exists, but where's the fun in it? And with a range of champagnes and sparkling wines now made in the UK, why not take it one step closer to home and take advantage of an award-winning fizz made on the doorstep?
The 'Cornwall' Brut made by family-run Camel Valley is a world-class sparkling wine and has won a cork-popping plethora of awards for its taste and fizz factor. A beautifully balanced bubbly, the blend of Chardonnay, Pinot Noir and Seyval is fresh, fruity and vibrant, making for a suitably special and deliciously Cornish tipple for raising a toast.
For more wedding food and drinks ideas click
here
words Lucy Higgins
Copyright Wed magazine 2019
Wed

Directory

All you need from the finest wedding suppliers in Cornwall and Devon