---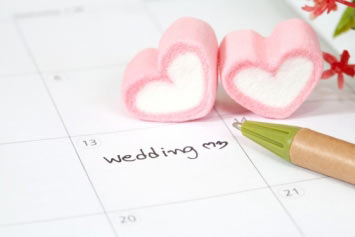 Choosing A Wedding Date
Choosing your wedding date
You can't have a wedding without a wedding day - but how do you pick the right date for the biggest day of your life?
We've asked the experts for their advice on helping you choose

You might already have an idea of when you want to get married, but picking your wedding date is much more than finding an empty day in the diary. There's a lot to consider, including certain time restraints, the seasons and, of course, whether particular people can make it. "Weddings traditionally took place during the summer months but we have certainly noticed that the wedding season now seems to encompass the whole year," says Bridget Scott of Blue Fizz Events (bluefizzevents.co.uk). So resist the urge to book a date on a whim; instead, follow our advice on when and how to pick your date, and you won't look back.
Give yourself time
It's totally understandable to be excited and want your big day to come around as soon as possible, and the temptation is to lock something in that's not too far away. However, consider whether you've left enough time to plan your wedding without it becoming stressful for yourself, and whether you need time to save up some money before you marry?
"It is possible to plan a wedding quickly, but it's far easier if you give yourself plenty of time," says Elle Winsor Grime of Inspire Hire (
inspire-hire.co.uk
).
Check the venue
If you know your favourite venue is the one, check its availability early. "This is a big one," says Elle. "Popular wedding venues can get booked up at least one if not two years in advance, so if you have your heart set on a particular place, check this out first!" This also goes for your ideal caterers, planners, florists or photographers - or any other vendors you really don't want to compromise on. A good idea is to whittle your dates down to two or three that your chosen venue is free on, and then check in with your caterer and other vendors of choice, to see if they're all free on one of your particular dates. "These are the key services, and the best suppliers get booked up well in advance, so check with them if they are important to your plans!" says Elle.
Nearest and dearest
This is a big one - can everyone who's really important to you attend? You'll never find a date that suits everybody, but check with close family members, your bridal party and best friends that the date doesn't clash with any other big life events! Also check you are leaving your guests enough time to make plans to attend your wedding.
Sentimental value
Some couples choose their wedding day to be on the anniversary of the day they met, or the same day their grandparents married. There is absolutely no reason not to do this, so be bold and feel free to choose a day that means something to you. However, if it's going to be tricky for lots of other reasons, be flexible, and instead consider choosing another date in the anniversary month, for example.
What else is happening?
"Start with your ideals, then work through the practical issues," says Bridget. "Is it a date that clashes with a major event? Is it in the school holidays - and is this something you want to aim for or avoid?" Remember that peak holiday times can be more expensive for venues, accommodation and travel for your guests - and be conscious of those who will need to travel that your date doesn't clash with anything local. "We had a proposed date when everybody was free. However, lots of family members were coming from afar and we quickly realised there was a big event in the village on the same day, so all - and I mean all - the accommodation was booked up," says Cornish bride Emma. "It would have been a real pain for our family and friends to find somewhere further afield to stay, so in the end we changed our date."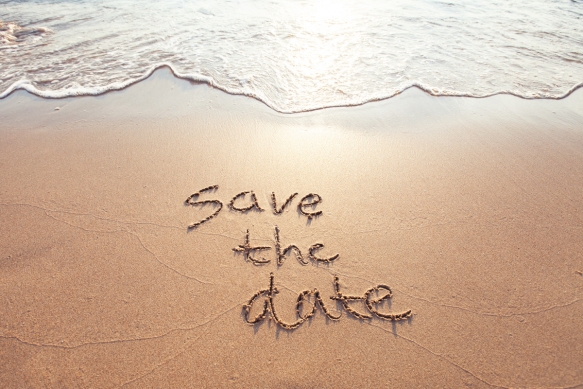 What about the children?
Do you have kids or are you planning to start a family before your wedding? "This often influences when people choose to marry - it may simply mean waiting until the kids are a certain age, or planning around school holidays," says Elle.
Floral thoughts
Lots of couples want their florist to use seasonal and local flowers. If you do, consider which months of the year your favourite flowers are most readily available. "If your heart's desire is seasonal spring flowers, don't choose a wedding date in November," reminds Elle. "I wanted to use peony and hydrangea in my floral design, both of which were just about available for our date at the end of June."

Seasonal thinking
Consider what time of year will really be right for your big day. "Some people long for an outdoor summer wedding, whilst others dream of a cosy winter wedding," says Elle. "Remember our climate won't always play along, but if one season is special to you, bear this in mind when choosing your date." Bridget agrees: "Be realistic and consider the temperature if you are having an outdoor ceremony or wedding breakfast. However, this could be held at any time if you have plenty of heating options, such as warm blankets and warm cider to keep your guests happy."
Weekday wonders
Picking a weekday for your wedding may provide some cost savings, but this isn't always the case, especially as weekday weddings are now very popular. "Remember, your wedding suppliers will still do the same amount of work for your weekday wedding as they will for a weekend, so don't automatically expect a discount," says Elle, who got married on a Friday, and says it can bring extra benefits. "As most of our guests were travelling a long way to be with us, we wanted to have an extra day to spend with them on the Saturday before they all headed home on the Sunday. We planned a barbecue on the day following the wedding, which was nearly as much fun as the day itself!"
words Lucy Higgins
Copyright Wed magazine 2017
Wed

Directory

All you need from the finest wedding suppliers in Cornwall and Devon