---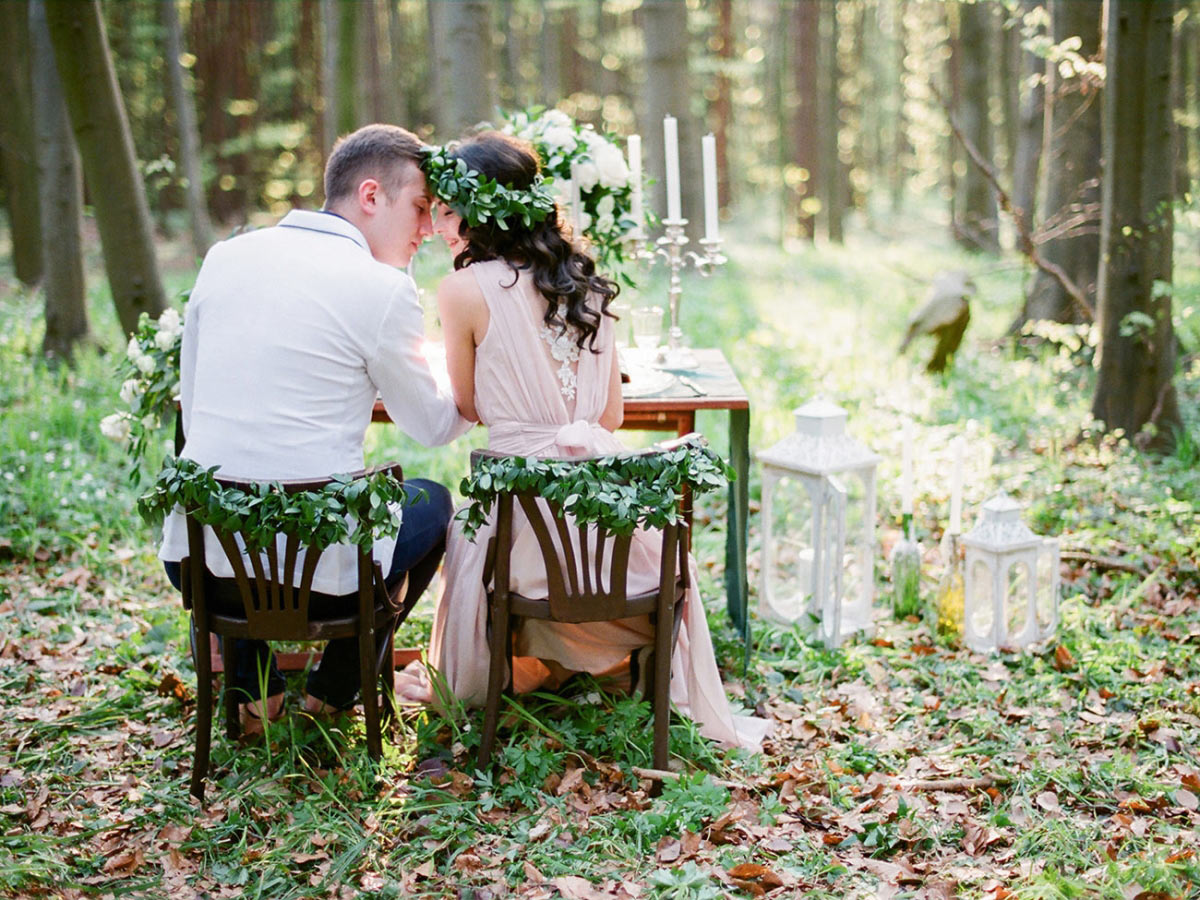 Eco-conscious weddings
10 tips for a sustainable wedding
Embrace eco-conscious weddings by cutting down on waste and designing a day with sustainability in mind
We know that green is the new black, with more and more couples choosing to plan a thoughtful, ethical and an environmentally sound wedding. The best bit is that embracing eco-ethics doesn't have to mean losing your sense of individuality in your wedding, with advice from the experts showing that your dream day can be every bit as stylish as it is sustainable.
Push the envelope
"Sending Save the Dates by email is a great, cheap and ecologically sound way of getting your date out there. You can do this with invites too, but if you do want to choose a postal invite, then ensure the materials used are recycled and recyclable and avoid any additional adornments, which won't be processed in a recycling plant," says Rebecca Green of Rebel + Anchor (
rebelandanchor.co.uk
) "There are also some awesome plantable, seeded invites, which guests can then plant in soil that grow into wildflowers or herbs."
Location, location, location
If possible, keep the travel down to a minimal, having the ceremony and reception in the same location. "If they're not in the same place but are walking distance apart, don't rely on coaches or minibuses," says Rebecca. "This will also add a really fun element to the day, especially if you have the ushers and bridesmaids lead the way with holding "This way to the party" signs, or musicians playing along the route."
Confetti time
We all want that confetti moment, and there's no reason not to, as long as you think ahead. "Biodegradable confetti is generally all that most venues will now accept and there are some lovely ones. You could create your own of course, if you have the time and the patience," suggests Rebecca. Grab a hole punch and make your own confetti using dried flowers and old book pages, suggest Surfers Against Sewage (
sas.org.uk
) or choose an alternative idea that will create just as much buzz. "People are often surprised to know that lots of confetti has plastic components! Go traditional with rice, or get a bubble machine in (not single-use plastic bottles of bubbles!)" suggests Rachel Yates, chair of Plastic Free Penzance (
plasticfreepz.co.uk
).
Flower power
"Always work with a florist who doesn't use floral foam and ideally only uses locally grown organic flowers, where possible," says Rebecca – and we're lucky down here in the south-west that so many florists have access to locally grown flowers. "Also, ask that no flowers are wrapped in plastic, preferably hessian or delivered to you in glass." Look in charity shops where you can find an array of beautiful different ribbons or, if you do want to buy new, use naturally dyed ribbons. After the wedding, why not rehome your floral bouquets or centrepieces to local nursing homes or cafes, so they are not left to waste but can be appreciated by others.
To-die-for décor
"If creating your own tablespaces, ask friends and family if they have any wonderful foliage that can be used as central runners, or use plants and ceramic pots to create that alfresco style dining effect," says Rebecca. "I also love used candles as an alternative to artificial lights. As a stylist and planner, I always have lots of leftover candles and they always look amazing. Ask around; it's such a waste when candles are just thrown away, and used can create that beautiful rustic feel," she suggests, an idea that Rachel agrees with. "Light up your guests tables with handmade candles in old glass jars from home or charity shops, cutting back on plastic table decorations. In fact, when it comes to table decoration, such as glitter, table confetti, place markers, ribbons –anything you put on the table or decorate it with – look at it and again think about ways to use natural materials," says Rachel.
Do us a favour
The options are endless when it comes to favours for your guests, and we love locally made gifts that put a personal stamp on your proceedings. "Some simple but lovely eco-friendly favours include either packets of seeds or, better yet, pre planted seedlings, or plants, in beautiful ceramic pots," suggests Rebecca. And don't be tempted to package your favours in plastic or cellophane gift bags. "Make your gift bags more personal and sustainable by hand-making them. Give them a vintage style, by swapping the plastic bags for paper and include thrift shops treats," recommends Surfers Against Sewage.
Presents of mind
And talking of gifts, if people are travelling a long way to your wedding, offset your carbon footprint by requesting guests, as a wedding gift, go onto https://co2.myclimate.org and calculate the carbon cost of their flight and compensate with funding climate projects. Alternatively, you can ask for donations to an eco-charity of your choice.
Food glorious food
Always source local, seasonal, organic produce or work with caterers that have that ethos. You could even keep your menu meat-free or plant-based. "There are some incredible vegan caterers out there, and the food is so delicious even your meat eating guests won't complain, promise!" says Rebecca.
Of course, as well as sourcing locally, it's important make sure all the food and drink at your wedding is as free of plastic packaging as possible, too, and avoid single-use plates and cutlery especially for evening food. "Use wooden cutlery instead of plastic cutlery. Arrange for them to be collected up and put on someone's compost heap afterwards!" says Rachel. "Takeaway boxes can be replaced with bagasse or cardboard boxes, depending on what food is going in them – your caterer should be able to advise on the best choice." You could always hire crockery, or pick up some cheap mismatched plates from a charity shop, to give a relaxed vintage look.
Drink up
The same ethos applies to your drinks, whether wine, beer, bubbly or soft drinks. – source local, organic and vegan; it can be done and you'll have fun experimenting. "Another fun idea is to ask guests to bring a bottle, any bottle, from their drinks cabinet. Hire an experienced mixologist who can work their magic with a hotchpotch of different spirits and liqueurs that have been gathering dust in the backs of cupboards," says Rebecca. It goes without saying, plastic straws are no longer welcome and if you do have a DIY bar, try to using glass. "Hire glasses or trawl the charity shops and have a wonderful array of different glasses or even tea cups, which you can donate back after or sell on," says Rachel. We've been to weddings where the favours were enamel mugs (filled with mulled wine) for the guests to use on the day and keep afterwards, or if you have to use disposable cups, then opt for recyclable paper one, and check credentials and make sure they are disposed of in the correct way.
Waste not
When the big day is over and the clean-up begins, it's not time to forget your eco-conscious credentials. "Try to keep waste to a minimum, so limited packaging, if any," says Rebecca. "Always ensure the venue has a good recycling policy. If you're having a DIY wedding, ensure your caterers have recycling and compost bins and your bar has recycling bottle bins." Using compostable plastics is great, but make sure they're collected up and taken to the right composting facilities (this sounds like a good job to delegate to someone else!).
"Our eco-conscious wedding"
Want to hear how it all works on the big day? Dot and Maarten, who got married recently in Totnes, reveal all…
"We are blessed to be surrounded by a wealth of inspiring local businesses who champion environmentally conscious values, so it was an intuitive decision that our wedding should be an opportunity to support those small businesses, and that community we live in," says Dot of their recent wedding. "We were also conscious we wanted our children to feel very much a part of the day and by keeping it simple they would feel more held throughout the day.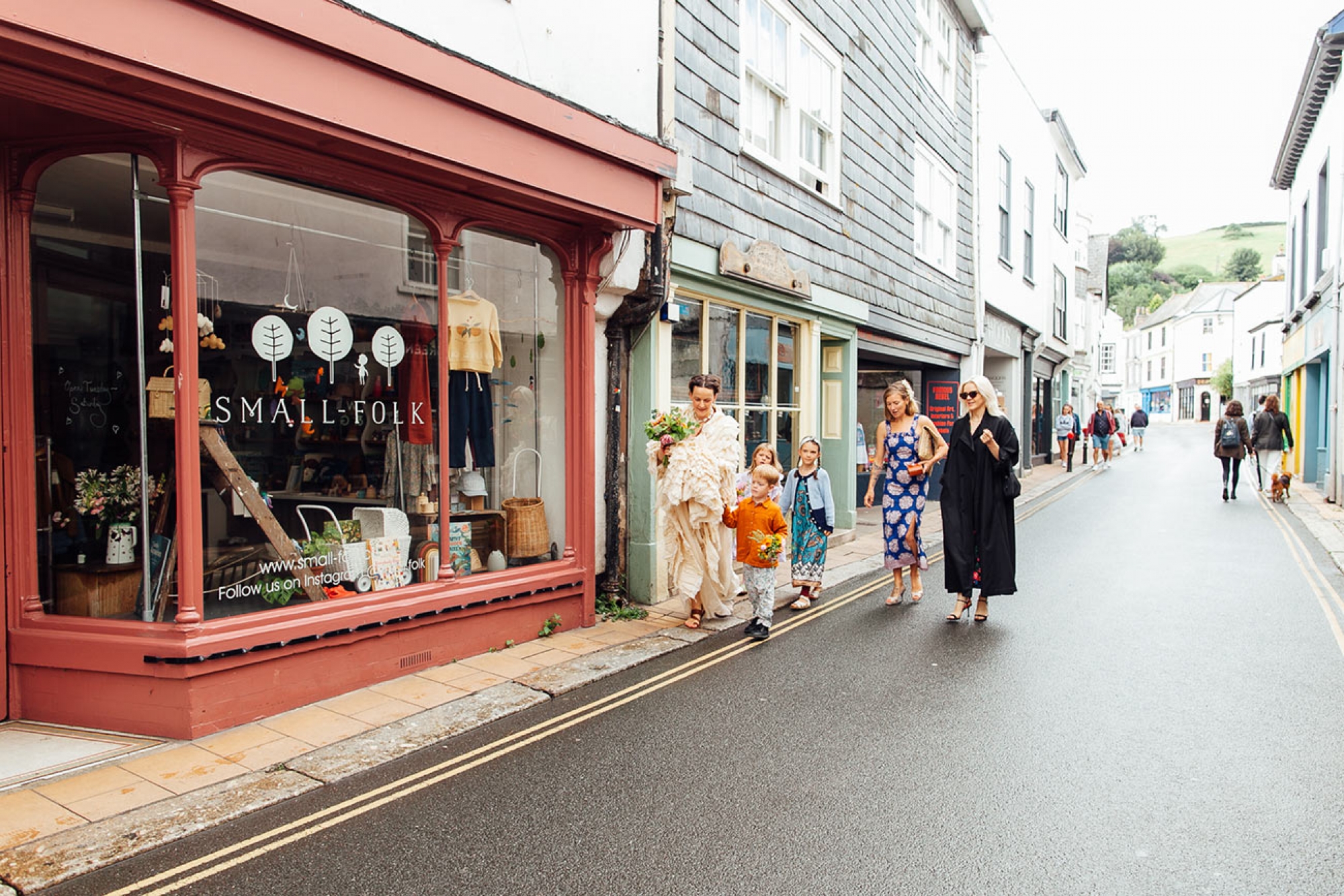 The defining factors were definitely keeping it local and intimate. Everything happened within walking distance of our home, so there was no need for cars and convoys between venues. Our ceremony was held at the beautiful Totnes Guildhall – a hidden gem – and we have the most incredible organic pub, The Bull Inn, on our doorstep. The Bull was the obvious choice for our wedding breakfast and because the guest list was 24, it meant that we could lay on an exquisite meal of ethical dining with a choice of vegan, meat and fish without compromising our values around food – the tempura broccoli with miso mayo was a big hit!
Maarten had my engagement ring made by Yumé Jewellery, a jeweller in Ashburton who works with recycled and single origin metals as well as ethically sourced gems. We found out that Yumé also offers a wedding ring workshop, and took in some old family jewellery that our parents donated to us. Yumé had it melted down and refined, so when we arrived on the day we had gold to work with, which had personal meaning to us – neither my dad nor Maarten's dad are still with us so it felt special to make our rings out of gold that they had once touched.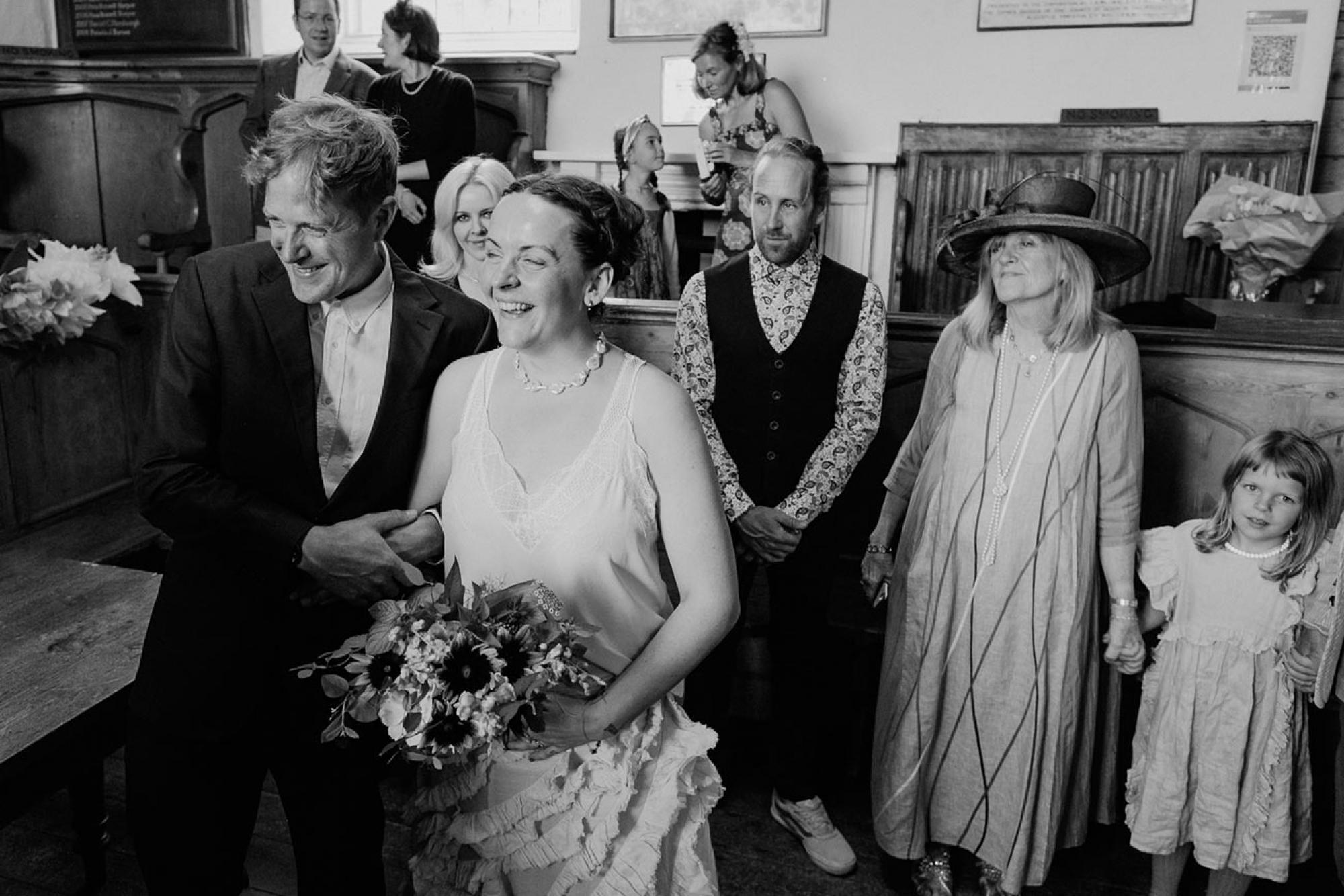 Maarten wore a suit he's had for seven years, and my skirt and jacket I had put away for our wedding for a few years too. When I worked in fashion I was often paid in clothes, and as soon as I saw it I knew it would be my wedding outfit, so I took it as payment and it's been in a box under our bed waiting for its big moment ever since! I needed to finish my outfit off with a few accessories so I contacted local maker Lucie Cast for my bag and purchased my sandals from Small-Folk, a children's and lifestyle store on Totnes High Street.
Our wedding flowers were grown by some of our neighbours on their allotment Bowden Springs Farm, and our vegan cake was made by legendary local baker Lisa of Boho Cakes. Finally, the real stroke of genius was our wedding registry. We approached Me and East – a store selling a beautifully curated selection of locally made crafts – and Chloe very kindly helped us to put together a wish list. This was such a wonderful thing as not only did it mean that our wedding gifts were all unique and beautiful, but the very act of people buying them supported the makers as well as Chloe and her growing family. By the time I looked at our wedding as a whole, I realised that the entire act of our getting married became a process in investing in the community where we live.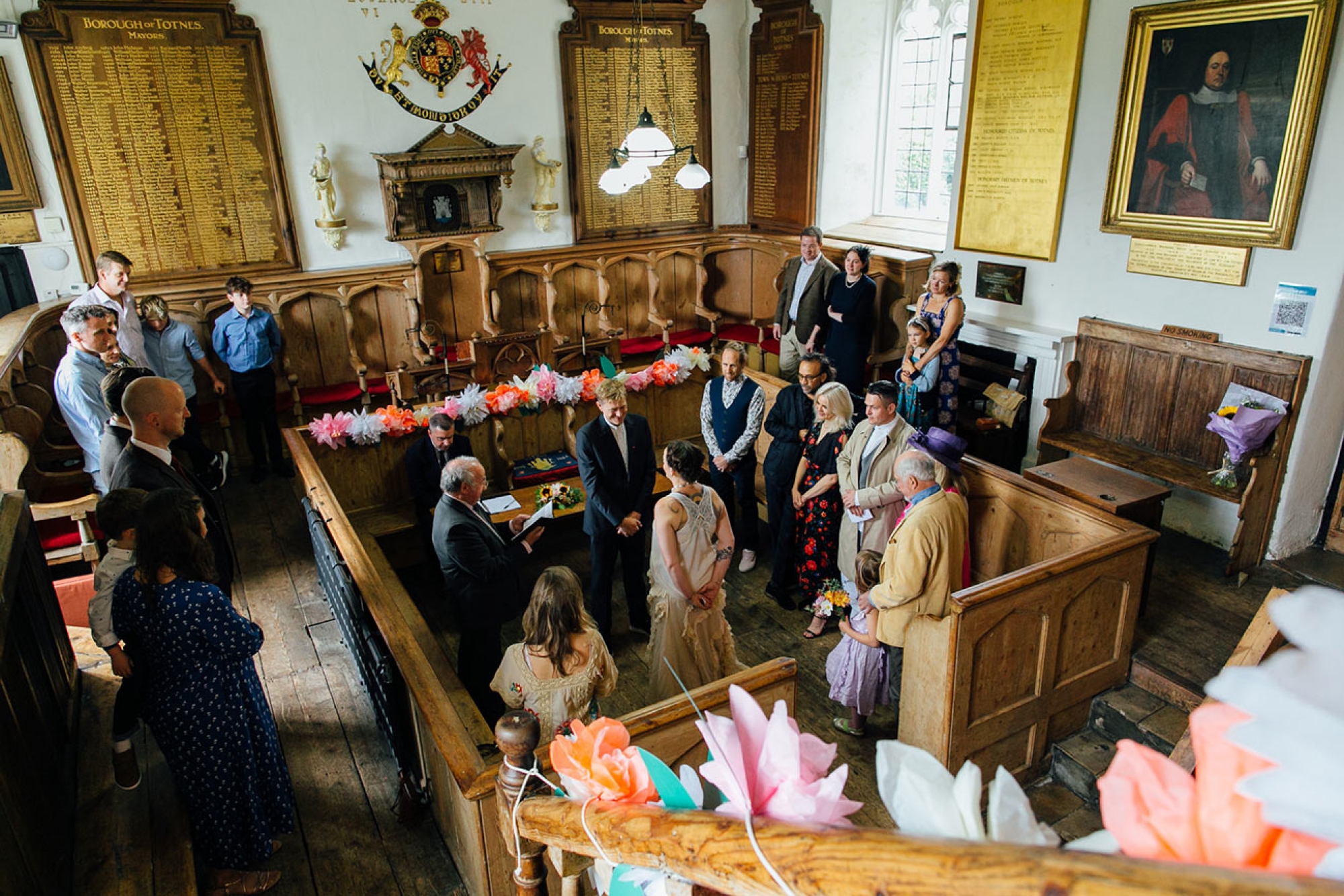 Think about the people who you want to witness your commitment – don't feel that you are obliged to invite people to boost the numbers or pacify relatives. Your wedding is a pivotal moment in your life and the people who share it with you should be the people you will turn to in times of joy and sorrow. If you keep things local, you will be reducing the impact of your wedding in many ways, and by being clear about what matters to you environmentally, you'll find a way to weave that in to your day. Maybe it's paperless invites, maybe it's local seasonal food, maybe you encourage your guests to re-wear something rather than shop for a new outfit. Most of all – have fun with it! It's supposed to be the happiest day of your life after all. For us, it was pure magic!"
words Lucy Higgins
Wed

Directory

All you need from the finest wedding suppliers in Cornwall and Devon