Holly Young Hats hits Philip Treacy!
Article Published: Wednesday 25th April, 2012 - 12:41pm
---
Cornwall-based milliner Holly Young has been on one amazing adventure in the magnificent millinery world of Philip Treacy. She shares her experiences with Wed in her latest blog post. Over to you Holly...
I'm lucky enough to have been working at Philip Treacy in London over the past three months. If you are unfamiliar with his work, he made 36 hats at last year's Royal Wedding, including Beatrice's famous hat which later sold for £80,000 at auction on ebay.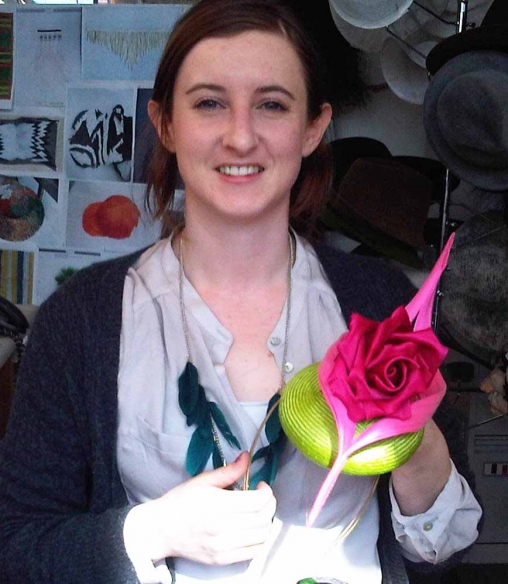 I hit the ground running in January working on pieces for Paris Couture Fashion Week, working around the clock to achieve breathtaking catwalk pieces for Armani, Givenchy and Didit.

I glued crystals onto snake-like headpieces using a pinhead, I made buttons out of pony skin, I stitched brooches onto turbans and I even had to do 15 dye samples to achieve Madonna's hair colour! Yes - amongst the couture madness Philip somehow managed to get a Super Bowl Cleopatra headpiece in for Madge! It was made out of acrylic and 'rapid prototyped' with a 3D printer. The hundreds of hand-glued Swarovski crystals covering it made it sparkle from all angles. It was very exciting to have it in the studio one minute and then see it all over the papers the next. And this was just my first two weeks!
Over the time that followed I worked on many different styles of hats, from Philip's current collection to sampling his new A/W 2012 collection and hats for other celebrities and royalty.
There are 15 people at Philip Treacy HQ: Philip, eight of us on the production team, one press/PR lady, one buyer/fabric sourcer and two people running accounts, planning and running the day to day business - plus two work experience people and three dogs!
In the morning, I would walk into the sunny studio (there is one continuous window the length of the room), where Radio 2's 'Popmaster' would be on and I would pick a hat off the 'hat tree' to work on. Each milliner has their own and they can hold up to twelve hats in various stages of completion. As you can imagine, it makes for spectacular viewing when you walk into the room. Coupled with all the materials and feathers strewn around the place, the studio is a riot of colour!
After two or three weeks of working there I discovered a new room I that I didn't know existed. With all the Fashion Week madness I hadn't been shown 'the flower room'. Undoubtedly, any girl's dream! There were about 25 boxes containing satin roses in hot pink, velvet rosettes in turquoise, chiffon flowers with rolled edges, huge multi-coloured ones with little baby flowers coming off the side...many different styles all hand madeand sent over from the continent.
My other favourite room was 'the spray room', for spray painting all sorts of things where the walls were covered in sample squirts in every colour of the rainbow!

'The blocking room' contains the wooden forms used to shape all the hats and is floor to ceiling with all shapes and sizes of blocks. It also has the familiar smell (to a milliner) of all the stiffeners and chemical thinners used when manipulating straw, felt and sinamay.
The wax cast of Lady Gaga's head was another highlight! It had been sent to Philip from New York so that he could make a mask to fit her face perfectly. It was quite freaky as it had no hair and the eyes were glazed over.
I am going to have to leave it at that before I divulge too many fashion secrets. Needless to say, it was a great experience for me and I will be back there again to work on other fashion week projects with him!
In the meantime, I am working on my new bridal collection, running my hen party fascinator workshops and taking commissions at my studio in Truro. Please visit
www.hollyyoungboutique.com
to see more of what I do. And go to Philip's website to see more of his stunning creations at
www.philiptreacy.co.uk
---