---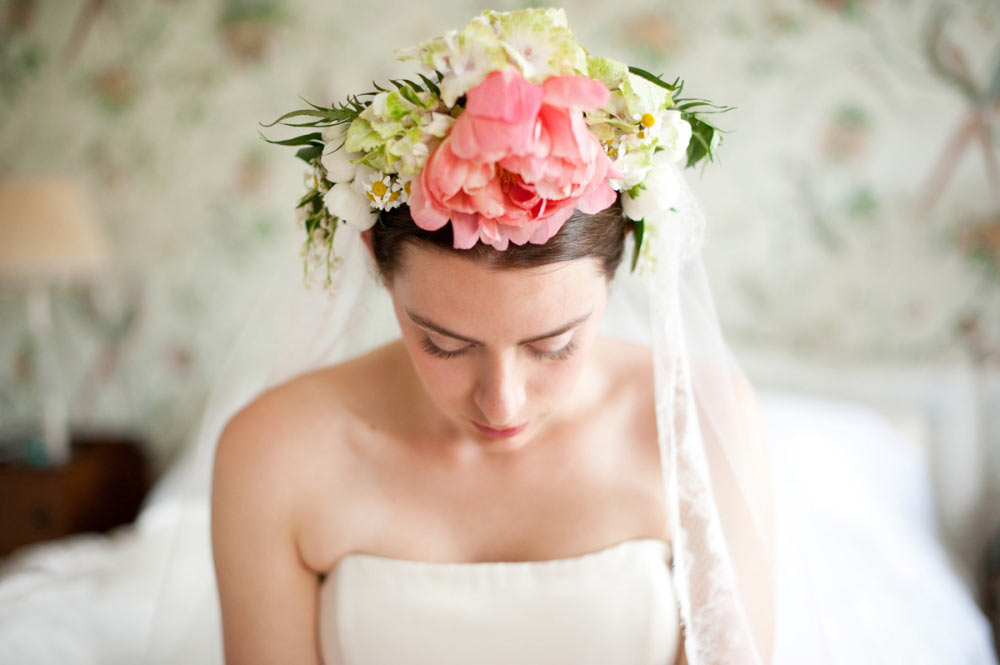 Wedding Jewellery and Accessories - Headpieces
Crowning Glory
A headpiece instantly sets the tone for your bridal look. From daringly decadent forehead bands to ethereal flower crowns, find the perfect partner for your gown with these gorgeous ideas...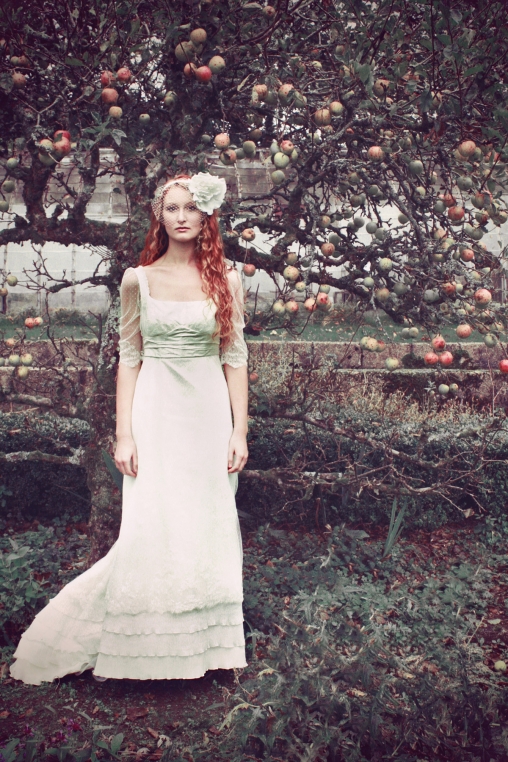 photo Jessica Augarde
FACE SHAPE MATTERS
Considering your face shape and the hairstyle that will suit you best is the first step to finding the perfect adornment for your hair.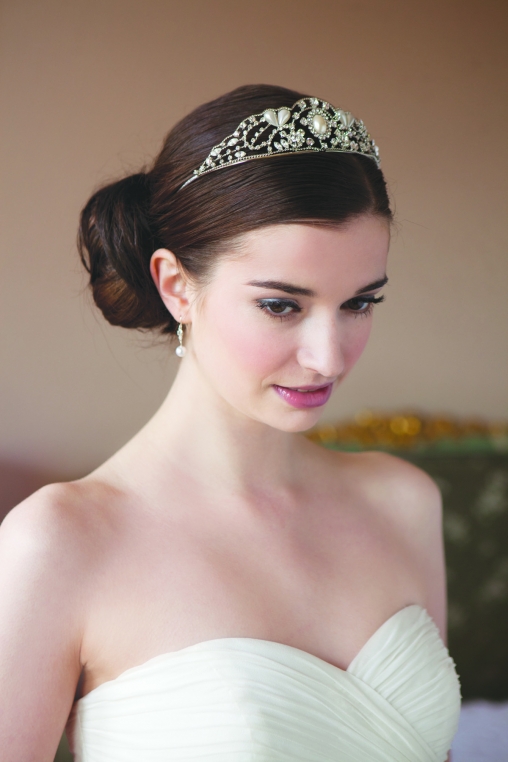 tiara Rainbow Club
Oval
– Perfectly in proportion, oval faces are egg-shaped with forehead and jaw the same width.
Choose
: Almost any style will look good on this face shape.
Avoid
: Heavy fringes and styles that push a lot of hair onto your face.
Round –
Circular faces without height on top or a protruding chin.
Choose
: Side partings and styles with height at the crown. Go for an up-do or half-up.
Avoid
: Styles with fullness at the sides and fringes in general.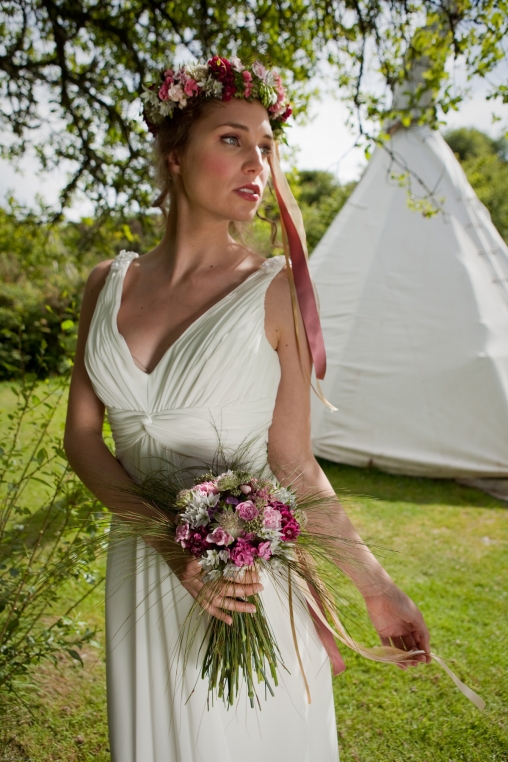 flower garland:
Daisy Roots
photo: Khalile Siddiqui
Oblong
– High foreheads and long chins: oblong faces are longer than they are wide.
Choose
: Wear your hair down, with fullness at the sides – waves and curls look great.
Avoid
: Adding any extra height on top and centre partings.
Heart
– Although wide at the forehead, heart-shaped faces narrow to a point at the jawline.
Choose
: Hair down or half-up, with a side parting or gentle fringe.
Avoid:
Height at the crown and severe up-dos.
Square
– Angular-looking faces with both a strong forehead and jawline.
Choose
: Romantic waves and curls – wear your hair down or half-up. Consider a soft fringe.
Avoid:
Poker straight hair and severe up-dos.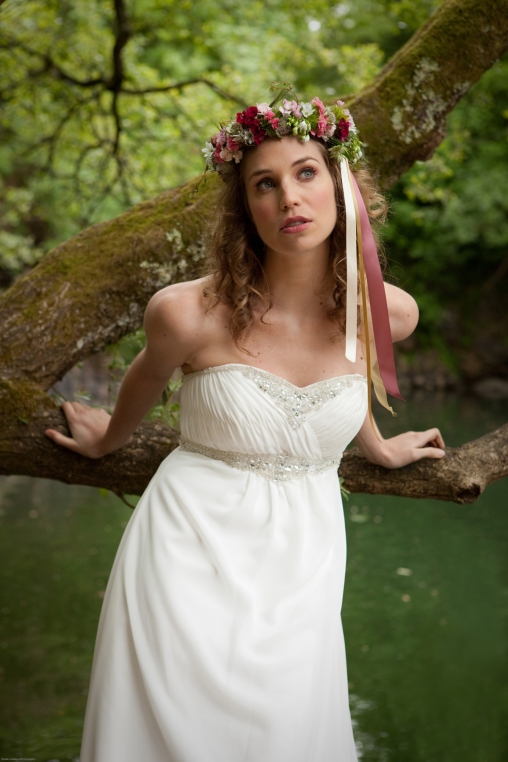 flower garland:
Daisy Roots
photo: Khalile Siddiqui
TIARAS
Nothing says princess like a tiara – and if you can't dress like a princess on your wedding day, when can you? Tiaras are synonymous with a timeless bridal look and therefore suit classic rather than contemporary gowns.
If you've set your sights on a tiara, you've got a wide choice on the hair front, as tiaras look equally effective with up-dos, hair down and also half-up styles. You do however need to make sure your hair is shiny and in really good condition to carry one off properly – tiaras don't suit the disheveled look.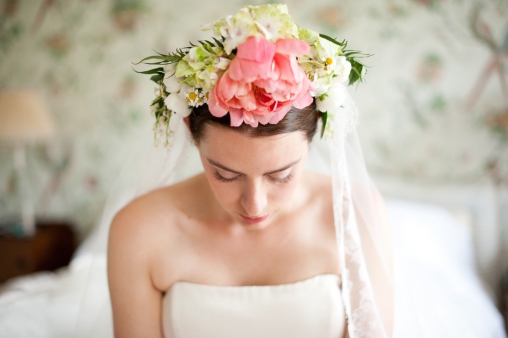 flower garland:
George Mackay
photo: Dominique Bader
Brides with round or square-shaped faces should choose a tiara that has a peak – or at least some height to it – to make their faces appear longer. In contrast, brides with long faces should choose a tiara with very little height that cross the head from one side to the other at an even height – so as not to add additional length. Heart-shaped faces will also suit low tiaras – peaks will just make you look diamond-shaped. Anyone lucky enough to have an oval-shaped face will suit any shape and size of tiara – within reason of course!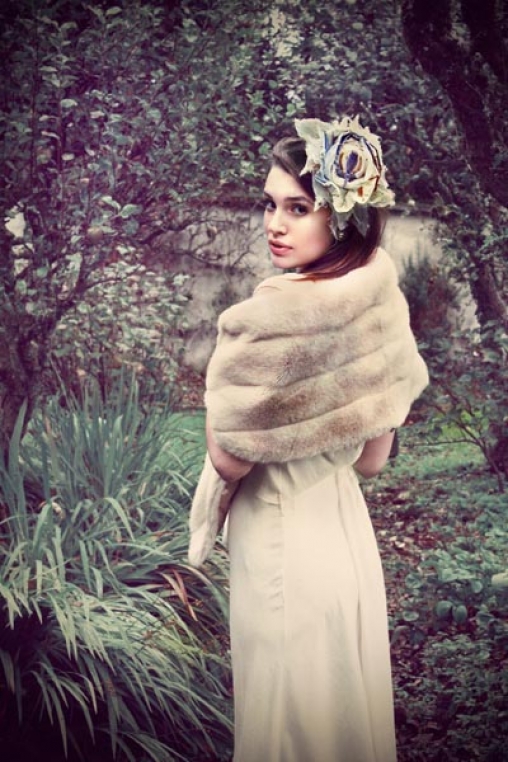 fascinator:
Holly Young
photo: Jessica Augarde
FLOWER CROWNS AND GARLANDS
If you've chosen a long, flowing bohemian-inspired wedding dress, then consider adorning your gown with a glorious crown of flowers for a romantic and whimsical look. Flower crowns are big news this year: ethereal models floated down designer's catwalks with elaborate florals encircling their manes at many of the spring/summer shows. In terms of flowers, a mixture of wild blooms looks wonderful, while crowns made with dried flowers makes a great project for any budding DIY brides. Flower crowns look best with long hair, worn wavy and loose – a relaxed look that suits all face shapes.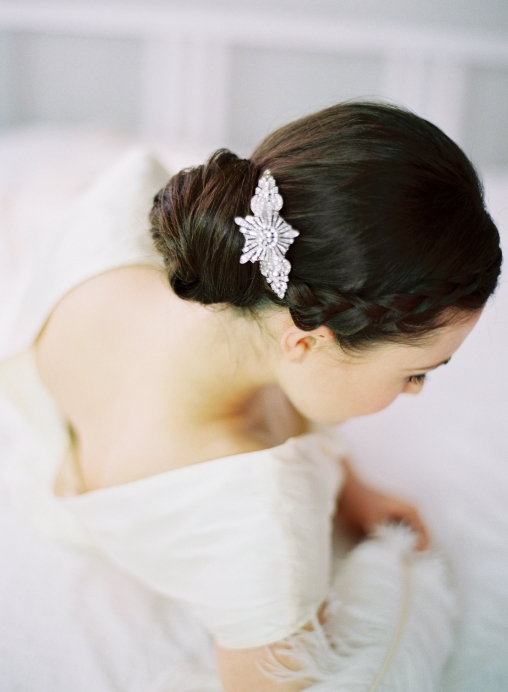 comb:
Hope and Grace
FASCINATORS
Brides favouring a contemporary look may well opt to don a fascinator. Available in a seemingly endless array of designs and materials, many designers now offer a bespoke design service whereby they can craft a unique piece to perfectly compliment your face shape, hairstyle and gown.
Feathers, sinamay, grosgrain, Swarovski crystals, silk, satin and tulle are popular materials for fascinators, which are held in place by a band, clip or comb, and usually worn to one side of the head.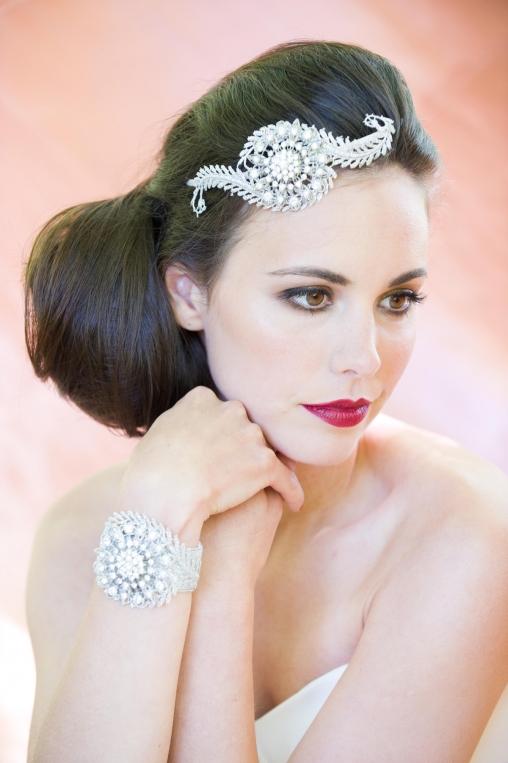 comb and cuff:
Flo and Percy
photo: Andrew Coulter
Fascinators can be small and sweet – think a single feather scattered with some Swarovski crystals – or they can be a bold statement – think giant retro bows and modern mini hats.
In terms of face shape and hairstyle, there is a fascinator out there for every bride. If you have an oblong face, avoid styles that add extra height, whereas brides with round faces should embrace the more flamboyant styles. Brides with oval-shaped faces might consider wearing their hair up and making a bold statement with a big and beautiful fascinator. If you're unsure, ask your hair stylist to guide you in terms of size and shape.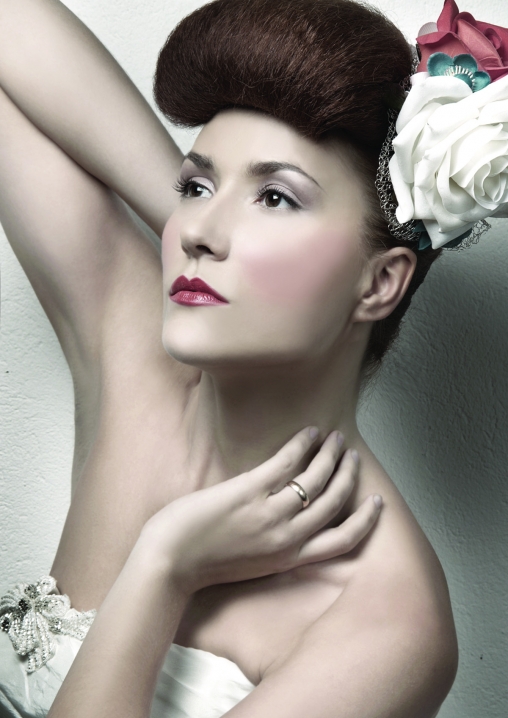 fascinator:
Sarah Drew
photo: Barry Jeffery
FOREHEAD BANDS
We've got the lovely Kim Kardashian to thank for the recent popularity of bridal forehead bands, although I prefer to trace the look back to Aladdin's fabulous Princess Jasmine.
Bridal forehead bands make a striking and stylish statement. Designed to lie just below the hairline, they suit hair up, down and half-up, and wavy styles suit the enigmatic princess look best. As they are actually worn just on the face, rather than in the hair, all face shapes can carry them off – although they should be avoided if you have a fringe, as your forehead is covered.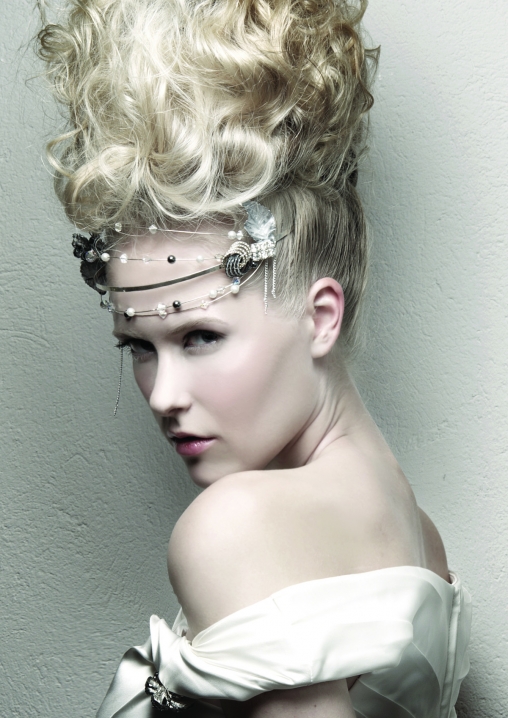 forehead band:
Sarah Drew
photo: Barry Jeffery
Forehead bands work best with fairly simple gowns and minimal jewellery. From diamanté (or real diamonds if you have the budget!), through to complex floral patterns in metal accentuated by crystals, forehead bands should be chosen to pick up on the detail in your dress.
FLAPPER BAND
If you've chosen a 1920s' inspired wedding dress – and top style points if you have – then you should consider teaming it with a super-chic flapper band. Flapper bands are worn across the forehead and fasten at the back, usually embellished with a combination of feathers and jewels at one side and occasionally at the front. These look stunning with the hairstyle that screams the roaring '20s: the bob, either worn straight or with finger waves. This style compliments all face shapes, although brides with round faces need to make sure their hair is past chin length.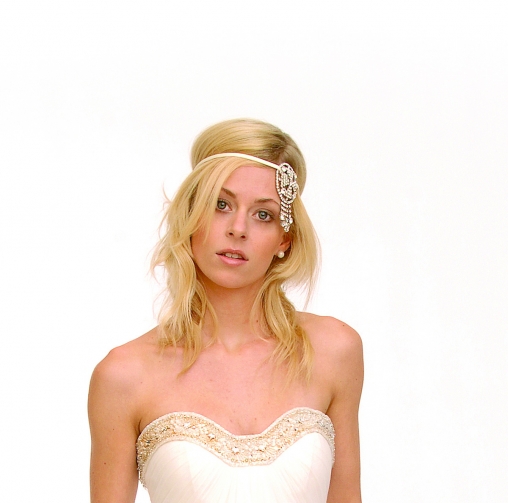 flapper band:
Flo and Percy
photo: Eliot Siegel
HEADBANDS
Wearing a real statement necklace or a dress that needs no additional wow-factor? Then consider a chic, understated headband – great for brides who like to keep their headwear simple. Different from tiaras in that they sit flat against the head, headbands suit all face shapes and are perfect to dress most hairstyles, including short hair.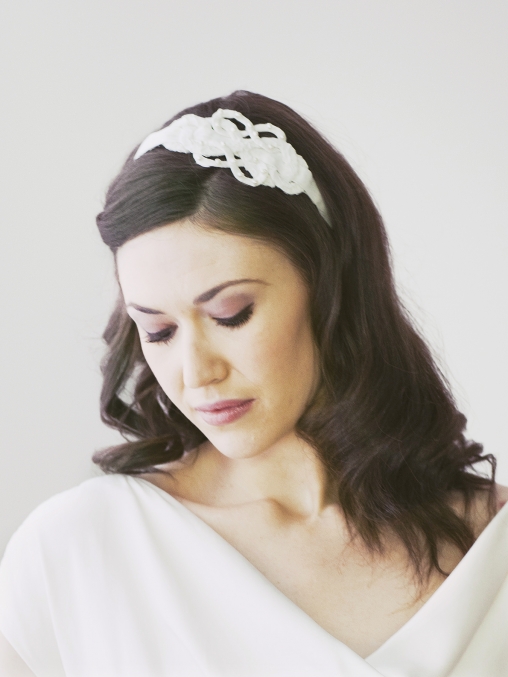 headband:
Hope and Grace
COMBS
If you're opting for an elegant up-do or chic side chignon – a great choice for oval and round face shapes – then consider adorning your hair with a classic comb, perfect for adding some sparkle and charm, without taking too much attention away from the do itself.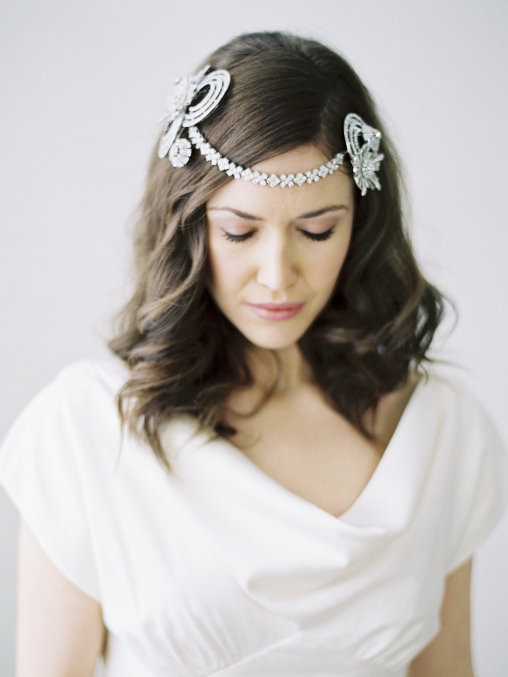 forehead band:
Hope and Grace
HEADS UP
Let these designers and emporiums of heavenly headwear inspire your fabulous finishing touch...
Flo and Percy
www.floandpercy.com
Holly Young
www.hollyyoungboutique.com
Hope and Grace
www.hopeandgrace.co.uk
Kye Tew
www.kyetewjewellery.co.uk
Sarah Drew
www.sarahdrew.com
The Bijou Box
www.bijoubox.co.uk
Totally Tiaras
www.totallytiaras.com
Vivien Sheriff
www.viviensheriff.co.uk
words Rachael D'Cruze
Copyright WED Magazine 2012