---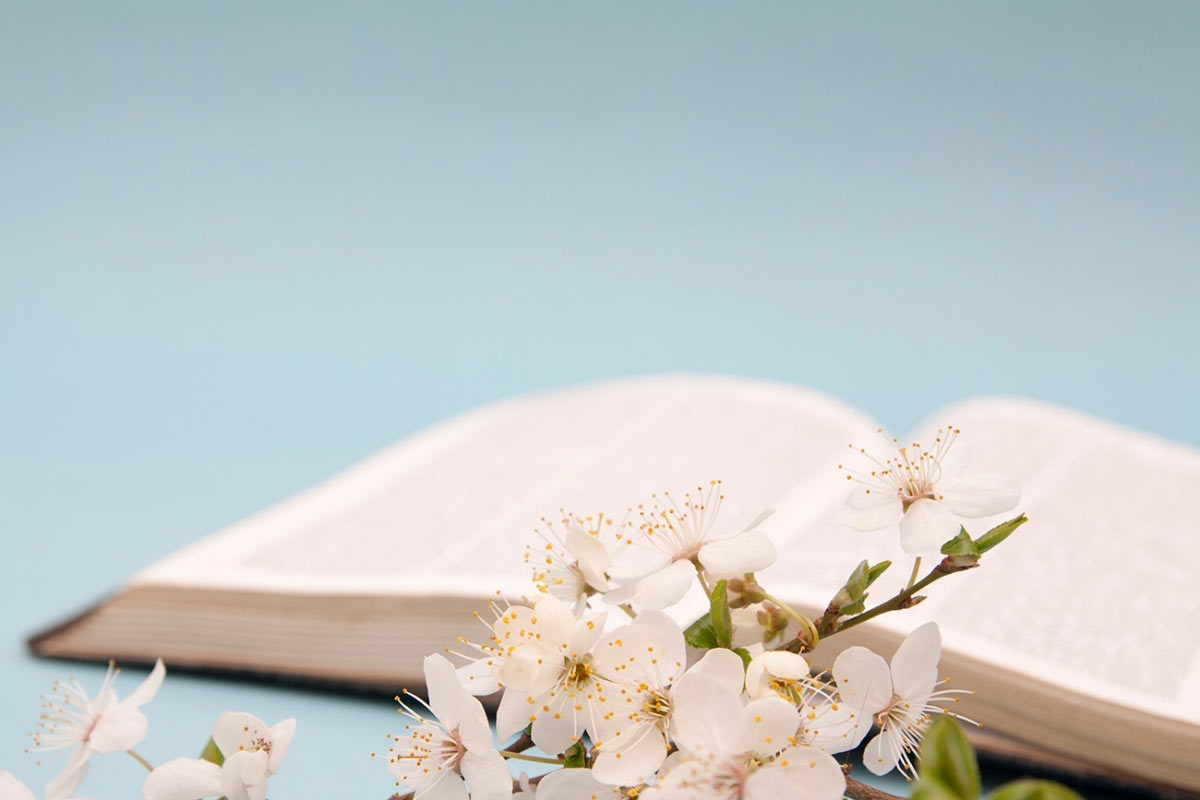 Wedding Readings
More Than Words
Expert tips on choosing perfectly pitched wedding readings
Whether you're marrying in a church, a barn, or planning a humanist ceremony beneath the trees, chances are you may want to include some form of reading before or after your 'I do' moment.

Readings serve a range of purposes during a wedding ceremony: they can add a moment of calm or reflection; they can embrace the tone or style of your wedding; they can also bring a uniquely personal element to proceedings. It's also a beautiful way to include important people in your day.
And that brings us to your first task: who to ask. As such a special element of a ceremony, choose someone who's meaningful to the two of you, though do bear in mind whether your chosen reader will feel nervous or uncomfortable with speaking in front of a large number of people. "Volunteers are best!" says Nicola Le Couteur Bisson from the Guild of Cornish Celebrants (cornishcelebrants.co.uk). "Match the reading to the reader and encourage them to rehearse reading their chosen piece out loud – so different to reading to yourself!"
Emily, who got married in a church near St Agnes, told us she asked her brother to do a reading, but instead of jumping at the chance, he aired a concern. "He's quite an emotional person and said that watching me walk down the aisle would probably set him off crying, so he didn't want to be reading soon after that," she explains. "We decided he would do a short reading after our vows. It turns out he was right: he was a blubbering mess (which was very sweet) and there's no way he could have done the first reading. I'm so glad he spoke up in advance!"
It's also a lovely way to honour a special person, as Caroline explains. "We had a small wedding, and I decided to have just my sister as my bridesmaid," she says. "But I wanted my best friend to also have a role, so asked her to do a reading. She was really happy to be part of the ceremony, and it was a special experience for us to both go through sharing readings and choosing one together."
Children can also be a beautiful addition to your ceremony. "If you choose a child to be a reader, consider allowing two of them to do it as a 'double act'," suggests Nicola. "They will give confidence and support to each other."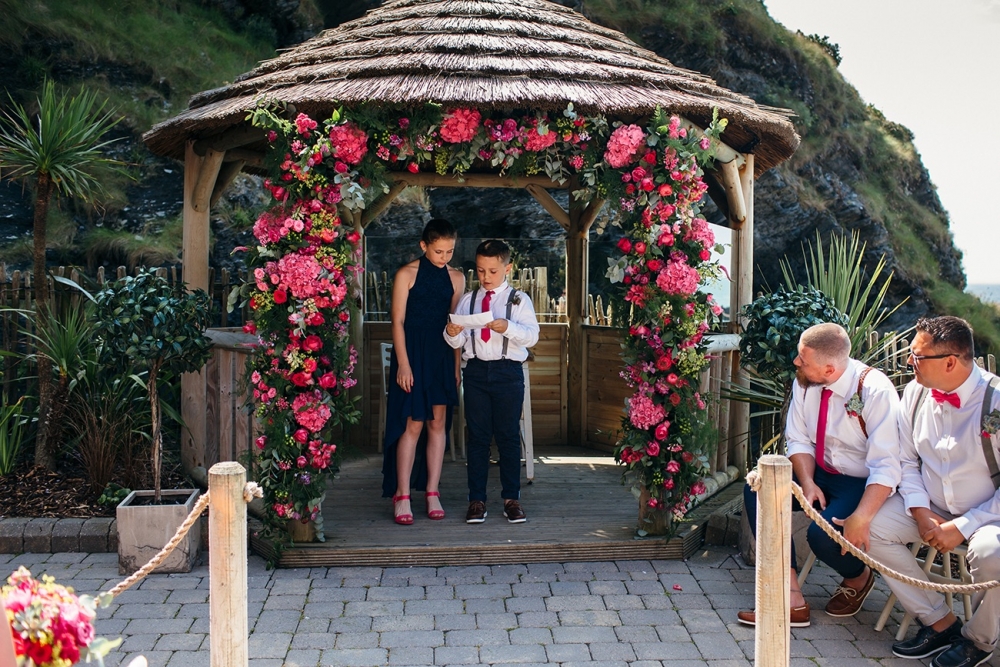 Freckle Photography
Once you have decided who you'd like, and they're comfortable, make sure they have your chosen reading in plenty of time so they can practise. Even the most confident of readers can falter when faced with a whole audience of your loved ones at an emotionally charged event!
"As celebrants, we always talk to the readers before the ceremony starts so they know where their part is in the context of the wider ceremony and reassure them that there is plenty of time," says Nicola. "We also encourage them to take their time with the reading – half normal speaking speed is ideal – and we bring a microphone for them to use if appropriate."
So, how do you choose what you'd like them to read? "Consider the type of ceremony you are having," says Nicola. "If it's a religious wedding, you will probably be encouraged to have at least one religious reading; if it's a civil wedding with the Registration Service, the reading must be totally secular and not come from or be adapted from a religious text. And if it is a wedding celebration led by an independent celebrant, there is much more freedom to choose any reading – religious, spiritual or secular."
This also goes back to how a reading can help to embrace the tone of your wedding – while it is, of course, a joyous occasion, do you want to err on the side of traditional, or maybe bring some humour into your ceremony? You could even have a mix, perhaps choosing a more thoughtful reading to begin, and then opting for something light-hearted after you've said your vows and the mood switches to celebration.
If you're struggling to choose a reading, you could even ask your chosen reader to pick one themself, as Philippa did. "I'd asked my best friend from school to do a reading at our wedding, but I didn't have any ideas of what she could read, other than I wanted an excerpt from a book," she says. "She did some research and then when she came back to me with options, I asked her to choose it and keep it as a surprise for the day. She read an excerpt from 'Captain Corelli's Mandolin' that begins 'Love is a temporary madness…' It was perfect, and as I didn't know what she'd be reading, it added a really lovely surprise element for me and my partner too."
"Ideally readings should connect with the couple, be recognisably about them, their personalities, or the love they share for each other or for a pastime or place," says Nicola. "The reading then will enhance the whole ceremony, rather than being a 'time filler'."
Some of the most sentimental readings are those that are handwritten or adapted to be personal to you both as a couple. If neither you, your partner, nor your chosen reader feel confident with putting pen to paper, don't discount adapting something you already love.
"Readings do not have to be intrinsically romantic in tone," agrees Nicola. "If you have a particular interest that you share, search for poems on that topic and if you find one that you both love do consider using it – your guests will know that it reflects you and your interests and it will personalise the ceremony. Do the same for plays, films and TV series (handfasting and 'Game of Thrones' for example), song lyrics can also be used as poems – or produce song sheets and get everyone to sing a song!"
Remember, anything can be a reading – and it doesn't have to fit into the 'wedding reading' box. "Children's books often have touching prose on the nature of love – these are often familiar words that will resonate with everyone present," says Nicola – advice taken by one bride, Lucy.
"My best friend read part of 'Oh! The Places You'll Go!' by Dr Seuss. We cut out parts of it, so it was more relevant and, other than some of the guests who were parents, most people didn't recognise it," says Lucy. "It was read with so much emotion, it even made some guests cry, and was such a beautiful moment."
Finally, if you're still undecided, perhaps you'll take Nicola up on her interactive suggestion. "An increasingly popular option where the couple have many friends who want to be involved is to give each of them a quote on love, life or relationships," they say. "As agreed during the planning process for the ceremony, each friend stands at an agreed part of the ceremony and reads out their quote; this can be done individually interspersed throughout the ceremony or as a group each standing in turn. This adds a dynamic to the ceremony especially if the other guests are unaware that this will be happening – a love quote flash mob!"
Get inspired with poignant passages from funny poems to soul-stirring song lyrics
Modern
'All I Ever Really Needed to Know I Learned in Kindergarten' by Robert Fulghum
'Falling in Love is Like Owning a Dog' by Taylor Mali
'Let Me Put it This Way' by Simon Armitage
Book excerpts
'Captain Corelli's Mandolin' by Louis De Bernières
'Your Personal Penguin' by Sandra Boynton
'Paradise' by Toni Morrison
Song lyrics
'The Rest of Mine' by Trace Adkins
'Echoes of Eden' by Steven Curtis Chapman
'Grow Old With You' by Adam Sandler from 'The Wedding Singer'
Funny
'Yes, I'll Marry You' by Pam Ayres
'To My Valentine' by Ogden Nash
'Be My Homer' by CJ Munn
Sweet
'Us Two' by AA Milne
'Love Is Friendship Set On Fire' by Laura Hendricks
'These I Can Promise' by Mark Twain
Religious
1 Corinthians: 13
Genesis 2:24-28
1 John 4:7-12
Traditional
'How Do I Love Thee? (Sonnet 43)' by Elizabeth Barrett Browning
'I Carry Your Heart With Me' by E.E. Cummings
'Sonnet 18' by William Shakespeare
words Lucy Higgins
Wed

Directory

All you need from the finest wedding suppliers in Cornwall and Devon