---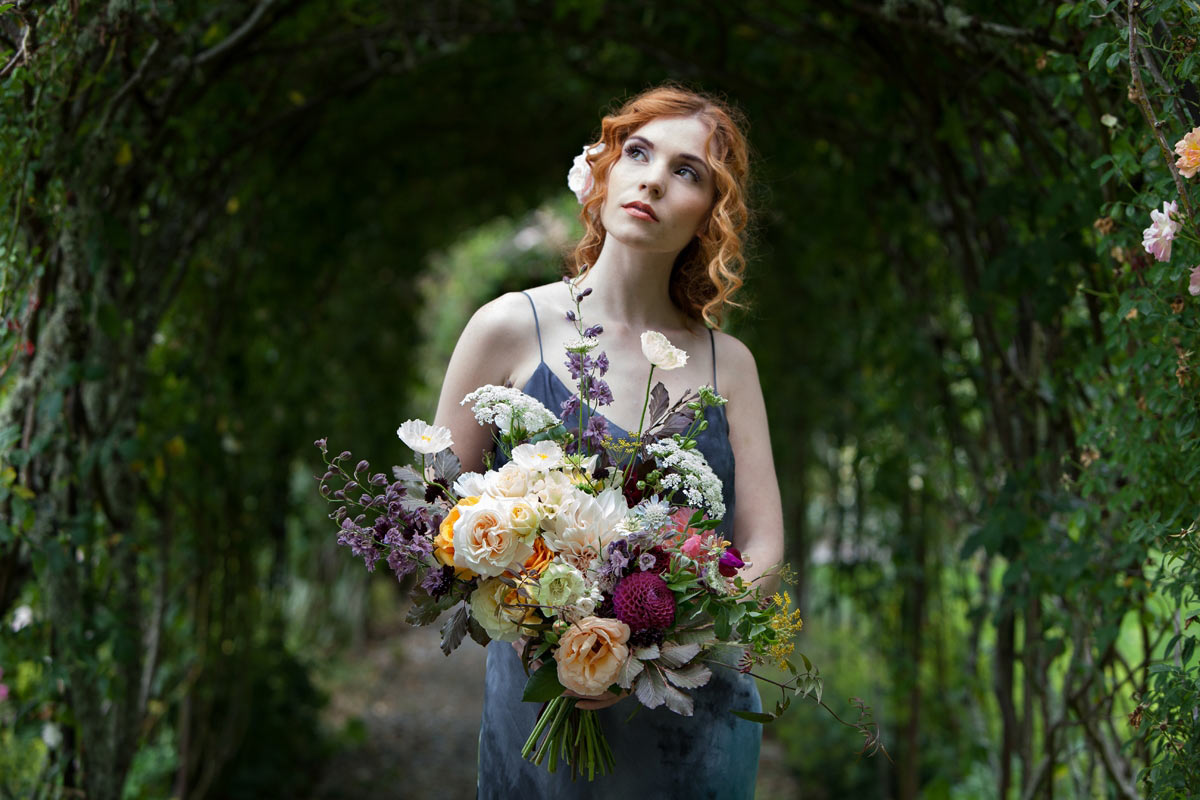 Wedding Flowers Cornwall
Wed's wedding flower guide
From bridal bouquets to personalising your petals, here's how to bring the best of blooms to your big day
"A flower cannot blossom without sunshine, and man cannot live without love." It's a beautiful thought, and so often, images of flowers and love are intertwined, wrapped together like a blossom held by tendrils of gently weaving vines. Rarely do we see a wedding - the very day of celebrating love in its sincerest form - that doesn't involve blooms of some sort, be it a bridal bouquet, a delicately woven flower crown or an archway adorned with florals. But where do you start when it comes to choosing your wedding flowers? Our experts are on hand to bring you the best advice for making your big day blossom.

The Velvet Daisy

What should a couple consider first when choosing flowers for their wedding?
Hannah Burnett Floristry:
Generally, couples come to us with an idea of what they would like. Roses, gypsophila and peonies often feature heavily as these are 'traditional' wedding flowers. I think as a florist, it's my job to open couples' eyes as to what else is available within their budget and colour scheme. Consider perhaps going with more seasonal varieties to keep costs down a little, and think about using only British flowers. It's amazing what you can create using flowers and foliage sourced around the UK.
Simon Nickell Design:
I advise couples to focus their floral budget on the areas where they and their guests will be spending the majority of their time: the reception. Think about key focal points at the venue where flowers will make a real impact, be seen throughout the day and make perfect settings for photographs. The most important thing to consider is a budget that you're happy to spend, and to be realistic with it. I recommend setting aside 10 per cent of the overall wedding budget for flowers, but that's not set in stone, it's a guide. Every couple's priorities are different.
The Velvet Daisy: Budget! Think about the season - flowers tend to be less expensive and of better quality when in season. It's worth remembering the images seen on Pinterest are often for photo shoots, which may incorporate special lighting. The flower colour may, in reality, be stronger than it appears. On a practical note, are there any allergies, what's the design of the ceremony and reception areas (for example, if they're using hanging installations or tall arrangements, will this lower the apparent height of a marquee), and what's the style of the wedding dress? Why spend a large amount of money on a stunning wedding dress with lots of detail, then cover it with flowers?
Simon Nickell Design
What are some of the upcoming trends you've noticed in wedding flowers?
SND:
Wild statement pieces for wedding ceremonies are very on-trend at the moment. Arches, backdrops, moon gates and garlands are really popular with couples who are looking for something unstructured and informal.
TVD:
We've seen an increase in being bold and using bright colours. Bright is often mixed with pastels. Foliage is still very much on-trend and will continue to be for quite a while. Hanging installations and arches are still trending but we're seeing an increase in moon gates.
Wedding Flowers in Cornwall: We have noticed a huge trend for eucalyptus and olive, and in many of our weddings we are creating hanging ceiling centrepieces, like hoops and decorated scaffolding planks.

Simon Nickell Design
What are some common mistakes people make when choosing flowers?
HBF:
Trying to colour-match, in my opinion, is one of the biggest mistakes. Often couples come to us wanting to match the colour of their flowers to the bridesmaids' dresses, invitations, chair sashes... and it can all be a little too much to be honest! If you can work with your colour scheme and choose complementing flowers and their natural colours, it will look so much better on the day when everything comes together.
SND:
Asking for peonies in December, and getting carried away on Pinterest! Please remember not to bombard your florist with 47 Pinterest boards of wedding bouquets, because they'll forget what you wanted in the first place!
TVD:
Expecting too much for their budget - florists are artists providing a professional service that takes time and detail. Also, choosing flowers that really aren't in season: couples can be adamant they want daffodils in autumn or peonies in winter!
WFIC: Having lots of different little arrangements, when having two larger 'wow displays' can be the cheaper option.

Simon Nickell Design

Can you share some ideas for styling venues?
HBF:
Don't be afraid to be bold and go for it! If your venue has a feature stairway, arch or room for a hanging installation, then chat to your florist about what they could do for you. With the foliage trend continuing into 2019, why not have plants on the tables as centrepieces? These could even be reused in your garden as a permanent reminder of your wedding day.
SND: The style of your venue will dictate to a certain extent how you dress it with flowers. A formal and historic space may not need much decoration, whereas a very modern setting might need a lot more. Make the most of any architectural features the venue might have. If there are fixings that flowers and foliage can be attached to, so much the better!

The Velvet Daisy (Verity Westcott Photography)

What advice do you have when it comes to bouquets?
SND:
My advice is to choose something that feels right for you, and not to go for something just because it's in fashion. Very wild and large bouquets are popular right now, but they're not for everyone. Many brides say to me that they don't want to feel overwhelmed by their flowers, and ask me to create a neater version of the wild style.
TVD:
Consider the weight of the bouquet. For example, an all-rose dome is beautiful but very heavy. Also, consider the size of your hands. Brides with smaller hands don't normally want to use both hands to carry a large bouquet. After all, how would you hold your husband's arm or hand when you're walking back down the aisle?
WFIC: Choose a bouquet that will highlight your dress and personality - it's one of the main accessories to finish the look. Use your bridal bouquets after the ceremony as added decorations in jugs or Kilner jars.

Wedding Flowers in Cornwall

Should a couple match flowers to their decor? How do they do that?
SND:
I'm not a big fan of themes, as they can sometimes look contrived. Complementing the setting however, is something that's very important. All white flowers in a white room can get lost, so think about injecting colour. Similarly, if the venue has very strong decoration, don't think that you have to tone it down. Have fun and go for it!
TVD: I believe the flowers should complement the decor. It brings all aspects of the wedding together to become more cohesive. However, if the couple has an eclectic taste, then it really wouldn't matter and actually reflects them and their personality.

Wedding Flowers in Cornwall

What's the best piece of advice you could give a couple when it comes to wedding flowers?
HBF
: Trust your florist! You have probably chosen your florist because you love their style, and have heard great things about them. So to get the best results for your wedding flowers, let them do what they do best. Take along your ideas when you meet, and chat about what you really want to include and the style you like, and then allow your florist to put together some unique ideas for you.
TVD:
Wedding flowers are created to enhance the day, not take over.
WFIC: Choose flowers that you absolutely love, and trust your florist to create wow flowers for you. They will be able to advise you on what's in season, the costs involved and organise your flowers so they are open at the right stage for the wedding day.

Simon Nickell Design

PERSONALISE YOUR PETALS
So you'd like your flowers to do more than look pretty? Take inspiration from these newly-weds, who injected some personal meaning into their big day blooms...
- Be inspired by the Royal Wedding. Just as Prince Harry picked some of the flowers for Meghan Markle's bouquet, ask your fiance or someone dear to you to choose some blooms that mean something to them.
- Francesca, a bride from Devon, asked each guest to bring a single flower that reminded them of her. "As I walked down the aisle, I collected the flowers from these guests, thereby making a completely personal bouquet," she says. "This proved astonishingly popular and the variety of flowers I was given was genuinely beautiful."
The Velvet Daisy

- "My mum really wanted to help out, so enrolled herself in a flower-arranging course a few months before the wedding," says Emma. "She knew the colour scheme, and kept the bouquets a surprise until the day. They were phenomenal and meant so much because I knew all the months of preparation that had gone into creating them."
- "I had roses because my granddad always grew them and he picked them for my nan every day," says Charlotte. "I also had peonies as they are both our mums' favourite flowers, and Scottish thistles for my Scottish husband."
- Vicky caught the bouquet at her cousin's wedding 11 years ago, so when her own wedding came around, she wanted to incorporate that somehow. "I added the diamante pin from that bouquet to my own," she says.
- "I had a piece of myrtle grown from Queen Victoria's bouquet in mine!" says Ailsa. "Anyone who went to St Dunstan's Abbey School can have a piece." Well, if it's good enough for a queen...
The Velvet Daisy

Simon Nickell Design
simonnickelldesign.com
Hannah Burnett Floristry
hannahburnettflorist.co.uk
Wedding Flowers In Cornwall
weddingflowersincornwall.co.uk
words Lucy Higgins
Copyright Wed magazine 2018
Wed

Directory

All you need from the finest wedding suppliers in Cornwall and Devon