---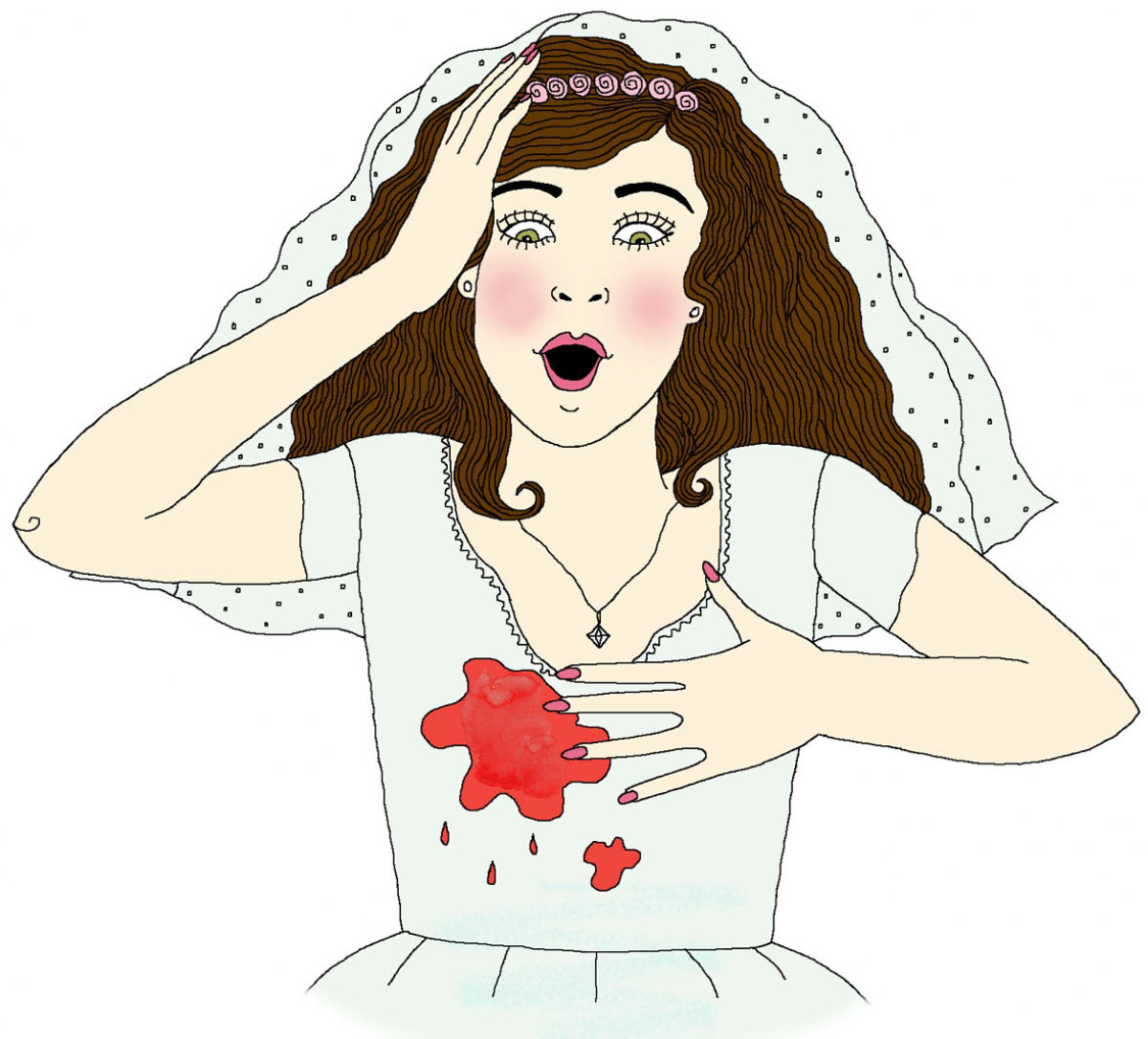 Small wedding essentials
Minature Heroes
You've planned the whole event, it's going to be a beautiful blast of a wedding. But here are some small essentials to ensure you keep the big in your day.
words Abby Driver
Outside the obvious – bride, groom, venue, dress, rings – what's considered a wedding day essential? It's not always the big things. "My essential big day emergency kit comes with me to each and every wedding and is honestly one of the most useful things I own," says wedding planner Jenny Phipps of Jenny Wren Weddings and Events (jennywrenweddingsandevents.co.uk). "While, of course, I hope you don't have emergencies on your wedding day, it's always better to be prepared," she adds. We wholeheartedly agree, so here are a few small essentials you might want to add to your W-day to-do list.
Carrying your own essentials on the wedding day isn't practical – wedding dresses don't always have pockets and even if they do, no bride wants to take to the aisle with sticky lip gloss nestled next to her garter! Wedding planner Claudia Montano (claudiamontano.co.uk) advises a reliable maid carry your bridal essentials in a small bag: "If your bridesmaids or maid of honour takes charge of your bag at all times, it's much easier to have your go-to items on hand than running back to your room throughout the day," she says.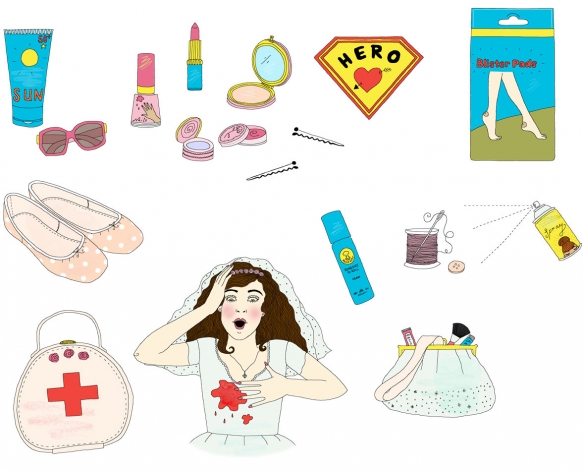 Because you're worth it
Beautifying yourself on the big day is all part of the fun. But perfect make-up and gorgeous hair can go awry over the course of a 12-hour congratulatory hug-and-kiss-athon. Top-up essentials include lipstick, hairgrips, a spare bottle of matching varnish if you've had a mani, and a miniature bottle of hairspray for an elaborate do.
On a more outdoorsy note, umbrellas are useful for battling the British elements, whatever the season, while Jenny advises packing sunscreen if you're planning a summer wedding. It's optimistic, but worth it as tomato-red skin does not equal ethereal wedding photographs.
Slipping into a pair of killer heels? Don't forget to pack blister pads, too. A pair of flats is perfect for tired tootsies when you're just not done dancing; ballet pumps are a chic alternative to heels and can look just as bridal-appropriate, too – check out Rollasole (rollasole.com).

Freshen up
A mini first aid kit will rescue a ton of mishaps. Make sure it includes some pain relief for any speech-induced stress headaches. And speaking of stress, Rescue Remedy is a great tonic to have to hand. Tracy Edwards of Blue Fizz Events (bluefizzevents.co.uk) always packs Neal's Yards' Remedies to Roll for Relaxation, which is a soothing blend of essential oils created to ease the mind and relax the body. And speaking of freshening up, she also brings "tissues, for tears of joy," while Jenny's pack includes his and hers deodorant, breath freshener, gum and tampons. Hey, Mother Nature can be a cruel mistress!

A stitch in time
On-the-day dress alterations are the stuff of bridal nightmares. But it's always better to be safe than sorry. Amanda Kerrison of Amanda K Bridal Boutique (amandakbridal.co.uk) says her top tip is, "to have some safety pins and a needle and thread to hand: a hook and eye could ping off or I have known a zip to go on a bridesmaid's dress and the bridesmaid having to be sewn into her dress on the day. We always advise the maid of honour keeps a little emergency kit with her." Claudia Montano saved the day by doing just that. "I worked at a wedding last summer where some of the guests were in traditional dress. One lady happened to walk past me just as her skirt tore. Quickly I ushered her away to a secluded room and whipped out my needle and thread. Within moments she was back outside and enjoying the wedding. A small salvation to the whole day, but a big one to this individual." And last summer Jenny came to the rescue of a best man who tried his suit on for the first time on the actual wedding day. She told us: "The best man came to me in a panic as he had put on his suit and realised the trouser legs were far too long! One of our team is a seamstress so she got to work straight away and took them up."

Keep it clean
Spills happen. Yes, even on a pristine white wedding dress. "We always keep a Blue Fizz 'Little Box of Tricks' with us, full of essential ingredients," says Tracy. This includes gems such as baby wipes which, "are the magic anecdote to lipstick stains on dresses." Wipes also come in handy for less obvious uses too: "One of our clients had a guestbook where people would dab their fingers into ink and press the print into their book. The baby wipes were used to clean their inky fingers afterwards," says Jenny. She also has an innovative way to get rid of any pesky red wine stains. "One of my bride's bridesmaids accidently spilt her glass of red wine down the bride's dress as she went to give her a hug during the reception. White wine was quickly poured over the red, which vanished the stain." Wedding planner to the rescue!
Copyright Wed Magazine 2016