---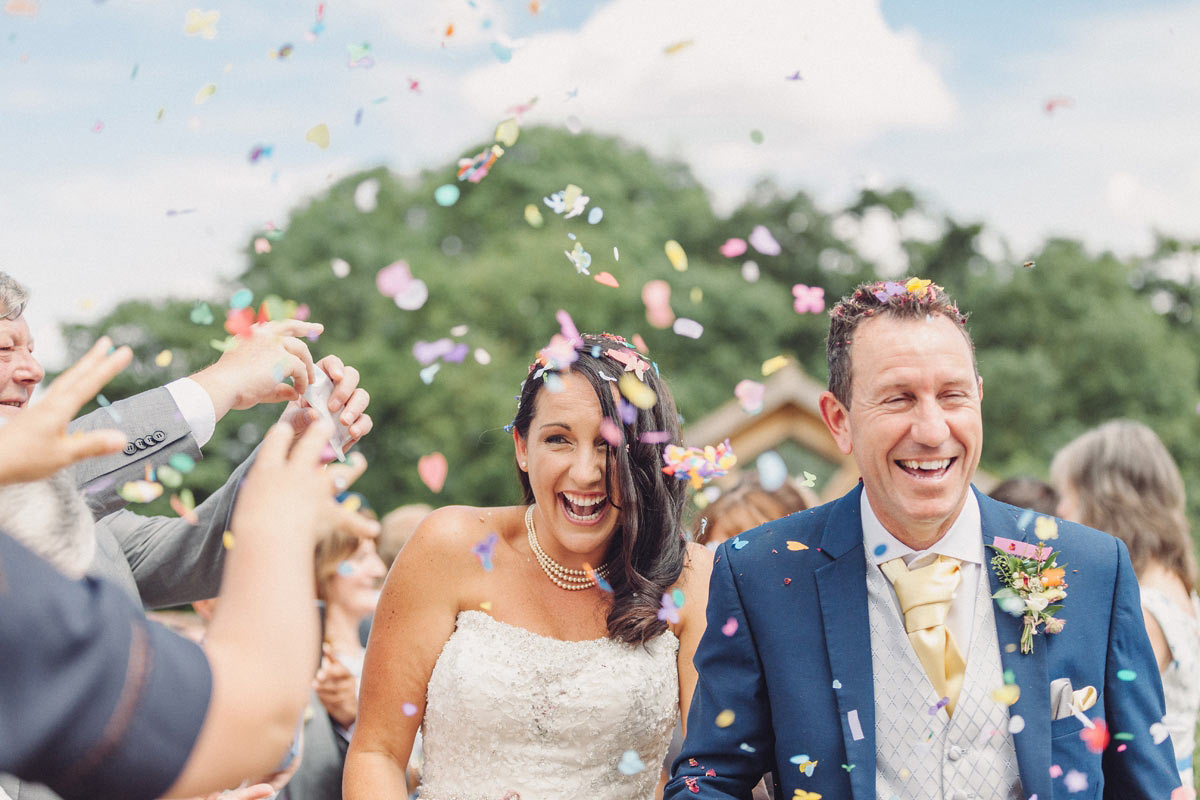 Wedding at Upton Barn, Devon
Love Actually!
---
Kate and Echo's wedding at Upton Barn & Walled Garden was packed with memorable musical moments
...Kate and Echo's wedding was packed with memorable moments
Kate met her brother's friend Echo when she moved to Devon from Cambridge. "We finally got together as the bells chimed to welcome in the New Year!" she reminisces. "We were outside The Wyndham Arms pub in Kentisbeare with all our friends."

"After asking Kate a number of times if she would marry me, I thought the only way to persuade her I was serious was to get her father John's permission," reveals Echo. "I cooked a romantic dinner at our home with champagne. Once we had finished the meal I asked Kate if she would marry me and of course mentioned I had her father's permission! Kate's response: 'I better had then!'"


Keen to keep the party vibe in full swing and avoid any lulls throughout the day, Kate envisioned recreating one of her favourite films by scheduling a series of similar musical medleys to romantic comedy, 'Love Actually'. "I found The Love Actually Experience and Bravo Singing Waiters, which I kept a secret," she says.
First surprising guests with singers jumping up from the congregation as Kate and Echo were announced as husband and wife with a rendition of 'All You Need Is Love', the singers then continued with a performance of 'Signed, Sealed, Delivered' during the signing of the register.
"All the guests looked very confused and shocked at first then all jumped to their feet with arms in the air. It really set the mood for the day," remembers Kate of one of her and Echo's favourite moments.
Canapes, bubbly and ice buckets filled with drinks greeted guests post-ceremony, and was followed by sharing platters of local charcuterie, salads, roasted vegetables and freshly baked focaccia. The main course comprised roasted chicken breast or aubergine with dauphinoise potatoes and summer greens, before the speeches were toasted with tequila.
A trio of desserts (vanilla meringue with honey mascarpone and summer berries, chocolate brownie, and raspberry mousse) were served as Bravo Singing Waiters again reinvigorated the party atmosphere. "The guests were surprised and joined in - even standing on the chairs waving their napkins and table flowers!" laughs Kate.
Mixing crowd-pleasing features with personal touches, the day was a fun-filled compilation of Kate and Echo's likes, along with a thoughtful smattering of treats for their nearest and dearest. A pick 'n' mix sweetie stand, ice cream tricycle, giant garden games, mini bags of bio-degradable confetti and confetti canons, basket of flip flops and umbrellas, and a free evening bar were complemented by bubble guns and goodies boxes filled with mini toys, games and activity books for the kids - along with an evening childminder so parents could let their hair down!
"Make a list of what you want and what you think your guests would like," suggests Kate about achieving a happy balance. "It is all about the two of you, but we both loved seeing and hearing what our guests thought and enjoyed."
"Budget and keep a tally of what you have spent and what your estimated costs are," she adds. "And listen to people's recommendations. Small local suppliers are sometimes the best and cost-effective."
Photography Jennifer Jane Photography
jenniferjanephotography.co.uk
Venue Upton Barn
uptonbarn.com
Bridesmaids' dresses Abide Maids abidemaids.co.uk
Flower girls' dresses Monsoon monsoon.co.uk shoes John Lewis johnlewis.com
Groom and groomsmen's outfits Moss Bross moss.co.uk
Flowers Darling Buds darlingbudsofel.com
Catering Pickle Shack pickleshack.co.uk
Two Birds Pizza twobirdskitchen.co.uk
Ice cream tricycle Devon Vintage Ice Cream Van devonvintageicecreamvan.co.uk
Entertainment The Love Actually Experience loveactuallyexperience.co.uk
Bravo Singing Waiters bravosingingwaiters.co.uk
Bill Ding and the Skyscrapers bdsmusic.uk
Magician Dan Brazier danbrazier.com
Copyright Wed magazine 2017
Wed

Directory

All you need from the finest wedding suppliers in Cornwall and Devon