---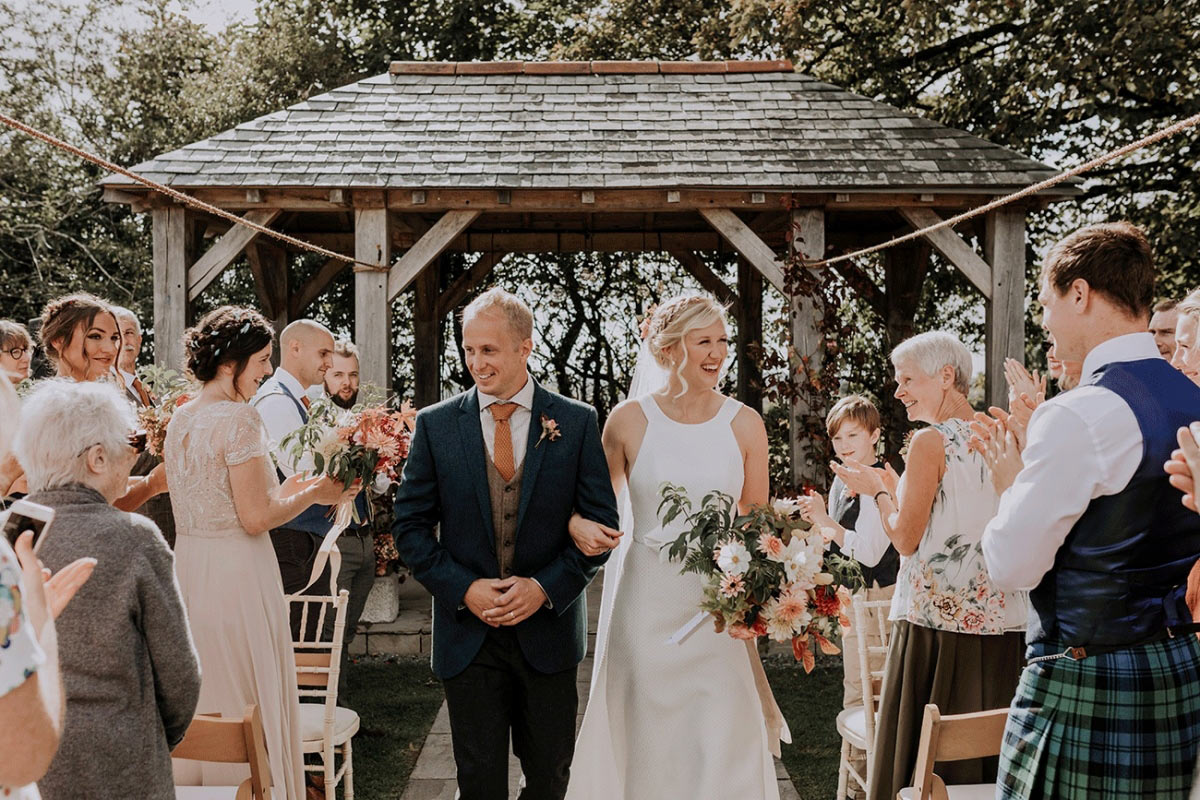 Wedding at Trevenna, Cornwall
Striking Gold
Rachel and Jonnie's nature-inspired, late September wedding at Trevenna
"For more than a decade we were both on the British Sprint Kayaking Team, competing at two Olympic games together, and we met on our first training camp in Seville in Spain," reveals Rachel of her and Jonnie's momentous beginnings.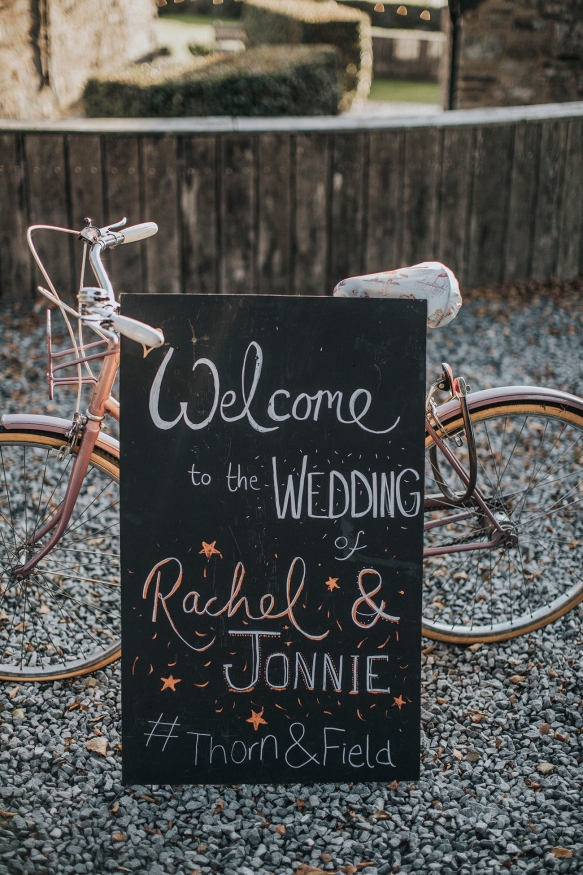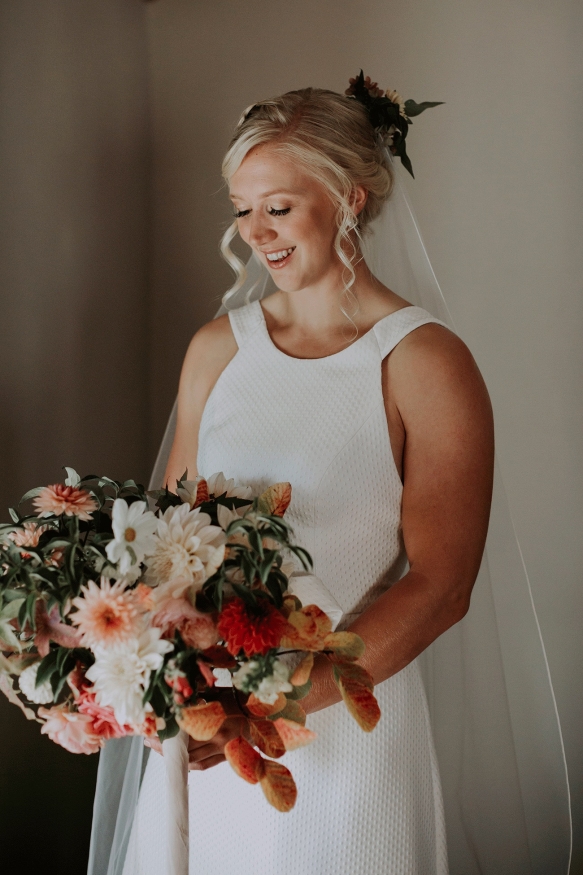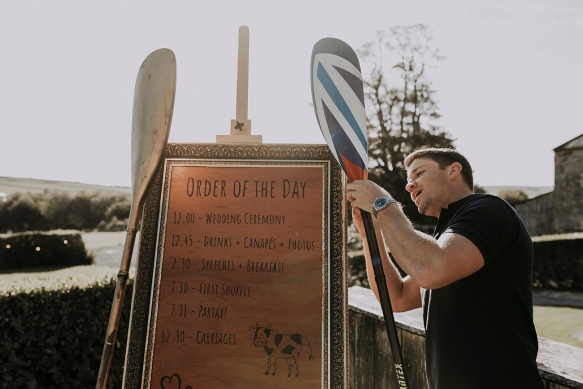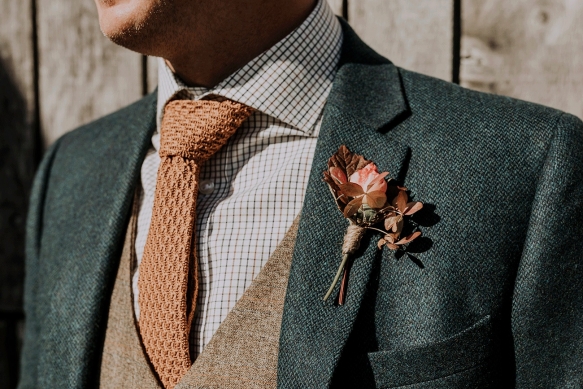 "Jonnie proposed to me outside a composting toilet!" she laughs. "We were staying in a gorgeous luxury cave on the North Island of New Zealand after the Rio Olympics. It was filled with romantic spots to propose, but Jonnie got a little carried away by trying to make the proposal a surprise and whipped the ring out just as I left the (very nice) toilet. I now have a soft spot for composting toilets!"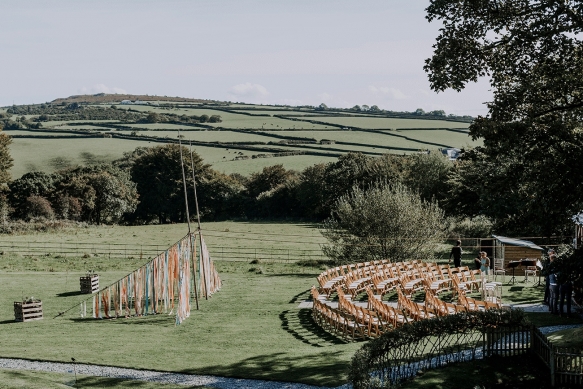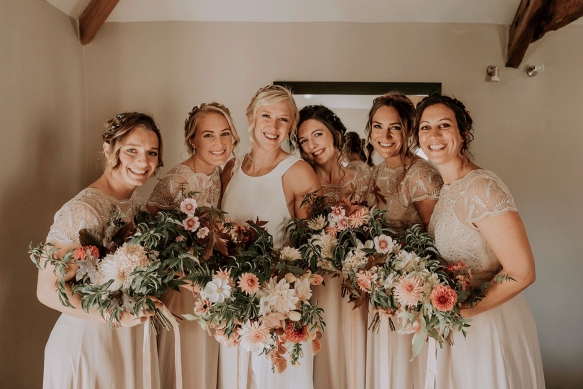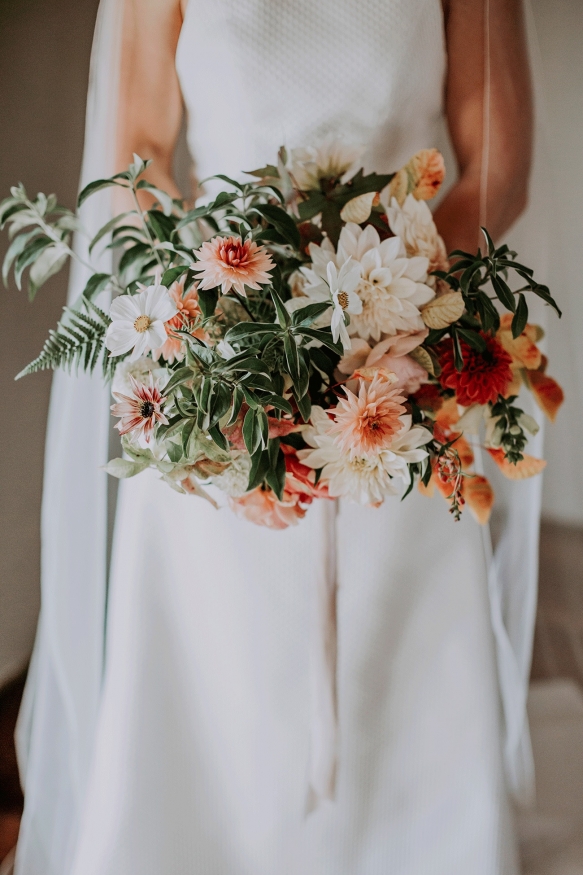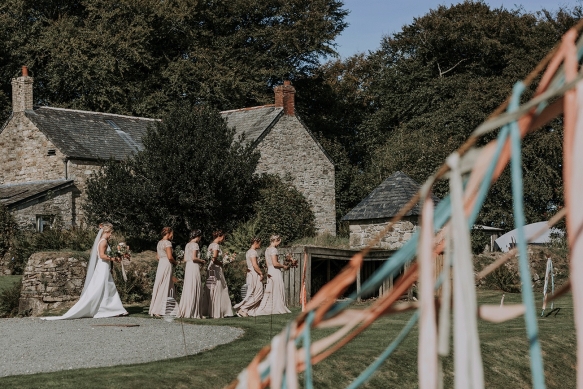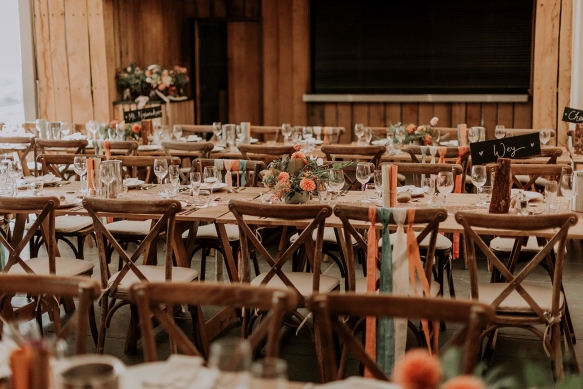 Trevenna provided the picturesque setting for their late September wedding, which was "inspired by nature: kind of rustic, but filled with warmth and hygge", explains Rachel. A carnival of seasonal flowers reflected the turning of the season, with foliage in soft coppers and burnt tones, and dahlias in muted hues interspersed with pops of coral.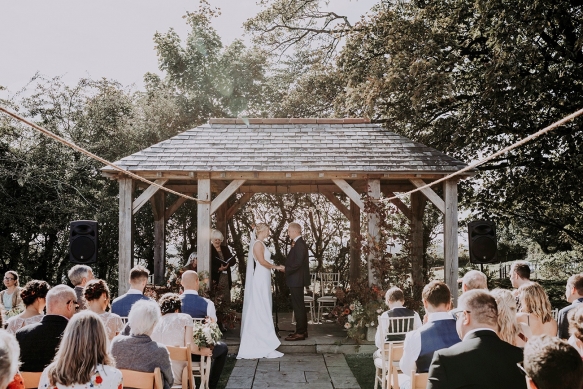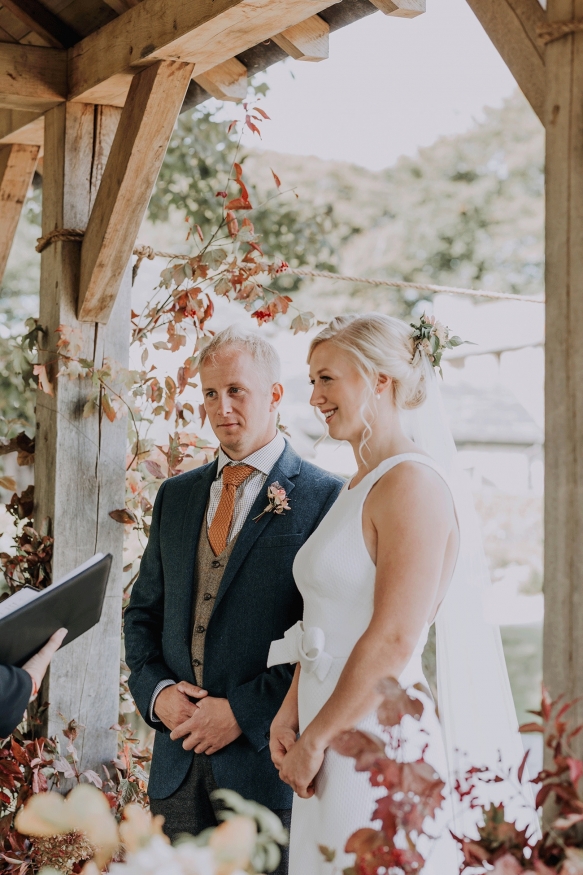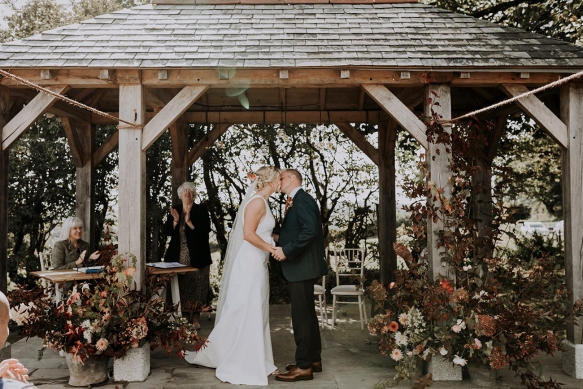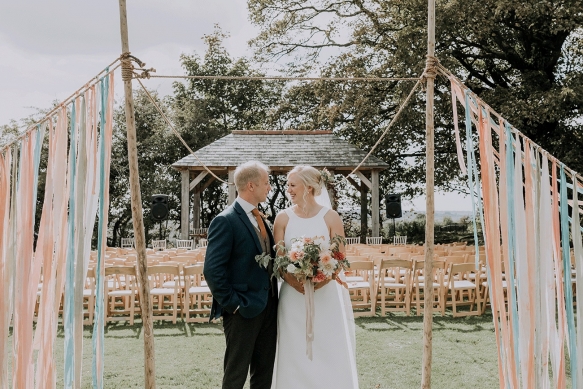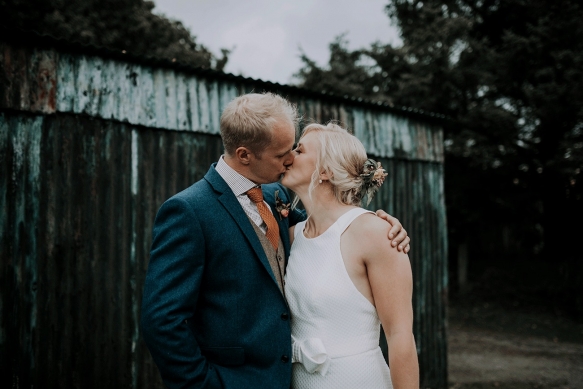 "We met with lots of our guests on the day before our wedding for a surf on Polzeath Beach. It was so much fun and great way to bring people together! We left them to explore the area whilst we had hurried away to start setting up at the venue," says Rachel, who enlisted the help of some guests to erect the archway, hang hand-died ribbons, and decorate the tables with homemade table runners, napkins, dried flowers and origami hearts made from 'Harry Potter' pages. "Our mums had been busy DIYing!" explains Rachel. "We brought down some potted trees and plants to add to the scale of the greenery – the tree is now planted in my parents' garden and is a lovely souvenir!"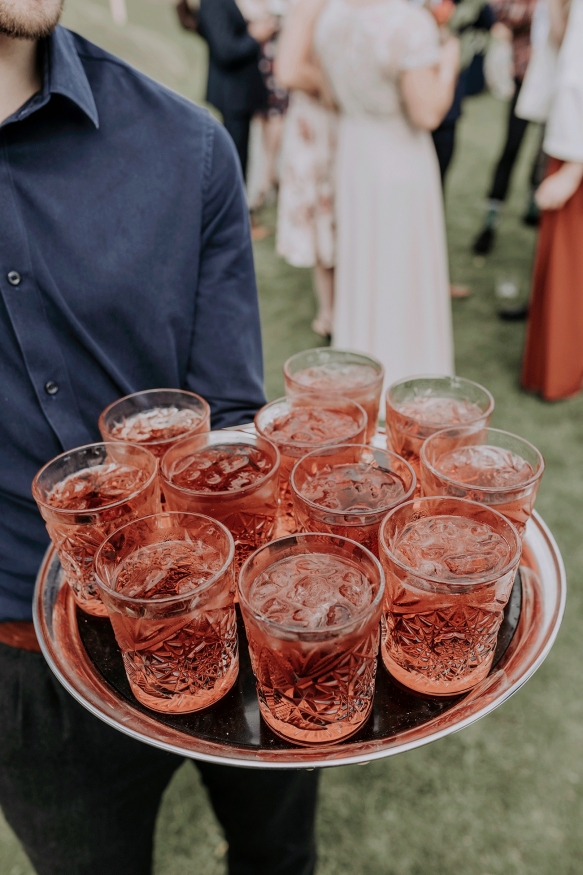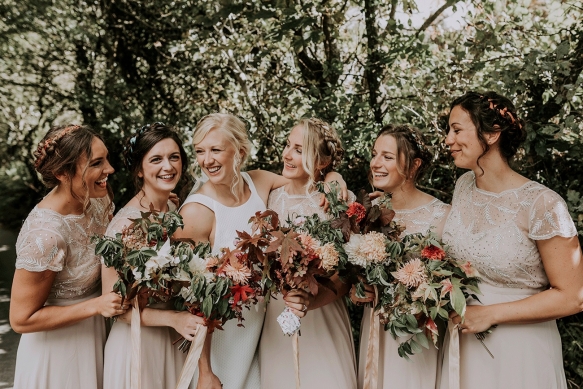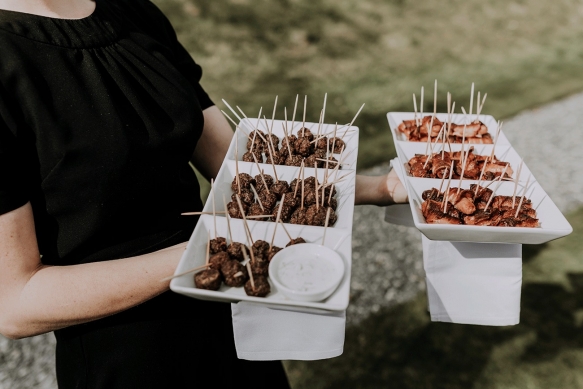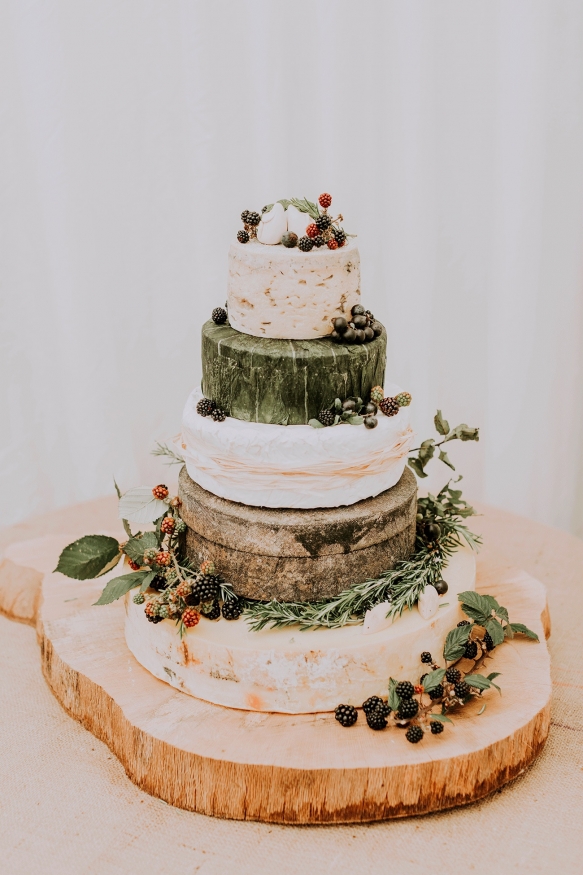 Marrying at midday to make the most of their time with loved ones, Rachel cites the al fresco ceremony as her favourite part of the entire day. "Standing under the arbour holding Jonnie's hands was such a magical moment," she reminisces. "The birds were singing, the sun had just come out and was shining down through the leaves. We were not only surrounded by beautiful flowers, but also by all of 'our people'. I could feel the love in the air!"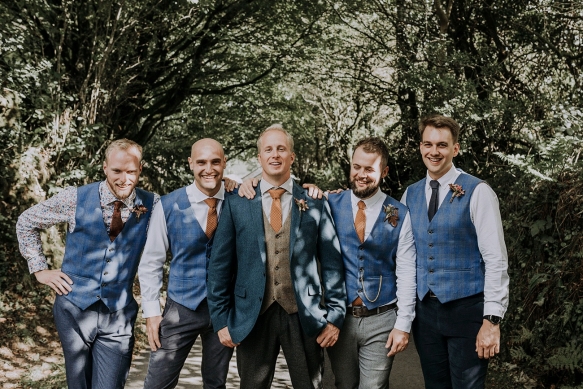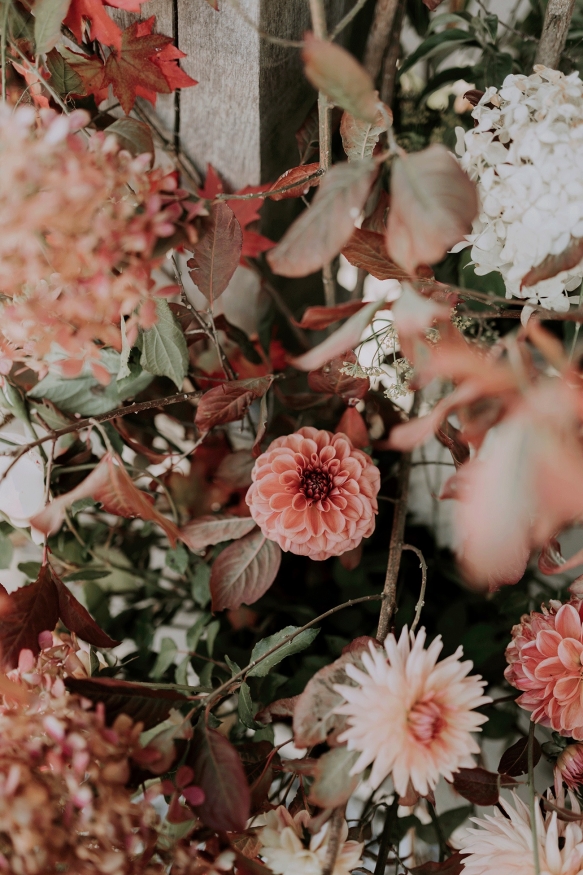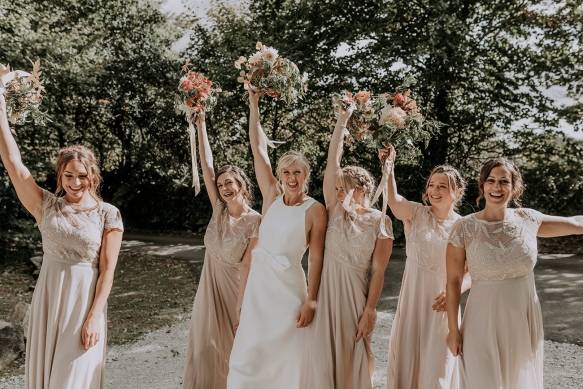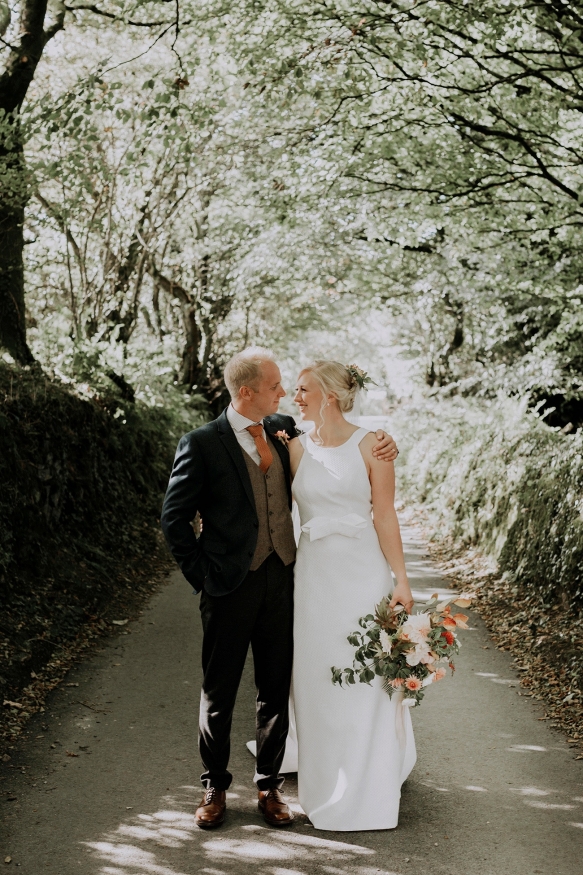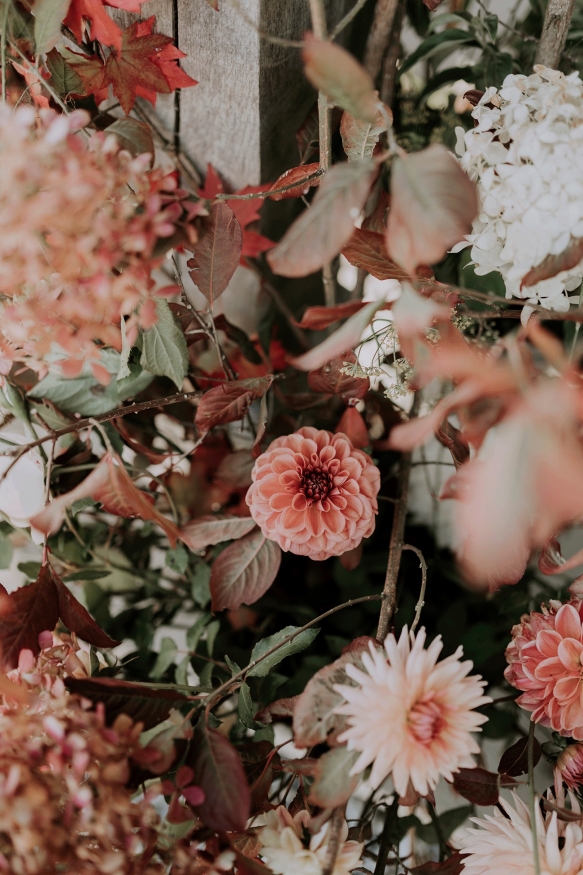 One of Rachel's bridesmaids, Hattie, sang during the ceremony. A string quartet added to the atmosphere and continued to entertain guests during the drinks reception in the Threshing Barn, "where we filled the room, sat at long trestle tables and had a very jolly time! My dad had written some music and a song for his speech, which Hattie performed," says Rachel.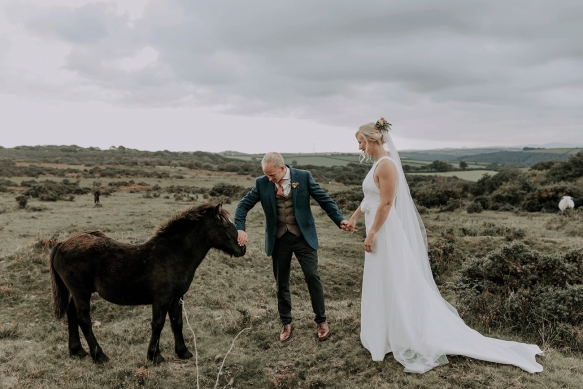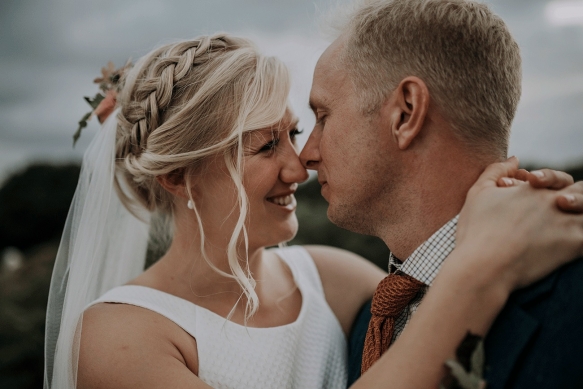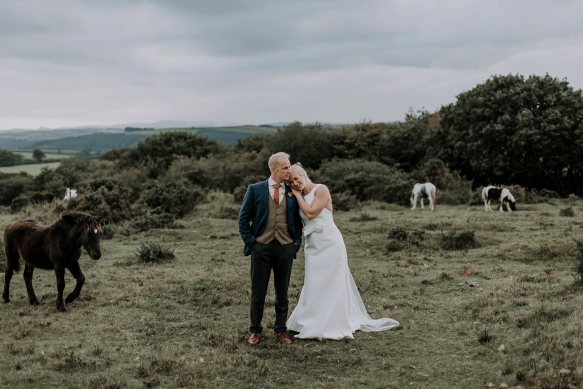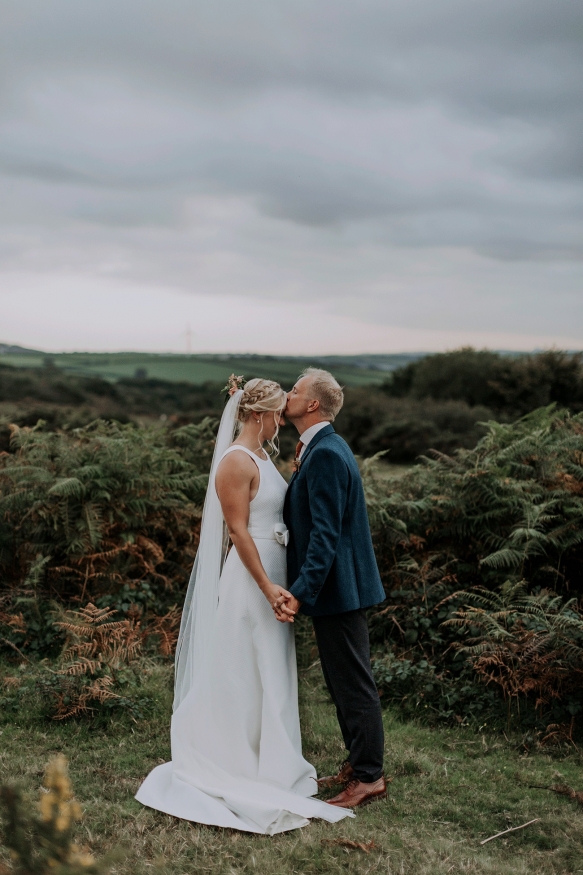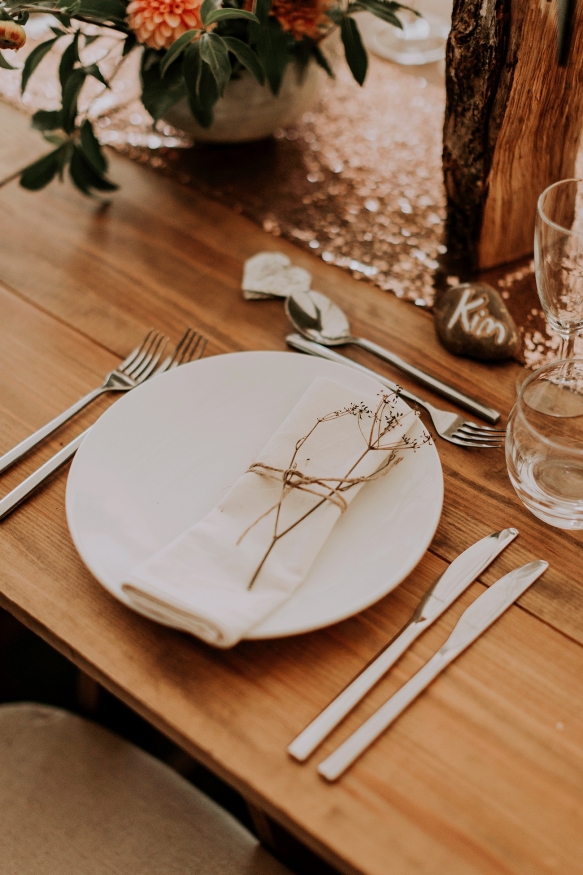 Treacle-cured beef, sea bass and trio of tasty desserts were devoured before the newly-weds headed off to the moor for photographs. The uptempo tunes of The Harbour Band then provided the entertainment for the evening, alongside sparklers, marshmallow roasting over the open fire, Cornish pasties, "and a lot of cheese!"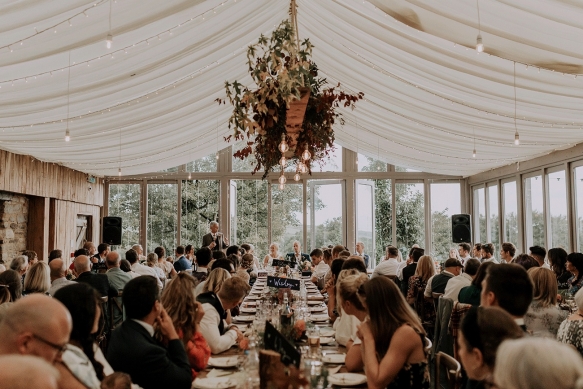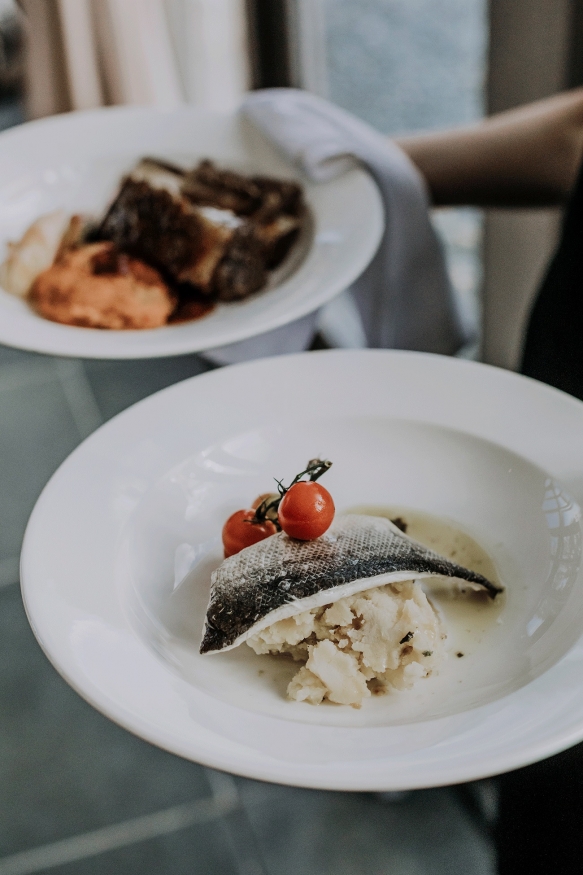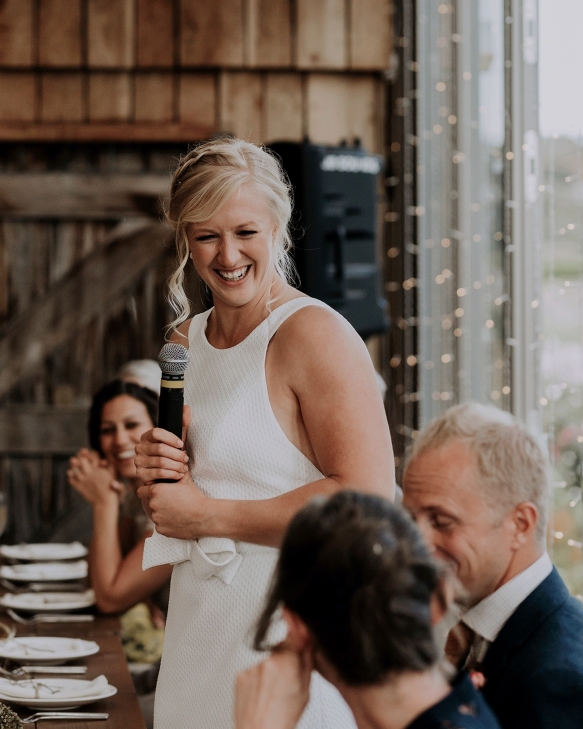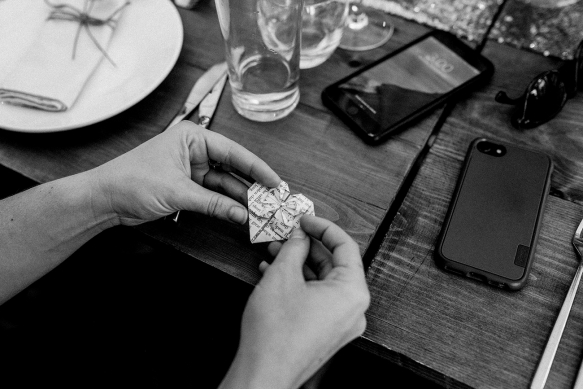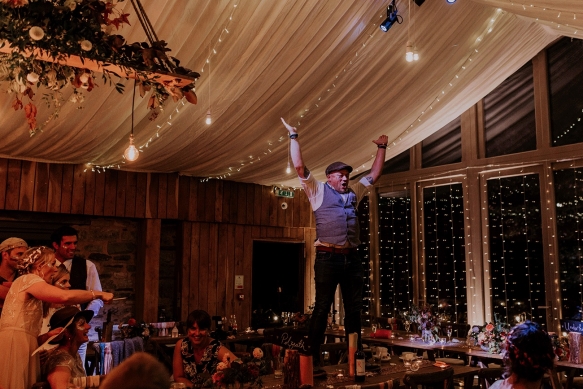 "In my opinion, a successful wedding is a day that reflects the people getting married," says Rachel. "It's quite hard to go wrong if you take this tact, because everyone has different likes and dislikes and makes different decisions. So enjoy the process; it's not every day you get to celebrate such a special thing!"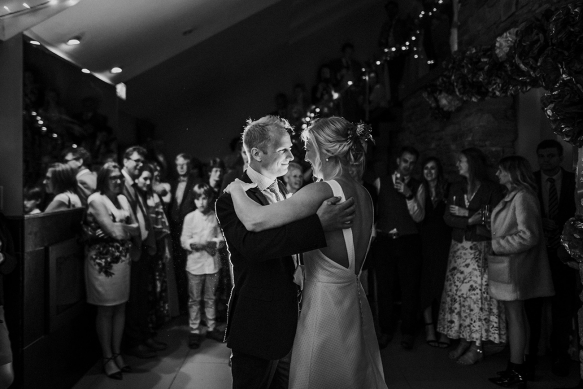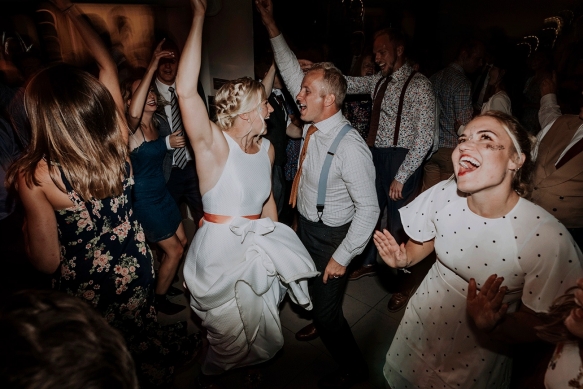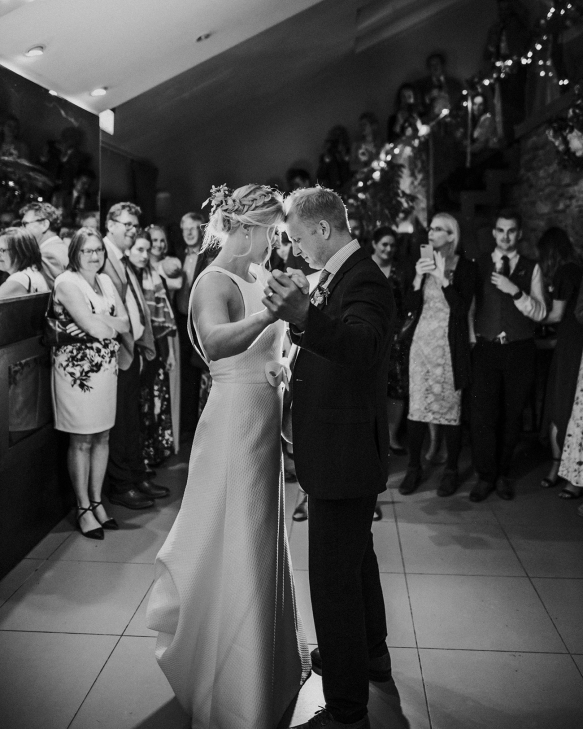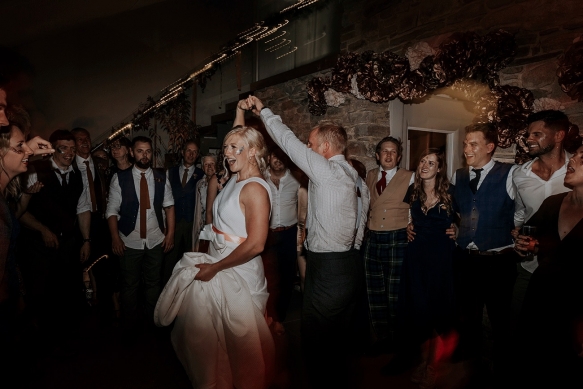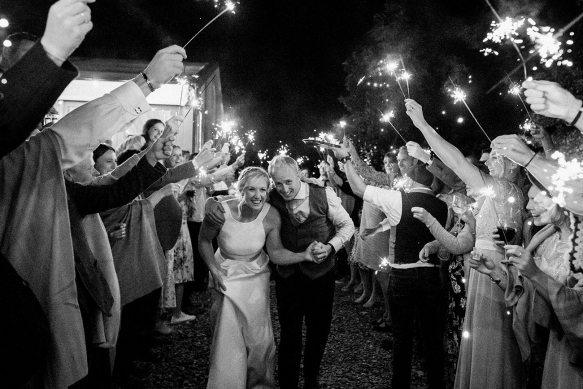 Wed

Directory

All you need from the finest wedding suppliers in Cornwall and Devon