---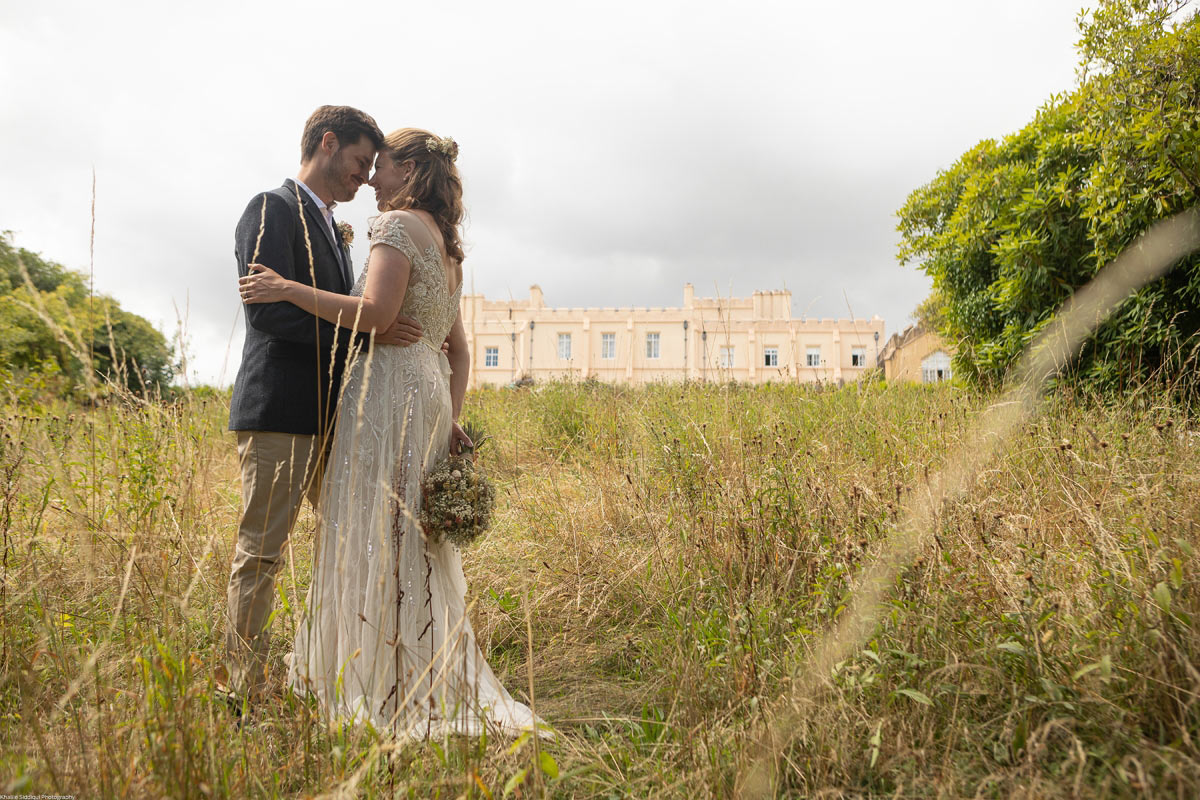 Wedding at Pentillie Castle, Cornwall
Holiday Romance
Rachel and Mark's wedding holiday at Pentillie Castle
Rachel and Mark met as teenagers and began dating - "by dating I mean mostly sneaking into clubs underage!" says Rachel. After many years together and two young children, the couple decided that a holiday to Cornwall - "our happy place" - that featured a wedding would make for a wonderfully memorable family celebration.
"We got married at Pentillie Castle in their Victorian bathing hut on the River Tamar," says Rachel. "We'd been there for a mini-break and thought it was just the right size for a family-only holiday where we would happen to get married. Pentillie is beautiful and the whole thing had the exact unfussy vibe that we were hoping for."
"The joy of having such a teeny wedding meant there really was minimal preparation: I bought a few bits and pieces that I liked and that was it," she explains of their relaxed approach. "I suppose everything had quite a natural feel to it, whites and very pale blush pinks - but that's happenstance!"
Understated floral arrangements added to the pared-back vibe, with simple white hydrangeas and pots of white heather flanked by a bouquet and buttonholes of dried English flowers. "I loved them and the beauty of dried flowers is that they still look beautiful today," comments Rachel. Mark, a graphic designer for Superdry, poured his creativity into designing the stationery and donned a stylish combo from the brand while Rachel wore a light and beautifully embellished gown.
"I loved walking down to the bathing hut with our smallest son - swinging him high into the air between us and hearing his giggles," says Rachel of the ceremony. "We walked in as a family, and walked out as a family."
Entertainment took the form of a magic show performed by the children, after which they all relished some quality time swimming, playing rounders - "and generally had a lovely family day."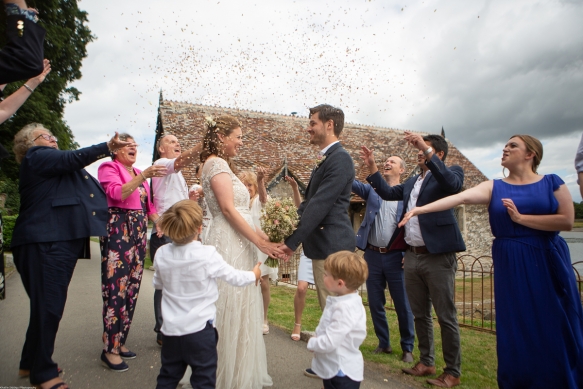 Afternoon tea comprised crab sandwiches, tiny watercress blinis with salmon, Cornish cheese scones and lots of cakes - "all washed down with much too much Cornwall and Hook Norton beer!" says Rachel.
Later, a meat and seafood feast of scallop and chorizo 'scallipops', Cornish crab bruschetta, and pulled pork with crackling sticks, slaw and salads was rounded off by the wedding cake, a confection of pink champagne, elderflower and strawberry topped off with fragrant lemon: "hands down the most beautiful thing we have ever tasted!" exclaims Rachel.
"There was pulled pork left over and sitting at Readymoney Cove in Fowey with a pulled pork bap and wedding cake picnic the next day is a wonderful memory," reveals Rachel.
Singing the praises of a small wedding, Rachel's advice centres on a stress-free approach. "I would highly recommend a small wedding, not getting bogged down in anything, and just enjoying your day together," she says. "We have very happy memories and a lot of photographs to look back on when we are old and grey to remember just what a special holiday this was for us."
Photography Khalile Siddiqui
ks-photography.co.uk
Venue Pentillie Castle
pentillie.co.uk
Dress John Lewis johnlewis.com
Groom's outfit Superdry superdry.com
Make-up Tamsyn Siddiqui
cornwallweddingmake-up.co.uk
Flowers English Flower Farmer etsy.com/uk/shop/EnglishFlowerFarmer
Catering The Shellfish Pig theshellfishpig.co.uk
Cake Edible Essence
edibleessencecakeart.com
Copyright Wed magazine 2019
Wed

Directory

All you need from the finest wedding suppliers in Cornwall and Devon