---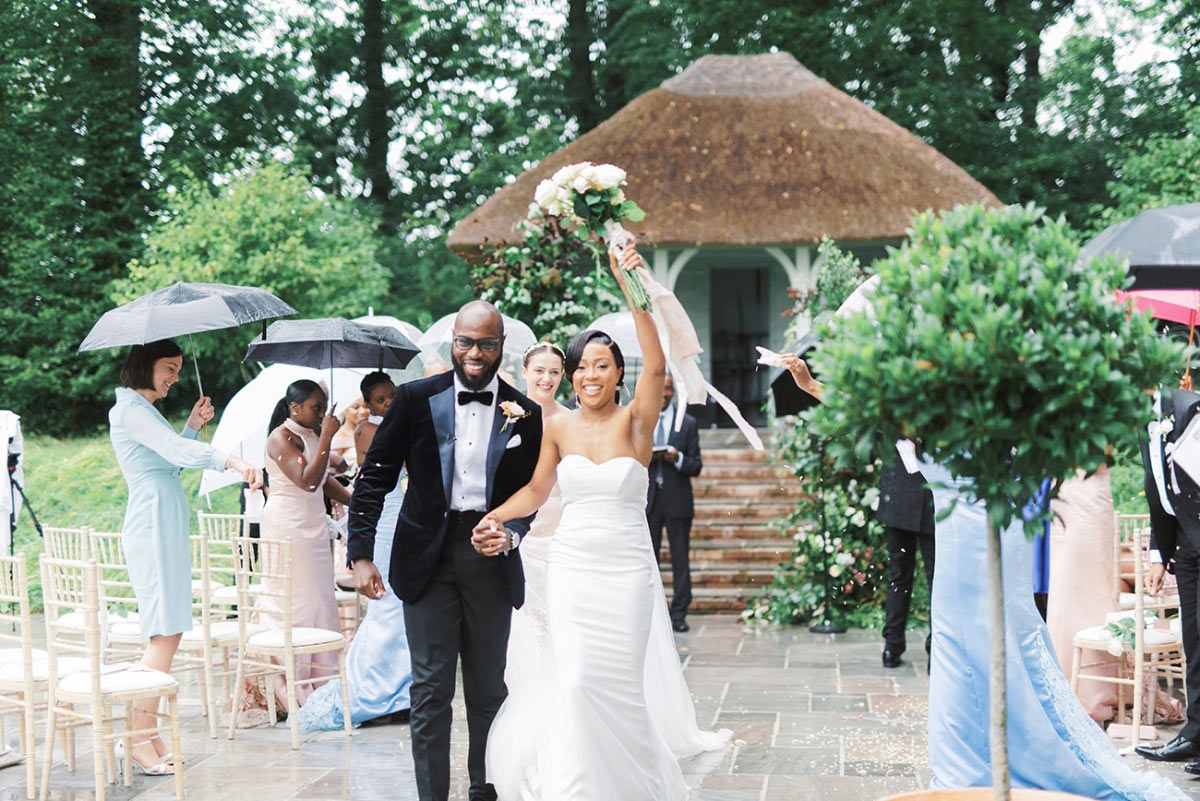 Wedding at Deer Park Country House, Devon
A Class Act
Shanice and Stephen's elegant micro wedding at Deer Park Country House
After meeting through Stephen's sister and falling for each other, Shanice was in no doubt about his feelings for her after an elaborate week of surprises. Organising everything from surprise dinners with friends, manicures, tours of her favourite places and special moments with her family, as well as a letter hand-delivered each day on the themes of spirituality, family, friendship and fun, the week culminated in Stephen's proposal on a bridge over a lake.
"There were some flowers and a note that had a Bible verse in it about finding a good wife, and then a message saying 'I've found what I'm looking for'," says Shanice. "Stephen got down on one knee, said a heartfelt speech and asked me to marry him… at which point two of my cousins jumped out of the bush to take pictures!"
Deciding they wanted a "black tie wedding on an English country estate", Deer Park Country House ticked all their elegance-meets-romance boxes, and they set to work on a theme of soft pinks, white and gold, with the help of stylist and planner Fern Godfrey. "She brought our vision to life perfectly and was the perfect calming presence throughout a stressful planning process – in the middle of a global pandemic," says Shanice.
Due to the pandemic, their plans had to change a few times, including scaling back from 160 guests to 30, which meant that the day was very relaxed. On the day, Shanice, Stephen and their wedding parties enjoyed a quiet morning before gorgeous music from celloist Jay Emme marked the beginning of the beautiful outdoor ceremony – and marked Shanice's most treasured part of the day.
"My favourite moment was the ceremony. The heavens opened, which was awful timing but somehow it made everyone pull together – the wonderful pastor even managed to spin it into a positive during his sermon! Even though it rained it was so personal and heartfelt and made everything worth it," says Shanice. "The Deer Park team were on hand with umbrellas, and then plenty of towels and hairdryers once the ceremony was over. Everyone dried off and then enjoyed canapés and drinks in the house with Stephen's carefully curated playlists in the background."
Commenting on another special moment, Shanice says: "'Jumping the broom' stood out to us, as my sister-in-law read a beautiful introduction, and it was so nice to bring something in that has such a strong cultural meaning."
As the skies cleared, the guests were able to venture outside, before the newly-weds danced their way back indoors "to rapturous applause" ahead of dinner. "We wanted to create a magical atmosphere for dinner, as this was where guests would really celebrate the day together," says Shanice. "With lots of candlelight and an abundance of blooms, the scene was set for hours of laughter and happy tears while almost every guest made a speech. It was unbelievably special, and that intimacy is a big plus to having a smaller wedding."
What followed was an "utterly delicious" three-course feast comprising home-cured salmon to start, tomato tarte tatin for the main course and a dark chocolate torte with salted caramel ice-cream for dessert. Guests were also treated to a semi-naked cake, then a games evening in the drawing room and wood-fired pizza as the evening drew to a close.
"Make a list of everything you want, set a timescale for each thing and try and stick to it," says Shanice as advice for couples in the midst of planning. "Book suppliers early to avoid disappointment and I would advise anyone to get a wedding planner. Our wedding wouldn't have been what it was without Fern, she was our first and best investment."
Wed

Directory

All you need from the finest wedding suppliers in Cornwall and Devon