---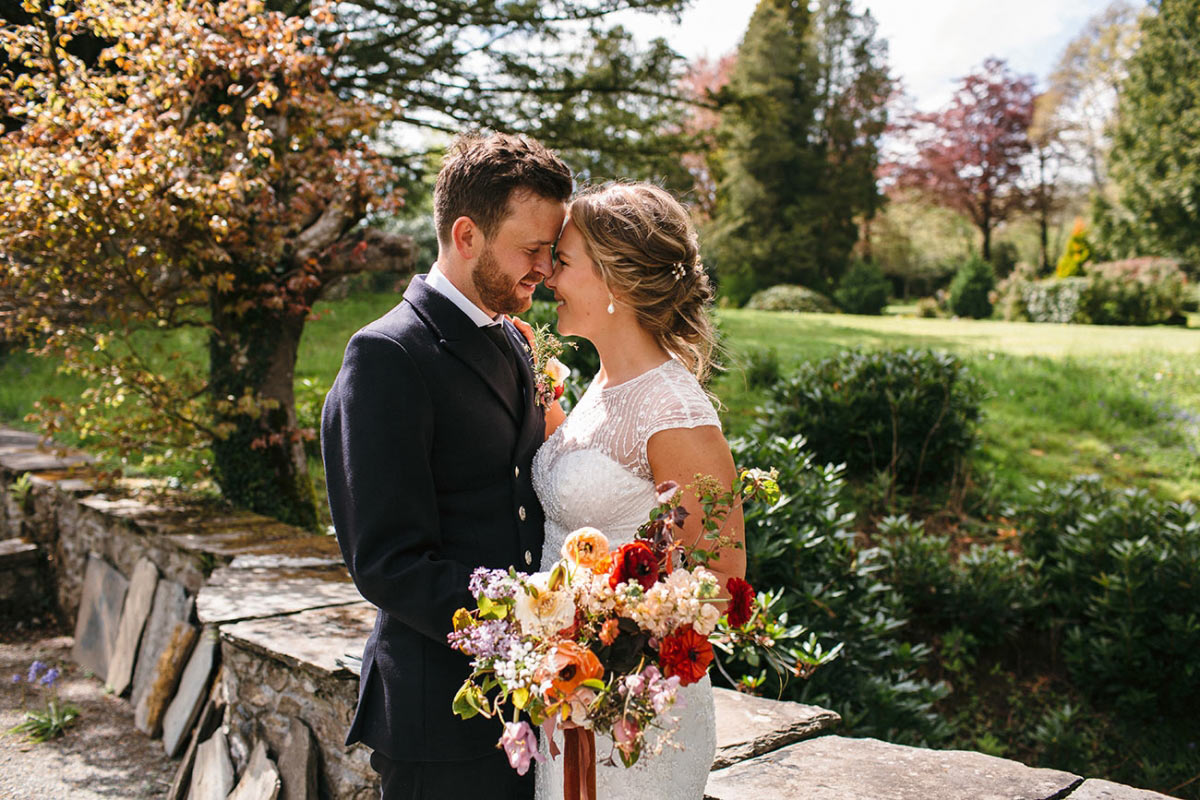 Wedding at Coombe Trenchard, Devon
All That Jazz
Pegs and Will's intimate wedding at Coombe Trenchard
Pegs and Will's love story began with a fortuitous match on Tinder, leading to a first date in a pub. "In his panic to impress me, Will ordered the first bottle that he saw on the wine menu, completely forgetting that I'd mentioned I detest Chardonnay," she says. "Will then proceeded to drink the bottle himself, and in his tipsy state ordered the same bottle again!" Luckily, Pegs gave Will the benefit of the doubt and agreed to go for a dog walk the next day "along the bonnie banks of Loch Lomond", and the pair were soon smitten.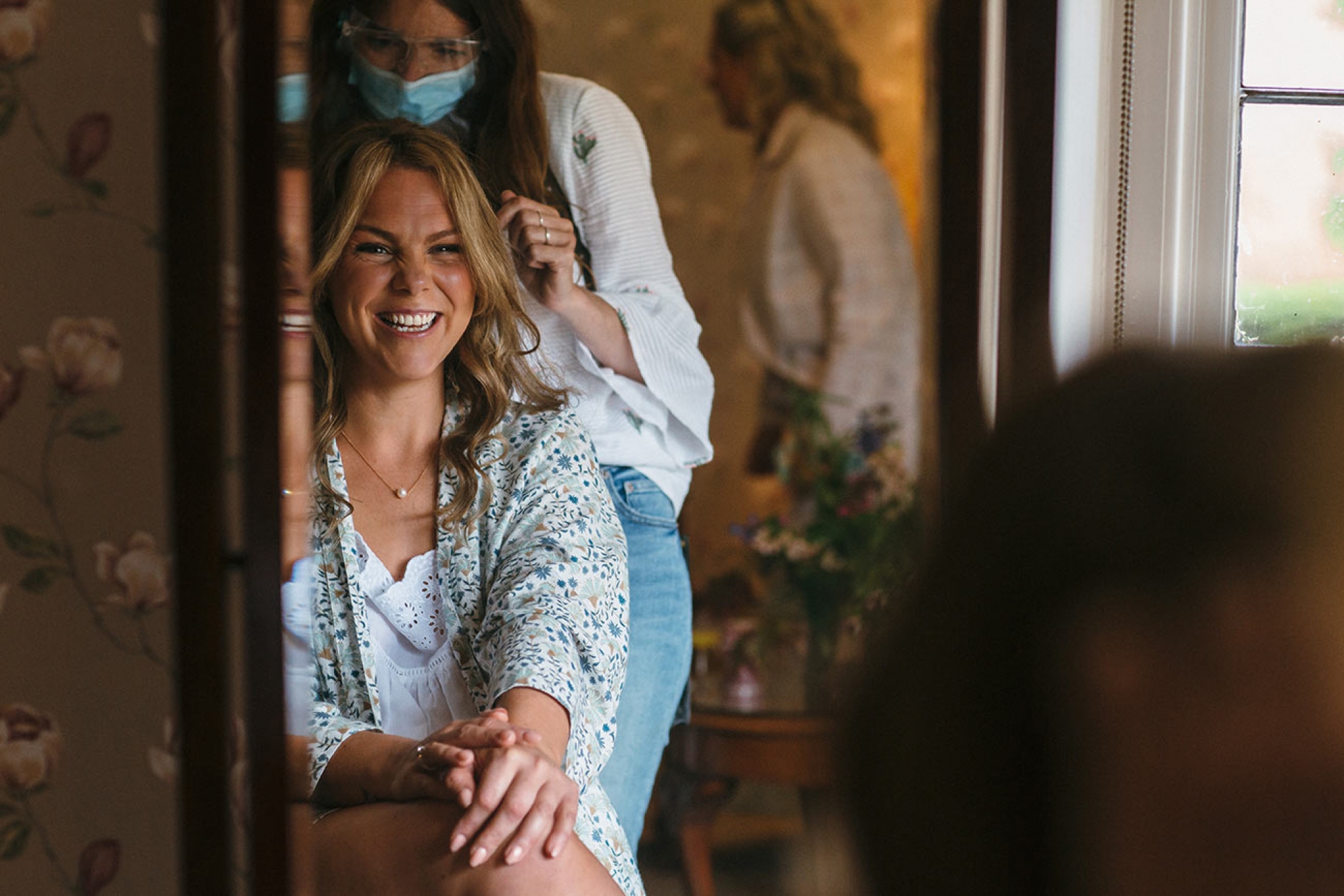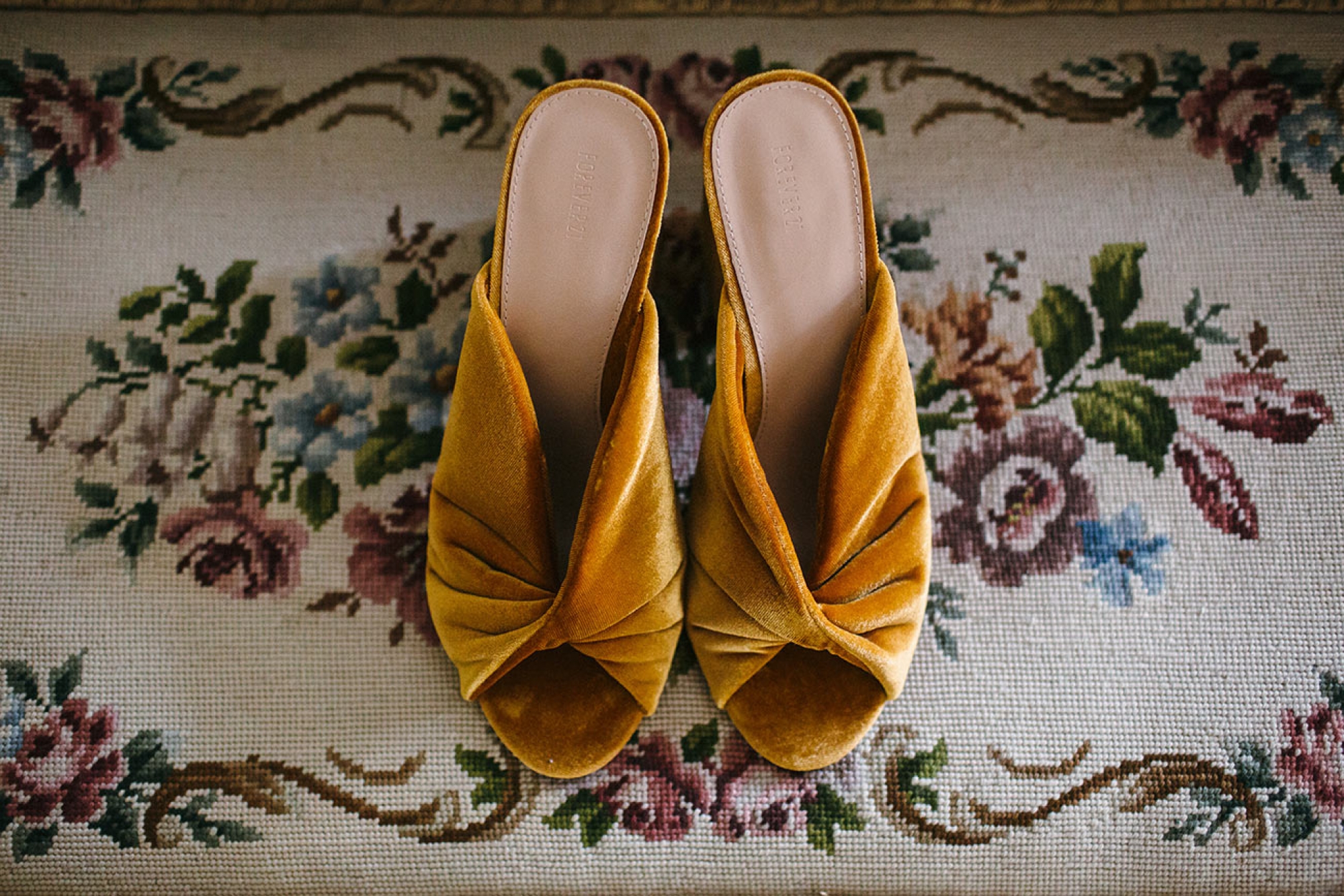 The sunny climes of Gibraltar made the romantic backdrop to their engagement when Pegs flew out to visit Will during his deployment. After attending a Royal Navy cocktail party on board Will's submarine, the couple were watching the sunset over Gibraltar Harbour when he got down on one knee and asked an emotional Pegs to marry him.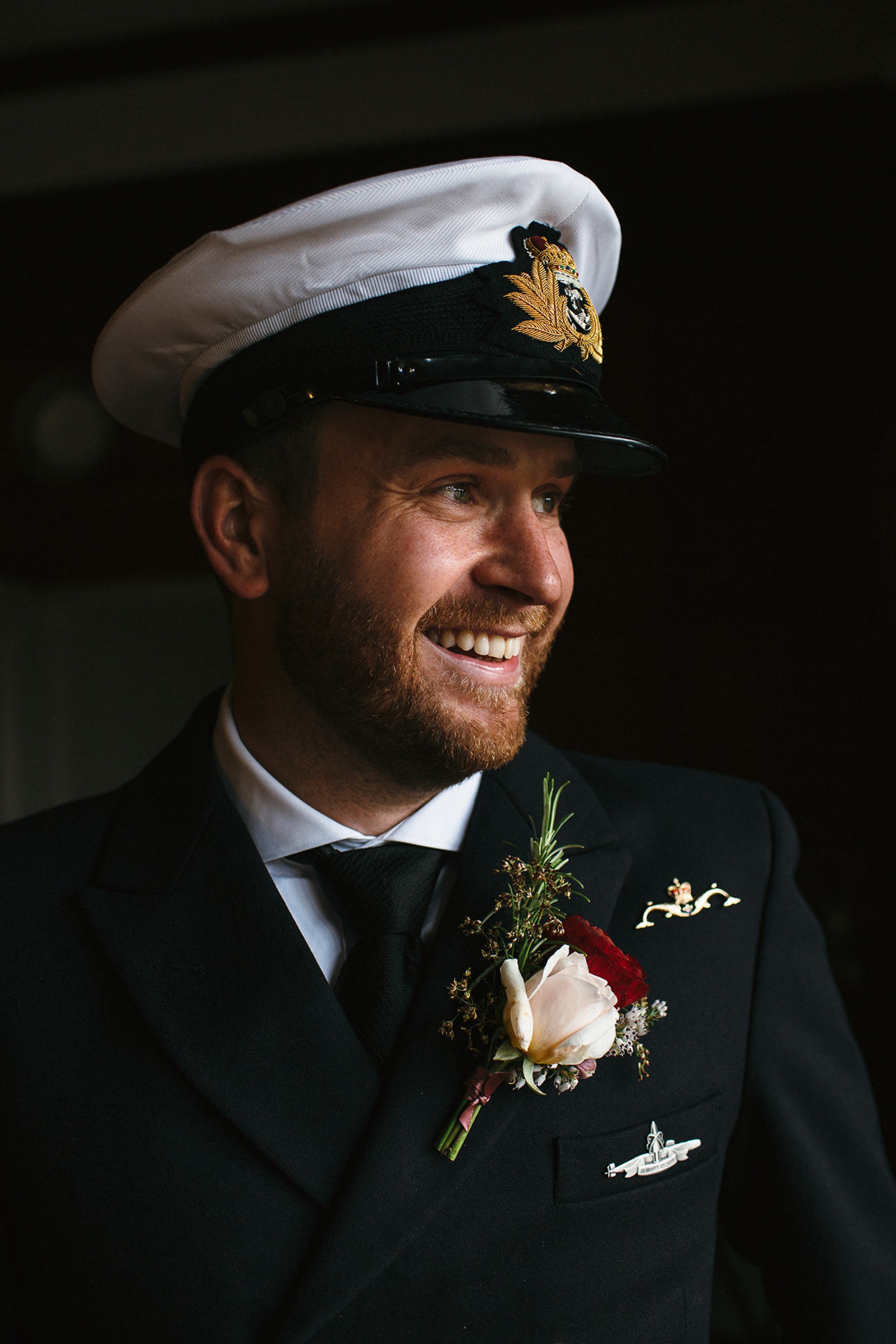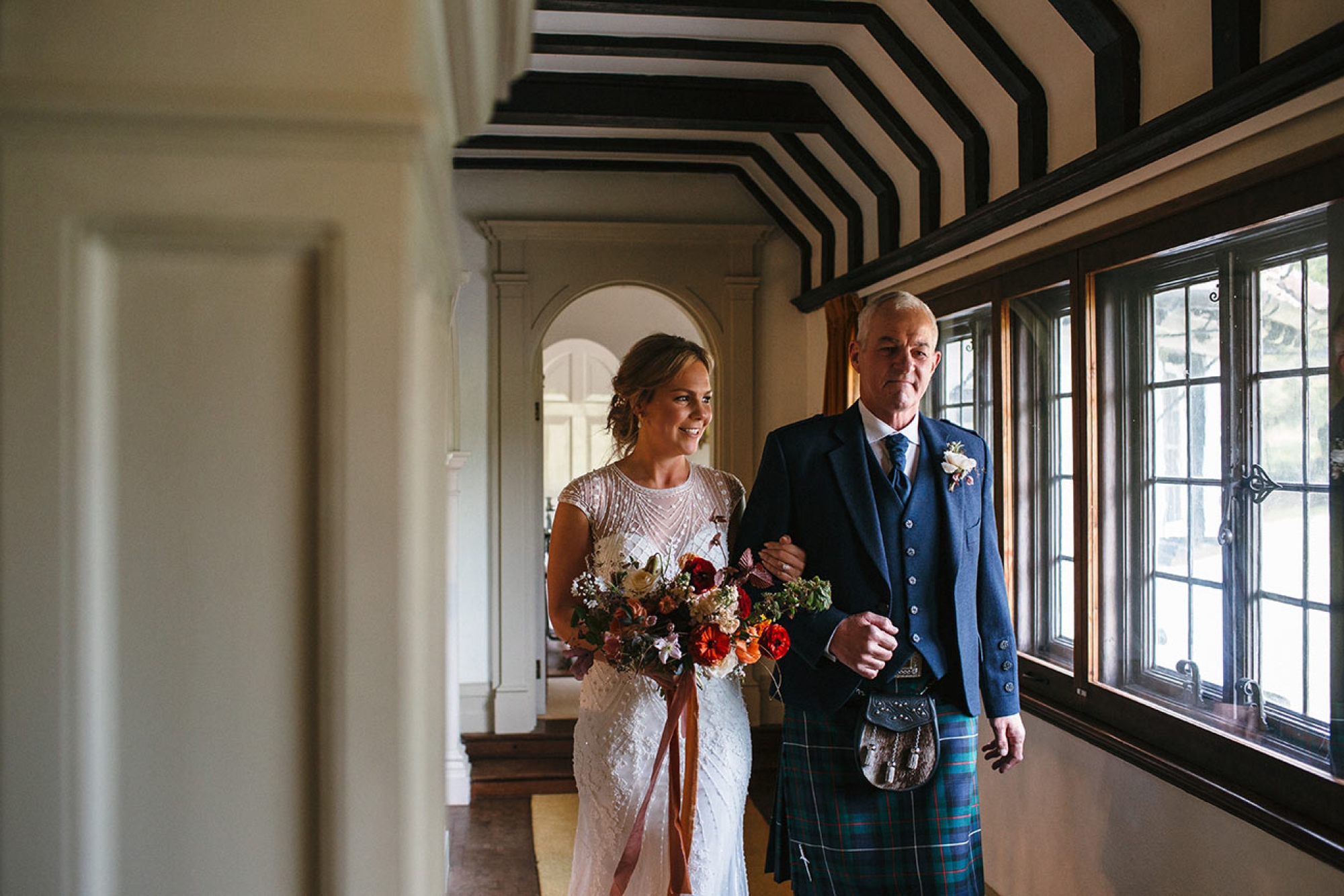 It was Devon – and the scenery and charm of Coombe Trenchard – which provided the dream canvas for their relaxed, intimate wedding.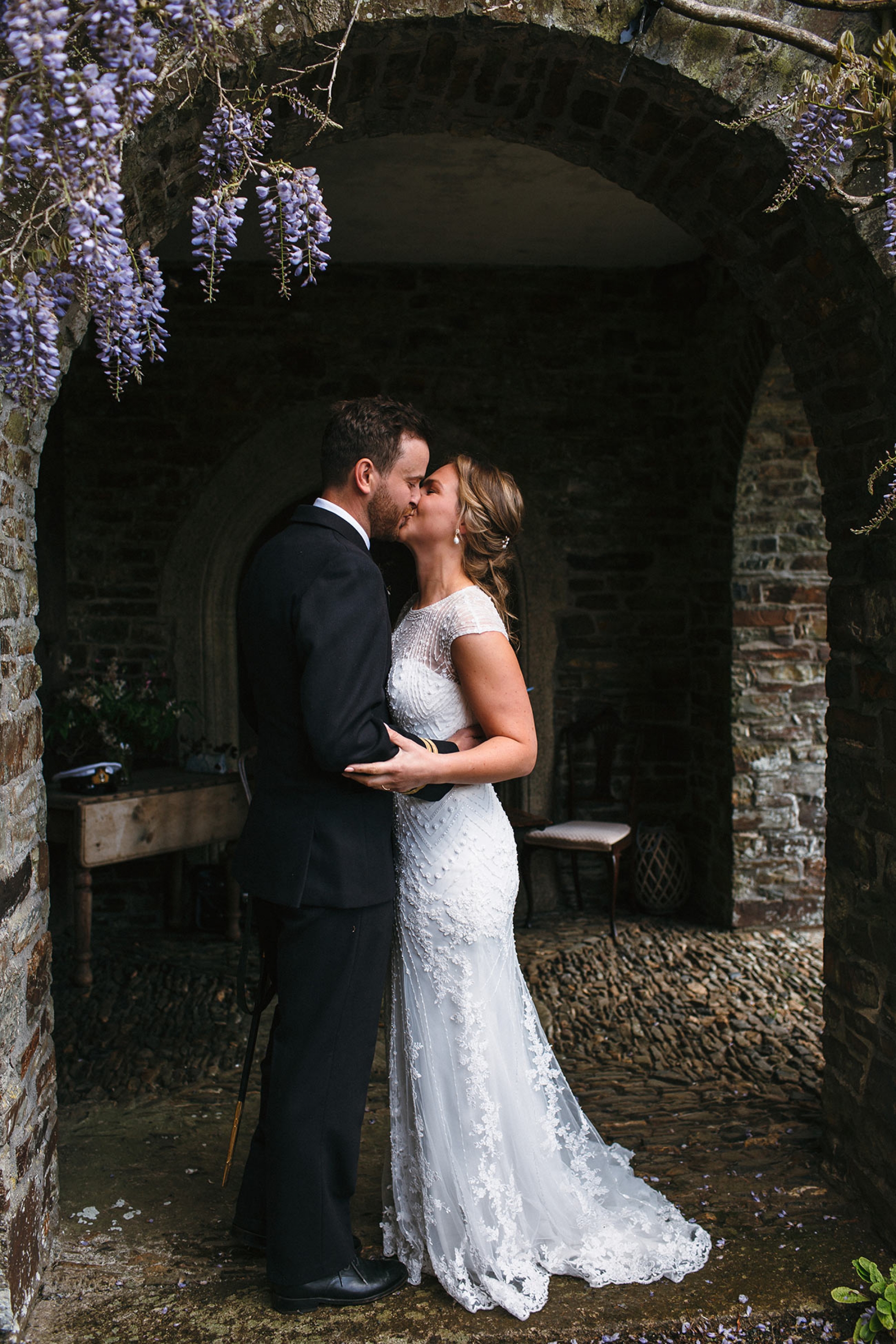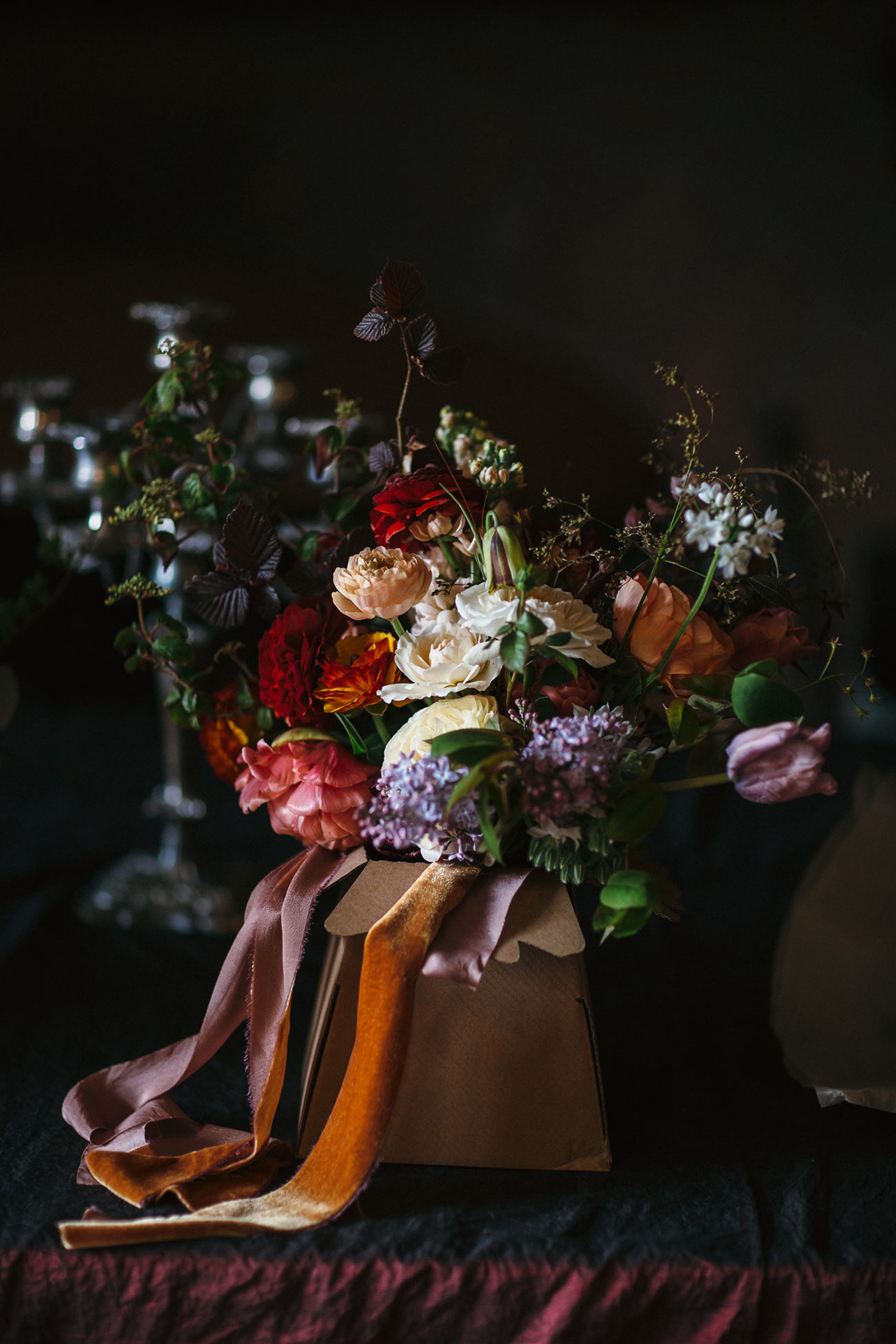 "We went for a vintage-inspired, woody and whimsical style, and my mustard velvet wedding shoes were the inspiration behind the rustic feel we tried to portray," explains Pegs. With help from Sarah from Coombe Trenchard, and in keeping with the venue's Arts and Crafts style, the couple kept decorations minimal, and embraced the house's wild and romantic vibe. "Sarah was there every step of the way. As Coombe Trenchard is her home, she knew what worked best and how to make our vision come alive," says Pegs. "She was an absolute dream to work with!"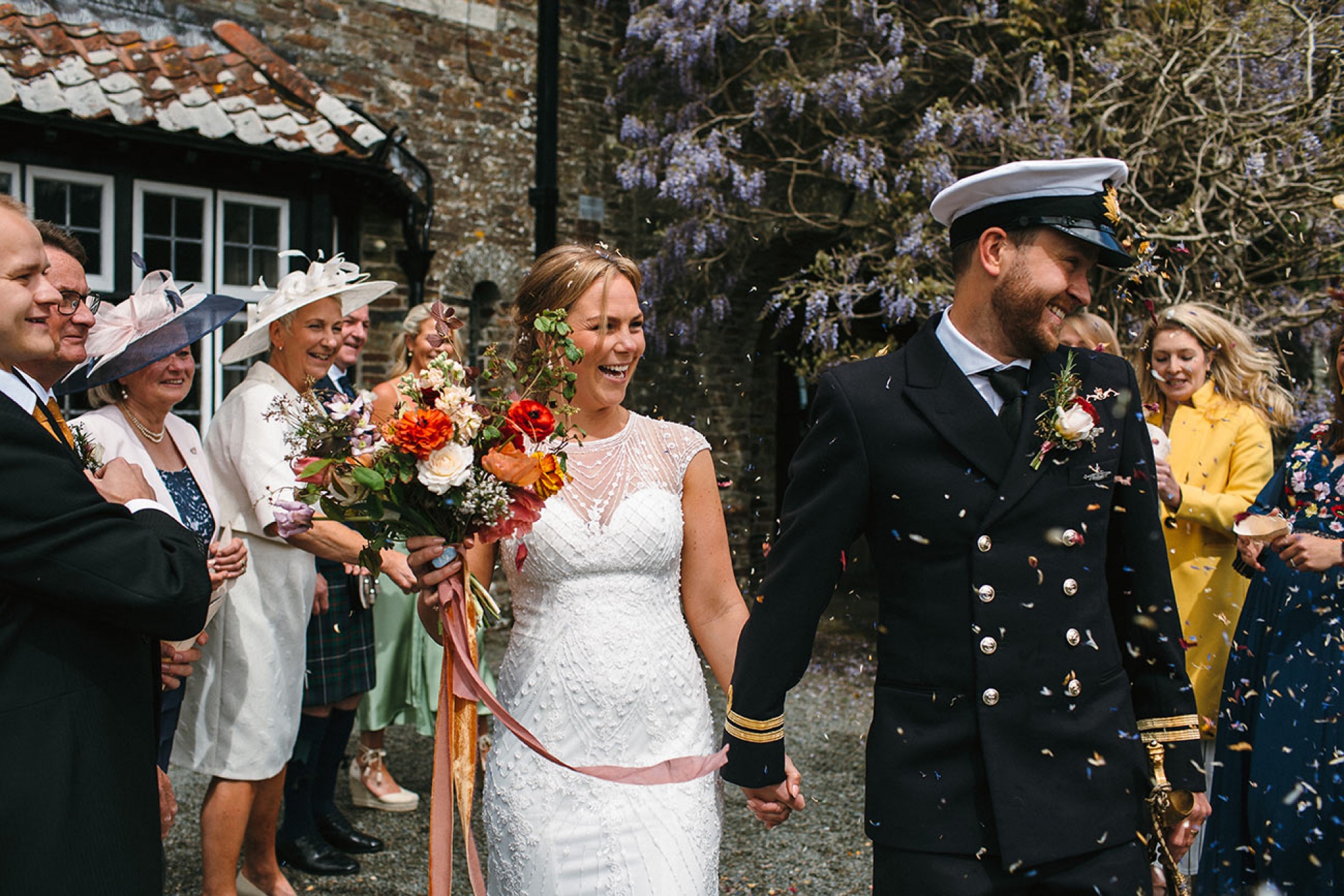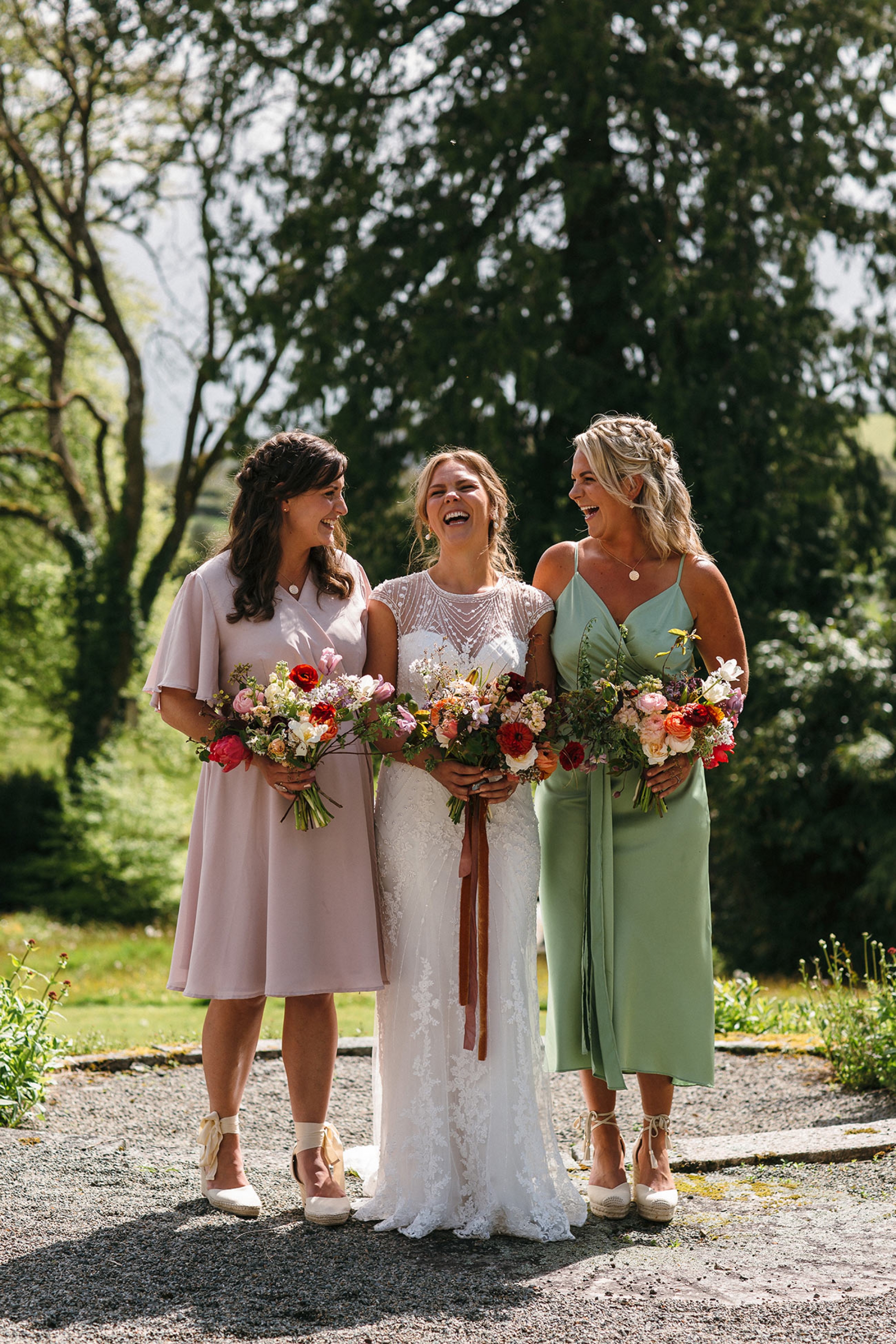 The outdoor ceremony and "Seeing Pegs walking down the gravel path to the most gorgeous instrumental music, arm in arm with her dad" was Will's standout moment of the day – although the weather didn't get the memo. "A light shower during the ceremony gave us all a wee giggle when the guests rushed to get their brollies up, but the clouds parted, the sun came out and we were able to enjoy the refreshing spring sunshine," says Pegs.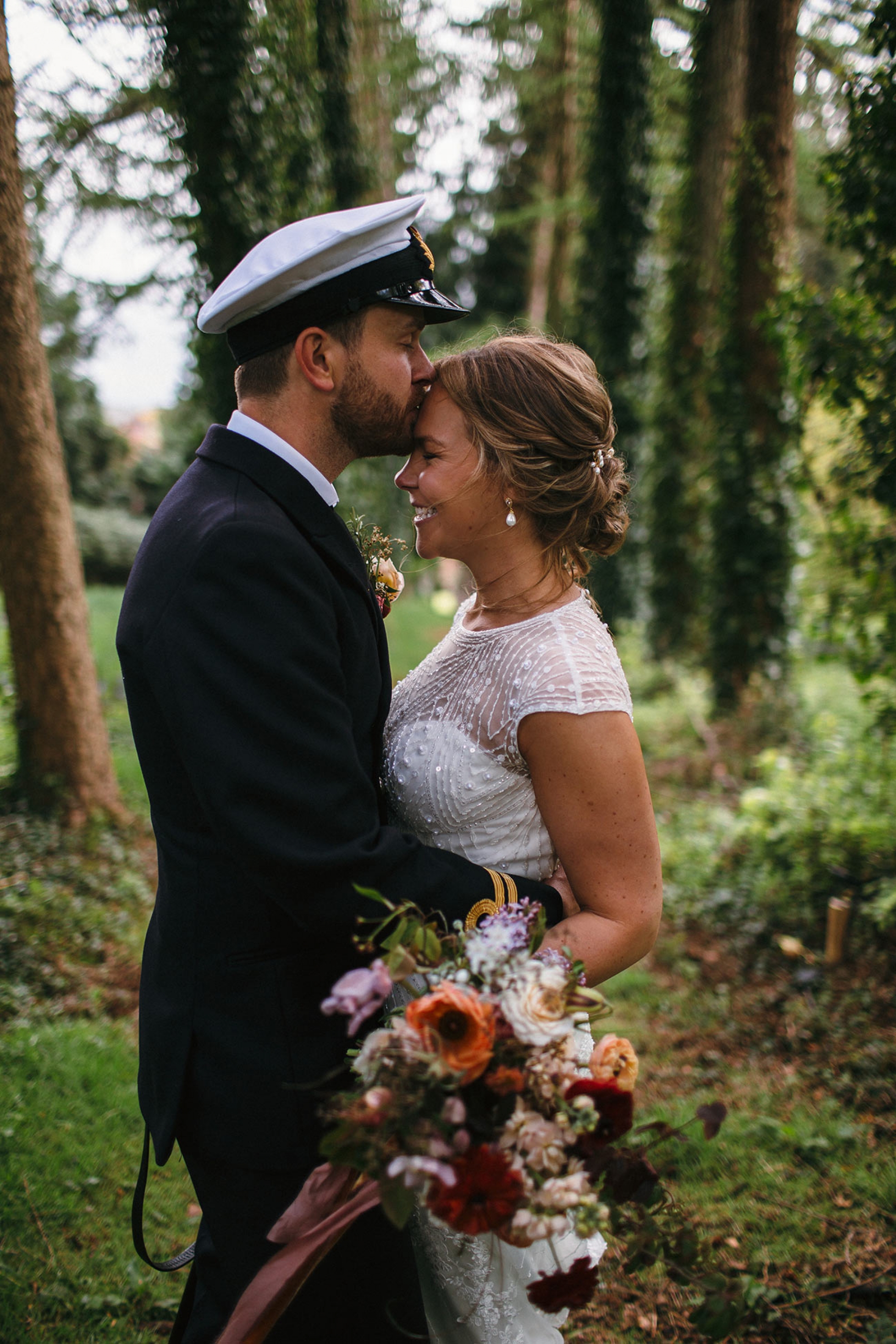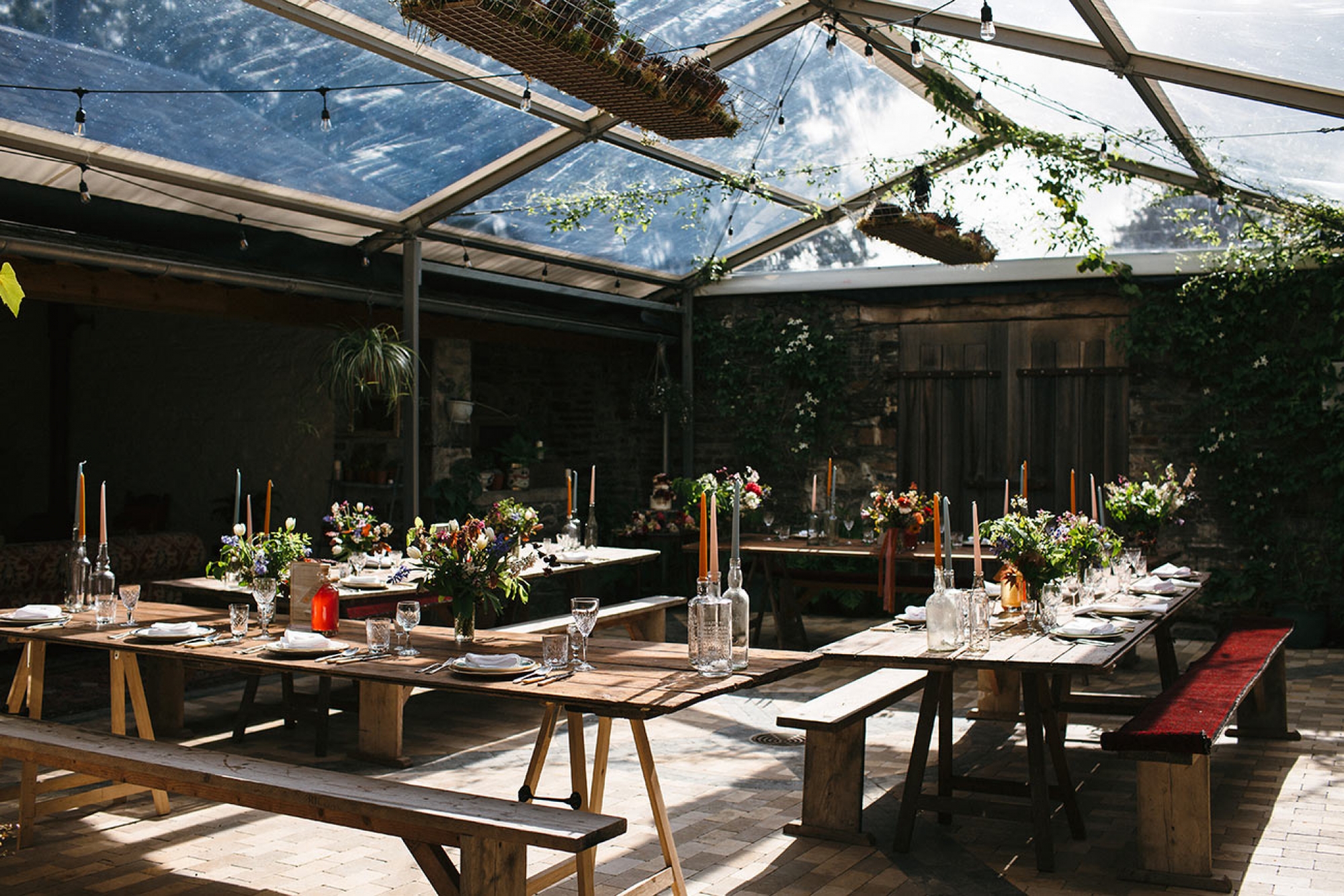 "The rain droplets twinkled on the flowers as we sipped our Pimm's, bopped to 1940s swing and jazz music, and had a good old blether," says Pegs, who reveals her favourite moment was seeing Will standing under the clock tower draped in twinkling wisteria, "looking so handsome in his naval uniform".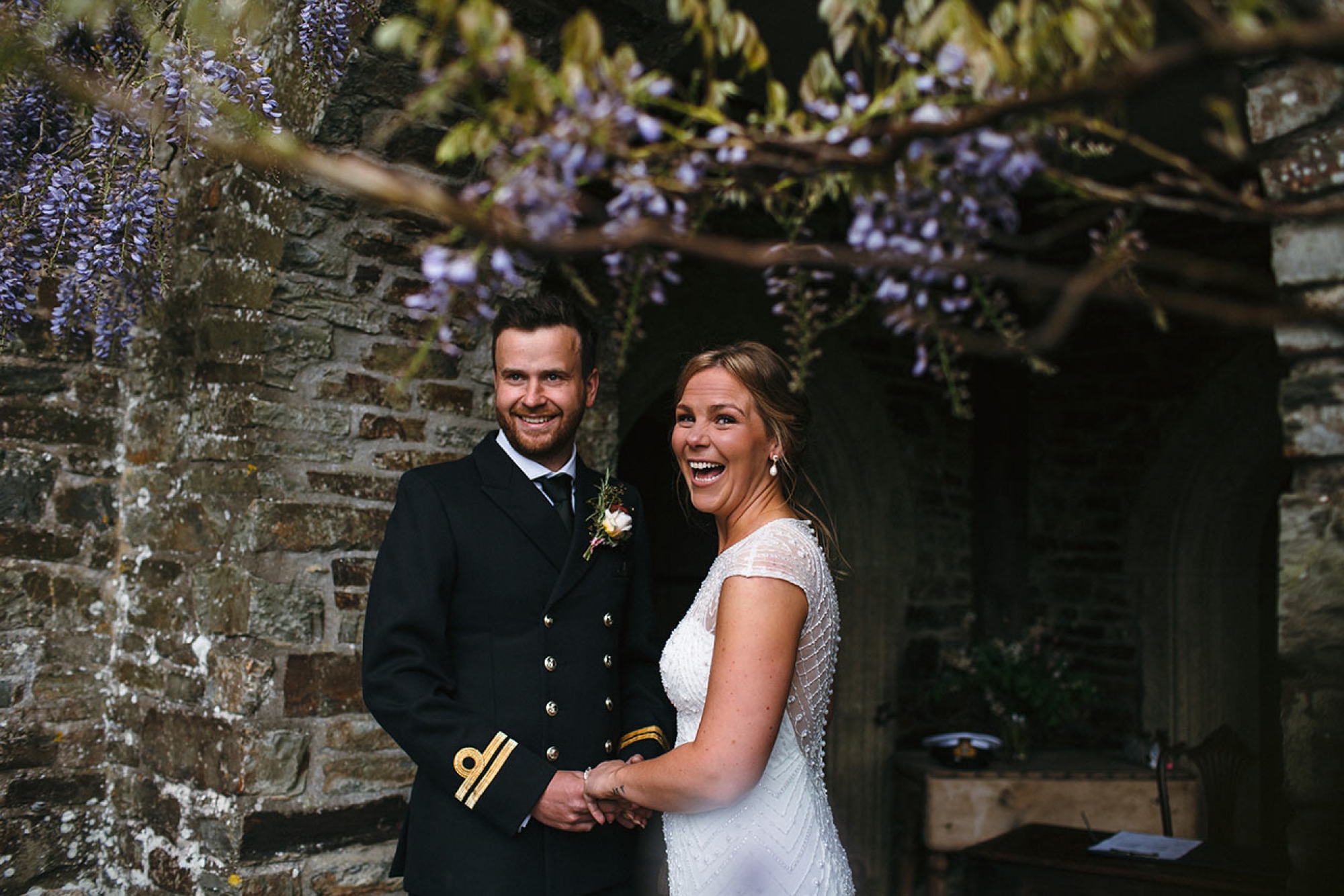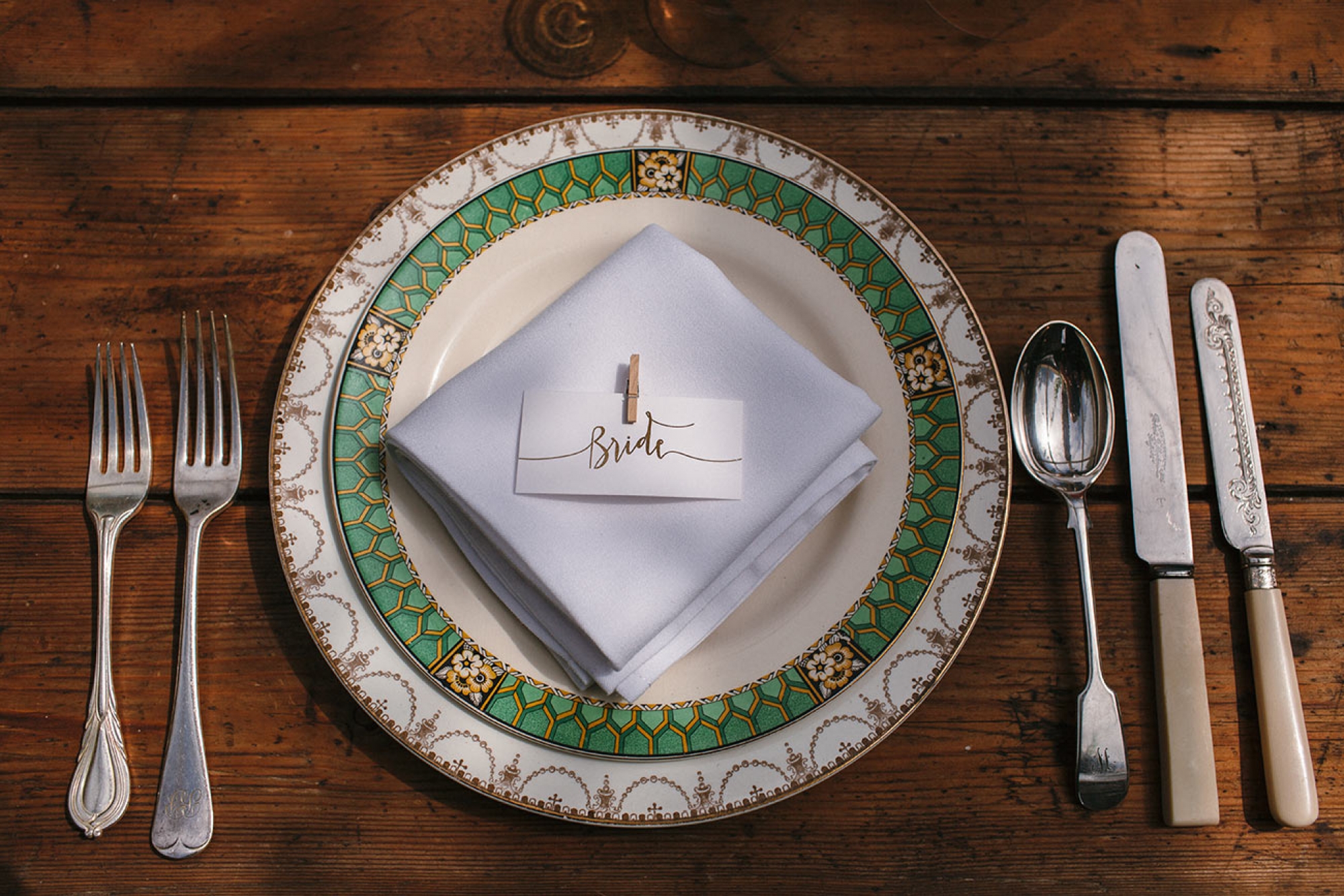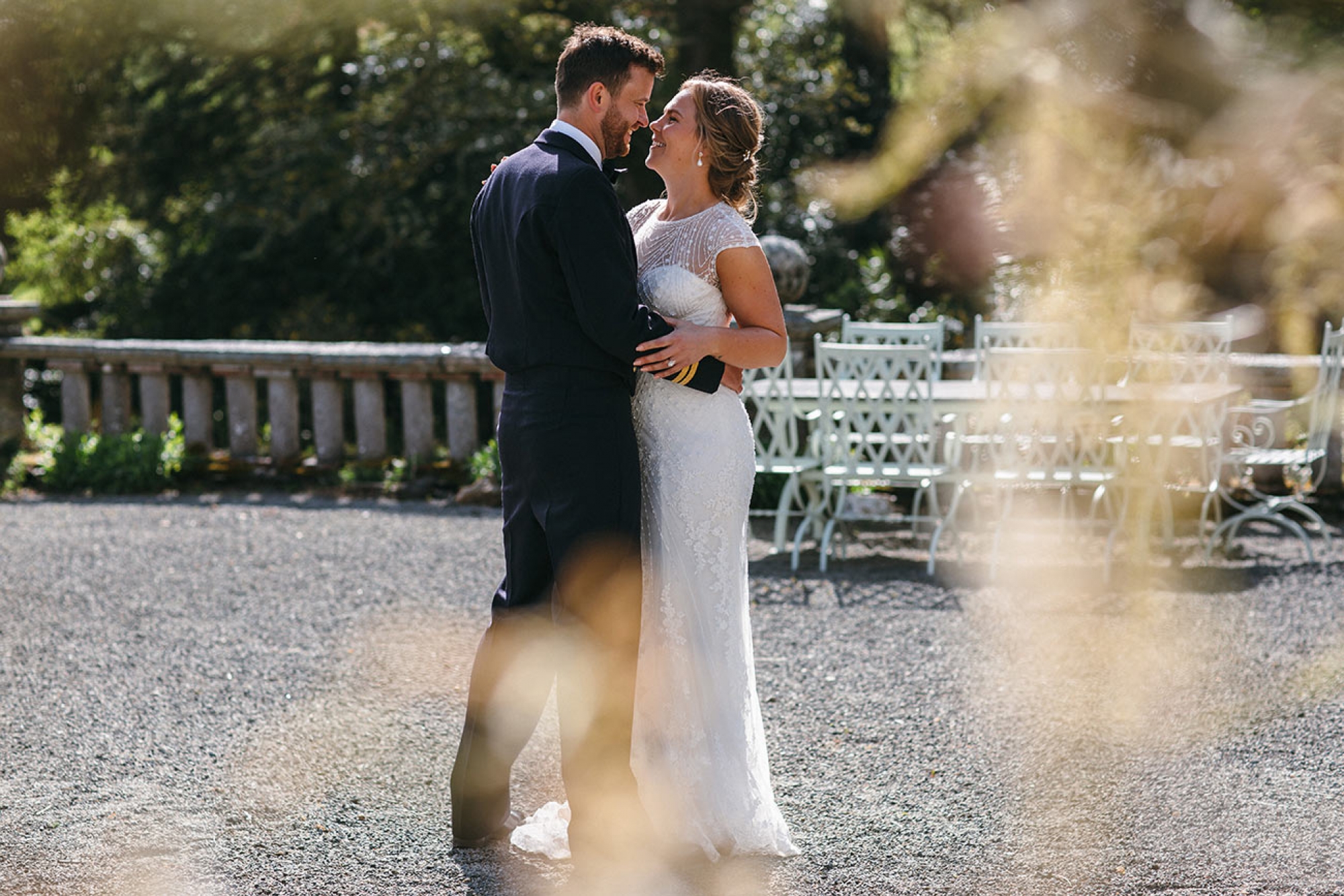 Come nightfall, the newly-weds kicked off the party to shanty songs from The Fisherman's Friends. "From start to finish, it was absolutely blissful," reflects Pegs. Describing their wedding as "a beautiful, petite and intimate day fuelled by champagne and Cornish Rattler", what would the couple say to those considering a smaller wedding? "Big weddings aren't the be all and end all. Small and intimate weddings can be just, if not even more, enjoyable!"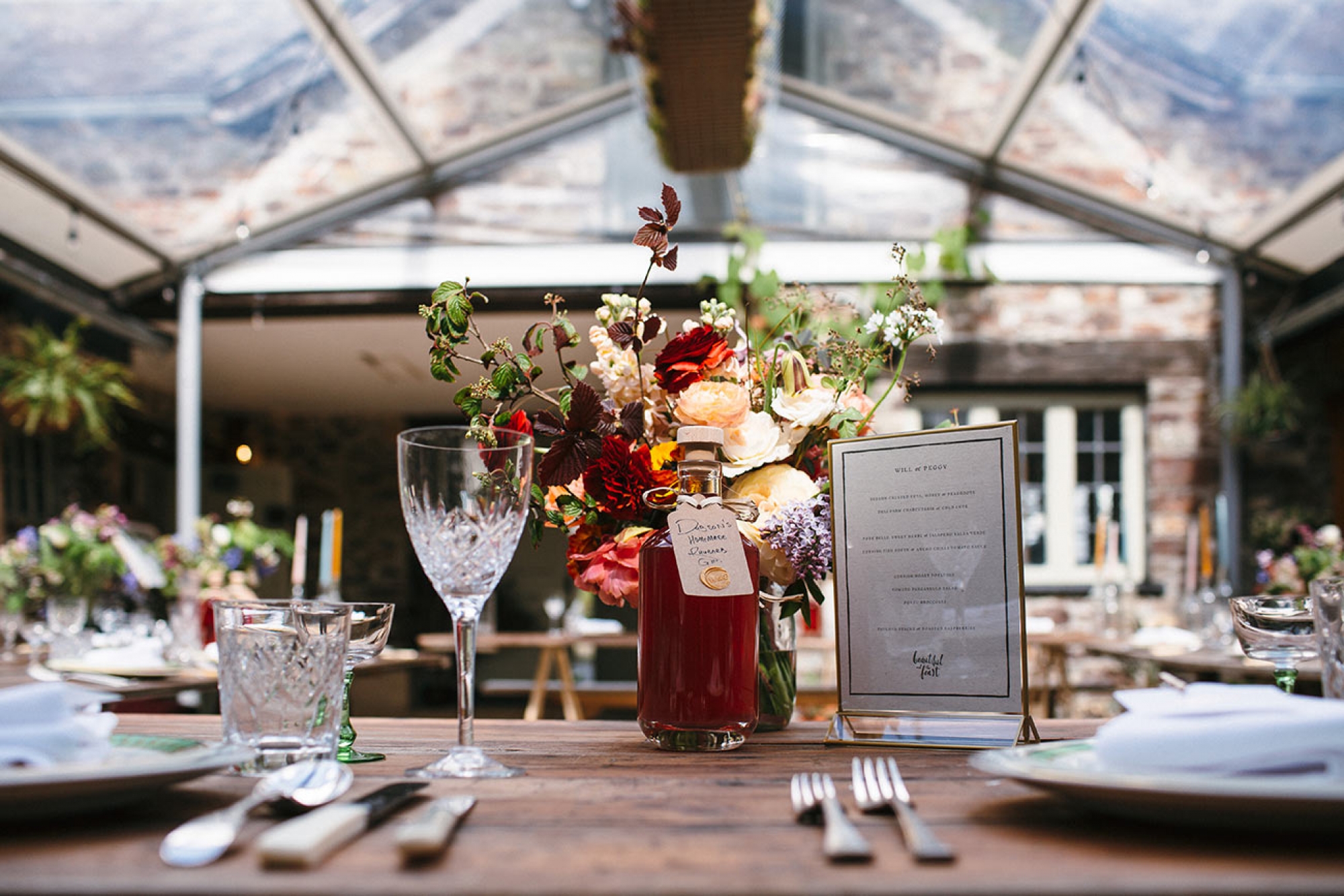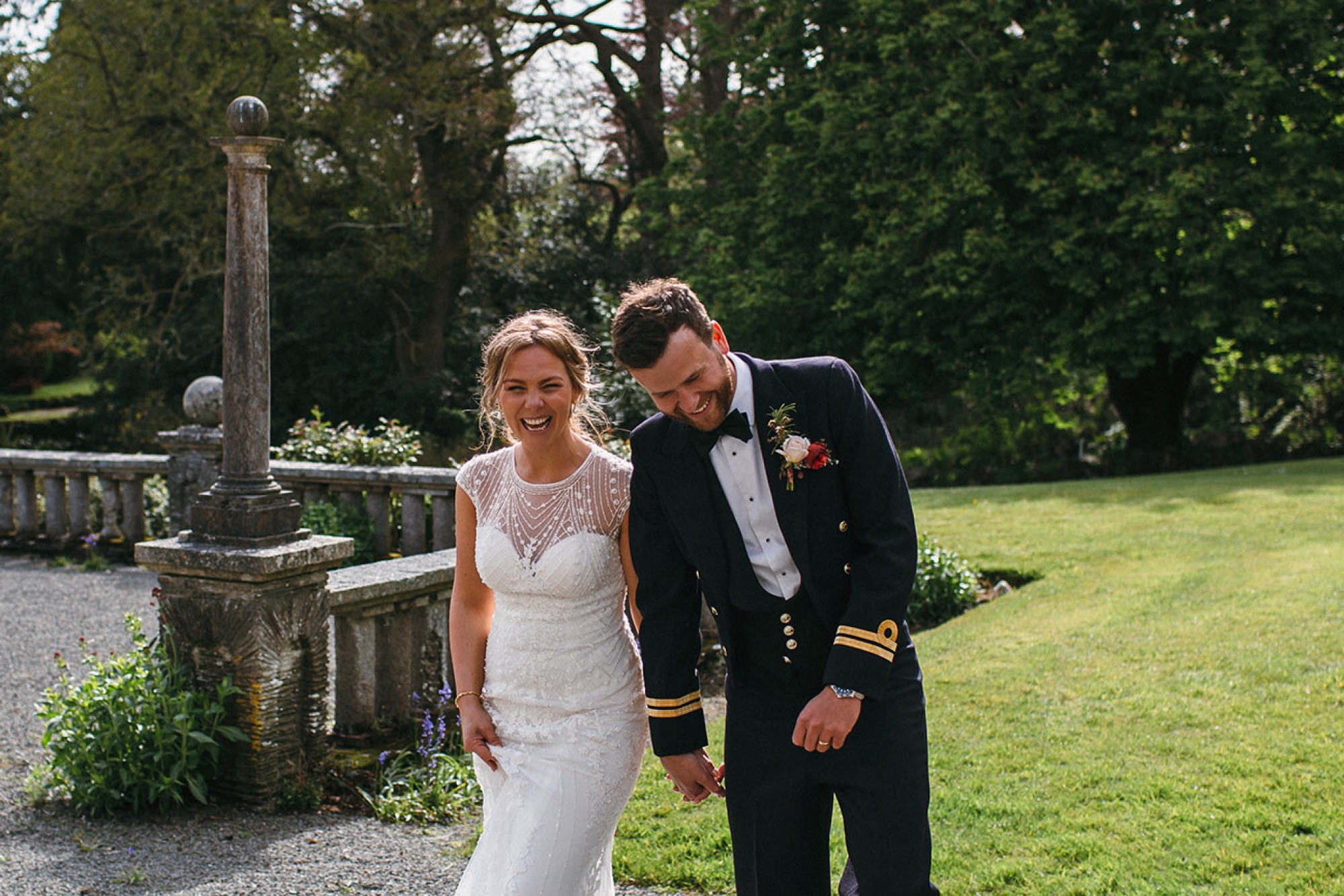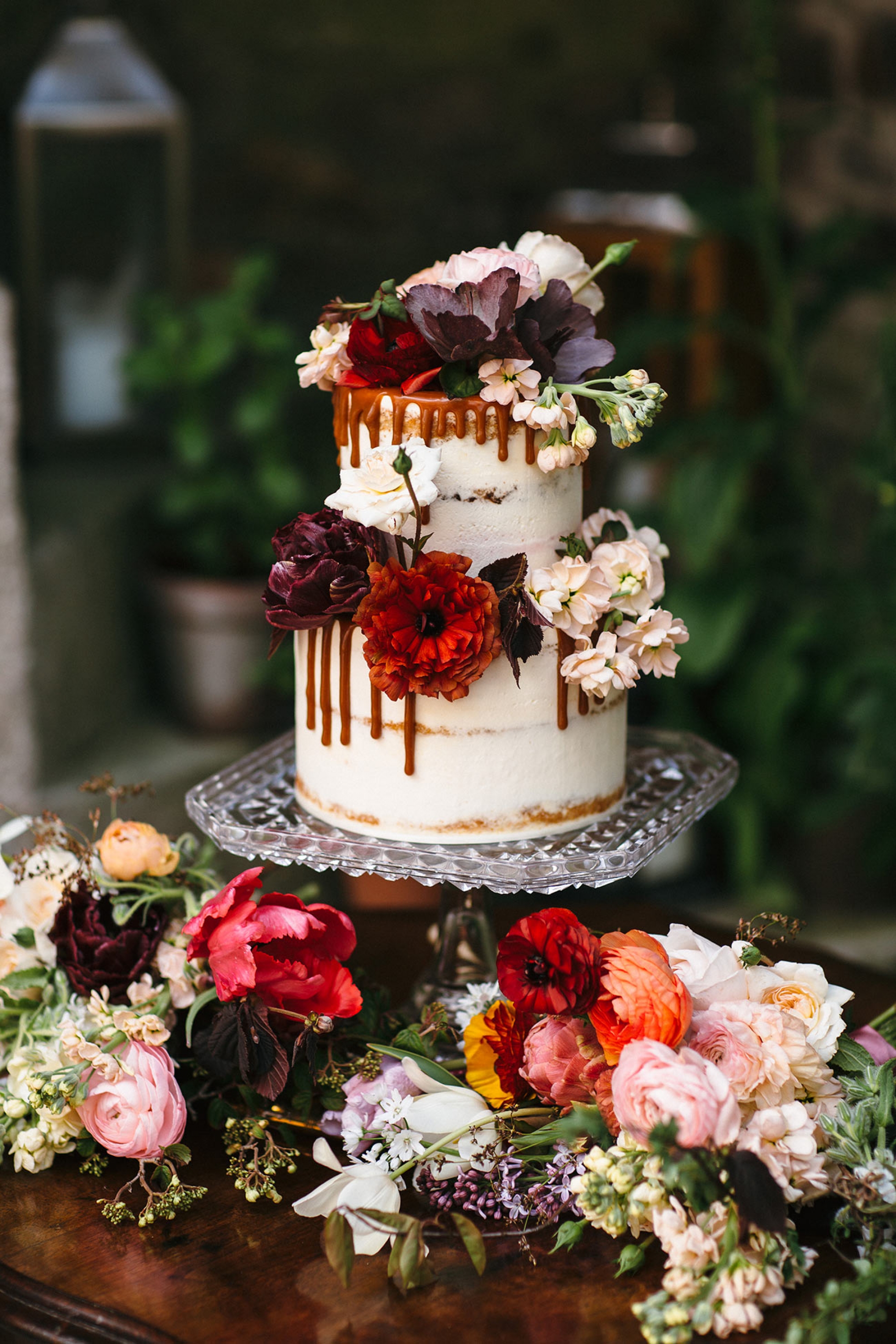 A banquet-style dinner followed, featuring roasted pork belly and salsa verde, and roasted celeriac and romesco with Cornish herby new potatoes, before the semi-naked cake was cut using Will's grandfather's ceremonial sword. "The naval sword, which was awarded to Will's grandfather when he was at Dartmouth in the 1950s, was used to cut his grandparents' wedding cake, his parents' wedding cake, and now our own!" says Pegs. Will also wore his other grandfather's gold cufflinks. "Will stood proud knowing he wore something from both grandfathers, so they were with him in spirit though sadly not in person."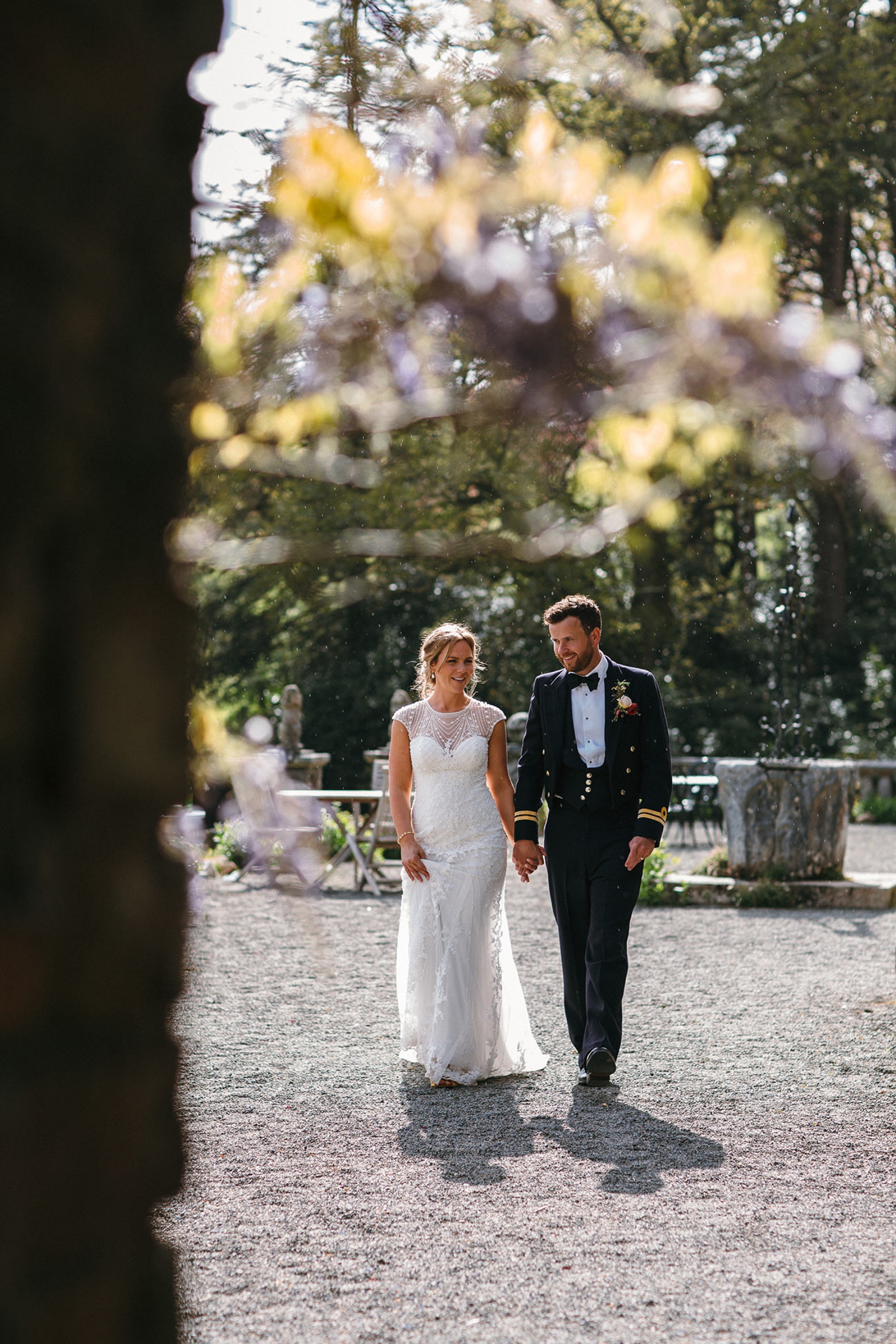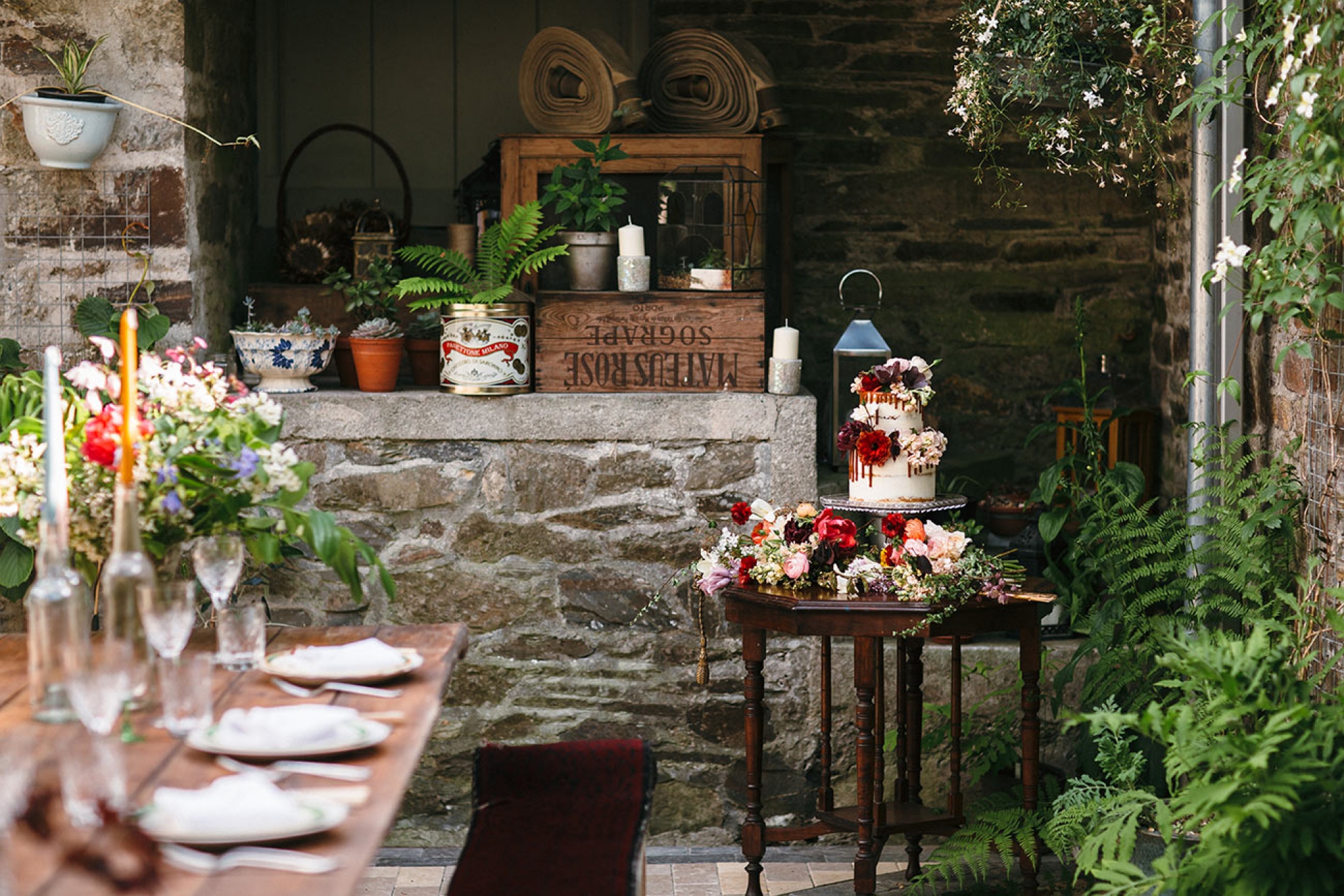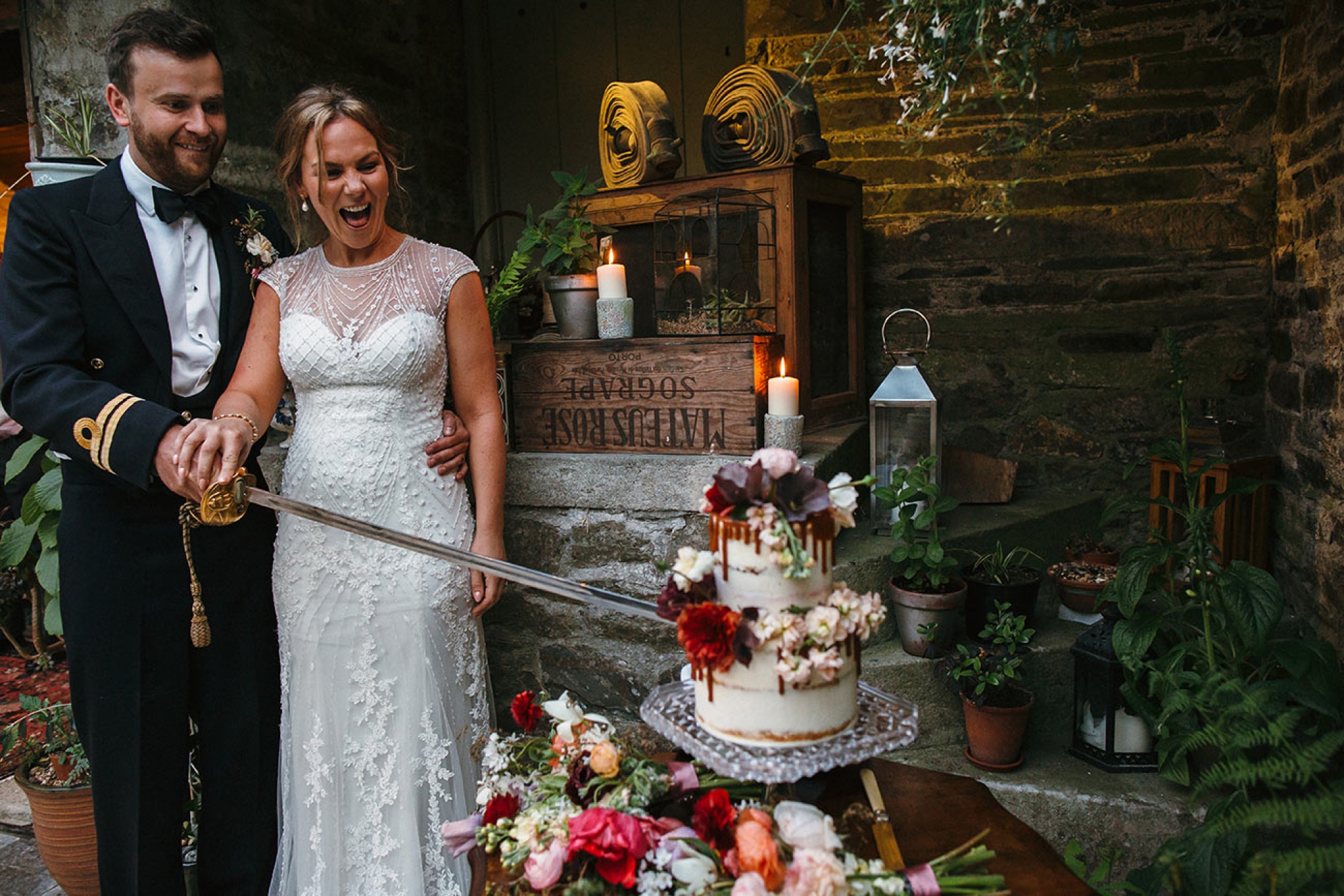 "Try to DIY as much as possible. We made our own gin and soaps as favours, which was so much fun and great for an activity to do together. Reuse, recycle and upcycle friends and family's hand-me-downs, and beg, borrow and steal props and decorations," advises Pegs. "Finally, if your venue doesn't come with a coordinator, we would recommend getting one – they will save your marriage!"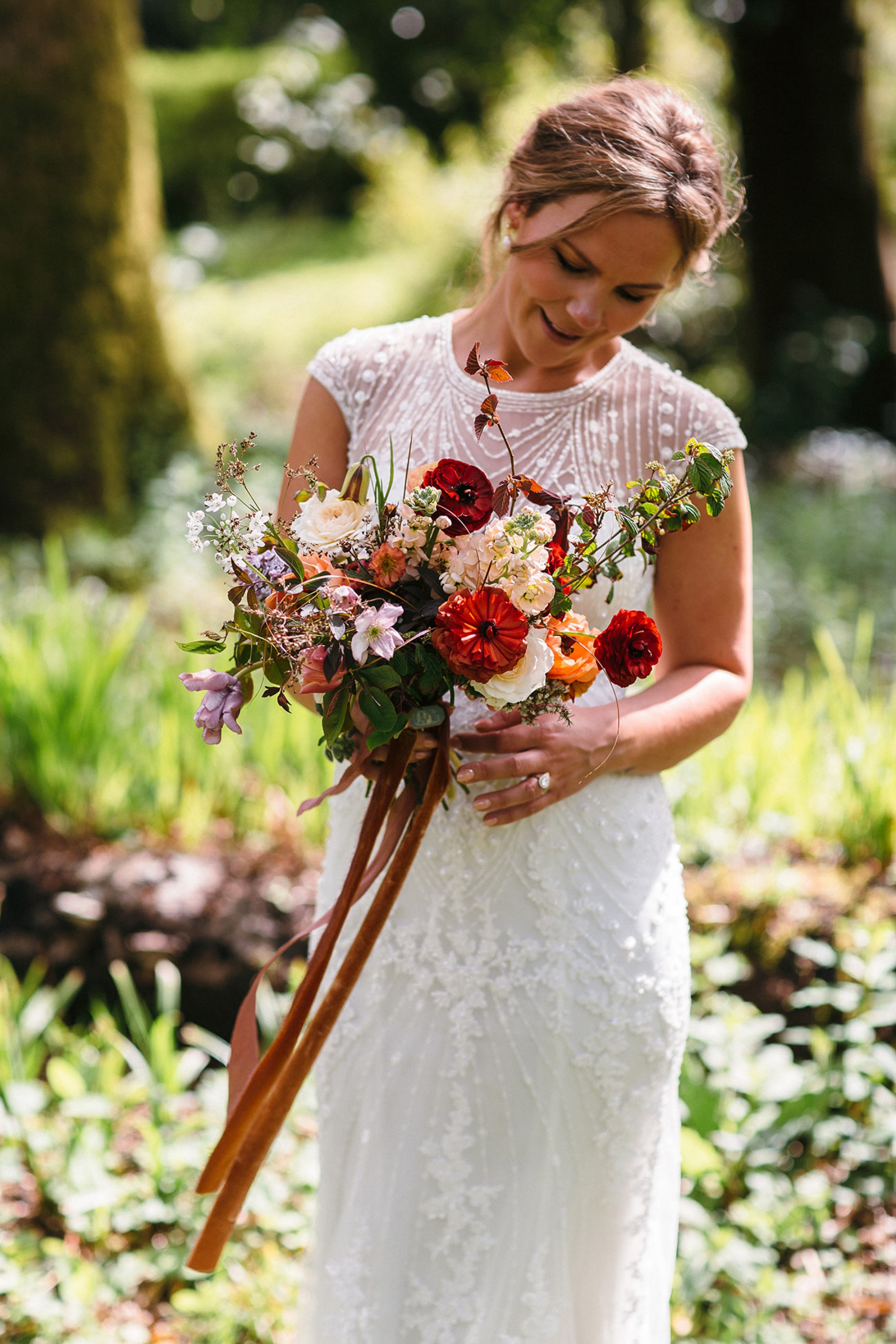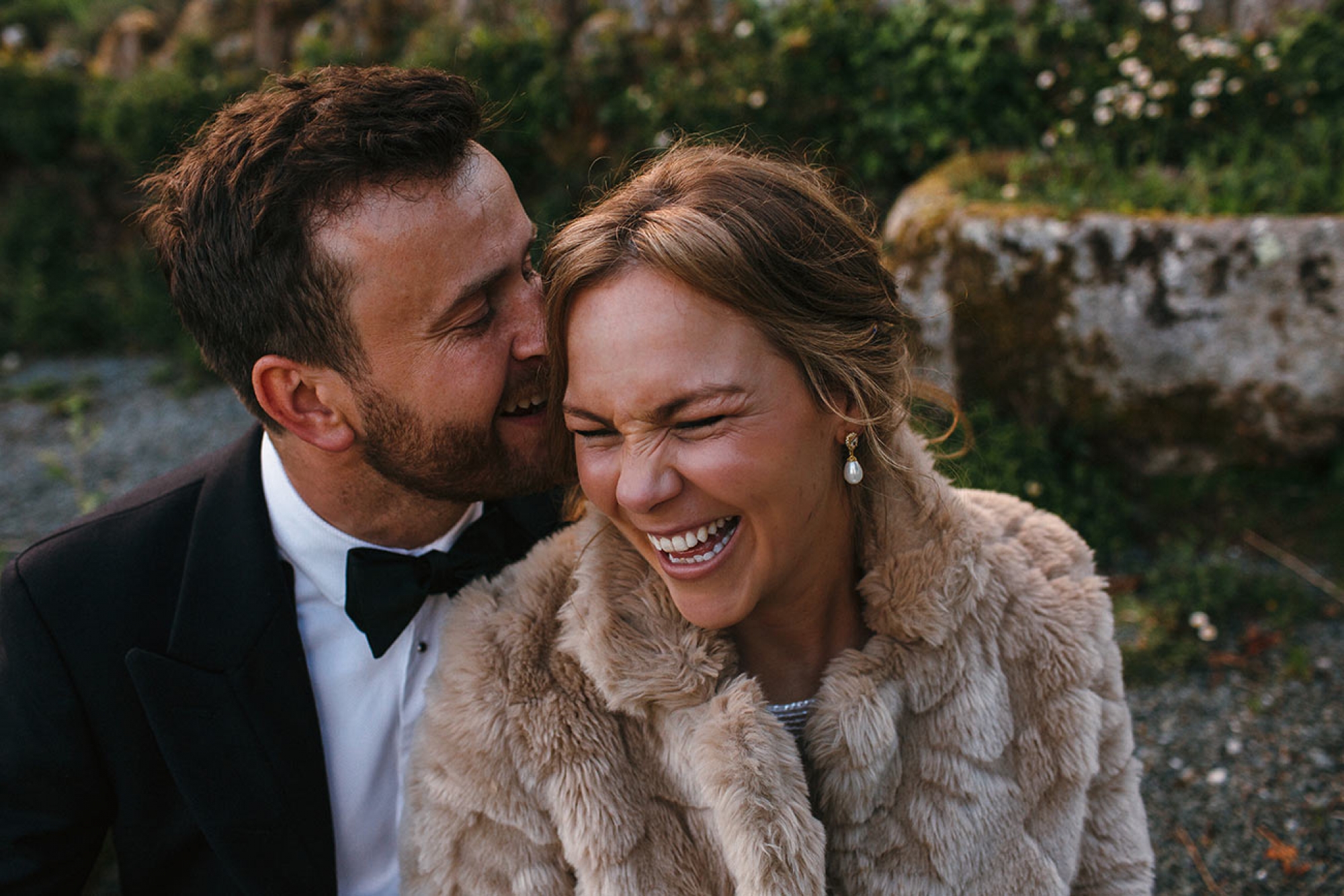 Wed

Directory

All you need from the finest wedding suppliers in Cornwall and Devon