---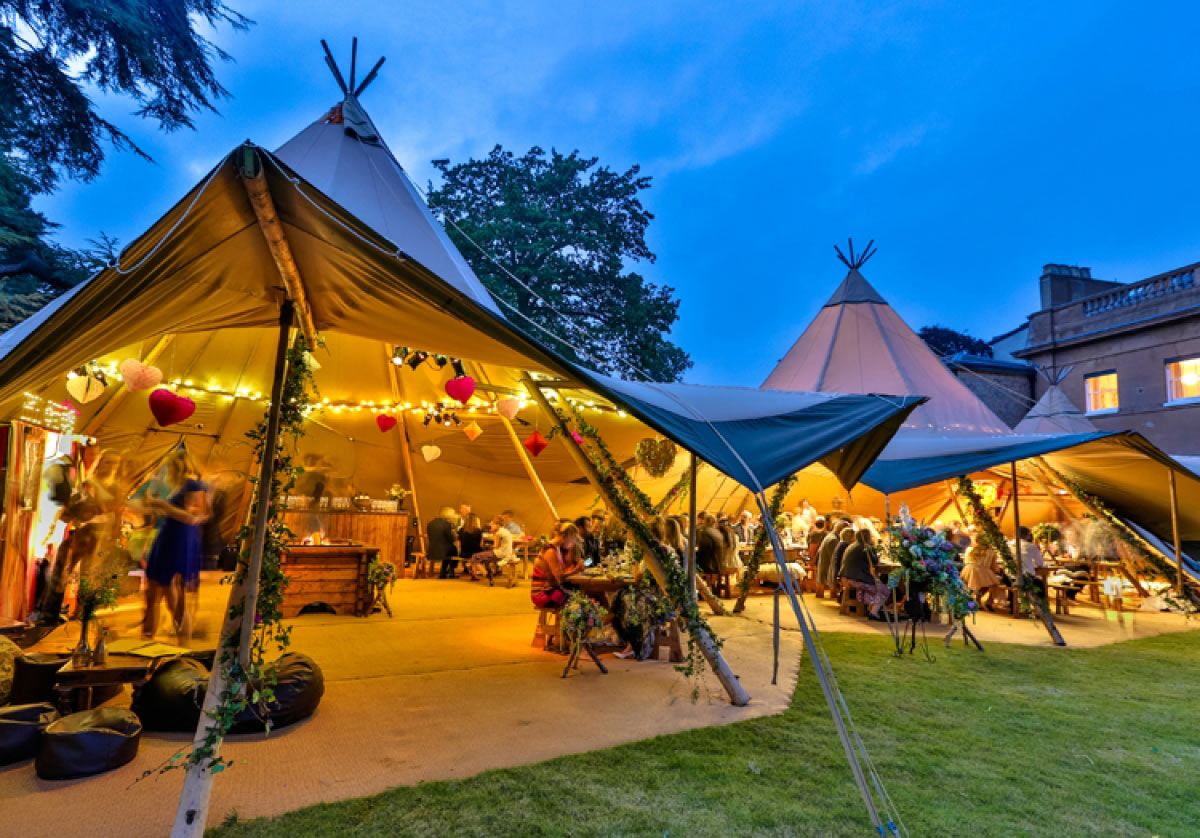 Marquee Hire Cornwall
Marquee hire Cornwall
Your personality-packed party under canvas starts here
Wedding world won't be losing its love for tents any time soon, and it's easy to see why. Replete with potential for the personalisation factor, a marquee wedding is the ultimate blank canvas… literally!

Make a statement with shape and create a venue practically anywhere – from clifftop to beachside and woodland to farmland, you can style out your space to suit your every unique whim and vision. But where to begin? Perhaps it's all still a vague idea at the moment, or you've got as far as Googling 'Marquee Hire Cornwall'; we're here to help you make the dream become a reality.
There are a number of practical considerations before you embark upon planning your marquee wedding. Location is one of the key aspects, and before you set your heart on that gorgeously romantic yet gorse-clad, top-of-the-cairn setting in which he popped the question, bear in mind that the two main requirements are level ground with access.
Then there's the furniture, décor, lighting and props to organise, which can include everything from flooring and heating to tables, chairs, dance floor, toilet hire and catering.

Budget and event size are the major factors dictating what you'll be able to achieve and how, so number-crunching is an absolute must before you start deliberating the finer details.
With a stunning selection to pick from, the market is awash with options to suit all types of W-day, whether you're planning an intimate night-time dinner party or a huge extended weekend affair.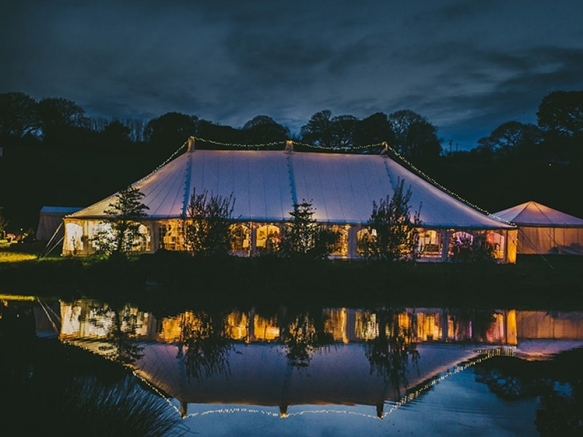 Marquee hire Cornwall
Traditional pole marquees are a classic fusion of wooden poles and natural canvas, which lend themselves perfectly to all settings and themes. Similarly, clearspan marquees are made from aluminium poles covered in white PVC, and can be erected in more tricky locations and during more adverse weather conditions, making them a brilliantly flexible choice.
"We are one of the leading marquee companies in Cornwall who specialise in elegant traditional canvas wedding marquees, which we manufacture in-house at our depot in Falmouth," says Catherine from Absolute Canvas (absolutecanvas.co.uk). "These can be decorated in any number of ways, from a simple rustic style to an elegant lavish-lined marquee. You can add bunting, fairy lights, or even coloured ceiling overlays to add vibrant bold colours of your choice.
"We hire out two types of marquees: traditional marquees made from canvas with guy ropes, pins and poles, and modern clearspan marquees that have an aluminum frame.
"Our clearspan marquees are made from PVC with a metal frame offering large panoramic windows for a spectacular view. These are beautifully lined and can create a magical atmosphere. You can dance under the starry night sky as we offer one panel clear roof. It can be erected on almost any site throughout the year, including concrete, as we use ton blocks to weigh the marquee down," she continues.
"There's a choice of seating arrangements, from our new long banquet rustic tables to round tables, or even an oval table as a top table. We also offer a variety of chairs from wooded fold flats to a lime wash chivari chair.
"As many brides and grooms are deciding to have a registry office wedding a few weeks before and then a ceremony blessing in the marquee, we have arranged many weddings where we team up with the Cornish Celebrants (cornishcelebrants.co.uk) and offer a separate ceremony marquee with an aisle, complete with a red carpet walkway and chairs either side to set the scene. We are always up for new ideas and a challenge, making sure the bride and groom's personalities shine though on their wedding day."
And that's not all, explains Catherine. "Absolute Canvas also offers a fully-stocked, licensed bar, run by the staff who put up the marquees, who are then on-hand to take off the canvas sides/roll up the PVC windows or move furniture and help in any way on the day."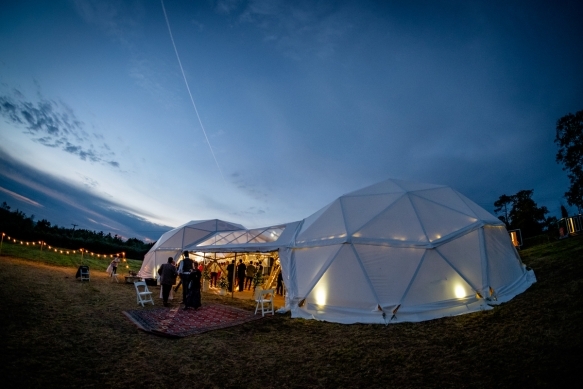 Dome hire Cornwall
Opt for a contemporary twist on the traditional by selecting a dome with an eye-catching series of internal vaults and arches to ensure a wonderfully distinctive look.
"When you mix an outdoor wedding with the British weather, you want to be certain your venue is going to be robust – but also stunning," says Josh at Baya Hire (bayahire.co.uk). "That's where the domes are in their element: ready for any weather and with tons of style."
He continues: "Nothing beats the domes when they are lit up in the early evening dusk on a warm summer's night. Our subtle mix of fairy lights, festoons and uplighters create a real ambience.
"We have built our domes on almost every type of location, so as long as they physically fit, we have the knowledge and experience to turn any space into a venue with character, charm and a modern rustic feel.
"With the practicality and range of different layouts, our domes can fulfil almost any need, from small intimate gatherings to large-scale events. Throw in our beautiful accessories, and you have a perfect complementary mix."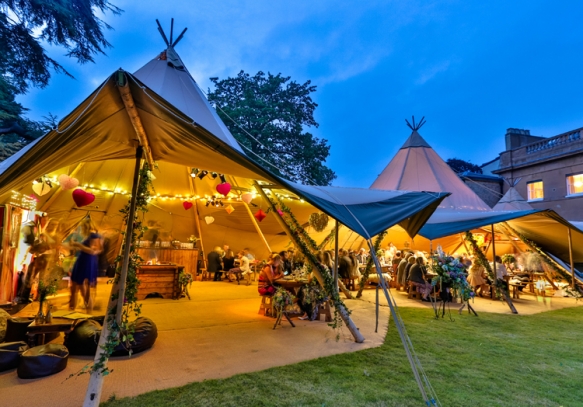 Tipi hire Cornwall
Especially suited to boho or festival-style weddings, tipis instantly achieve the wow factor courtesy of their signature cone-shaped tent aesthetic and atmospheric interiors. What's more, their adaptability means that you can opt for a single statement tipi strategically placed at your venue or an entire tipi village for you and your guests to freely roam.
"Our giant Nordic tipis provide a beautiful alternative to traditional marquees," says Layla from World Inspired Tents (worldinspiredtents.co.uk). "One of the main advantages of having a tipi wedding is the versatility that the structures offer. We can link any number of tipis together to create the perfect space for your celebration, whether it's an intimate reception for 50 guests, or a formal dinner for 1,000!
"We have pitched our tipis on clifftops, in wildflower meadows, woodland clearings and beside beautiful beaches, in the grounds of stately homes and in many private gardens.
"Our tipis are beautiful in summer with the sides raised to take in a view or make the most of some sunny weather. But also, due to their Scandinavian heritage and modern manufacturing techniques, they provide stunning spaces for winter celebrations. Space heaters, open fires, fairy lights and candles work with the tipis to create magical venues for winter weddings.
"The tipis provide a wonderful blank canvas to work with, which can be dressed up to most themes and colour schemes, or left alone to create a simple backdrop to a glorious celebration."
And Layla's top tip? "Our advice would be to include fairy lights with your booking. There is no such thing as too many fairy lights when it comes to a tipi wedding. They really work!"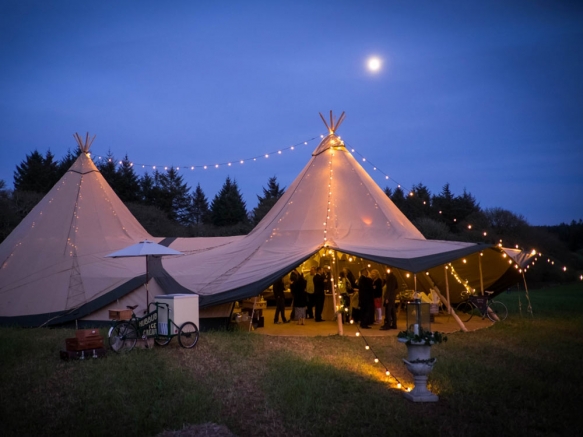 Marquee hire in Cornwall – Top tips for styling your space
Elle Winsor Grime from Inspire Hire (inspire-hire.co.uk)
Nikki Sherriff from Knots & Kisses (knotsandkisses.co.uk)
Don't scrimp on size. Make sure you allow plenty of room in your marquee, and remember things like a bar, seating area, area for coats, and gift and cake tables. Ask your marquee company to allow some additional space! Elle
Think big! When it comes to styling marquees, small table arrangements and centrepieces will get lost easily in a sea of canvas. Going big with floral installations or hanging centrepieces will give much more of an impact and your guests will see the amazing décor and colour scheme first rather than the marquee itself. Nikki
Aim high. I always recommend having a 3m high marquee if you can; this will give you more space at the lowest points, but also give you better views from any window panels. It also gives you more options with décor. And think about using different heights for your décor: if it's all placed at one height, this is the height your eye is drawn to. Varying heights will create a whole picture. Elle
Go green. One of the things I'm working with for my couples this year is lots of foliage to create a botanical or jungle atmosphere in their marquees. Hiring potted plants or trees can create a huge impact and look amazing! Nikki
Don't forget seating. Guests will long for somewhere comfortable to sit that isn't a dining chair, so do remember to include some comfortable seating! Elle
Be open. Talk to your marquee company about your plans – if you long for hanging installations, this is something you must run by your marquee company first, and they should be able to advise you. Elle
Get in the zone. Create zoned areas within your marquee if you have the space. You'll want plenty to keep your guests occupied – especially if they are all stuck in the same space because of the weather. If you've got the room, a chill-out seating area or photo booth space away from the music and dance floor can be fantastic. Nikki
Plan your colour palette. A marquee is a big pale space, and if you use lots of very pale colours for your linen, décor and florals, it can all get a bit lost and become bland. Elle
Choose wisely. Different types of marquee lend themselves to different types of wedding and décor. A tipi or yurt may be great for a relaxed rustic wedding, where as a clear framed marquee might suit a more contemporary elegant affair. Elle
Wed

Directory

All you need from the finest wedding suppliers in Cornwall and Devon