---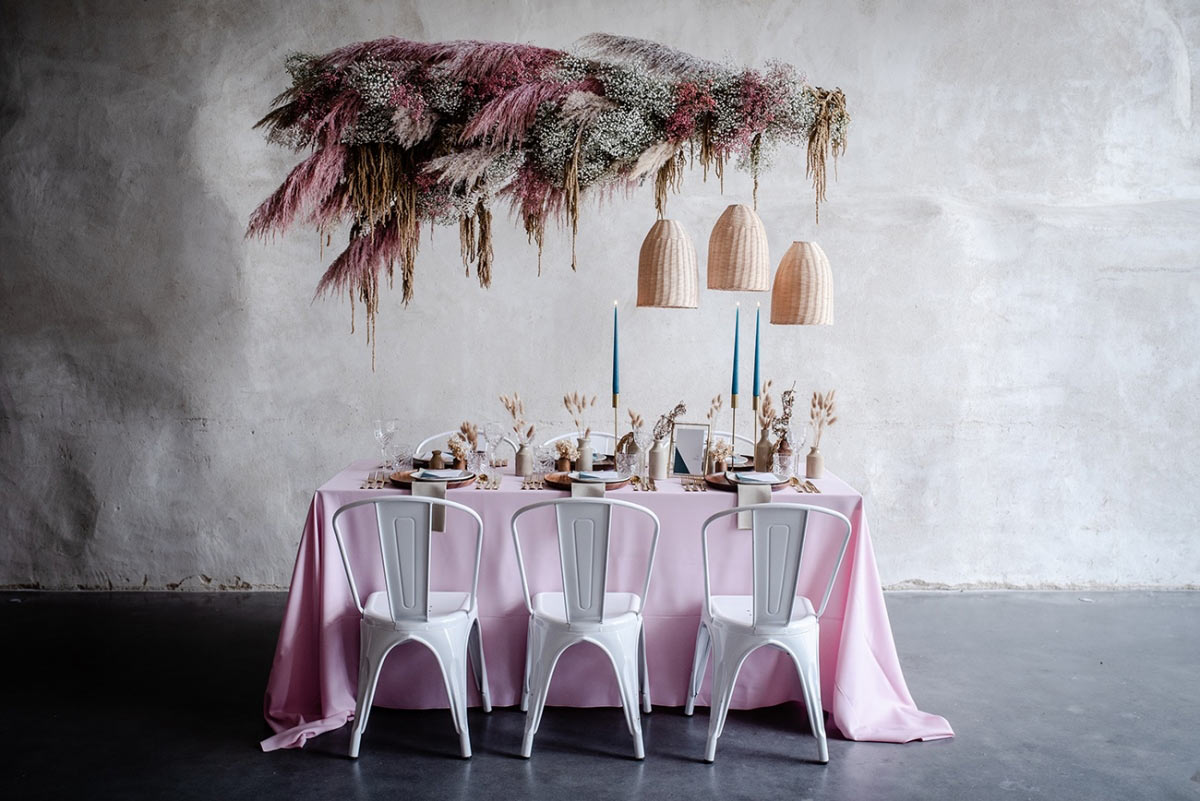 For The Love of Colour
For The Love of Colour
The wedding styling experts share their top palette-picking tips
It might seem like an innocuous question, but what is your colour scheme? Though it's only one decision, whatever palette you pick will filter down into almost every detail and decision you make for your wedding, from the bridesmaids' dresses and cake to the flowers and tableware.
Even if you're opting for an organic approach with a vision of it all eclectically coming together, there will be a predominant theme or idea that drives the overall aesthetic – including colour.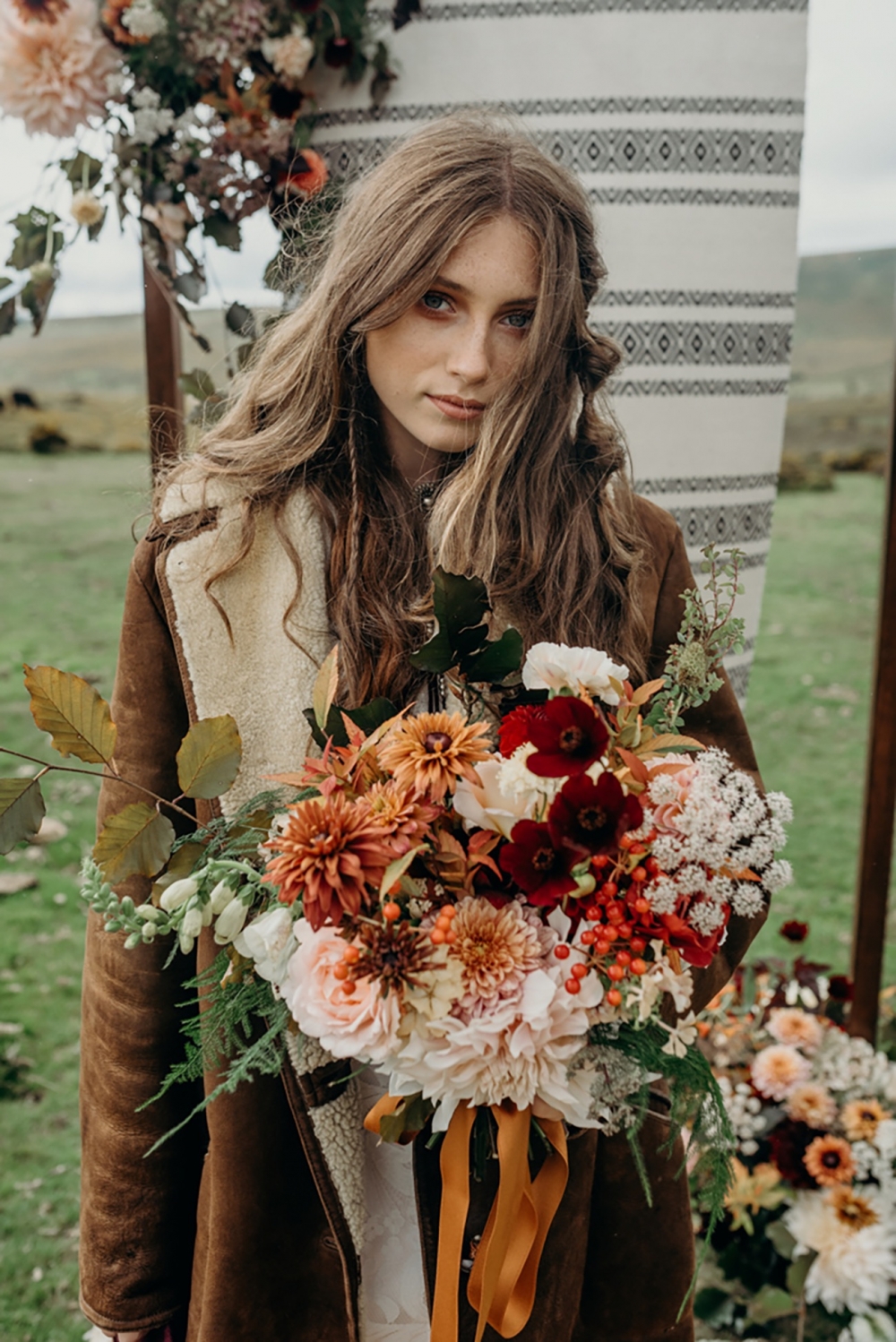 "Your colour choice can set the overall mood and ambience for your entire wedding day," affirms wedding planner and event coordinator, Rebecca Marie from Rebecca Marie Weddings (rebeccamarieweddings.co.uk). Or, as Johann Wolfgang von Goethe proclaimed while exploring the subject in 'Theory of Colours': "When the eye sees a colour it is immediately excited."
We've canvassed the professionals' advice and delved into the latest colour trends to help you get started.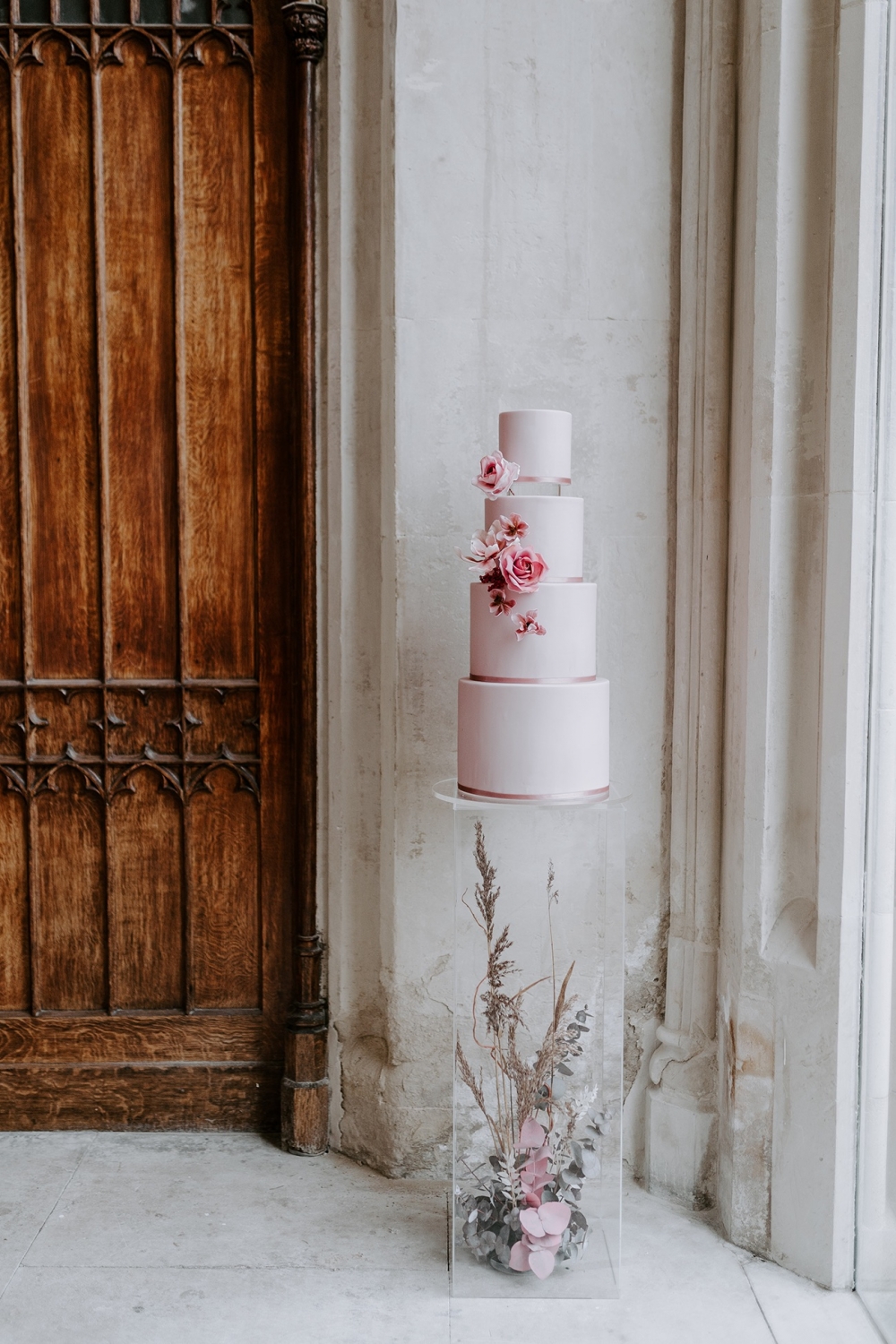 Primary concern
Is there a mood or place you'd like to evoke, or a favourite colour you wish to incorporate into your wedding day? Do you want something muted or bright, a mix of tones or more distinct shades?
"Think firstly about the colours you love," suggests Rebecca as a simple starting point. "Look around your home, in your wardrobe, and identify the colours that appear the most – these are colours you are naturally drawn to."
After honing your individual preferences to a shortlist, it's important to consider the wider scope of your colour scheme, including setting. "There is a reason you have chosen to marry at your chosen venue and quite often this is down to liking the aesthetics," says Rebecca. "What colours are already present here and throughout?"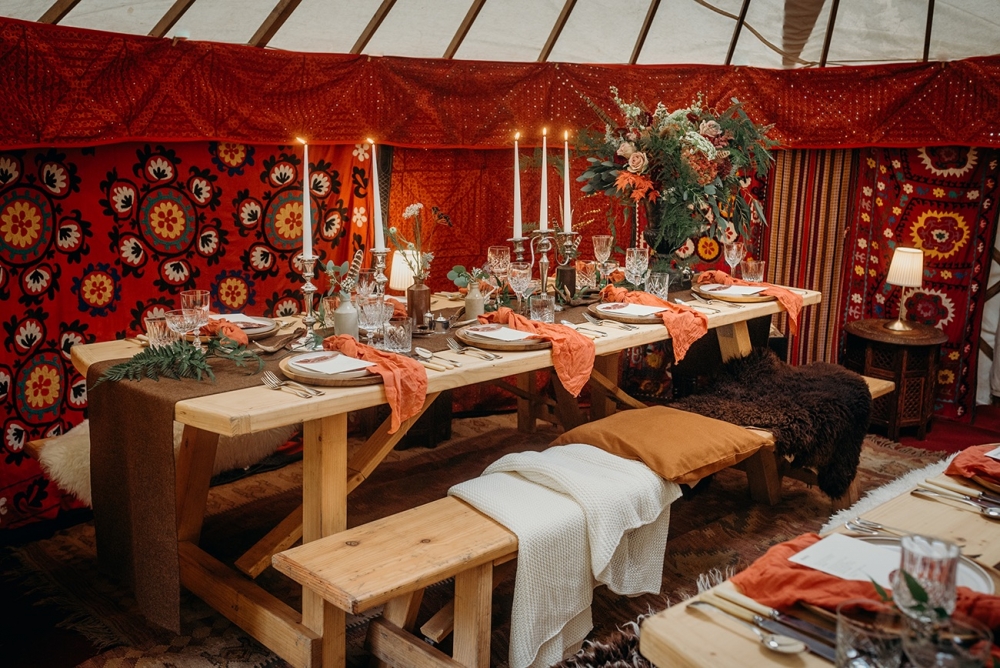 As well as place, there's also the element of time. "Another thing to consider is the season, as typically they lend themself to a particular palette. That absolutely does not mean you need to follow this trend, but it can help," continues Rebecca. "There may be certain flowers that are more readily available in different seasons and this will play a part in your choice."
So, for example, if you're in love with the deep berries, golds and rusts of autumn and want to base your summer shindig around them, ensure that you'll be able to source the items you'd like to carry those particular colours.
"The final thing to consider is the feeling of the wedding," says Rebecca. "Certain colours can provoke certain emotions and feelings; for example, regal colours may create an opulent vibe whereas neutral tones rich with florals may feel more high-end."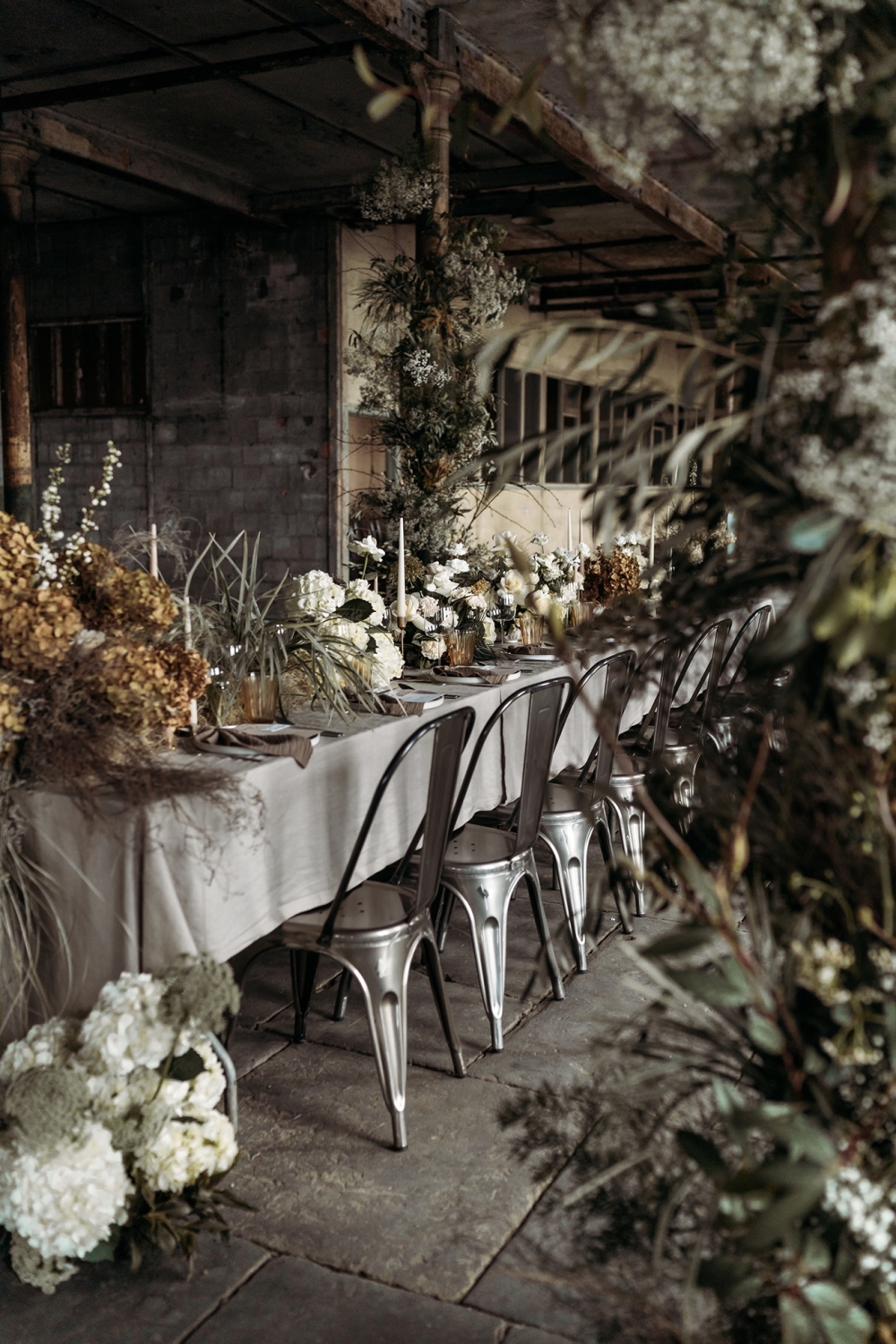 Colour scheming
Once you've established your top colours, think about how they can be combined and utilised to maximum effect while making your vision manifest. This is the time to be specific and really consider the subtleties of certain shades, and how best to place them throughout the big and small elements of your day.
"Your colour palette is a small selection of colours that will form the basis of your entire wedding day design," explains Rebecca. "For example, you may know you'd like pink to play a part in the wedding, but is that a muted blush pink, a hot pink or more of a mauve? There are some great tools online for creating and experimenting with palettes." Try Coolors, a colour scheme generator (coolors.co) or Canva (canva.com/colors/color-palette-generator).
"Another tip would be to incorporate a contrasting colour or a darker tone that will help when it comes to furniture choices, stationery design and florals," she adds. "Once you have determined your palette, look for direct inspiration on Pinterest and try to create a cohesive mood board for you and your suppliers to work from ¬– that way you are all working from the same page."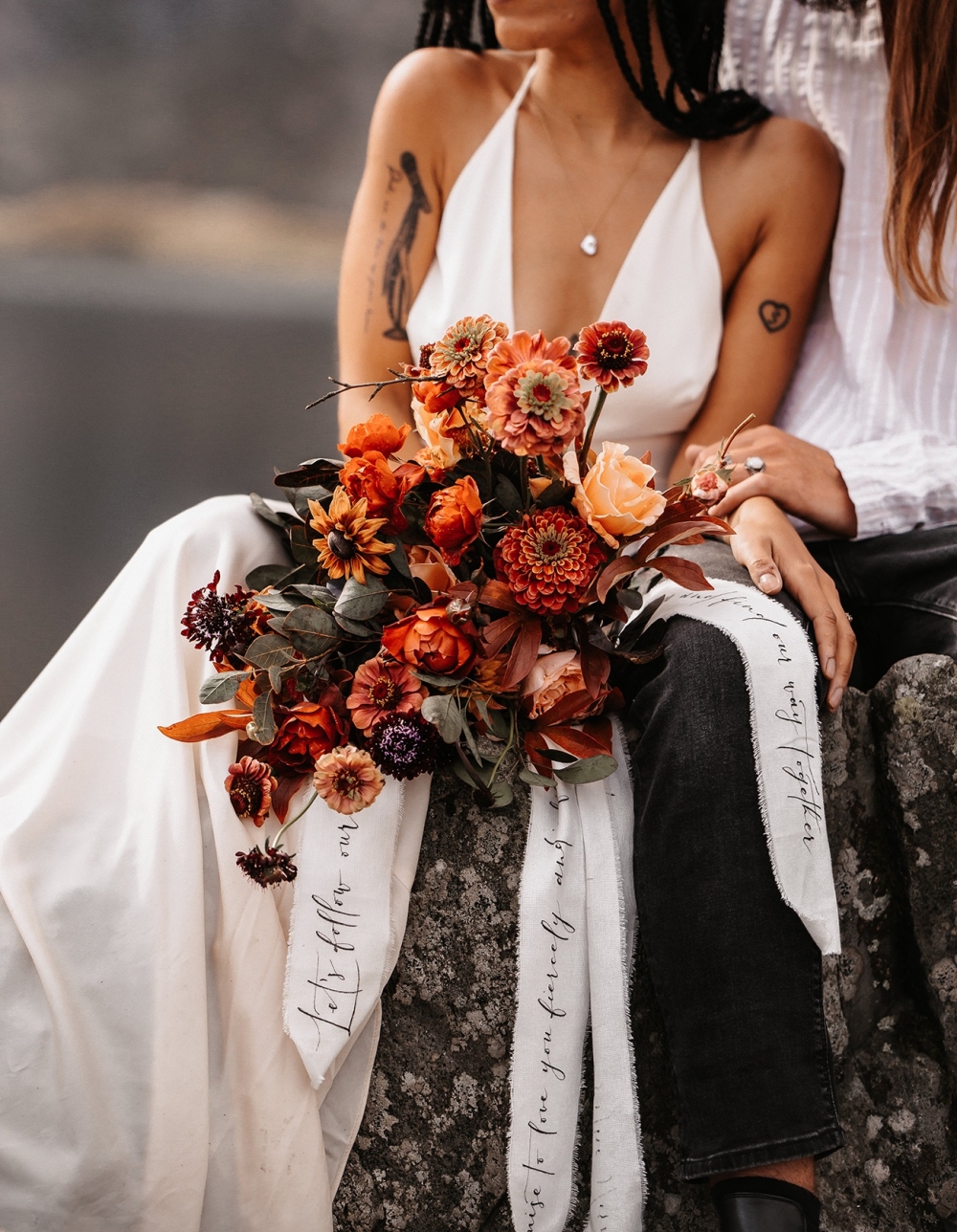 Styling Rebecca Marie Weddings & Events
Courtney Marie Photography
Specialising in wedding styling and personalised wedding stationery, Nikki Sherriff from Knots and Kisses (knotsandkisses.co.uk) is replete with practical advice on how to select your scheme. "Never just pick one or two colours!" she cautions. "Picking a colour palette for your wedding should be no different to decorating your home. If you pick just a specific shade of blue and pair it with just white tablecloths your whole scheme is going to look flat and potentially depressing! As a stylist and designer, I always make sure I pick a neutral palette of at least two base tones and then one or two accent colours on top of this, to give a colour scheme real depth."
She also warns couples not to get caught up in the process of over-matching colours, or obsessively trying to recreate a single tone in every aspect of the day. "Don't try and match everything to your bridesmaids' dresses!" she urges. "Not only are you going to end up with a flat colour scheme, but you will never find everything in an identical shade to a specific fabric!"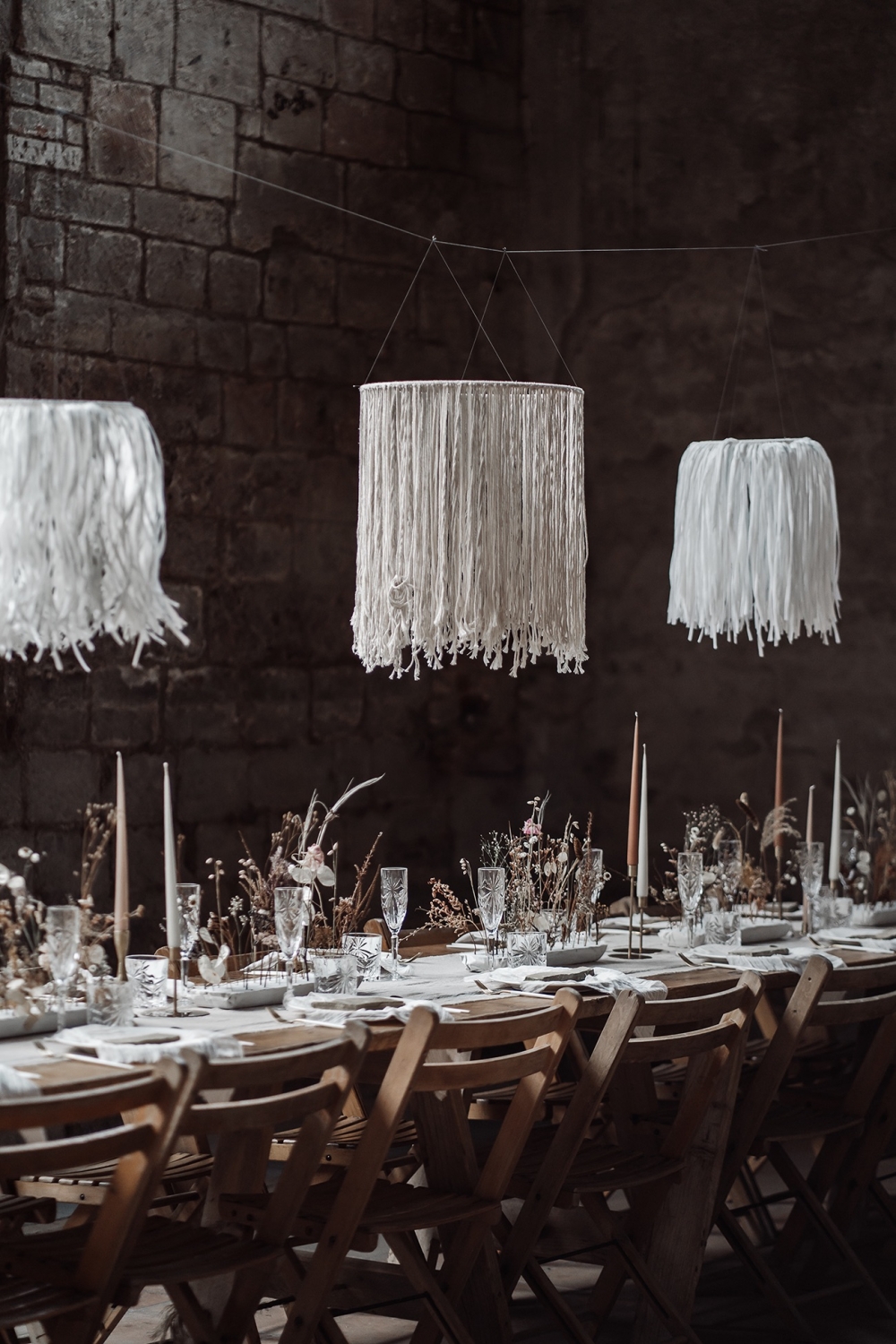 She does have an easy solution on how to achieve a beautiful scheme, should you insist on a single colour. "Pick a shade of that colour and then pick different tones around it so you have, say, three shades of that colour to work with. So if you want a purple wedding, incorporate your favourite shade of plum, for example, and then add accent colours of mauve and lavender to compliment it."
Rebecca agrees. "My biggest overall tip is to balance colours within proportion," she says. "There are lots of wedding elements you can add colour to, from the flowers, bridesmaids' dresses, wedding cake and even your glassware so it is important to select one or two main colours within your palette and use the others as accent colours only for a cohesive, well executed look."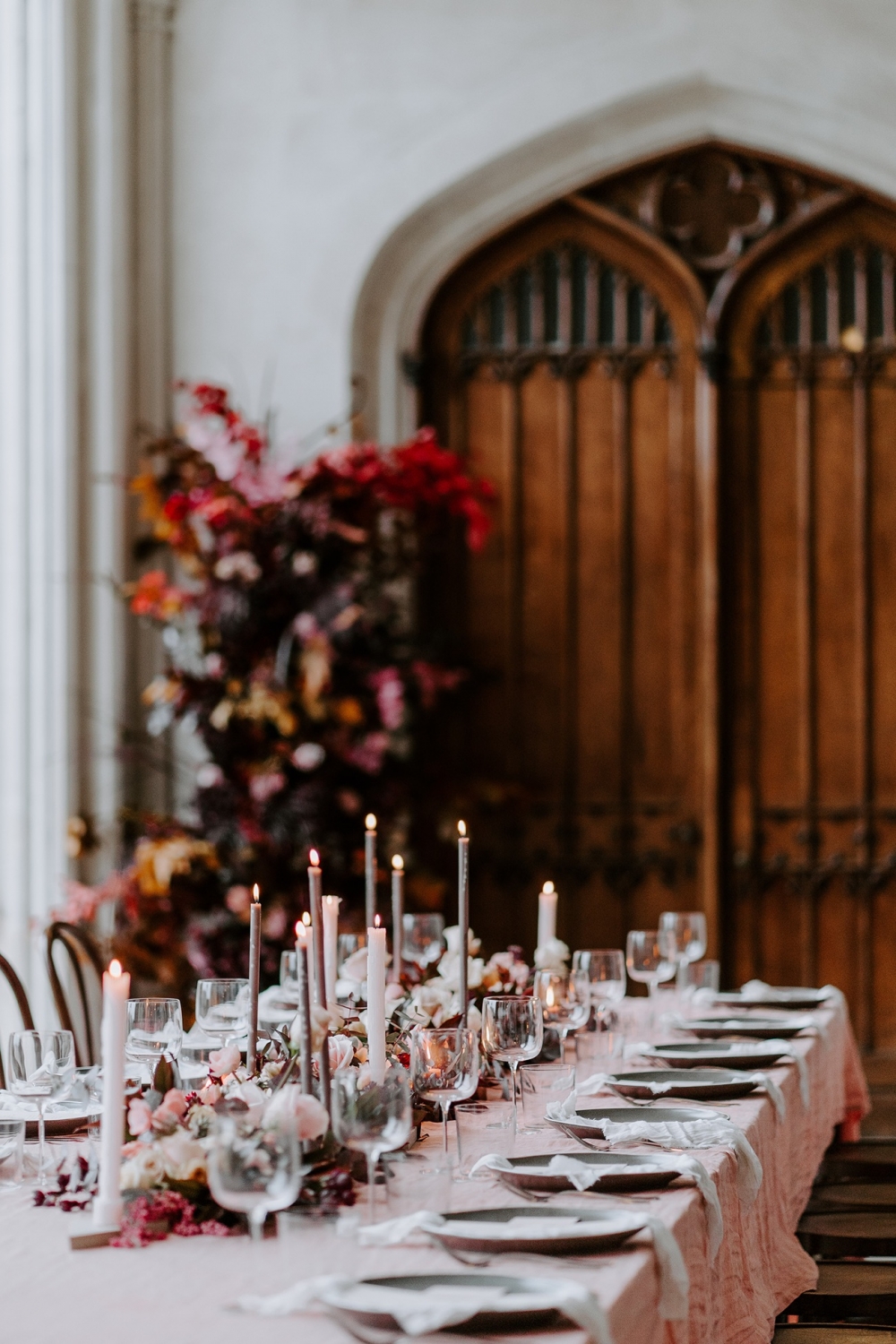 Trendy tones
One way to ensure that your palette packs a sartorial punch is to select something from the year's top trends. By splicing a fashionable shade into your scheme, not only are you making your day instantly more modern and of the moment, but you're also more likely to find items to suit, from fresh-from-the-runway bridesmaids' gowns to the latest homewares, accessories and décor. Plus, there's plenty of scope to make it your own to ensure a beautifully bespoke day that's as on-trend as it is reflective of you.
You could always take your cue directly from colour experts, Pantone, who for the first time ever this year have chosen two colours for 2021: Ultimate Gray and Illuminating.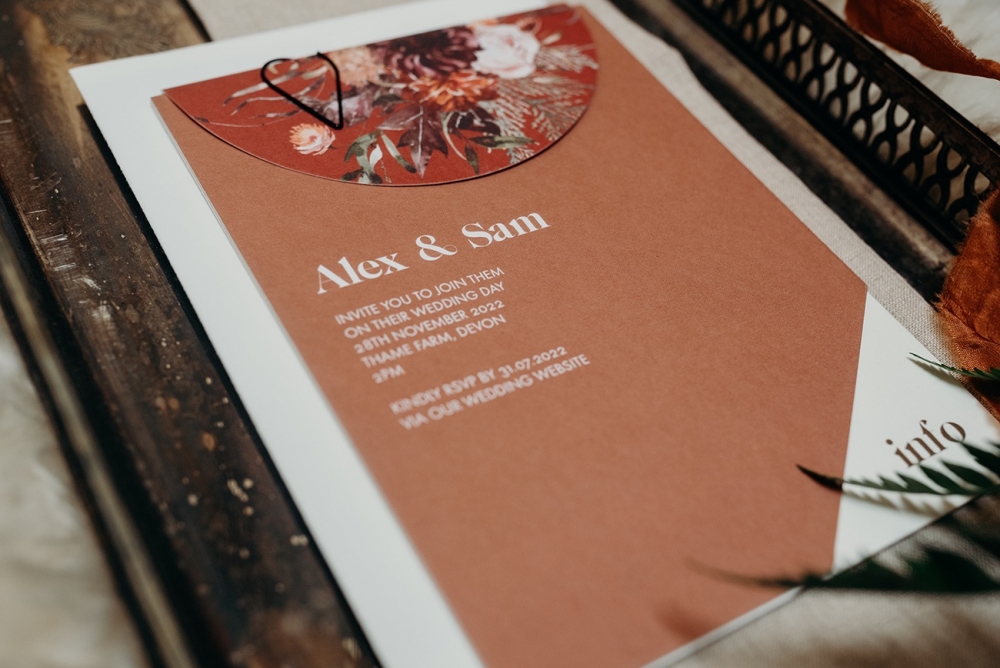 Styling & stationery Knots & Kisses
Clare Kinchen Photography
"The union of an enduring Ultimate Gray with the vibrant yellow Illuminating expresses a message of positivity supported by fortitude. Practical and rock solid but at the same time warming and optimistic, this is a colour combination that gives us resilience and hope. We need to feel encouraged and uplifted; this is essential to the human spirit," says Pantone Colour Institute executive, Leatrice Eiseman.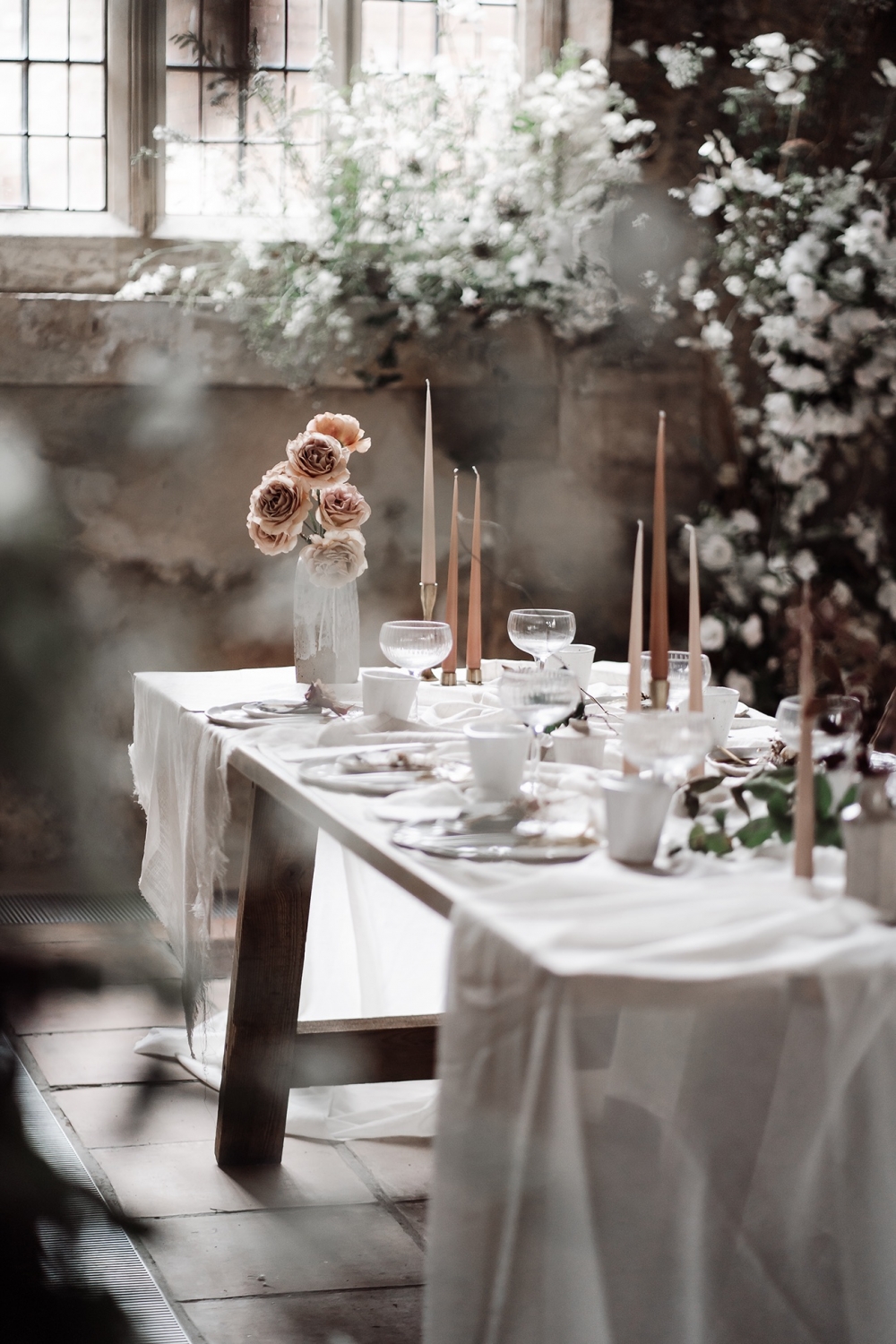 Styling Rebecca Marie Weddings & Events
Anna Beth Photography
Their other new colours for the year include warm golden-orange, marigold, cerulean, rust, and French blue. Everywhere from interiors to the catwalks – and particularly in wedding world – you'll see these shades, alongside flashes of burnt orange, burgundy, purples, pastels, mustard and ochre.
"After a year of despondency and heartache, people are ready for some colour in their lives in 2021 and beyond! I think this is one of the main reasons Pantone picked a bright sunny yellow for their colour of the year," says Nikki.
"Sugary pastels are definitely back, but don't even think about toning it! Go as saccharine as you dare with Barbie pinks, vibrant lilacs and strong mints, and if you're mixing them altogether, that's even better," she suggests.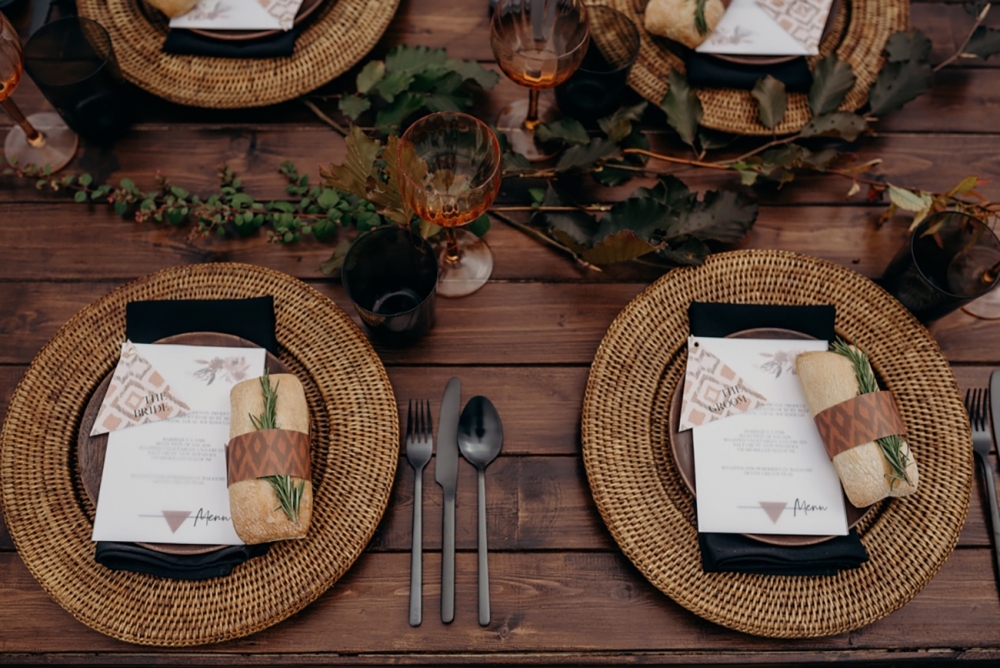 "Boho will still be with us for a while to come with gorgeous deep atmospheric colour palettes of rusts, ochres and terracottas. Mixing them with beautiful wood tones is perfect, and remember these colours are not just for autumn and can be used all year round," she adds.
"A combination of blues and blushes are still featuring heavily – especially in weddings by the sea in Devon and Cornwall. The colours are relaxing and can create a bright and fresh feel to your wedding, perfect for spring," observes Rebecca.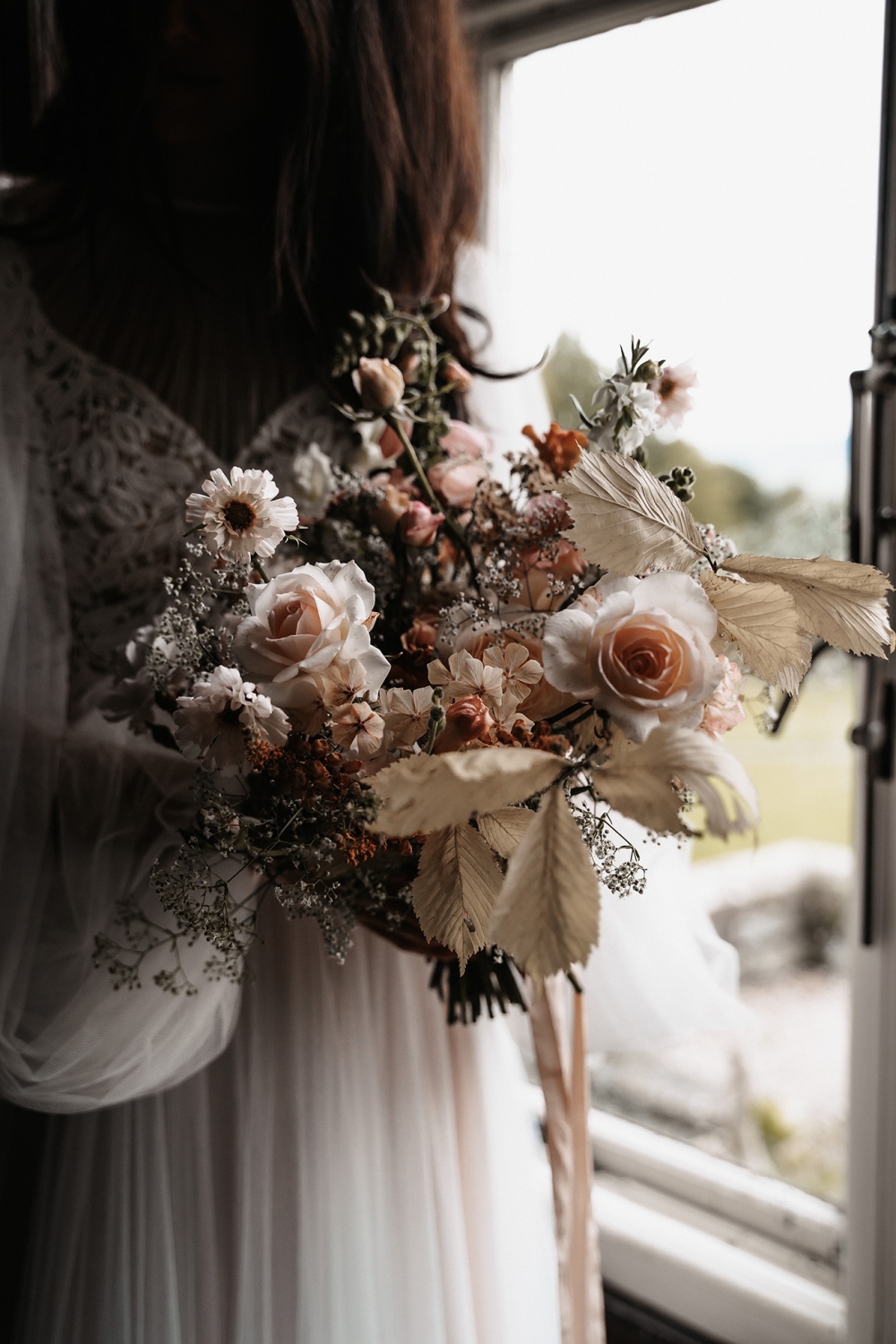 "There's lots more pink popping up, but definitely more of a dusky tone paired with sage greens, pops of black or dried florals. I love this trend and the biggest benefit is that it doesn't need to feel 'girly'. There are also pops of yellows emerging within wedding designs and I think we will begin to see more of this into 2022 matched with other more pared-back colours. My favourite ever-rising trend is a neutral palette; think mix-and-match champagne bridesmaids' dresses, layered linens and fabrics in muted tones and botanicals in deep caramel tones."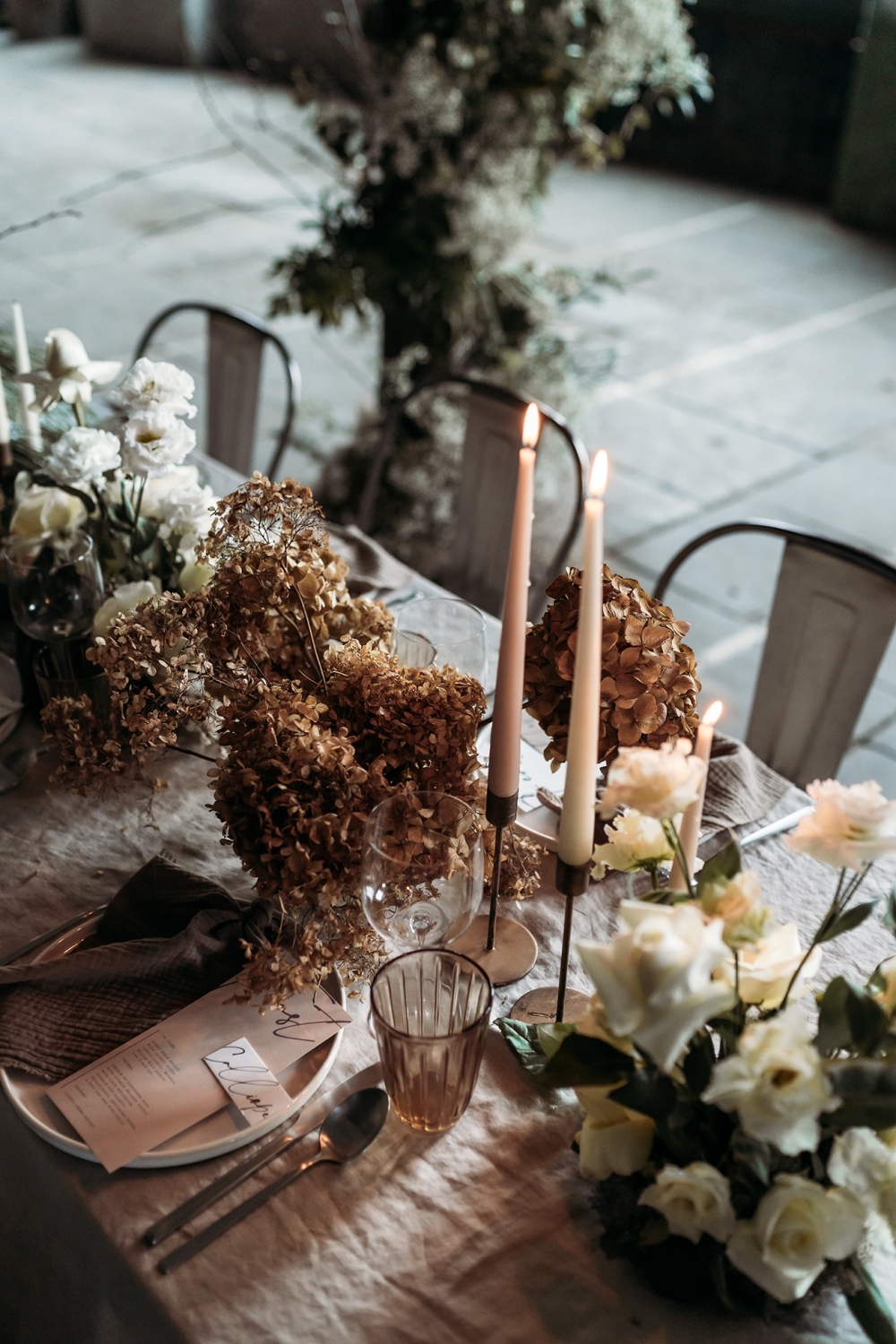 words Hannah May
Wed

Directory

All you need from the finest wedding suppliers in Cornwall and Devon