---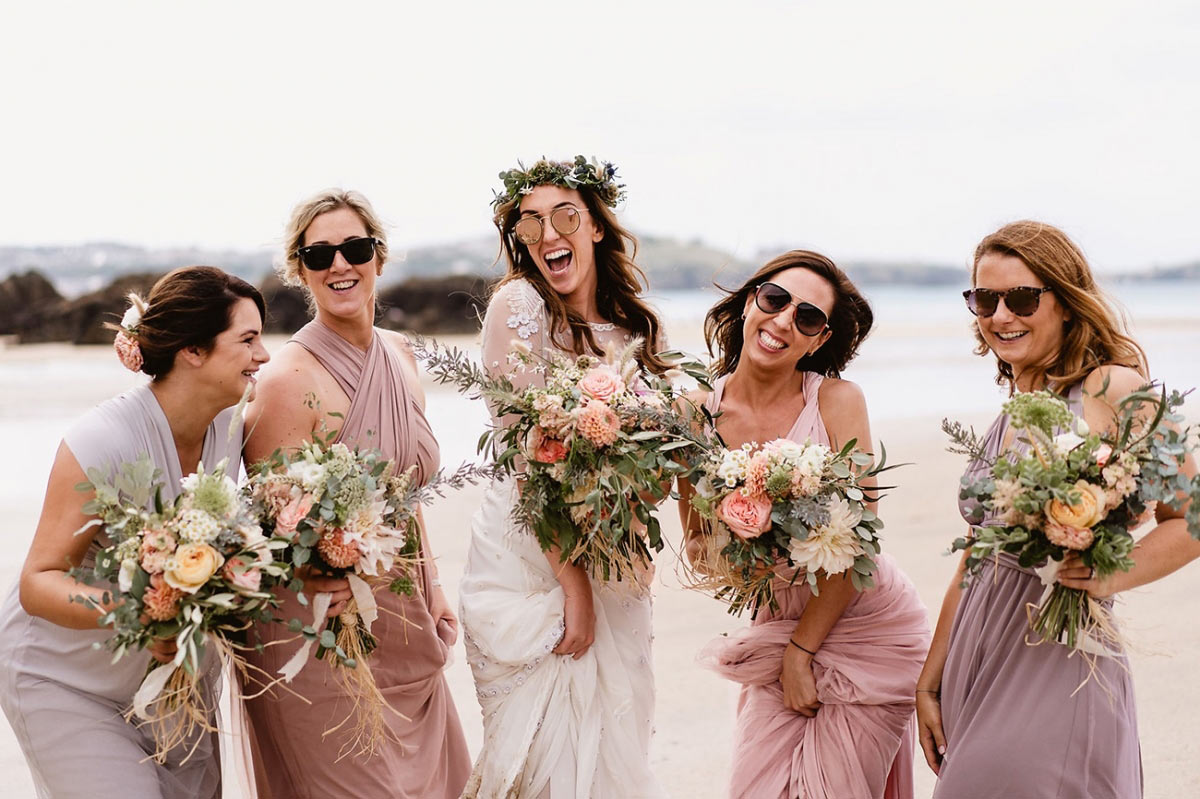 Bridesmaids
The modern bride's guide to bridesmaids
Wed's complete guide to choosing your bridesmaids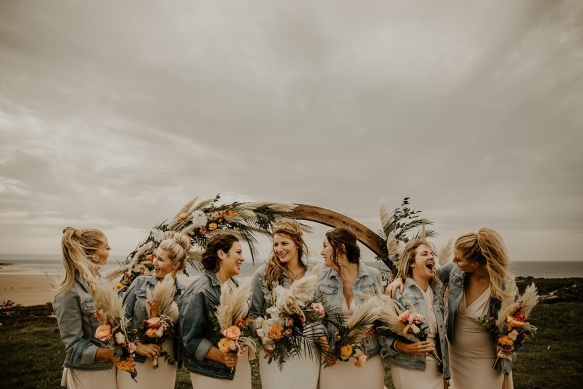 The Unbridled
Let's just admit it: female relationships can be complicated. Weddings have a habit of throwing all relationships under the microscope, and it often seems as though the bride's choice of bridesmaids can be an especially contentious issue, particularly as us women are wonderfully complex creatures.
Declaring those you deem to be your most trusted gal pals is both a hugely joyous and honour-giving event, but the flipside is that your decision can leave others affronted, aggrieved; anguished, even.
Unfortunately for some, the process is often a cause of unintentional hurt, unnecessary stress and emotional pain during what is already one of the most psychologically magnifying times of every woman's life.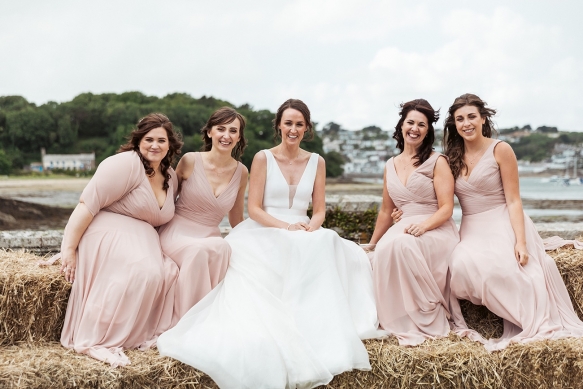 Kirstin Prisk
"Choosing your bridesmaids can be a tricky decision; who will you have by your side through the thick and thin of planning the wedding?" asks wedding planner, Jenny Granlund of Jenny Wren Weddings & Events (
jennywrenweddingsandevents.co.uk
).
"Who can you trust for honest opinions on things, who will be there for you as a calming influence and not judge you during bridezilla moments (let's face it – everyone has them at least once)?" she says. "Who will hold your dress up and prim you to perfection before photographs, who will deal with any mini dramas that may occur on the day, who will dance to every single song, and –most importantly – who are true friends that you would want to share such a special time in your life with?" she posits to help narrow your selection.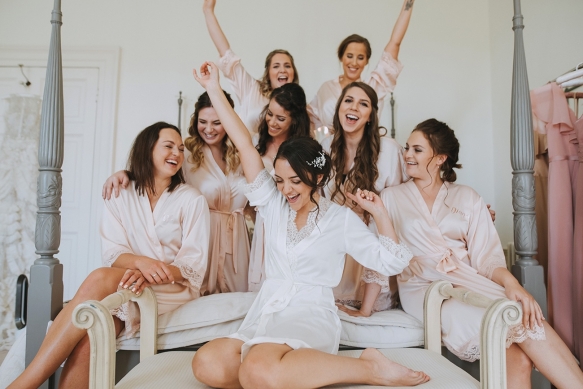 Abi Riley
The dream team
Here's the crux: it's not a popularity contest. It's about selecting someone based on your perception of their ability to carry out the role you require of them. It's more about pragmatism, coping mechanisms, honesty of character and emotional support credentials than anything else. You might adore nights out with a particular friend, holidaying with another – but are they the best people to help you plan your hen do, deliberate your dress and manage any big day mishaps?
Communication is paramount. If you're unsure, talk to your friends individually, or – depending on the dynamics of your friendship circles – in a group to ascertain what you want, and how they're willing or able to contribute.
You may be agonising between two people, completely unaware that one of them doesn't like to be in the public spotlight, or feels anxious while under pressure. Perhaps they have just landed a promotion and simply won't have the time to help with the planning, so ask. True friends are understanding, willing to actively listen, and want to be involved in your happiness. If umbrage is taken, chances are it's not about you and if tensions boil, try a cooling-off period before broaching the subject and peacefully getting to the root of the conflict to seek a resolution. This shouldn't be a source of grudge holding and, if that transpires, perhaps it's evidence that your friendship has waned and therefore it's time to adopt an ethos of 'letting go'.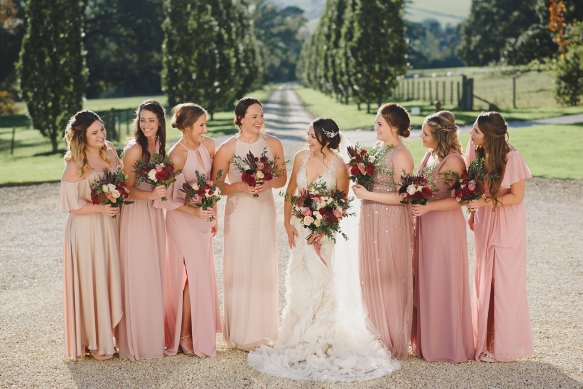 Abi Riley
Select committee
"A bridesmaid does not have to be a woman," declares Jenny. "If your best friend is a man there is no reason why he can not make up part of the bridal party – your man of honour perhaps? The most important thing is that you include those you want to, whatever their gender."
It's also worth remembering that this is one instance where 'the more, the merrier' doesn't necessarily apply. "Think carefully about this before you jump in to ask. Not only does each additional maid come with a potential price tag (for elements such as dress and bouquet), but too many maids can equal too many opinions."
Her advice? "Take your time," she says. "Once you have asked someone to be your bridesmaid, it is extremely difficult to un-ask them if you have changed your mind. Let the excitement of being engaged mellow slightly before selecting."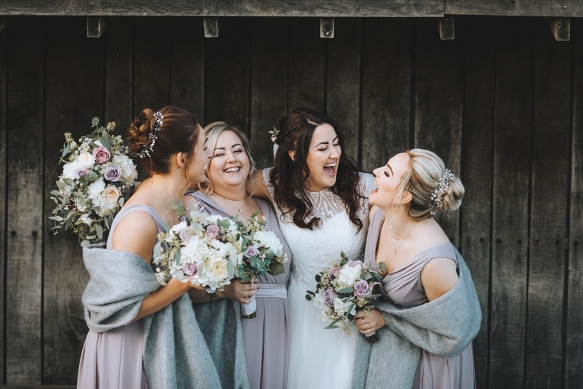 Grant Lampard
Set realistic expectations
"Think about how involved you want your maids to be," says Jenny. "Do you want them to attend dress shopping with you, arrange your hen do, help make decorations and attend pre-wedding shindigs? If so, it is worth considering who will actually be available to do this? Those who live far away, have very busy lifestyles or perhaps have a newborn may not be able to commit to this. This may cause frustrations later down the line and they will feel bad about not being able to help," she adds.
"Don't feel you are under obligation to ask someone just because they asked you," reminds Jenny of another potential pitfall and political minefield. "Friendships and relationships change over time and you may not be as close to the person you were bridesmaid for three years ago. Similarly, don't feel like you have to follow tradition. Traditionally, the bride's sister – if she has one closest in age to her – is the maid of honour. However, we are far from traditional in this day and age, so feel free to choose whoever you want."
The decision of who will be your bridesmaids can be really difficult, but it is often just not feasible to include everyone you would like to in the bridal party. "People will generally understand, but my tip would be to acknowledge the fact they are not included and speak to them about it directly and explain, rather than glossing over it," says Jenny. "Perhaps try and involve them in some other way – ask them to do a reading, for example."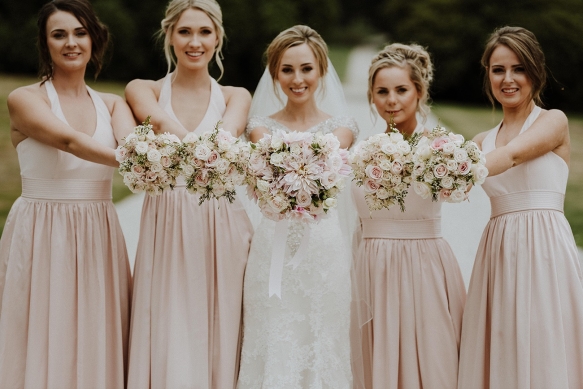 Nick Walker
No more drama
Another aspect to consider is how all of the bridesmaids will work and act together as a group – are there conflicts already present between certain parties, or will personalities complement each other?
"Think about group dynamics," suggests Jenny. "Are there any characters that may clash? They are likely to be in contact a lot as they work together for you, so it's worth thinking about this and how you can overcome any potential issues between certain people before they happen." If you're preoccupied with dispute management, it will be a lot more difficult to get things done and enjoy the planning period.
"Try to involve all of them, or at least give them the opportunity to be involved," suggests Jenny. "Giving them all a voice will avoid anyone feeling left out."
And the most important thing? "Remember they are your friends as well as your bridesmaids. Sometimes it's good to take off your wedding planner hat and enjoy some time with them with no wedding task talks." They're taking on a sizeable responsibility for you, so don't forget to demonstrably appreciate that fact!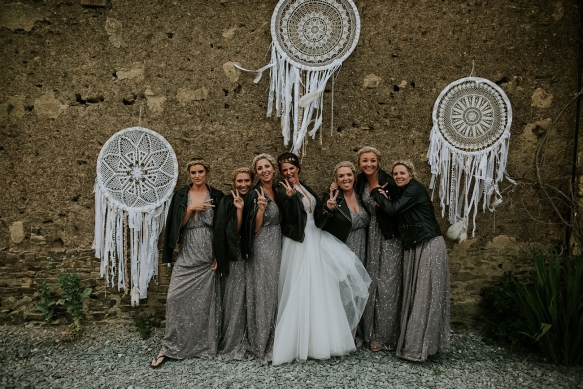 Enchanted Brides
THE FIVE COMMANDMENTS
According to Jenny, there are five things that your bridesmaids should be keen and able to do on your wedding day, so if you can't envisage them doing it (or they don't agree to them all!) – don't ask them to be one!
Dance! Even when it's only Auntie Eunice on the dance floor, kick off your shoes and get involved, encouraging others to do so.
Emotional support. Both during the lead-up when she may be feeling rather stressed, and on the day itself when she is full of nerves and excitement, you need to be that shoulder to cry on, friend to moan to, and be super patient.
Wear the dress. Of course you want to feel comfortable and hopefully you will have been involved in the choosing of your dress. But even if you haven't and dislike it, put it on along with your smile. You're wearing it for her, on her special day and one day you may want her to do the same.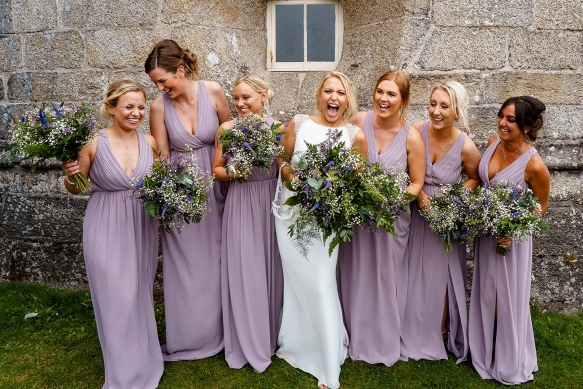 Paul Keppel
Help with the hen do. The bride will have more than enough on her plate organising the wedding so try your best to assist with this. Ask all attending for their realistic budget before you begin (then stick to it!), so you can ensure you pick something everyone can afford. Also, have a chat with the bride beforehand to ensure you are on the same wavelength; otherwise you could be planning an adventure assault course day when she was envisioning a relaxing spa afternoon. Not the easiest task, granted, but do not let the bride know if you are getting stressed out with it.
Be on hand. On the day, hold her dress up when she needs you to, prim her to perfection before photographs, distribute the confetti to guests, ensure you all have your bouquets (and she has hers) before walking down the aisle, organise the throwing of the bouquet afterwards, assist with any toast mastering duties and organisation of guests if required… Generally be there for her in case she needs anything.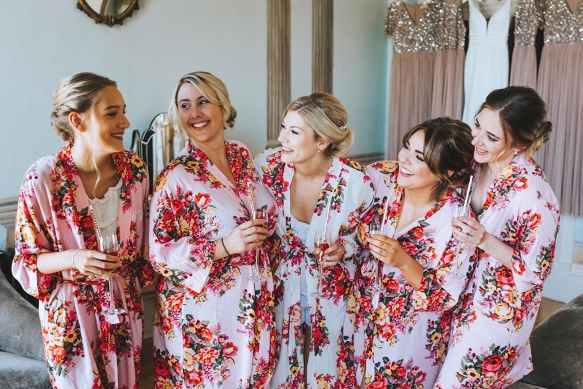 Grant Lampard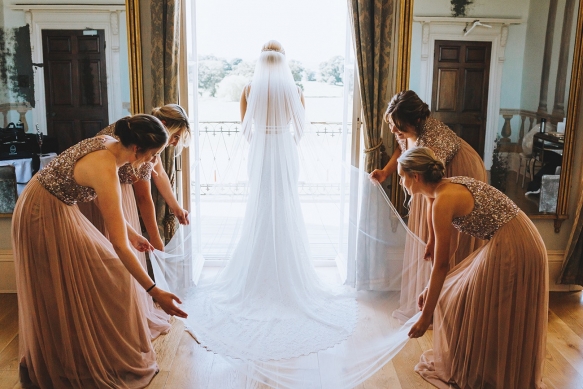 Grant Lampard
Salt & Sea Photography Co.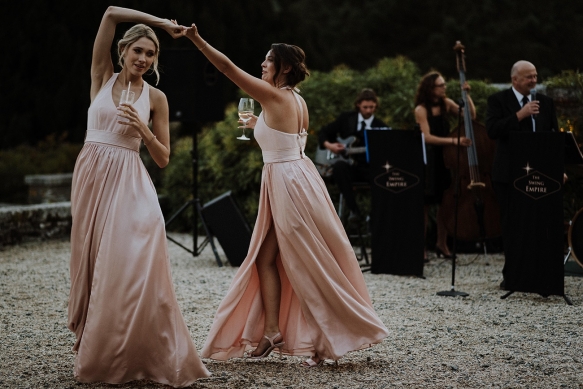 Nick Walker
Main image: Albion Row
Words Hannah May
Wed

Directory

All you need from the finest wedding suppliers in Cornwall and Devon