---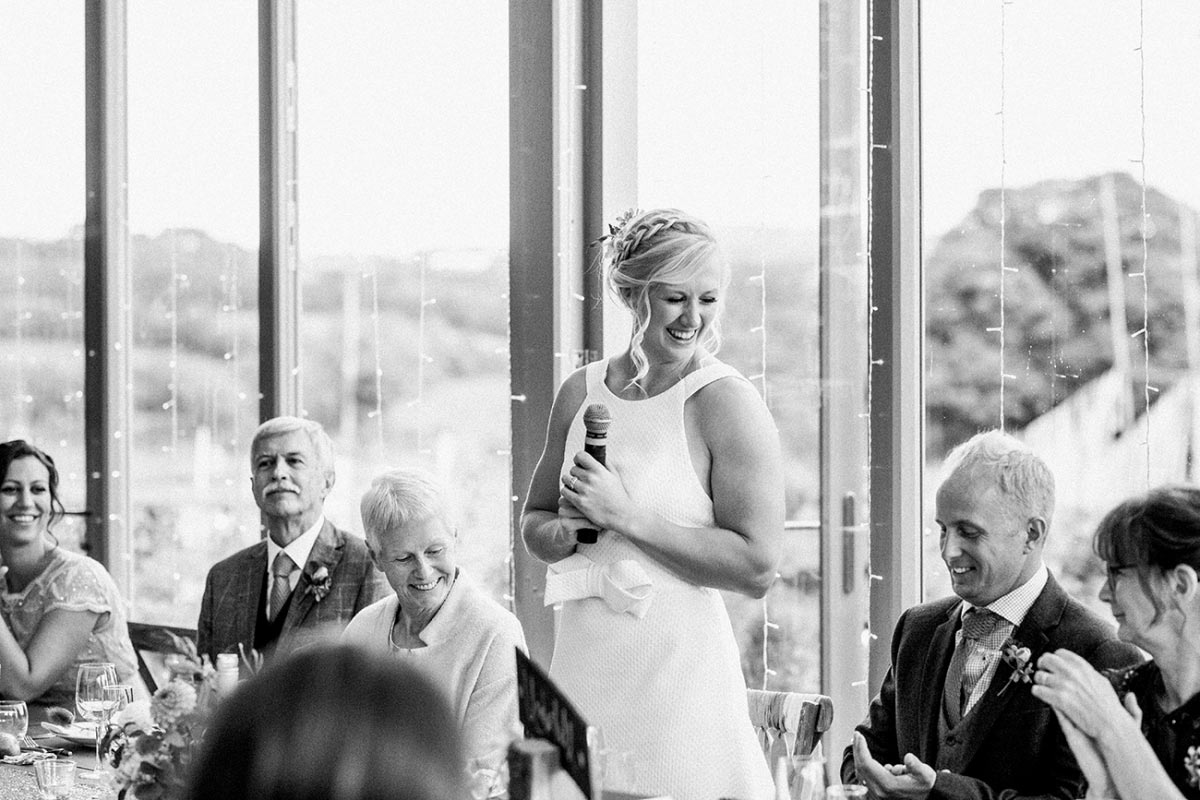 Brides speech
A bride's guide to speeches
Brides, here's some top tips for nailing your wedding speech
TRADITIONALLY SPEAKING
When my usually shy and retiring bride-to-be friend recently announced to our group that she was making a speech at her upcoming nuptials, we all panicked. She can't tell a joke without turning radish red, we mused, how is she going to cope with this limelight-hogging moment? But being shy shouldn't stop anyone from being deliriously happy and grateful and wanting to say it out loud. And the good news is, bride's speeches don't have to conform to anything, as there is no rulebook. Wedding speeches by the bride haven't historically been a traditional part of wedding ceremonies and receptions, although they are slowly becoming more prevalent.
"The bride's speech is still seen as relatively rare at the typical British wedding; however, weddings are becoming less about traditions and so much more about reflecting a couple's personality and independence," says wedding planner Jessica from Ardour & Bow Weddings & Events (ardourandbow.co.uk). And our recent bride-to-be agrees. "I had so much to say," she explains. "Although we had reflected our personalities and relationship through the decorations and theme, I had so much love and joy and gratitude for my new husband and our friends and family that I couldn't convey through décor alone! And thank you notes and on-the-day drunken hugs just wouldn't have done justice to how I felt," she says, "I wanted to vocalise exactly how I felt on the day – through the power of a speech."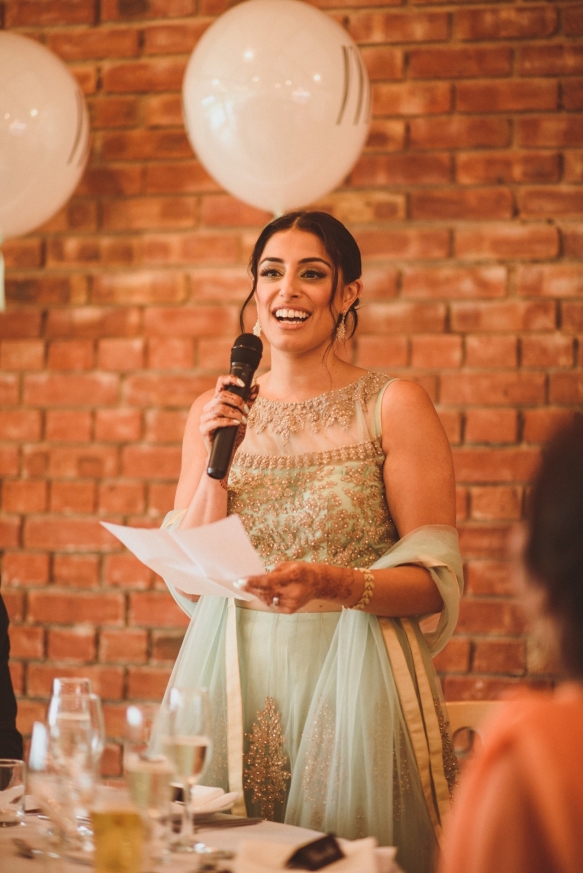 Matt Penberthy
"Our wedding was anything but conventional," says Kejal (pictured above). "It was an Indian fusion rustic barn wedding held at The Green in Cornwall, fusing English with Indian culture to represent both mine and my husband's backgrounds. This meant that there was no rulebook to follow. So, when it came to the speeches, that followed suit, as whilst it's not traditionally the bride who makes the speech, I wanted to personally address my family and friends during our special day. Following convention was the last thing on my mind! It's important to remember that couples can put their stamp on their wedding in whichever way they want. Whilst traditions at weddings have their part to play, often we don't step back to truly value what we want as part of the experience. I run a calligraphy business (calligraphybykiki.com), and so it was great to create the calligraphy for my own day - those personal touches are what makes it memorable. Making a speech is a great way to connect with - and address - all your guests, and strangely it's a safe space to practise public speaking. For those of you who don't like public speaking, I can safely say that it's a whole lot easier speaking about a topic dear to you, to the people you know and love... it might just help you crack that upcoming keynote at work!"
NERVE SWERVE
So how best can you get over the hurdle of on-the-day speech-induced nerves? Well, firstly there's a glass of champagne (just a glass!), although make sure you don't have too much and completely lose your filter. No one wants to make a drunken rambling speech that your nearest and dearest will remember forever. If you're keen to say a few words but don't want to ruin the celebrations by sweating and panicking beforehand, why not choose to say something at a different time to the other speeches? That way you won't feel the pressure of speaking when everyone is expecting it.
Our bride explains how she didn't let feelings of fear take over. "I can be quietly witty, but I feel more confident in a one-to-one chat rather than big groups," she says. "So I channelled my fear into my voice and, although I could see all my friends and family in front of me, in my head I was speaking to only one of them – my maid of honour." So if there's one person who, above all others, helps ground you, just focus on them. "But remember that you will be surrounded by your friends and family," says Jessica. "Everyone in the room is there for you, to love you and congratulate you, so there's no need to feel anything other than love and support from your crowd."


FUNNILY ENOUGH
"Great speeches are often those that are said from the heart, are peppered with humour and speak directly to your guests and your partner," advises Jessica. Ah, yes, humour, the big one when it comes to setting the room alight. But your speech doesn't need to be rolling-on-the-floor funny, or even funny at all, particularly if you are going for a tear-jerking angle. But humour is a great leveller and a brilliant icebreaker, relaxing your audience and therefore you. If you're not naturally funny, or struggle to write your own witticisms, you can choose someone else's work and read out a funny poem or prose. Or if you don't want to be funny, be clever, and above all be heartfelt, perhaps with a poem that focuses on your partner and incorporates key moments in your relationship to date. Be sincere with detailed thanks to everyone who is there on the day, mentioning anyone who has helped you with specific jobs. Take the time to talk about friends and family who may not be able to be present on the day. "When thinking about what to include in your speech, tailor-make it to your audience," says Jessica. If you're having a bijou do, standing up and saying a few heartfelt words about how special it is to have such a small select group on your big day would be appropriate, whereas a 100-strong crowd packed with school and university friends might allow for a more raucous approach.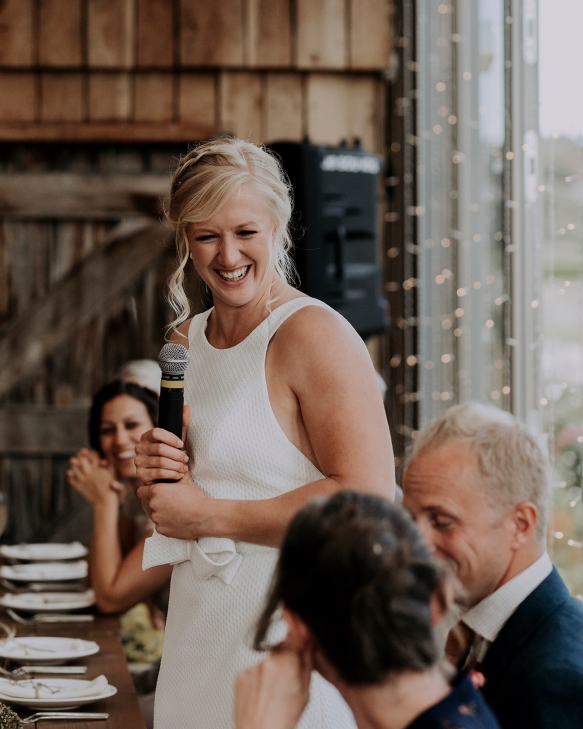 Keeper Creative
IN IT TOGETHER
How about making a speech together? "Marriage is a partnership after all, so I love the idea of both of you making a speech," says Jessica. "Just make sure you coordinate what you are going to say in advance to avoid repetition." Couples speeches can also be witty, for example, saying a line each from a funny poem you have created about each other, and an easy way to steal the show is to offer up a heartfelt speech from the two of you. There won't be a dry eye in the house if you both lament how much the day means to you… you could even look each other in the eye as you say it.
PRACTICE MAKES PERFECT
Whatever you decide to say and however you decide to say it, preparation is the key to feeling good and appearing confident when you're talking to a group of any size. Whether you add in some impromptu jokes or stick to a well-rehearsed deliverance, make sure you know what you want to say. And at the end of the speech, whether there were ad libs or omissions, it doesn't matter, but put the heart into your speech by knowing what's at the heart of your speech.
Words Elizabeth Chester
Wed

Directory

All you need from the finest wedding suppliers in Cornwall and Devon