---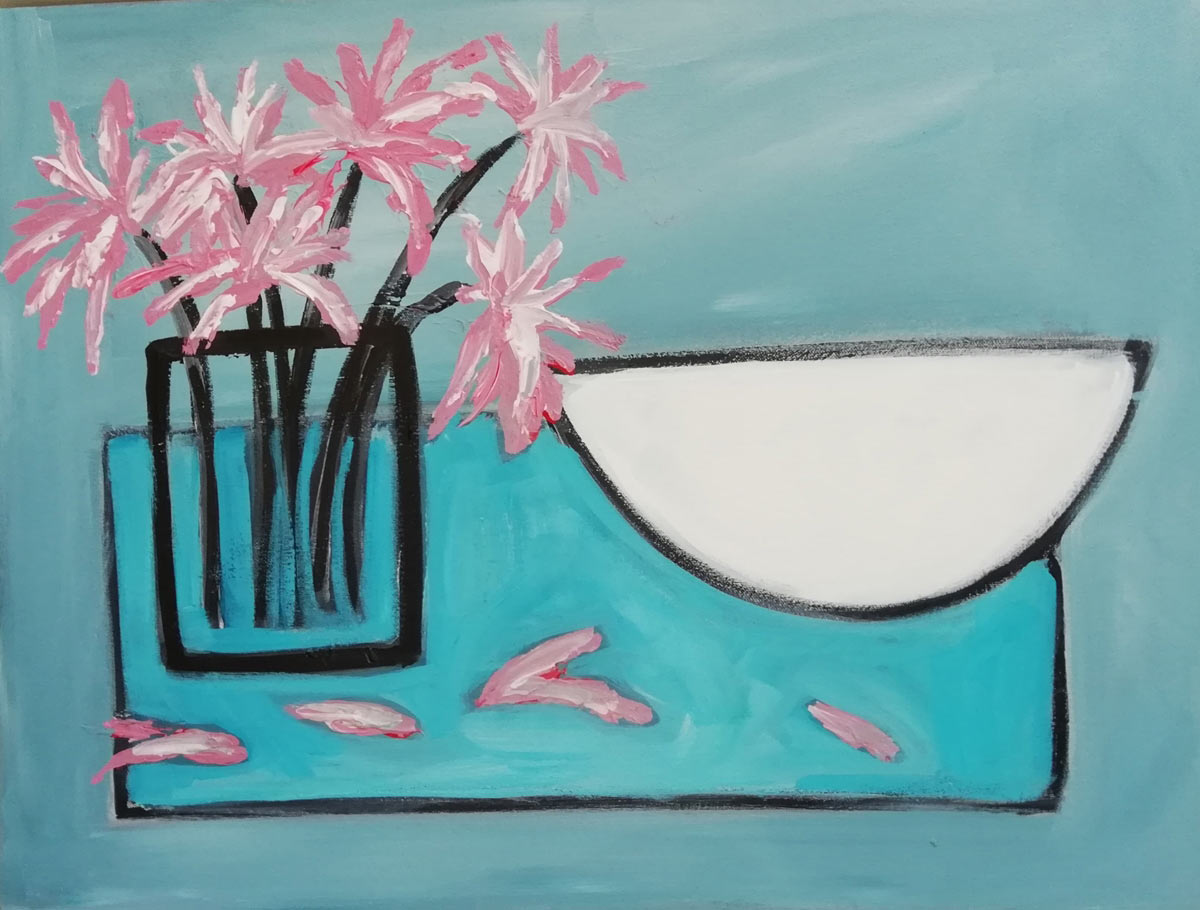 Art at Weddings
How to incorporate artwork into your W-day
Bring a unique creative element to your wedding with bespoke artwork to wow and impress your guests
"There is nothing more truly artistic than to love people," said Vincent van Gogh, and where better to celebrate the art of loving people than your wedding? Whether you wish to use your venue as a gallery to exhibit your favourite artworks or infuse some art via your stationery, decor, entertainment or creative keepsakes, design a day that's eye-catchingly distinctive with these creative artists...
Iona Sanders
Creativity is as much a fibre of Iona Sanders' being as the Cornish landscapes in which she was born and raised. Defined by a deep connection with her natural surrounds, Iona's artworks have a wonderfully raw and signature quality.
"I am hugely inspired by the area I've grown up in," says Iona. "My work is influenced mainly by this and my domestic environment. The majority of my work is still life, although I am increasingly showing my landscape and life paintings, and I work in mixed media with an emphasis on line and colour."
Having painted her entire life and been immersed in a culture of creativity - "My mum paints and my dad carves in wood, restores and makes," she says - Iona's evocative work takes an eclectic variety of forms while maintaining individual keynotes of style: vibrant, organic, original and graceful.
"I have done numerous commissions for weddings and engagements and also wedding invitations, especially landscapes of places couples got engaged or married, or a painting with their bouquet incorporated into it," she says.
"With the invitation, I take a brief from the couple and paint a picture on card and they then scan it," she explains. "Then I get the painting framed for them." What better way to enshrine a sense of place than to commission an original piece of artwork imbued with character that will illustrate your love story on your wedding day, and for years to come?
Knots & Kisses
Set the tone and theme of your day by choosing uniquely designed stationery that creates a consistent and artistic look in everything from the save the dates to the table plan.
"I think it's really important to capture what is personal to the couple in their wedding stationery," says Nikki Sherriff from Knots & Kisses. "One of the services I'm really proud to offer is bespoke hand painting. I can paint or draw something that is completely customised to the couple and adds a really personal touch to their wedding day."
From something simple like adding a venue illustration to one of Knots & Kisses' existing house collections to creating a fully hand-painted bespoke concertina, with borders, venue paintings and small illustrations, Nikki has added illustrations of pets, seaside themes with shells and deckchairs, and woodland motifs with fern and bluebell borders.
"I can also create individual paintings of places that mean something to the couple, which are then used as table names and illustrations to add to their table plan - making the day even more special and personal," says Nikki.
Botanical Tiles

"I spent much of my childhood exploring the woods and fields near my home, immersed in nature. This led to a career in horticulture, which I draw upon in my plasterwork," says Jess Harrington from Botanical Tiles. "I'm inspired by nature generally, plants specifically, and I'm entirely self-taught."
Working from her cottage in rural north Cornwall, Jess uses flowers and leaves to create botanical artworks by impressing the plants into clay and then casting the impression as a plaster slab. "There are a number of variables that I can control during the process, which allows each panel to evolve quite organically. Each impression is truly unique," she explains. "The plaster records the patterns and textures of the flowers with such delicacy, and creates beautiful natural art pieces."
Immortalise your bridal bouquet as an original piece of artwork, or adorn your wedding venue with Jess' floral creations as part of your decor. "I'm currently working on larger pieces that work both separately and in conjunction with each other." With some of these art pieces available to hire, they help to create a really individual feel at weddings with a natural, botanical theme.
"It's also possible to have your floral theme used in panels to decorate your venue or as smaller centrepieces incorporating table numbers," she says. "You can choose from already existing pieces or have something more bespoke created."
In addition, Jess can handcraft brooches cast in repurposed copper for gorgeous, tuppence-sized favours for bridesmaids and guests, giving you the chance to gift a miniature piece of art!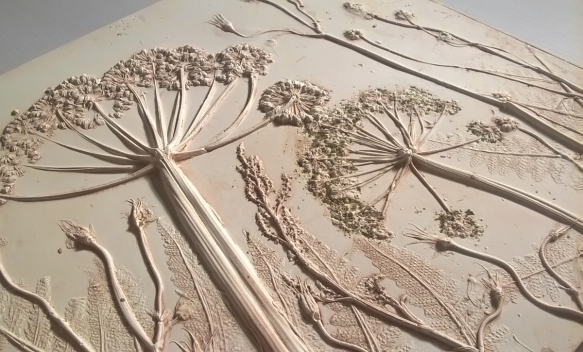 Anon Design Studio

"We've had some lovely bespoke commissions over the past year including calligraphy place names on beautiful fresh red apples," reveals Erica Ankers from Anon Design Studio. "A highlight this year has been writing place names on stunning Scottish sea glass for over 100 guests," she says. "And one theme very popular at the moment is minimalistic stationery combined with luxury finishes, including letterpress, hand-dyed silk, calligraphy and foiling."
With an eclectic range of ready-made collections to pick from including art deco '1920s Glamour', sea-themed 'Moody Blues', petal-pretty 'Watercolour Flowers' and modern minimalist 'Love Luxe', there's something paper-pretty available for every type of couple and wedding.
But if it's the bespoke route you prefer, there's no limit for artistic self-expression when it comes to your wedding stationery. Erica can utilise every element of her designs from the font and wording to imagery and colour scheme. Creating bespoke and luxury pieces of mini artworks, they can incorporate illustrative florals, crisp typography and 'extras' such as custom wax seal stamps, calligraphy envelopes and address labels to ensure a complete set of stunning stationery.
The Roving Artist
For an idiosyncratic way to entertain your guests, gift a unique wedding favour and accrue some original artwork, wedding silhouettist The Roving Artist is just the personality-packed solution.
"Circulating amongst wedding guests armed with a pair of scissors may seem an odd way to experience a wedding, yet this is my ideal role," says Charles Burns, one half of The Roving Artist duo alongside Michael Herbert. "I use the scissors to create instantaneous portraits of the guests and can cut them freehand from black paper in about 90 seconds. Seen through the eyes of a silhouettist, weddings are bizarre yet wonderful events." Revealing that his equipment is very simple - "just a pair of surgical scissors and a pocketful of paper" - the artists blend in easily.
"Recently I was flown out to a wedding in Montenegro. The couple had taken over a small island fishing village in the Adriatic and the 200 guests were surprised and delighted to get their silhouette cut out. Each was mounted on a card with the names of the couple and the date of the wedding."
The highlight - and most popular service - is cutting a silhouette of the bride and groom. "I usually do this later in the day, after the guests have seen me in action," says Charles. "Most guests receive a head-and-shoulders silhouette and I like to cut full-length portraits of the bride and groom. Their silhouettes are then displayed on the top table while I go from table to table cutting out the rest of the party."
Cornwall Caricatures
The only live pen wedding caricature service based in the Duchy, Cornwall Caricatures' Cassie Kemp speedily draws portraits in around five minutes per guest, making for a brilliantly entertaining pick-me-up during the celebrations.
With crisp, thick lines, and an individual style that combines exaggeration with flattery, Cassie's light-hearted caricature service can be customised to suit each couple's requirements, from scheduling to size and even style. Guests can be drawn alone on A4 card, or together on A3 in groups of two, three, four, or even five to feature a small baby. "Many will then get their unique portraits framed for their homes," says Cassie. "The beauty of caricatures is that it's not just entertainment on the spot, it's a memento and doubles as a favour so your guests can take the magic home with them."
Flexibility is a key aspect of Cassie's service. She can be seated or standing with a tool belt for mobile drawing. "In this technological age of screen overkill, there is something so timeless about the good old-fashioned pen and paper, and it captivates onlookers with its simplicity - there really are no bells or whistles!" explains Cassie.
"I am always open-minded and creative about what a couple wants to achieve. For example, although I use five shades of grey and black pens as standard, one bride requested I draw all guests in sepia tones to fit with her rustic and vintage theme."
What's more, Cassie can also create an array of decor in advance such as portrait signing boards and place settings, along with after-event artistry including group portraits, thank you cards and wedding books for giggle-inducing keepsakes.
Charlotte Atkinson
Add an ethereal charm to your day courtesy of Charlotte Atkinson's award-winning cameo portraits. The beautifully flattering creations are hand-painted in watercolour in a miniature artist's studio set up in your venue, allowing guests to relax and pose for their picture during a moment of downtime in proceedings, which they can then take home with them as an everlasting memento of your day.
Having mastered the art of live wedding painting, she offers not only gorgeous and flattering watercolours of your guests in their finery, but also a painting of the entire celebrations. Whether you choose to focus on your venue, incorporate the guests or add in some of the special details such as your flowers or cake, it'll provide a gorgeous all-round memory of the day.
Capturing the characters of your wedding with a revealing sensitivity and soft colour palette flecked with gold, each piece of art marries Charlotte's academic studies of portraiture in Florence with her distinctive style, to spellbinding effect.
words Hannah May

Copyright Wed magazine 2019
Wed

Directory

All you need from the finest wedding suppliers in Cornwall and Devon