---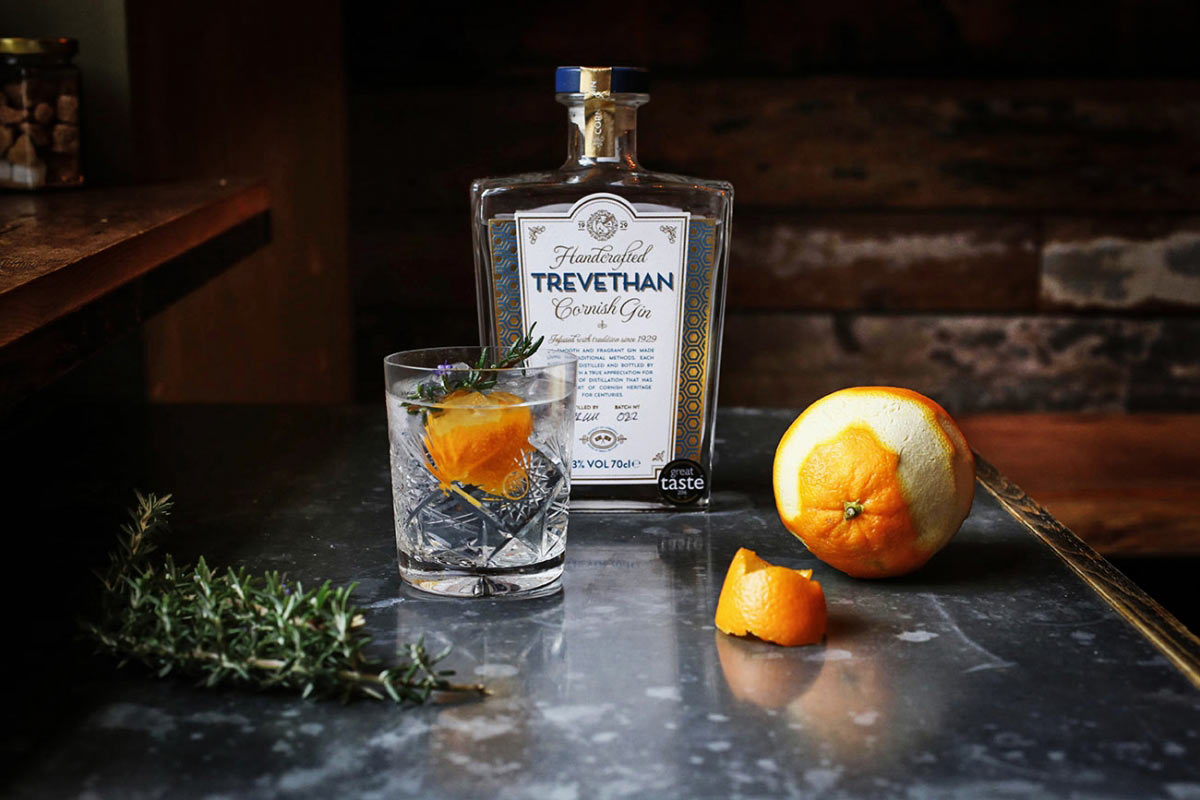 Wedding Drinks-Just the Tonic
Cornish gins for your wedding day
Gin has become the drink of choice for many, so why not bring the south-west's best botanical offerings to your wedding guests?
Though gin has been drunk for centuries, the juniper-based spirit is enjoying a renaissance of sorts, and is now seen gracing bars and homes – not to mention weddings – all over the country. The great news for nearly-weds marrying in Cornwall is that many high-quality gins are made on our doorstep, from traditional centuries-old blends to new and diverse flavours offering a twist on the classic. We've rounded up our top picks of the county's finest gins, sure to raise spirits at a wedding – whether you choose it as a welcome drink at your celebration, gift mini bottles as favours, or use it to showcase the amazing local gin on offer in our beautiful part of the world. And if you're getting married on the second Saturday in June, it's pretty much compulsory that you have gin at your wedding – as it's World Gin Day!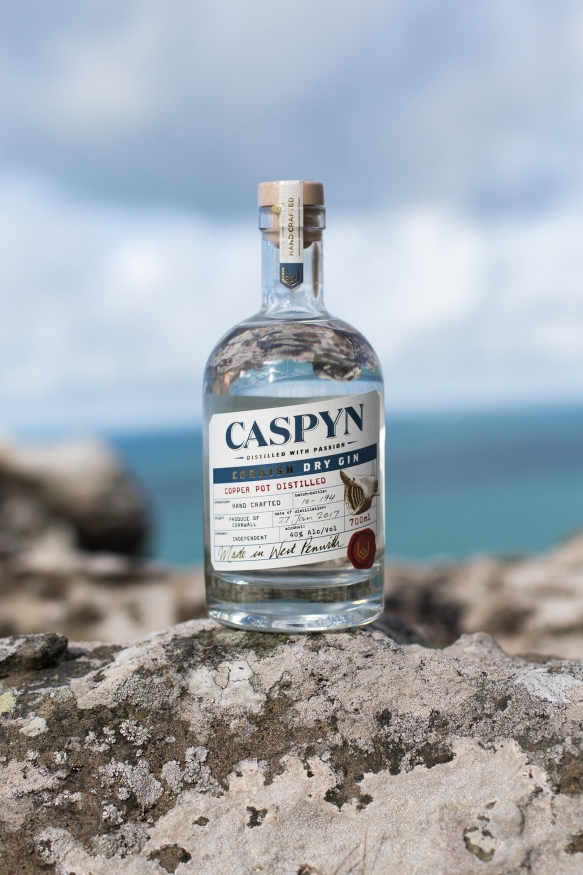 Caspyn Cornish Dry
Starting life in a small craft distillery just outside Penzance, this classic dry gin has just the right amount of zest and floral freshness. Comparing itself to an 'early Cornish spring morning', the fresh flavours evoke the notion of a cold and crisp walk along a Cornish beach, warming from the inside. Smooth with citrus notes and a slight spice (thanks to the addition of black pepper), the team behind Caspyn have created an invigorating and snappy gin that holds its own when mixed with tonic or added to a cocktail.
Serving suggestion: Serve with premium tonic, garnished with a twist of orange, or try this gin in a classic negroni, a dry martini or a gin sour.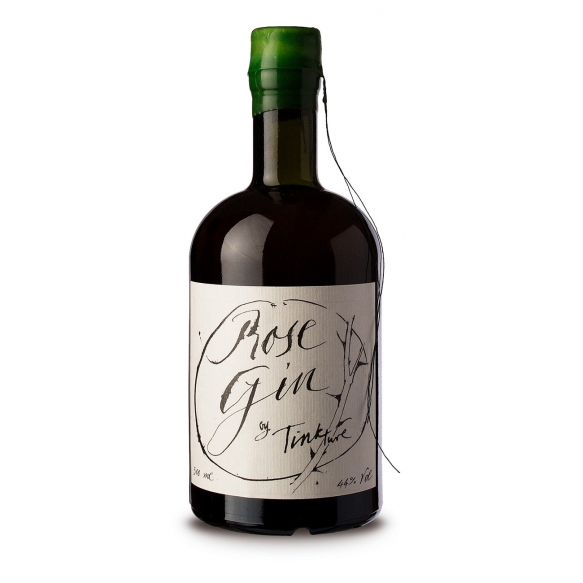 Tinkture Rose Gin
Not super sweet as some rose gins can be, this delightful fresh flavour lets the complex yet delicate essence of genuine David Austin roses sing out. Juniper and coriander provide an intricate depth and warmth, and the surprise is in the colour: a golden amber that turns to a beautiful pink like magic before your eyes when tonic is added. Handmade in Penzance, the subtle gin with a pure perfume will transport you and your guests back to the roaring '20s, with opulence and style and in the finest of taste.
Serving suggestion: Serve in a crystal whisky tumbler with a quality tonic and a simple petal of any edible flower – rose is best, of course! – or in the summer, garnish with a slice of fresh peach.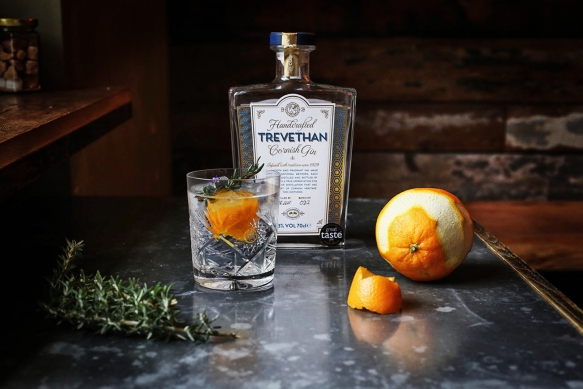 Trevethan Gin
Using a traditional recipe perfected in the 1920s – the first 'Cocktail Age', when gin was in its heyday – there's a reason this family-created gin has lasted the test of time. Classically smooth and bold in flavour, some of its more complex notes are thanks to botanicals such as elderflower picked from hedgerows in Treneglos, in north-east Cornwall's countryside. The soft water used comes from a natural spring on nearby farmland, ensuring mineral treatment isn't necessary, so the result is a smooth and natural flavour. Specific in its delivery – "Don't add ice then gin to a glass, as the really cold ice can 'shock' some of the botanical oils out of solution and change the balance of the flavour" – Trevethan advocates adding ice, then tonic, then garnish, then the gin last. Pure and refined, this gin has all the markings of a Cornish countryside classic.
Serving suggestion: Serve with Fever Tree Light Tonic, a sprig of rosemary and a large wheel of orange peel. Only use the peel and not the whole segment as the acid reacts with the quinine in the tonic and makes it taste more bitter; the peel just has the sweeter oils.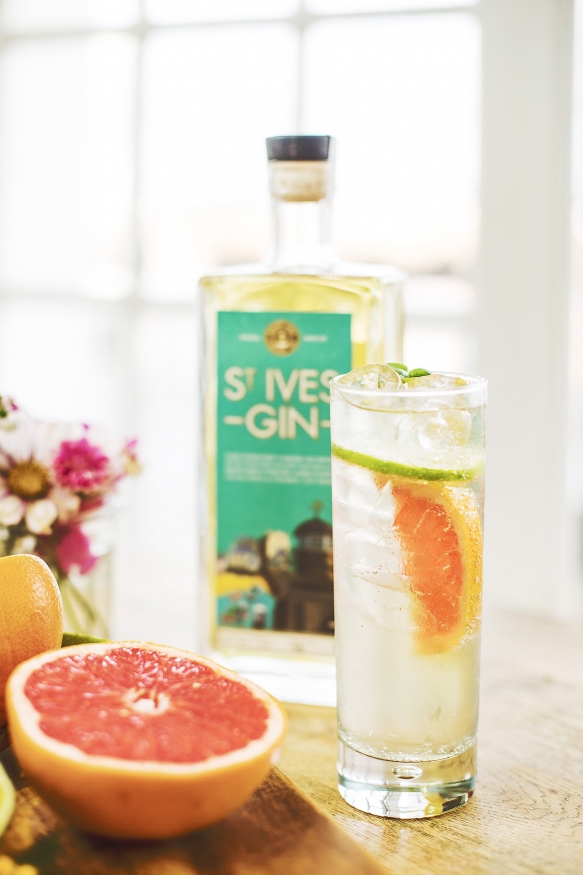 St Ives Gin
The brainchild of three local brothers, this floral, aromatic gin evokes a sense of the rugged north coast of its birthplace. Truly Cornish, you can almost feel the chill of the Atlantic breeze, and the windswept moors and clifftops between Zennor and St Ives from which the ingredients are foraged. The aim, to 'capture Cornish spirit in every bottle' ensures the company (and its cold compound gin!) has flavour, character and quality at its heart. Imbued with 13 botanicals including gorse flowers and kelp, the result is a fresh and herb-infused twist on the classic gin.
Serving suggestion: Serve it in a highball glass over ice with just with a wedge of lime and a dash of grapefruit bitters to finish.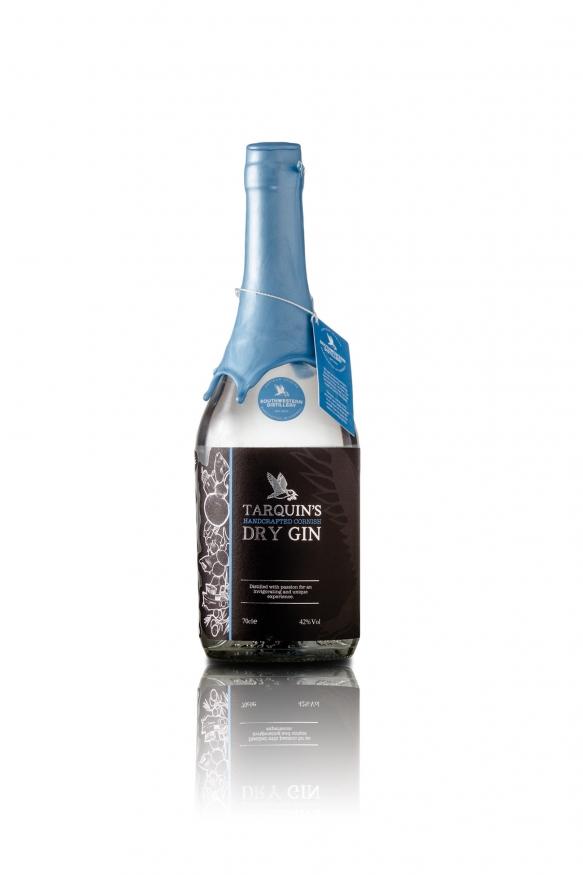 Tarquin's Cornish Gin
Bringing the age-old spirit into contemporary times, Tarquin's gins use Devon violets' delicate leaves, to add a vibrant freshness and create something unique. Each bottle is made by hand, given care, rest and attention, which results in every batch having its own perfectly unique character – and it shows, having won awards all over the world. Fresh zest completes the piquant notes, and Cornish spring water adds a hint of sweetness, bringing something reminiscent of aromatic orange blossom in a crisp pine forest. Plus, it's also available in mini bottles, perfect for favours.
Serving suggestion: Try it with Fever Tree Mediterranean Tonic, with fresh thyme and slice of pink grapefruit.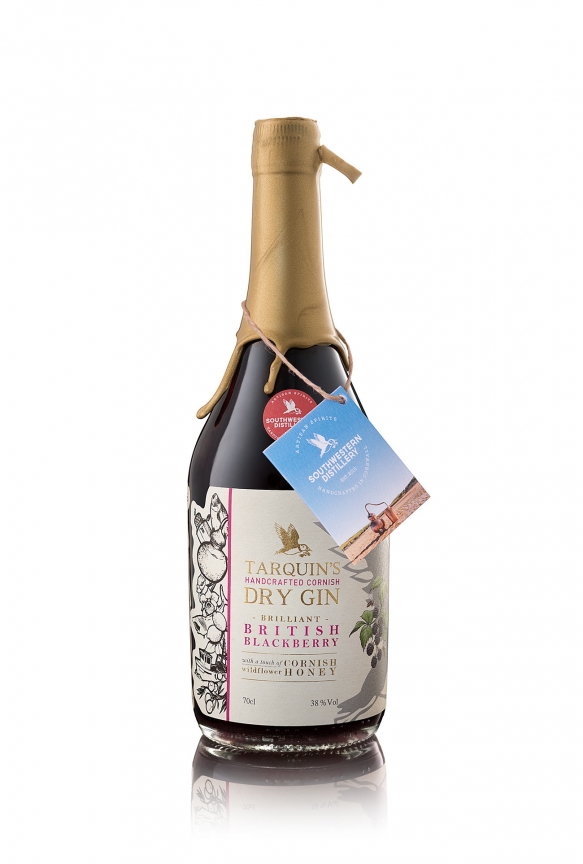 Tarquin's Brilliant British Blackberry Gin
Crafted in Cornwall, this fragrant drink conjures up summertime energy, giving an invigorating lift to a gin and tonic. Infused with wild berries and sweet spice, it's a fruity and refreshing offering, perfect to accompany an al fresco wedding on a manor house lawn or our county's shores. Soaking up the summer sun or the spring breeze with a blackberry gin in hand, this is a great alternative to a Pimm's or a Summer Cup, and the fresh and fruity offering would make for a brilliant welcome drink.
Serving suggestion: Serve with Fever Tree Sicilian Lemonade with fresh thyme and a lemon twist.
TO THE BAR!
Now you have the gin bug, here's our pick of the best mobile bars to serve it up to your wedding guests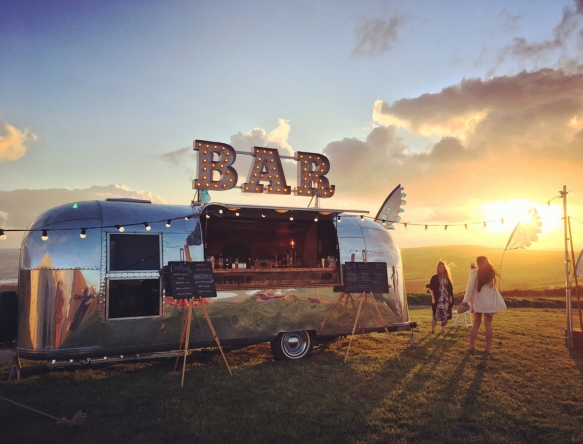 The Buffalo
This super-cool converted airstream is already making a name for itself in the south-west as a mobile bar with a difference, and is sure to make a statement at your wedding. Working closely with you to create your own bespoke menu, this is a sure-fire way to let your gins sing with style.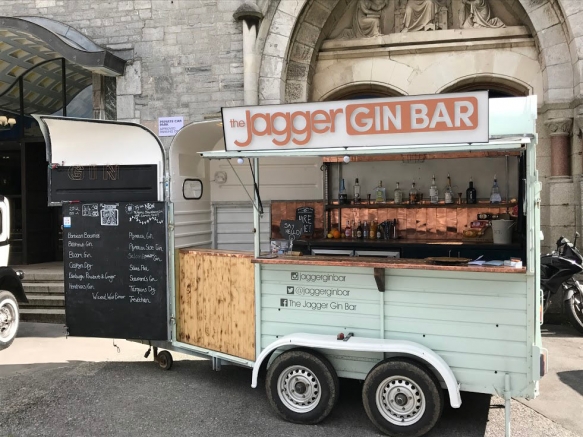 Jagger Gin Bar
The perfect bar for lovers of Cornish gin, Jagger Gin Bar is a very cool refurbished horsebox that rocks up to weddings and celebrations to serve up your drinks of choice. While Jagger focuses on local gins – ideal! – they're no, er, one-trick pony, and will stock any other drinks you want. Working with all budgets, Jagger's staff are super flexible, friendly and know their gins – and the stylish horsebox is sure to be talk of your guests.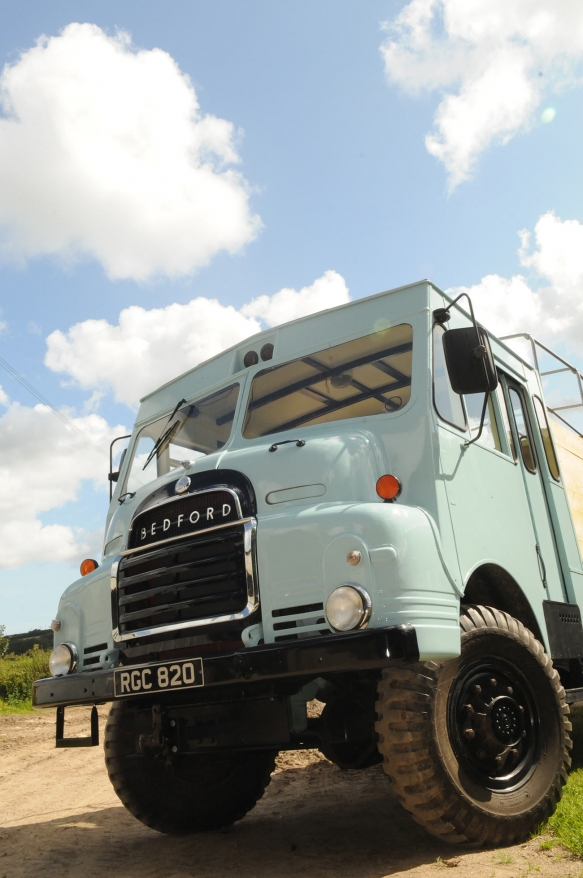 Offbeat Bars
From a restored 1956 Bedford Truck to a multi-storey bar made from vintage hardware, Offbeat Bars will help you add the wow factor to your wedding. With a focus on 'the ability to truly get off the beaten track', you'll be in good hands – and sipping on good gins – wherever your nuptials take place.
words Lucy Higgins

Copyright Wed Magazine 2019