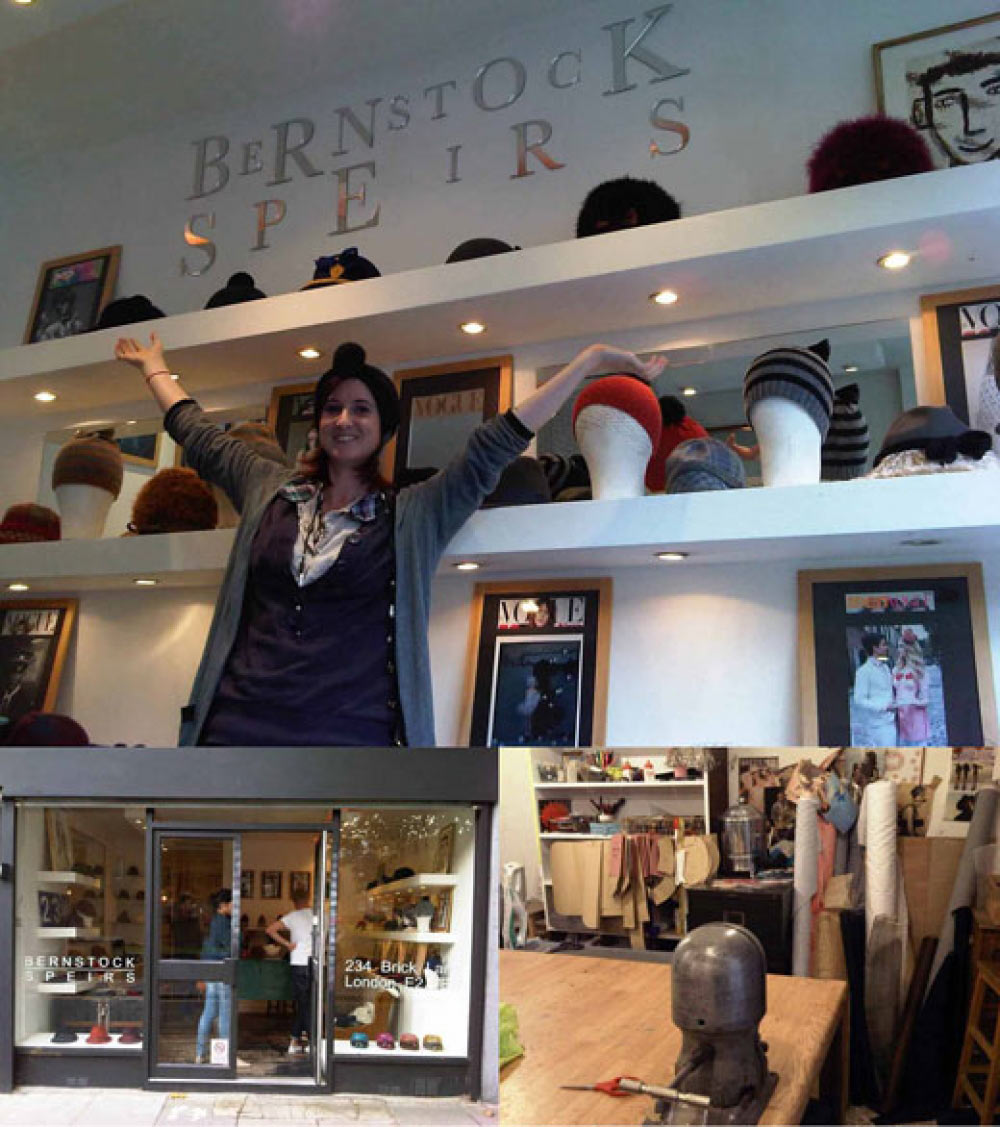 Holly Young Hat Report...
Article Published: Tuesday 27th September, 2011 - 1:24pm
---
Up and coming milliner Holly Young is making waves in the South West and beyond for her extraordinary creations, not to mention her fabulous fascinator workshops. Holly attended London Fashion Week to scout out the latest headwear trends and we asked her to share her millinery insights with you, our lovely Wed readers - here's part one...
Friday 16th September - Justin Smith
I was lucky enough to be invited to the private view of milliner Justin Smith's creations at the Royal Horse Guard's Hotel in London. I used to work for Justin when I lived in London and was very pleased to see him and his new work.
The exhibition was a showcase of his best works throughout his five years in business as well as a collection for the hotel especially commissioned for their footmen. There was an eclectic mix of treasures on show - some under bell jars, others delicately poised on mannequins. Just as you thought you had seen them all there would be another hallway to go down, with more gems to find!
I was impressed with the vast range of materials and techniques Justin had employed to achieve his designs. There were wings on a band made from wood, a headdress made from beetle's wings, a stained glass window effect mask made with the finest organza with jet beads, a hat made out of fishing rope and shells, a wire framed headdress with polka dot netting...seeing really was believing!
After looking around I went downstairs to the after party and was greeted with a glass of the finest Moet. In the ballroom was a 10ft high mound of matt black balloons from which three mannequins arose, goddess-like, donning tropical parrots hand made from leather and Swarovski crystals. Incredible.
Justin was delighted when Swarovski had asked him to create pieces using their crystals, explaining that "the quality has to be there, that's what millinery is loosing and I want to keep that alive". You can easily see it in his work and I am very proud to have learnt from this master of millinery.
Justin now lectures at the Royal College of Art and continues to make every piece by hand at his studio in London. To see more examples of his work visit
www.jsmithesquire.com
Saturday 17th September - Atelier Millinery
The next day my friend Amy and I went to the Selvedge Magazine autumn fair. We went to look at the wonderful textiles and designer/makers on show and we happened upon two lovely ladies selling hats from Atelier Millinery - Georgina and Tina. They have a shop in Kingly Court off Carnaby Street, where they make and sell hats as well as running courses and stocking hat-making materials, which was a brilliant stroke of luck!
Amy and I had fun trying on their vintage inspired felt and furry hats. Perfect for autumn and an elegant alternative to the wooly bobble. Founder Georgina was sporting a rather lovely peapod headpiece that she had made at one of their master classes.
She said that in the shop "fruit designs are our bestsellers, we should sell it by the pound!" she laughed. While busy sewing behind the stall, she explained that she is always making something (a woman after my own heart). The array of beautiful headwear on display was attracting a lot of attention, from small rosette headbands to veiled fascinators, so we continued on our way.
To find out more about Ateiler and their courses visit
www.atelier-millinery.com
Sunday 18th September - Bernstock Speirs
I was having a Sunday mooch around east London, starting with Columbia Road flower market followed by Brick Lane. Along the way I popped into one of my favorite hat shops: Bernstock Speirs. I was immediately taken by their bobble turban or 'turbini'. I thought it was really fun yet wearable and was super soft to wear. I also really loved their 'veil pull-on', which is a knitted hat with veiling cascading from the bobble. I was told that a particular Miss Frost had just bought one...
Their style is sporty yet classic, having re-invented traditional styles by adding their own humorous twist or using unconventional materials.
Founders Paul Bernstock and Thelma Speirs will shortly be celebrating their 30 years in business together. Thelma was out at Peter Jensen's S/S 2012 show for which they had made the hats. I was kindly showed around by their assistant and was allowed to see their studio at the back of the shop. All of their hats are made here by hand then shipped around the world to various stockists.
It was great for me to see inside another milliner's studio and I was so impressed that all of the materials, patterns, machines and blocks needed to complete the process were in one room. I am pleased to see that even an international brand can still manufacture in the UK.
To see more of their stunning designs or buy online visit
www.bernstockspeirs.com/default.aspx
Thanks for reading - I will be writing another headwear blog soon!
To find out more about my millinery designs or fascinator courses please visit
www.hollyyoungboutique.com
---