Bride-to-be Blog - Part 2: The Dress
Article Published: Monday 25th March, 2013 - 9:59am
---
In part two of our bride-to-be blogger series, Becky discusses the ultimate conundrum: finding the dress. Follow Becky's blog at
www.rebeccaritson.com
"Coco Chanel said, "Dress shabbily and they remember the dress; dress impeccably and they remember the woman."
Coco never married - clearly. A wedding is the one day when her pithy aphorism is blown out of the water: whatever you do, they will remember the dress.
As budget, date setting and venue were the top priorities; the dress stress didn't come on at once.
We had the finance chat with our generous parents; decided what we needed, wanted and could afford in a venue; did some scouting and set a time and place.
And then, the ghostly white form that hung on its rail in the periphery of my consciousness moved front and centre.
I was going to have to wear something - and it had to look good.
What I hadn't realised until this point was the calendar of dressmaking that the wedding industry works on. Months can be required to order your dress, fit your dress - never mind the potential months required to actually find your dress.
Panic duly set in: I figured I had a three-month window to turn the ghostly garment into something tangible.
As established in a previous blog, my feelings on clothes with volume, organza and tulle are ambivalent at best and I admit that I plunged into the foamy world of wedding dress shopping with trepidation.
More, I have an innate fear of all strapless styles that I can trace back to a particularly sweaty night in a rock club in York circa 1998. Here I discovered the hard way that D cups and moshing require more than gravity's good grace to work in tandem. Lesson learnt, thanks Reef.
Given that I wanted to be able 'Put my Hands Up' with confidence on the dance floor, and would prefer not to rustle as I walk down the aisle, I established some sartorial boundaries:
- Straps or sleeves - just give the girls some support
- Avoid anything that reminds me of my gran's toilet roll fairy...I do not need room to stow a small child / loo paper / over night bag under my skirt
- The danger posed by diamantes is clear and present: just say no
- I will not 'get used to' the shallow breathing symptomatic of a well strapped corset
Thus equipped, I ventured forth.
Thankfully, aside from the shock of women I'd met only minutes previously entering into the changing room to help me dress (wear your decent knickers), the experience was nowhere near as fraught as I'd feared.
With hands as warm as their smiles, genuine, friendly and efficient assistants dressed me in a myriad of styles: a Jenny Packham in Brighton, a Yolan Cris in Exeter and everything in between.
I also explored bespoke options. Try
www.hopeandharlequin.com
based in Brighton and who have styles from all decades in the twentieth century and will custom make to your measurements.
For a while though, the perfect balance between style, cost and the wow factor eluded me: I couldn't afford the vintage, ethereal style I loved...and had misgivings about the favours a sylph-like slip - although fantastically glamorous on the hanger - would do me in reality (see D cup issues, above).
But none of this procrastination really explains how I came to take the step I did.
I can only say it was providence - and a large glass of wine.
Then I found Daughters of Simone. Not only did their ideological acquaintance to Ms De Beauvoir, mother of modern feminism, appeal to me - their designs made me feel the heat of the sun on my skin and the smell of grass in the air. https://daughtersofsimone.com/product-category/new-gowns/
Sexy and simple, sweet and subtle, their collection sang over the ether and the Atlantic. Yep, I bought a dress from California.
Not for the faint hearted, I waited three months for the dress to arrive having never seen the material, tried it on nor heard of the company. I shook as I opened the box; welled at the handwritten note, sweet ribbon and artfully placed dried corn that were enclosed with the box's precious contents.
British custom issues aside, their service was impeccable and I hope - thanks to the talents of local designer Annalise Harvey
www.annaliseharvey.com
who is doing some crafty re-structuring - my bloke thinks it is too.
I told him this. His answer?
"You could wear anything - I'm not marrying a dress; I'm marrying the girl in it."
And just like that he exorcized the phantom of the perfect dress.
The thing is that, try as you might, The Wedding Dress takes on a life of its own and haunts your imagination.
You fixate on that moment, as a bride and almost-wife in front of all of your friends and family, when the dress' colour - white or red? - cut - demure or siren? - shape - love-heart, fish-tail? - is somehow supposed to stand as signifier for who you are, how you see yourself.
And somehow this dress, the dress, needs to more than any single piece of fashion has ever done before or will ever do again: turn over years of insecurities about your body; turn you into a shining beacon of loveliness; turn on the collective water works of the gathered hordes...
What we forget in this stress for dress perfection is that the woman inside it is what counts to the guy or gal standing next to her.
Coco was right after all: because on this day you and your dress will be impeccable to those who truly count, those who are there to see the woman."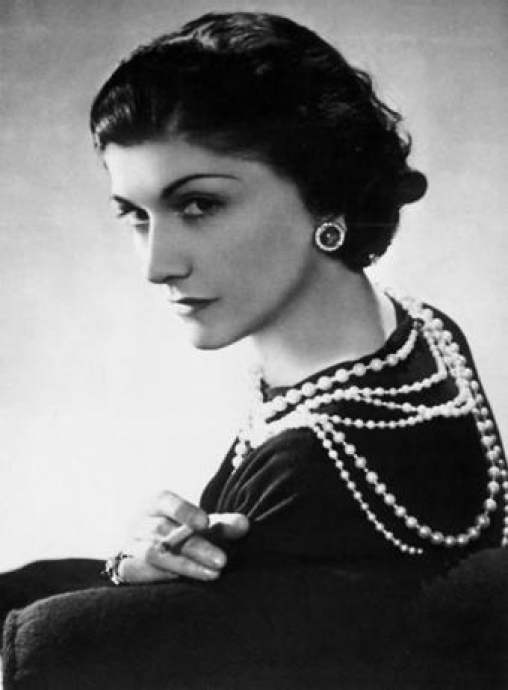 ---