---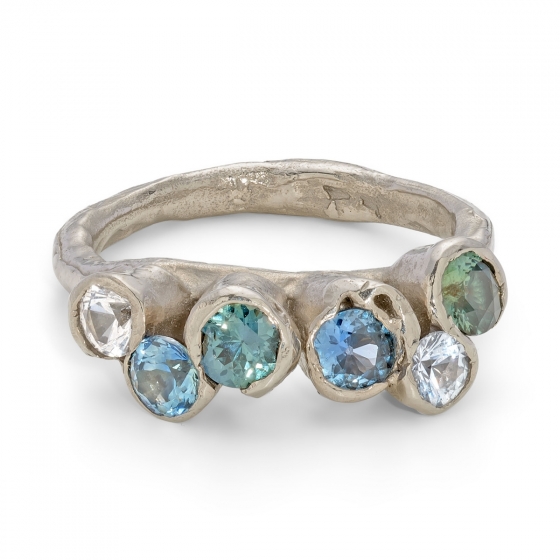 Wedding Rings Cornwall and Devon
Wedding rings inspired by Cornwall and Devon
Use your coastal surrounds as inspiration for your wedding rings
Whether it's a rural romance or seaside shindig you're planning, the county's sublime landscape can be echoed in your W-day in everything from the colour scheme and the floristry to the stationery and - perhaps most meaningfully - the rings.
With designer-makers using the country and coast as their muse, their collections are becoming increasingly symbolic of not only a couple's love for each other, but the place in which they wed.
"Like most makers in Cornwall, it's impossible not to be inspired by our amazing landscape, but at Justin Duance we actually include it in our pieces too," says the innovative jeweller.
"We cast rings in beach sand, giving customers the opportunity to discreetly personalise their jewellery and carry a piece of Cornwall (or anywhere!) with them all the time. The beach sand is what gives our rings their unusual rustic texture; it's a very natural process and no two rings are the same."
From texture to colour, there's a number of ways to weave a sense of place into your wedding rings. "We offer a range of ethically sourced diamonds and gemstones in a beautiful variety of colours - our Montana sapphires particularly remind us of the ocean with their varying tones of blues and greens that change in different light," continues Justin. "The shapes and styles of our settings are often reminiscent of the sea, featuring organic curves and waves."
And it isn't all about the sea at Justin Duance Jewellery. "Our rugged cliffs are celebrated in our rock rings and we also work with local hardwoods such as oak, plum, laburnum and pieces of old boat, combining them with precious metals or super strong titanium to create unique rings."
Living and working a stone's throw from the beach, Emily Nixon's distinctive designs are "immersed in the language of the coastline". Her jewellery bench is strewn with objects picked up from the shoreline, and by using the ancient art of lost wax casting, "the natural forms and textures of seaweed and stone provide a constant reference in the process" she says. "In the Seaweed Rings Collection, precious stones appear nestled amongst furled ribbons of seaweed, the fluid natural forms of my designs making each ring a miniature sculpture in itself."
This constant referencing to natural textures and form is evident in her beautifully characterful 'Rock', 'Urchin', 'Cockle' and 'Ripple' collections, while hand-selected sapphires in unusual aqua blues and deep sea greens adds extra oceanic dimension.
"Juxtaposed with the irregularity of the seaweed settings, textured sea-worn finish and this luminous palette of ocean colour gemstones, the language of the coast is intrinsic to the core of these designs."
Exeter-based jeweller Erin Cox also draws inspiration from her sublime surroundings. Her beguiling collection of individually handcrafted rings presents oceanic attributes courtesy of gorgeous aquamarine and blue sapphire stones, along with her signature "refined, fluid, molten texture" that is reminiscent of wave-lashed rock, moorland crag and rugged coastal outcrop.

Pick from pieces such as her gorgeously texturised Otter rings, which give a striking, sea-worn aesthetic, or a stunning sand-coloured champagne diamond complete with on-trend geometric cut for statement coastal style.


1. Emily Nixon
emilynixon.com
Copyright Wed magazine 2019
Wed

Directory

All you need from the finest wedding suppliers in Cornwall and Devon