---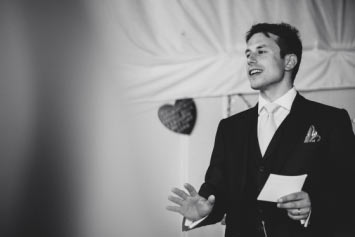 Wedding Readings
Expert advice on how to pick your readings
The readings should add a personal and memorable touch to your ceremony. Find the right words with these top tips from the wedding experts
A wedding ceremony is generally made up of a few key ingredients: the vows, the kiss, the signing of the register, some meaningful music - and the readings.

It's easy to overlook the readings, dismissing them as a formality only there to pad out the ceremonials, while you skip ahead to more exciting bits like the kiss and the confetti. But these words can carry great significance. Offering a moment of stillness in a day full of dancing and laughter, feasting and chatter, the readings are a key opportunity to personalise your ceremony: to communicate something deeply significant about you and your relationship - about love, marriage and life itself.
So take a moment to choose your words - and how to deliver them - carefully.

THE RIGHT WORDS
So we don't expect you grooms to drag yourselves along to each and every wedding fair and floristry consultation - but choosing the readings is one area of the wedding planning that should be a team effort. "Readings should be about you as a couple so dedicate some time to look for ones you like together. This is a really enjoyable part of planning your wedding," advises Jenny Phipps of Jenny Wren Weddings and Events (
jennywrenweddingsandevents.co.uk
).
Avoid choosing a standard reading that you've heard at countless weddings before.
"Choose one which speaks to your heart, one that you can emotionally connect to," advise Nicola Le Couteur Bisson and Denise Whitehair from The Guild of Cornish Celebrants (
cornishcelebrants.co.uk
).
Don't feel restricted to a 'traditional' wedding reading - choose one that carries emotional weight for you both. "It doesn't have to be a classically romantic poem," say Nicola and Denise. "One of the most innovative readings we had was from 'The Mousehole Cat'. The couple loved the village and got engaged there - it really connected with everyone present."
Not into love poetry? Then put the anthology down and look for extracts from your favourites films, television series or books - from 'Sex and the City' to 'Jane Eyre', stirring words of love are everywhere, if you look for them. "We have conducted a ceremony with the handfasting ritual incorporating the vow words from the wedding on 'Game of Thrones', as well as readings from the likes of 'Captain Corelli's Mandolin' and 'Winnie the Pooh," comment Nicola and Denise.
On that note, children's books are a fruitful source of inspiration; extracts from 'Winnie the Pooh', 'The Little Prince' and 'The Velveteen Rabbit' are some of the most popular wedding readings. Not only is the sentiment often profound in capturing the innocence and simplicity of love, you'll find many of your guests will relate to the words, having heard them before.
You might observe a similar response if you choose lyrics from a song - a perfect option if you and your fiance share a passion for music. "Consider song lyrics - you will see the smiles on guests' faces as they realise why they recognise them," comments Jenny. Why not take things a step further and turn the reading into a sing-along? "Some couples have a song instead of a reading, producing song sheets to allow everyone to join in," say Nicola and Denise.
The modern wedding is all about personalisation - so don't be afraid to go against the grain with your readings too. "Look for something different; for example, Bob Marley has composed many readings on love which suit a lot of couples," comment Nicola and Denise.
Just remember to keep your audience in mind. "Make sure the reading is appropriate to the occasion," they continue. "A mix of humour, romance and reflection works well."
The length of the reading is also a key factor. "A confident speaker will be able to hold the attention of the guests with a longer or more complex reading, whereas someone who is less confident will usually be better with a shorter poem." Wedding planner Claudia Montano (claudiamontano.co.uk) adds: "It is always best to read your choice out loud and time it. One-three minutes is perfect."
And it appears three is the magic number. "I would suggest no more than three readings - more than that may overshadow the actual vows," asserts Jenny.
And, if you really can't find a reading you like? "Write your own!"

SPECIAL DELIVERY
Choosing the right person to deliver your reading is as important as the choice of reading itself. "Choose a volunteer if possible - then choose a reading which suits their style and confidence level," advise Nicola and Denise. Mismatching the reader and the reading is a common pitfall - for example, don't ask your most serious friend to deliver a funny poem where comic timing is crucial.
Choosing a child to be the reader is a sure-fire way to charm the audience before a word has been uttered. However, be aware of the impact nerves and emotion may have on them. "Consider allowing two of them to do the reading as a 'double act', as they will give confidence and support to each other," suggest Nicola and Denise.
Once you've settled on a good match of reader and reading, practise is key. "Encourage them to rehearse reading it, especially if it a more challenging piece such as a Shakespearian verse or prose," they comment.
Then it's time to assess a few practicalities. "Make sure your reader knows their position for delivering the reading and ensure the route is clear to get there. This avoids any awkward faffing around," says Jenny. And, it might seem obvious, but make sure the reading isn't scrawled on a scrunched up piece of paper. "We offer to print out the reading on card and in bold and clear text, double spaced and with clearly marked pausing spaces if we are asked to do so," say Nicola and Denise.
Then it's a matter of pace. "Ask them to take their time with the reading - at least half normal talking speed," they continue. "Take pauses if you need to and use this time to make eye contact with the guests and bride and groom," adds Jenny.
Don't be afraid to consider a few theatrics - as long as they suit the reader. "A more confident reader can include props with their reading, such as hand puppets to enliven their storytelling - such as Edward Monkton's 'A Lovely Love Story'," suggest Nicola and Denise.
And, if you're the reader, ensure you savour the moment, as Jenny comments: "You've been chosen for a reason so embrace the moment and enjoy!"
words
Rebecca Matthews
Copyright Wed magazine 2015
Wed

Directory

All you need from the finest wedding suppliers in Cornwall and Devon