---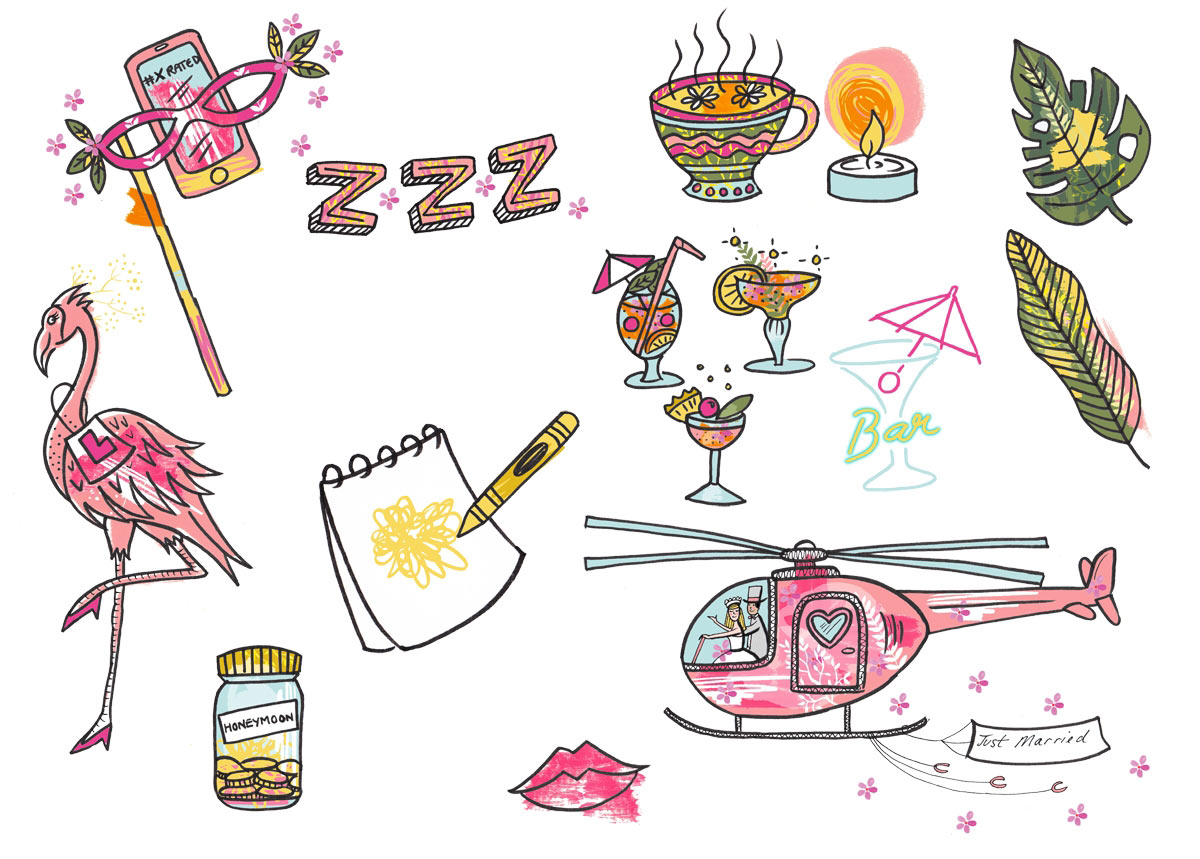 Wedding Planning Cornwall
The A-Z of Weddings
Once you've got engaged, it's hard to know where to start.
We cover the alphabet of wedding planning basics, to get you from A to B (and all the way through to Z)
A is for awesome news!

You've done it. You're officially a couple and on the brink of a lifelong commitment to another person now the question has been popped. Congratulations! Whether your magic moment was a tear-jerking bolt from the blue or a pre-planned extravaganza, the sentiment remains the same: you're The One. Now there's a wedding to plan, so read on for our A-Z guide to planning the big day.

B is for budget
Your big day budget is going to make that red suitcase seem small fry. Before you start anything else, sit down and work out realistically what you have to spend. Weddings are dreamy once-in-a-lifetime days. And they also have a habit of racking up immense bills. Aim low in your initial estimate and any help from parents will be a welcome surprise. Now, another B: the bridal party. The first thing some people think once the ring is on your finger is "when's the stag or hen do?" and that's where those all-important Bs comes into place - the best man and bridesmaids. Get together early, organise your official party and talk outfits. If you're going to put them in snake-print taffeta, it's best to be honest now. Likewise it also gives your besties the chance to reveal any prior commitments or impending bridesmaid-averse issues such as babies on the way or holidaying in Bali just as you're saying your vows. And finally, another important B: the bar. Everyone loves a freebie but be prepared for expense and excess. There's something about a no-limits fridge that means over-indulgence can set in. If a free bar is off-limits, a small cash injection behind the bar to start people off is always met with gratitude.

C is for catering
Undone, homemade cakes might be economical, but formal creations that are show-stopping centrepieces to your day can include the kind of sugarcraft a one-man effort simply cannot compete with. A huge amount of work goes into a professional cake so don't forget to budget for this and shop around. Who doesn't love tasting small sugary treats all weekend? Catering is less likely to be a homemade effort even if the menu is 'undone'. Locally sourced menus and food-from-a-van outfits are all very now and offer a myriad of options, but likewise your venue may have in-house caterers so check with what they offer and allow.

D is for dress
This may be the single most expensive decision of your life to date. But however you feel about The One (well, the other one, after your other half), you'll want to look and feel fantastic on the day. Whimsical high-low skirts might be hot on the bridal catwalks right now but if you'd rather show off your sculpted shoulders (thank you, Eugenie) than your knobbly knees, then do it. From long-sleeved, deep pockets and jumpsuits to hot pants and tuxedos, there's a unique look for every single bride. It is your moment in the spotlight, so go with whatever your heart desires (budget permitting; see B!).
E is for engagement
Engagement shoots, engagement parties, engagement announcements and engagement rings - there's so much to splurge on once your news is out there. But remember, the big day is still to come, so although you understandably want to start the party right now, you might want to sit down and plan that budget before you spend the next 18 months downing bubbly and saying: "You only do it once!"

F is for flowers
Favours - small gifts for your guests to show your appreciation of their presence on your day - are always well received, and homemade favours add a lovely touch if you have the time, patience and ability. If not, there are hundreds of unique options available to suit most themes - see page 97 for our favourite edible favour ideas. And when it comes to another important F - flowers - it's worth remembering that fresh flowers omit a scent as well as look beautiful, which is worth considering if you're pondering the idea of faux flowers.
G is for guests
Guest lists need to be nailed early. Until you have some idea of numbers, it's impossible to set a budget or start viewing venues. Another G - gift lists - come in the form of traditional - letting guests know your choices from a particular store - to more contemporary options of funds towards the honeymoon or suggesting that a cash gift would be well received. Do what feels right for you and your guests.

H is for holidays
Hen parties aren't compulsory nor need to be raucous drink-fuelled events (although these are certainly fun!) - our recent favourites include dreamcatcher workshops and chocolate ceremonies. Hen dos can be entirely bespoke so let your besties know your dream 48 hours and see if they can make it happen. Honeymoons can be - for some - more important than the big day itself. If funds are unlimited, the world is your oyster and so are the kinds of experiences you can enjoy. And it doesn't just have to be about you; honeymoon volunteering is on the rise, and is an exciting and worthwhile way to spend some time together after the wedding.

I is for invitations
Invitations can go out as early as you like but remember the later you leave it may mean your guests have other plans. Save the dates are handy and can be sent nine months to a year beforehand, then tradition states the formal invitations go out six to eight weeks before the day.

J is for just married
Post-ceremony or post-party transport is one way to go out in style. The Cambridges and Sussexes both nailed it with their super-glam exits in stylish motors with beaming smiles and twinkling diamonds. However you want to travel - on foot, by bike, cars, boats, trains or even helicopters - there are some serious photo ops in there, so beam with happiness and revel in your newly married status.
K is for kiss
Didn't Harry and Meghan nail it? So Hollywood! Some say go for it and others say remain cool with a quick peck. It's hard to know what you look like when locked in a loving embrace so we say a few practice sessions in front of the mirror (or selfies) should do the trick!
L is for little ones
Children look adorable at weddings, but not everyone wants to have to a think about the logistics of catering for tiddlers on their big day. So if your invitation is strictly adults-only, make it very clear on the invitation and your guests will understand, be able to make alternative childcare arrangements - and enjoy themselves! If children are invited, they will need entertainment. It doesn't have to be lavish - though there are some seriously creative options out there (think LED robots and animatronic puppetry!) should you want to go big. But a few simple balloon animals, old-fashioned garden games or classic paper and crayons can still keep kids entertained.

M is for mothers
It's nice to make sure mums and mother-in-laws are made to feel special in the run-up to your day, with a focus on them and their outfits. Organise a mums' day out and have fun trying on a rainbow of fascinators.

N is for name changes
Taking your other half's name? If so, cute touches include slippers or bath robes with your new name on for the honeymoon. Although passports can be changed up to three months before the wedding, it's easier to do it on returning home so as not to cause confusion as tickets and any visas required have to be in the same name.
O is for off-season

Out-of-season weddings can often save you thousands on venue costs. Christmas can obviously be pricey but mid-week and low-season options like January mean you might be able to negotiate a discounted rate or upgrade your venue and package.

P is for photography
Choosing your photographer is important, so spend time looking through websites and getting a feel for photographers' work. Meet with your favourite photographer or a chosen few - this is crucial. Weddings portraits are immensely intimate so you need to feel relaxed and confident and not be worrying if the rain clouds overhead are causing lighting issues. However good you are behind an iPhone, your photographer is the expert - you just need to find the right person to put your trust in to capture your day perfectly.

Q is for quiet time
Sofas, beanbags, throws, candles and cups of tea. Wherever you're holding your celebration, create an area for anyone who wants some time out. Parties can be overwhelming for young and old, so some space where people can step away from the music and conversation will always be welcome.

R is for ring
Whether you've had the link to your favourite ring bookmarked for years or your partner decides to design their own, it's a sign of your commitment to each other, so choose well and treasure it forever.

S is for speeches
Tradition states that it's your dad, the groom and best man who take to the stage, but don't let that stop anyone who wants to get up and say a few words - planned, not spontaneous and fuelled by champagne! Recent weddings we've attended have included a bride's speech, mother-of-the-bride and the bride's teenage son.
T is for thank you
Send them. As soon as you can after the day. Guests go to expense and effort to get to your day so thank yous go a long way.
U is for understanding
Just a gentle reminder that although your engagement and wedding journey are quite possibly the most exciting thing you and your family have experienced for quite some years, other people do have lives too. So when planning your big day, go easy on people who may have other considerations and can't be as flexible as they might have liked - such as friends abroad, mums-to-be or recent mums, and those with financial constraints. Everyone would be there if they could but it's not always feasible so be understanding.
V is for venue
You may already have a venue in mind but even if you've known since you were five that you'd marry in the traditional 16th century bolthole down the road from your parents' home, it's imperative you go for a look around, meet the wedding planner (if there is one) and ask questions, questions, questions. Other options include at-home weddings and by the sea - you may be surprised where wedding licences are held, so if you're flexible, look around and you may find a lovely little surprise somewhere.
W is for wedding planning
Try not to get overwhelmed. Yes, there's a lot to plan when it comes to your big day, but by breaking it down into bite-size chunks - and delegating where possible - you'll be surprised at how quickly you can get through that to-do list.
X is for x-rated
There's always one (well, two!). A heady mix of love-in-the-air and alcohol can mean people get a little over-excited. If anyone does embarrass themselves, try to play it down at breakfast and don't shame them on social media! It was a private party, after all...
Y is for yay! You did it!
Once you are officially married and you have successfully planned and executed your celebration your way, it'll be time to dance the night away or collapse into bed...
Z is for zzz
After all that excitement, it's time to relax and recharge those batteries as a happily married couple. Huge congratulations!

words Elizabeth Chester
illustrations Maria Taylor

Copyright Wed magazine 2019
Wed

Directory

All you need from the finest wedding suppliers in Cornwall and Devon