---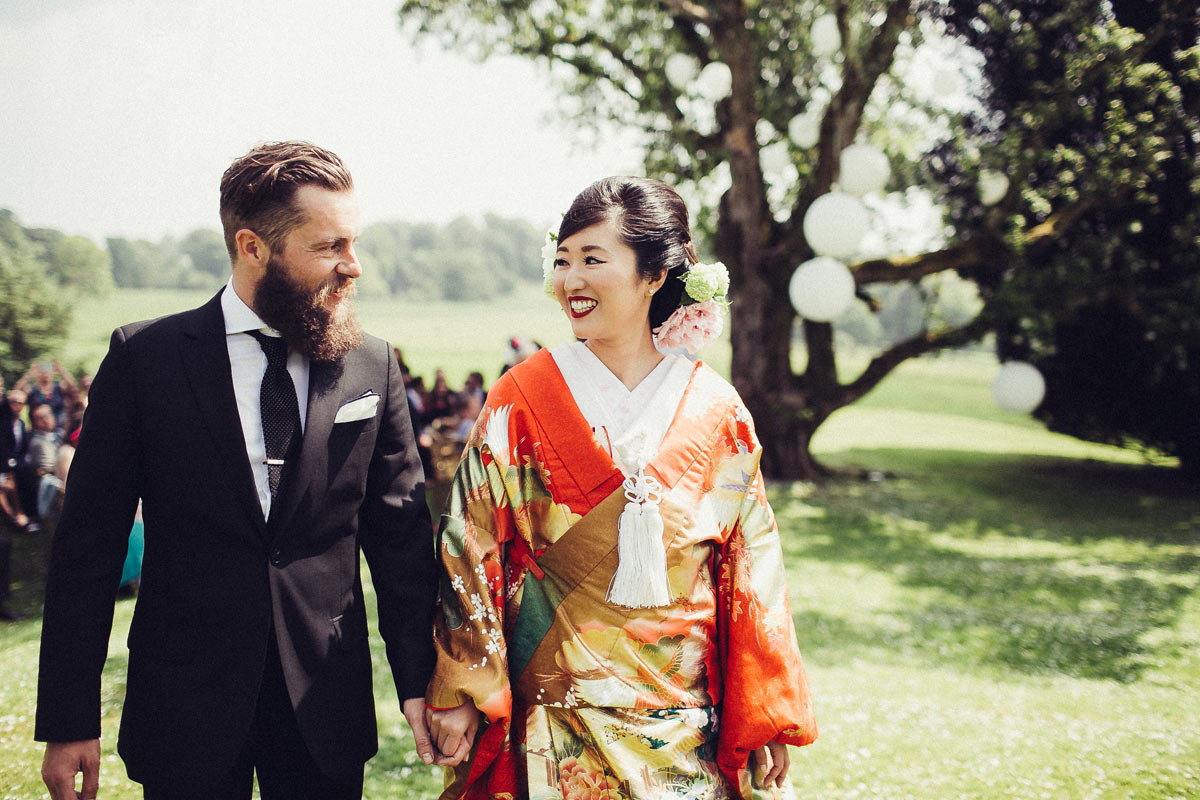 Wedding at Boconnoc, Cornwall
Round-The-World Romance
---
Ariko and Jamie's weekend wedding celebrated a colourful and flavoursome sense of culture
A cultural celebration as much as an ode to their love, Ariko and Jamie's weekend wedding at Boconnoc paid homage to Japan, the UK and US with elements from the food and flowers to the decor, much of which was handmade by the pair themselves, including the ceramics for the centrepieces.

Alongside a willing team of family and friends, Ariko filled her handcrafted vases with stunning Japanese ikebana flower arrangements using white, pink and peach peonies, white and blue delphiniums, viburnum opulus, green hypercium, and white and pink snaps. In similarly striking style, she surprised Jamie by wearing a silk kimono hand designed by Mamiko Sato, who also created Ariko's traditional hairstyle using the same fresh flowers. "Our joint favourite moment was when Ariko surprised me with the kimono dress," recalls Jamie. "Not just because she looked so beautiful, but because everything came together."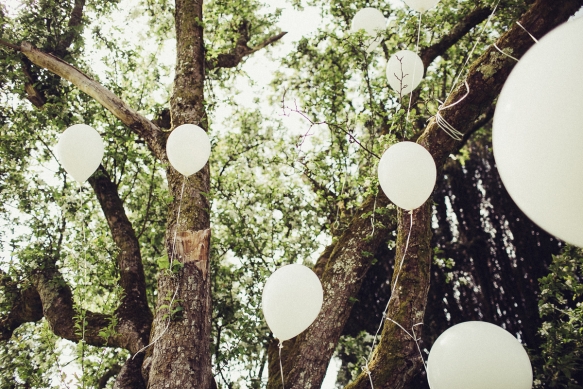 Conducted by their friend, JJ, their humanist ceremony took place beneath an oak tree on the lawn bedecked with blossom and balloons, and featured props, comical moments and a beautiful poem written by their friend, Erin, which captured their relationship perfectly. "The tree had blossomed and the wind was throwing us natural confetti during the ceremony. It was all gone by the next day so it was truly magical," says Ariko.
Sourcing locally was key amongst the couple's priorities and this was particularly important when it came to the food. "One thing we were really proud of is creating the menu with The Round Kitchen," says Ariko. "We fell in love with their use of local fresh ingredients and how they cured and smoked their own meat and fish, but they were also experienced with other cultural cuisines and open to learning." The sumptuous meal was a cultural culinary journey, which comprised a surf and turf platter, marinated Cornish mackerel sushi, katsu pork, a trio of Cornish shellfish, Japanese green tea cake, green tea mochi and mini Cornish cream teas. A Krispy Kreme tower wedding cake completed the fabulous feast.
"So many of our guests came up to us after the dinner saying it was one of the best meals they'd ever had and how they'd discovered a new dish - it shows the beauty of fusing yet respecting each culture and we hope to continue with those values as a married couple," Jamie adds thoughtfully.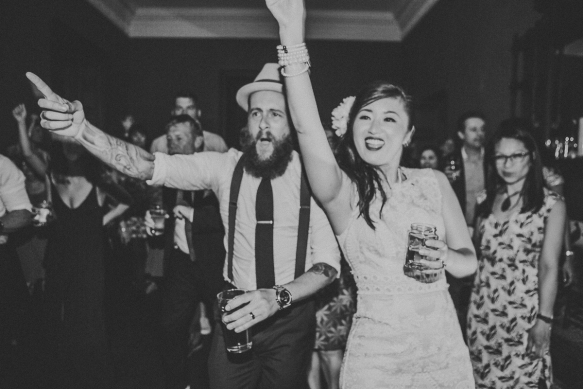 After the feast, Ariko changed into a form-fitting lace gown as everyone settled in the drawing room for the speeches; after an evening party filled with drinks, laughter and dancing to funk and soul numbers, the newly-weds rounded off the celebrations with a communal breakfast with family and friends the next morning. "It was about as perfect as you can get," recalls Jamie.
"Remember that it's your day and do everything that makes you happy," advises Ariko, offering her reflections on their day. "Kids, guests, plus-ones, traditions, expectations - none of that matters in the end unless it matters to you. As long as you can look back at your wedding and say it represented you as a couple, and you're surrounded by people that truly love you and you love them - that's all that matters."
Photography Matt Sumii Photography matthewsumii.com
Venue Boconnoc
boconnoc.com
Wedding planning Jenny Wren Weddings & Events
jennywrenweddingsandevents.co.uk
Catering The Round Kitchen
www.theroundkitchen.com
Dress kimono Kimono de Go London kimonodego.com
Reception dress Anthropologie from BHLDN bhldn.com
Hair Mamiko Sato from Kimono de Go kimonodego.com
Groom's outfit suits & shirts Reiss reiss.com woollen ties Clements & Church clementsandchurch.co.uk shoes Converse converse.com
Flowers Trebilcocks trebilcocksflowers.co.uk
Transport King Harry Coaches www.kingharrycoaches.com
Entertainment The Super Luckies www.thesuperluckies.com
Copyright Wed magazine 2017
Wed

Directory

All you need from the finest wedding suppliers in Cornwall and Devon