---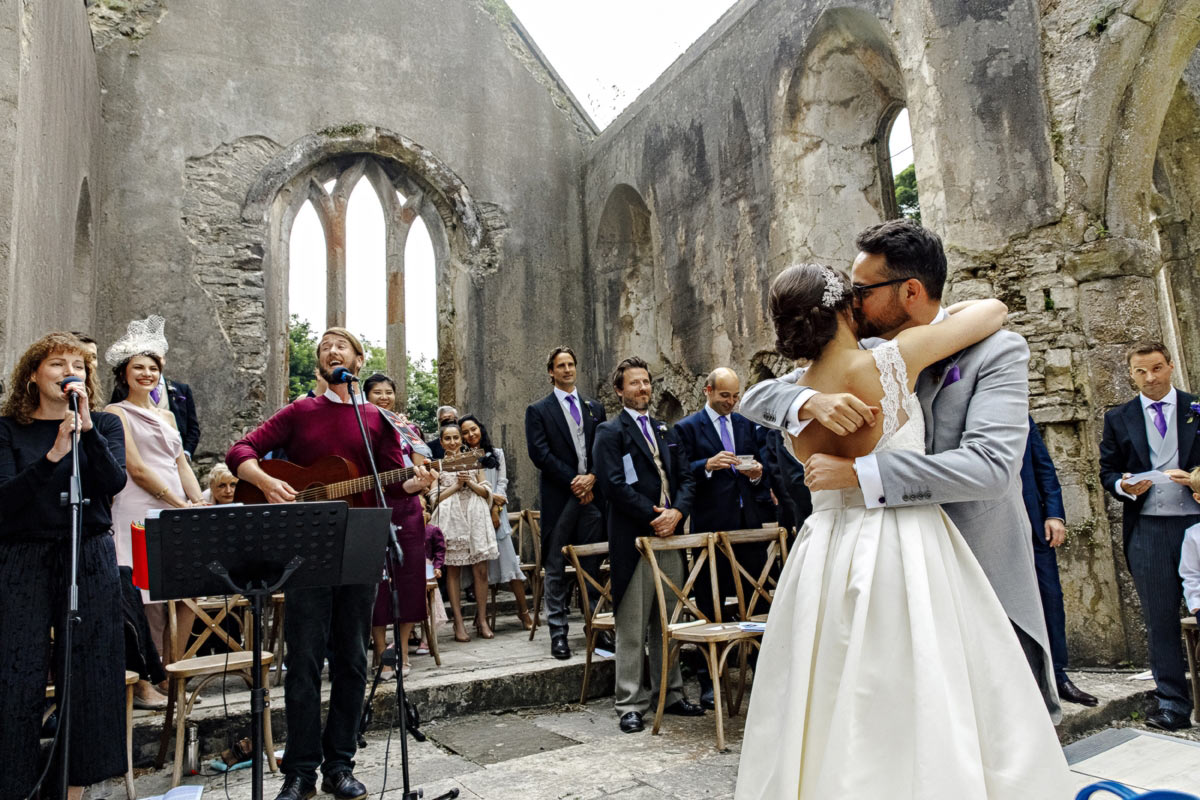 Wedding at Anran, Devon
Double the Delight
Anastasia and Gideon's Alice in Wonderland themed wedding at Holy Trinity Church, Buckfastleigh and Anran
"The plans were grand and ambitious, with Gideon serenading 'All of Me' on a big white piano," says Anastasia of Gideon's lofty proposal ideas. "In reality, I threw a tantrum on a Tuesday morning saying 'Our relationship is not going anywhere' at which Gideon looked at me and, without saying a word, went to his desk and got a black box out, where I found my gorgeous emerald engagement ring!"
Choosing to throw a three-day wedding celebration, the couple selected a series of venues for each stage of the festivities, the first being St David's Church in Ashprington where they were officially wed before enjoying post-ceremony drinks and classic British canapes at neighbouring pub, The Durant Arms.
Everyone then relocated to the hilltop ruins of Holy Trinity at Buckfastleigh, formerly Gideon's family church, for the couple's blessing ceremony and starlit evening reception. Guests feasted on Russian dishes, as a nod to Anastasia's roots, such as borsch soup and beef stroganoff, in the beautifully atmospheric setting ahead of an elaborate 'Alice in Wonderland' party the next day.

Anran at Tidwell Farm provided the blank canvas to stage their themed celebrations, with The Prop Factory helping to create a striking 'Wonderland' inspired space for the couple to fully indulge their imaginations.
"Guests were asked to wear black or red, like a deck of cards," says Anastasia. "On arrival, each guest was given a card from the deck as they entered through a giant keyhole, and this separated them into a card suit that they would belong to for fun and games."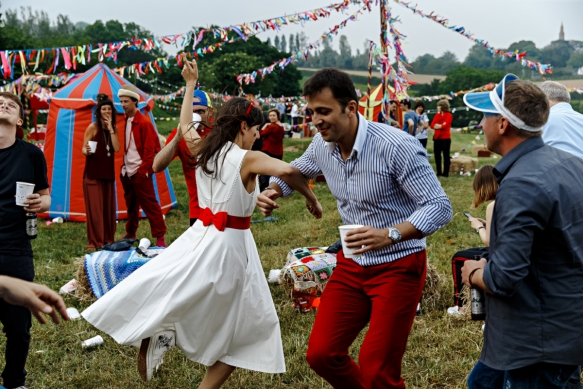 From stilt walkers and live music to a fire show and Mad Hatter's Tea Party, the day was an entertainment-packed adventure that culminated in a silent disco, which proved the perfect endnote to a brilliantly charismatic day. "For most guests, it was one of the biggest highlights - all suspicions about a silent disco being lame have vanished and we had so much fun!" comments Anastasia. The third day of festivities saw guests gather for a recovery barbecue at the same venue.

"Don't get frustrated with tasks that don't seem to be falling into place. Leave them, do something else and come back to them in a few days - your day is going to be perfect and you don't need that extra stress," Anastasia offers as her first word of advice.
"Take a marriage course," she sagely adds as her second. "It may sound silly, but it's one of the best ways to prepare yourselves for life ahead, and a very helpful way to learn more about your love languages, to tackle some conversations that perhaps you haven't had before and understand each other in new ways. And at the wedding, make sure to find time for each other," she continues. "It can be so overwhelming being the centre of attention of all of your guests that you may neglect each other and miss out on some brief yet magical moments alone."
Photography Anna Peklova annapeklova.com
Venue St David's Church, Ashprington
The Durant Arms durantarms.co.uk
Holy Trinity Church at Buckfastleigh
Anran anran.co.uk
Wedding coordination Dany Fremantle from Oasis Events oasisevents.co.uk
Furniture hire & styling Prop Factory
propfactory.co.uk
Dress St Patrick sanpatrick.com
Groom's outfit Canali canali.com
Hair & make-up The Pop-up Salon
thepopupsalon.co.uk
Flowers Blackawton Blooms blackawtonblooms.co.uk
Transport Bob the Bus bobthebus.org.uk
Premier Carriage premiercarriage.co.uk
Cake Rosie Posie Cakes rosieposiecakes.co.uk
Entertainment Harbottle & Jonas harbottleandjonas.com
The Roustabouts Collective wearetheroustabouts.co.uk
Discomania silentdiscomaniauk.com
Copyright Wed magazine 2019
Wed

Directory

All you need from the finest wedding suppliers in Cornwall and Devon